Your Guide to a Dog-Friendly Vacation in South Padre Island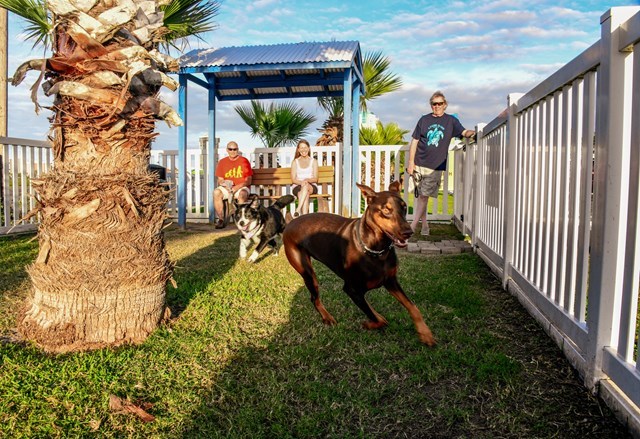 Your Guide to a Dog-Friendly Vacation in South Padre Island
If you love dogs, beaches and gorgeous weather, then South Padre Island is the perfect vacation destination for you. This Texas barrier island is a beautiful oasis that has a little something for everyone, whether you are planning a romantic getaway or a family-friendly vacation. Of course, family-friendly means the entire family — four-legged members included. The moment you welcome a pup into your home, they become a member of the family, so it only makes sense that you would want to bring your dog along on your vacation.
South Padre Island is home to Texas's best beaches, picture-perfect sunsets, outstanding water activities and scrumptious eats. It's a true Texas highlight for humans and canines alike. This dog-friendly destination should be on any dog lover's bucket list. Your pup can dig in the sand, chase the waves, watch the seagulls and participate in some awesome recreation. There are even more than a dozen restaurants that allow your four-legged friend to dine, too.
If you are looking for a dog-friendly place to stay in South Padre Island, you deserve amenities everyone can love, both human and pup alike. South Padre Island KOA Holiday® has luxurious accommodations, from our RV Sites to our cozy waterfront cabins, and a convenient location near the hottest SPI happenings. Plus, our South Padre Island campground is jam-packed with all the dog-friendly amenities you could want for your loveable companion. Here is your guide to experiencing South Padre Island with your dog.
South Padre Island Dog-Friendly Beaches
A dog with sandy paws and wet fur is a happy dog, and SPI has some of the most dog-friendly beaches in Texas.
The sandy shores of SPI are where most visitors spend the majority of their time — and it's no wonder. The balmy, sub-tropical weather keeps the water warm nearly all year round. You will love spending some quality time with your pet on the beach. They can let loose in the sand, jump from the dunes, play tag in the tide or soak up the sun once they're ready to relax.
Choose from one of these many public access points:
Padre Island National Seashore: Features over 60 miles of dog-friendly beaches, pet-access trails and rinse-off showers where you can wash off sandy paws.
Isla Blanca Park: Roam the white, sandy shores of this south-end park.
Andy Bowie Park: Go off-roading with your dog for an unforgettable adventure.
E.K. Atwood Park: This beachfront access guides you to more than 20 miles of shoreline to explore with your pup.
There are just a couple of tips to keep in mind as you are roaming SPI's beaches with your dog:
There is a local leash law. Some beaches require a six-foot leash, while others allow for a longer lead. Be sure to check before you go.
Please pick up after your pet. Doggy messes can ruin the fun for everyone.
Be sure to have plenty of fresh water at all times. Saltwater is harsh on a dog's stomach, and the hot sun can quickly dehydrate them.
More Pet-Friendly Activities in South Padre Island
Once you get enough surf and sand at our dog-friendly beaches in South Padre Island, where can you head next? There are plenty of dog-friendly and human-friendly activities happening around our KOA Campground. There are also tons of amazing experiences and things to do in South Padre Island with a dog.
Once you are ready to head out and explore the island, here are some local adventures you will not want to miss.
Take Your Pup on a SUP
Stand-up paddleboarding is an exciting water sport that has taken the nation by storm. This activity can be enjoyed in lakes, rivers, canals, beaches — basically, anywhere there is water. A specially designed paddleboard allows you to stand up, paddle out and explore the local waterways of SPI. Stand-up paddleboarding can also be enjoyed with your best furry friend.
In South Padre Island, a few local SUP outfitters will allow you to take your dog out on the water with you. Even if you don't have any stand-up paddleboarding experience, there are plenty of places that can help you prepare for your watery adventure. If this is your pup's first time on a SUP, get them used to the board in the sand. Then take them in shallow water to see how they do. Be sure they wear a doggy life jacket, even if they are a great swimmer.
Go for a Boat Ride With Your Dog
Why should only the two-legged members of your family enjoy an unforgettable boating adventure? Your dog will love the rush of sea air and lapping waves aboard a local boat tour. Dolphin Research & Sea Life Nature Center allows dogs to go along for the ride to see the area's resident dolphins. The tour lasts about an hour and a half, so be sure to take your pup for a potty break first.
Learn About the Local (Non-Canine) Wildlife
Humans aren't the only inhabitants of South Padre Island. This area is also home to remarkable sea life, including beautiful sea turtles. Sea Turtle, Inc. is a sea turtle conservation center that's open to the public year-round. Visitors and their leashed pups can meet rehabilitating and non-releasable turtles, see daily presentations, watch turtle feedings and learn all about our beloved local wildlife.
Pet-Friendly Restaurants in South Padre Island
When your tummy starts to rumble, that doesn't mean you have to leave your dog behind. There are more than a dozen dog-friendly restaurants in South Padre Island:
Start your day at Cafe Karma for some artisanal coffee or a frozen sweet treat.
Lounge on the outdoor patio and sip some wine at Cafe on the Beach.
Order some scrumptious seafood from the human menu at PadreRitaGrill — as well as a few nibbles for your pooch from the doggie menu.
Recreate the famous scene from Lady and the Tramp at Gabriella's Italian Grill & Pizzeria.
Sample the famed burger at Coconuts Bar and Grill.
Watch the sunset slip behind the water as you and your pup relax at the Palm Street Pier.
Why We Are the Best Dog-Friendly Campground in South Padre Island
There is not much that can top a warm, Gulf Coast vacation. Our sub-tropical climate allows you to enjoy the lapping waters and soft sand almost all year long. Why shouldn't your pup be able to join in an unforgettable beachfront getaway? With South Padre Island KOA Holiday®, they can.
We offer some of the most pet-friendly vacation rentals in Texas. We designed our campground to serve as your perfect gateway to all the fun in the sun in SPI — where humans and canines can perfectly coexist. Once you see all the incredible dog-friendly amenities included at our campground, you may not be in a hurry to scamper off.
Cozy Accommodations
At South Padre Island KOA Holiday®, you can bring your pup along in your RV or have them with you at your Tent Site, of course. If you do not have an RV or do not feel like roughing it in a tent, though, we have luxurious and pet-friendly waterfront Deluxe Cabins available. Each cozy cabin comes complete with either a partial or a full kitchen as well as a full bathroom with a shower.
Waterfront Walks
We have two lovely dog walk areas where you and your pooch can get a little exercise and enjoy gorgeous waterfront views in the process. If your pup ends up doing their business on your walk, we have strategically placed dog bag stations that make clean up a breeze.
Their Very Own Doggy Playground
Got a rambunctious pup just bursting with energy? Our KampK9® Dog Park is like a playground, but for dogs. This enclosed space is the perfect place to let your dog off-leash so they can run, jump, scamper and meet other furry friends visiting our SPI campground. The best part is we have convenient seating, so you can sit back and let your pup run and run to their heart's content.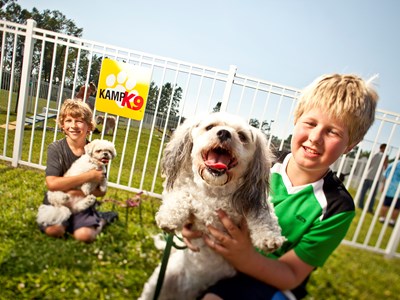 Book Your Dog-Friendly Beach Vacation Today
In South Padre Island, there is plenty of fun to go around for your entire family. When it comes time to plan your luxurious beachfront vacation, there is no need to leave your furry companions at home. Just choose South Padre Island KOA Holiday® and enjoy an incredible getaway every member of your family will love, two-legged and four-legged alike.
Make your reservation online or call us at 956-761-5665 to book your SPI campsite today.