Where To Go on Vacation From Houston

With its booming job market, legendary food scene and affordable living, there is a lot to be said about living in Houston. This Texas hotspot is the fourth largest city in the U.S. by population. However, if you want to escape the hustle and bustle of city life, there are plenty of vacation destinations close by. Here are just a few of our favorite Texas getaways, where you can enjoy a relaxing and fun respite from Houston's urban scene.
1. New Braunfels, TX
Just two and a half hours from Houston, you will find a delightful Hill Country town brimming with charm. The German roots of New Braunfels are clear in the street signs and frequent nods to Bavarian culture, particularly when it comes to food. However, the town also fully embraces its Texas heritage.
Explore Gruene Historic District filled with delightful boutiques and antique shops where you will find everything from handmade specialty items to real deal cowboy hats. If it is nature you are after, head to the scenic trails in Landa Park or the famous Natural Bridge Caverns, home to a 60-foot natural limestone slab bridge. For relaxation in the water, tube down the Guadalupe River, lined with beautiful bald cypress trees.
2. San Marcos, TX
This small town is definitely worth a visit. Located just under three hours from Houston, San Marcos blends the hip vibe of a college town with the natural beauty of the San Marcos River. Hike or mountain bike your way through Purgatory Creek Natural Area, or grab a drink and a meal from one of the many independently owned breweries or BBQ joints.
3. Johnson City, TX
Johnson City is known as the Crossroads of the Texas Hill Country. Just a three-hour drive from Houston, the hometown of President Lyndon Johnson has lots of great activities, especially for nature lovers. There's the Exotic Resort Zoo with more than 80 unique species wandering the forests, creeks and lakes of this 137-acre property. However, a visit to Johnson City would not be complete with a trip to Pedernales Falls State Park. From pristine swimming holes to spectacular hiking trails, there are more than 5,000 acres to explore.
4. Garner State Park, TX
While Garner State Park is about five hours from Houston in the community of Concan, TX, you will not regret visiting. Garner State Park is a scenic wonderland for anyone who loves the great outdoors. Float down the frigid Frio River, or go geocaching as you hike the winding trails. With thousands of acres of Hill Country terrain to enjoy, you will always find a new adventure around every corner.
5. South Padre Island, TX
If it is a fabulous last-minute vacation deal you are looking for, it does not get any better than South Padre Island. This barrier island resort town is located just off the southern coast of Texas, about a five-hour drive from Houston. The balmy subtropical climate ensures sunny skies and beautiful beach weather nearly all year round. Grab your board, and enjoy some summer surfing. You can also see which fish are swimming through the Gulf waters with each new season. There is always excitement and wonderful watery adventures in this gorgeous coastal community.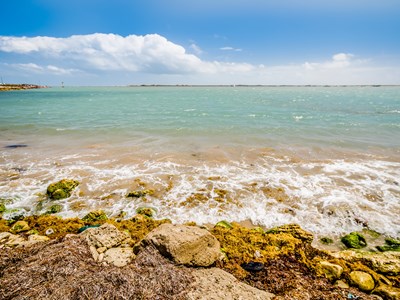 Want to add even more excitement to your vacation package? Then be sure to stay at South Padre Island KOA Holiday®. We offer luxurious waterfront lodging, perfect for all our guests coming from Houston. Do not miss out on all the excitement our budget-friendly campground has to offer. Book your reservation today.