The Best Time to Visit South Padre Island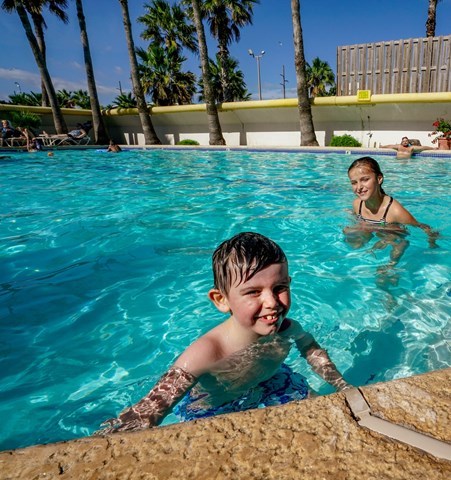 When is the best time to go to South Padre Island? If you are planning a visit to our sandy shores, that is the question that is undoubtedly ringing in your ears. While some people love the intense heat of our SPI summers, others prefer the cool breezes and bright skies of winter. Our tropical climate means spring and fall visitors can enjoy swimming, boating and many beach activities that would otherwise be relegated to summertime in most resort towns.
No matter what time of year you plan your SPI getaway, you are sure to enjoy beautiful beachfront views, warm weather and activities your whole family will enjoy. Here is a breakdown of what each season has to offer visitors to our seaside paradise located right here in Texas.
Spring in South Padre Island
Spring in South Padre Island offers a tropical oasis from the cooler temperatures our northern neighbors may still be experiencing. This pre-summer season offers pleasantly warm days. The water temperatures average about 68 degrees this time of year, too, so it is perfect for enjoying a dip.
For just over a month every spring, SPI transforms into a spring break destination. Every March, students make their way south to the sunny beaches of South Padre Island. If you're a fresh-faced college student or a young adult looking to cut loose and party, March is the month for you. As the weather warms up each spring, our shores become the number one party scene in the nation. South Padre Island KOA Holiday® offers an affordable alternative to many of the high-priced hotels during this season.
There's so much to do in SPI during spring break that you may not be able to fit it all into one week:
Countless concerts from some of the top names in the music industry
24-hour beach bashes
Dancing into the wee hours of the night
Zany contests
Pool parties
Gulf waters warm enough to enjoy SPI's many water sports
College spring break may not be the best time for a family vacation — but just wait. South Padre Island in April and May offers a sweet spot for visitors who may want to enjoy the cool tropical breezes of spring but aren't looking for a crazy spring break getaway. Once the college kids have come and gone, SPI changes back to the mild-mannered resort town you know and love, perfect for sun-seekers or families bringing their little ones for a kid-friendly excursion.
At South Padre Island KOA, we know that a family spring break vacation is a perfect opportunity for some much-needed bonding. You can enjoy our onsite amenities, like our year-round pool or sandy playground, or experience some local adventures, like beach horseback riding or a nature tour. There is always something to do in spring.
Spring is also an opportunity to celebrate some fun-filled local events. From the beginning of sea turtle nesting season and an epic Easter festival to the Mexican celebration of Semana Santa, you will not want to miss these yearly springtime traditions in South Padre Island.
Summer in South Padre Island
During South Padre Island's summer season, water reigns supreme. If you prefer hot weather, then summertime is the best time to visit SPI. This season's temperatures hover in the upper 80s and low 90s, making all things water a must. If you plan on visiting South Padre Island in June, July or August, pack plenty of sunscreen and prepare to enjoy long days in the sun and surf. Our island oasis offers plenty of exciting water adventures, including:
Swimming.
Kiteboarding and windsurfing.
Kayaking.
Parasailing
Standup paddleboarding.
Surfing.
Beach Park waterpark.
Visitors to South Padre Island KOA Holiday® can also enjoy lots of ways to cool off around the campground on those hot summer days. Take a dip in our crystal clear pool. Get a nice, cool workout with our pool aerobics classes. As the sun slips behind the Laguna Madre, enjoy delicious cocktails with your new friends on our Bayside Sunset Deck.
There are also plenty of amazing events to enjoy each summer in South Padre Island. From SPI's Independence Day celebration to the Summer Causeway Run, you may want to book your vacation so it coincides with one of the area's many summertime happenings.
Fall in South Padre Island
If you're not a spring breaker or a heat enthusiast, one could argue that autumn is the best time to go to SPI. As temperatures dip back into the mid-80s, you can still enjoy the area's outstanding water activities in the gorgeous Gulf waters or sandcastle lessons along the shoreline. Fall is also a great time to explore the many sights, sounds and tastes of the island.
While SPI boasts nearly 300 days of sunshine, September tends to be our rainiest month. However, some of the island's most memorable events happen throughout September, October and November, including Sandcastle Days and a delectable Shrimp Cookoff.
Fall is also an excellent opportunity to experience SPI's local flavor, including wildlife, outdoor attractions and delicious eats. The cooler weather makes for a lovely day on the water, so fall may be a good time to plan a fishing charter or water wildlife cruise. You can also grab the kids and head to Gravity Park to enjoy racing on this unique multi-level go-kart track. Sundays are extra special because that's when the Farmer's Market offers locals and guests a delicious taste of SPI.
For guests at our KOA Campground, we have plenty of on-site entertainment, from horseshoes to tetherball, which is perfect for a warm fall day. As a barrier island near the Mexico border, SPI is renowned for its seafood and Tex-Mex offerings. One of the best places to enjoy a great meal can be found right at our campground — Pier 19 Restaurant & Bar. Whether you have a craving for locally caught fish or outstanding tostaditas, you will find it on the menu.
Winter in South Padre Island
While most resort towns close up shop during the cold winter months, SPI is still going strong all year long. South Padre Island winter vacations are a great option for couples, families and groups who wish to exchange freezing temperatures and shoveling snow for endless sunshine.
It may be too chilly to dive into the bay, with temperatures dipping as low as the mid-50s. Still, January and February provide the perfect time to explore the island's many natural and historic wonders. Take a stroll down the Laguna Madre Nature Trail or pack a picnic lunch to visit tranquil Isla Blanca Park. Learn about the island's storied past, complete with shipwrecks and pirates, when you explore the historical sites at Port Isabel. Climb the historic Port Isabel Lighthouse for the best views of the Laguna Madre and the beautiful sights of our island oasis.
The winter season also features adorable holiday events and winter happenings that are fun for the whole family. From our unique Christmas extravaganza and live music shows to sunrise socials, be sure to check our SPI KOA Winter Fun Facebook page to find out more.
Of course, a visit to South Padre Island would not be complete without visiting the beach. While you may not want to swim in the surf, you can still sink your toes in the sand and watch the waves roll in or collect seashells as you stroll along the shore. If you must have some water fun, guests at South Padre Island KOA Holiday® can enjoy our pool and large hot tub year-round.
Winter, Spring, Summer or Fall — Book Your Stay at South Padre Island KOA Holiday®
Anytime is a great time to visit South Padre Island. Each season holds its own unique charm, so you may need to come back again and again to decide which time of year is your favorite. While choosing the right season is an important decision, finding the right place to stay will ensure you have an amazing time no matter when you visit SPI.
South Padre Island KOA Holiday® is a year-round campground with amazing amenities, fun recreational activities and a location that puts you right in the middle of everything our island is known for. Our campground is perfect for spring breakers and families alike. It also includes all those necessities that will make your vacation enjoyable, plus lots of fun extras.
Take a soak in our giant hot tub or cool off in the pool. Release your furry friends in our off-leash dog park. Indulge in an amazing meal at our onsite restaurant, Pier 19. Bring the family boat and launch off for adventure from our campground boat ramps. Our goal is to create an unforgettable SPI experience.
Ways to Stay to Suit Every Style
We have lodging options to suit every kind of visitor. Our luxurious Deluxe Cabins and vacation rentals with private bathrooms and a small kitchenette provide a comfortable, resort-like feel.
Our cozy RV Sites make a great home base if you are chugging through Texas in your big rig. We even have rustic Tent Sites with lovely bridge views for traditional camping enthusiasts. If you are interested in planning a large get-together or family reunion, we also offer the perfect group camping experience.
Plan Your Vacation to Our Year-Round Campground in South Padre Island
When is the best time to visit South Padre Island? Find out for yourself at South Padre Island KOA Holiday®. Whether you are looking for a romantic getaway for two or a fun-filled family vacation, KOA is your perfect gateway to this island paradise.
Make your reservation online or give us a call at 956-761-5665 to book your stay — winter, spring, summer or fall.