SOUTH PADRE ISLAND KOA FOOD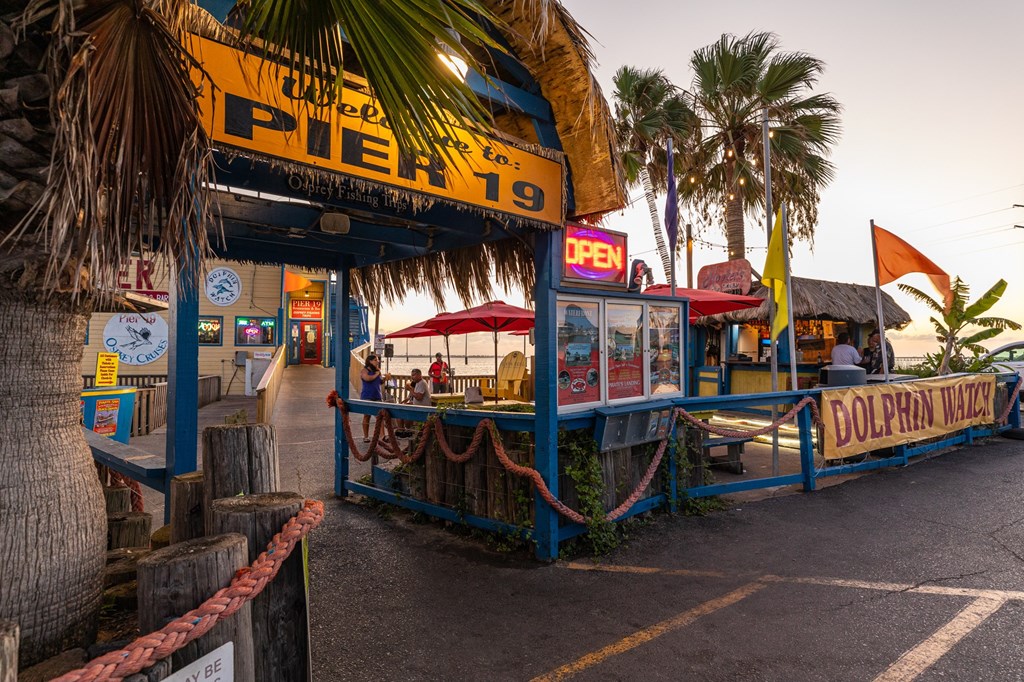 Nothing says vacation like fun, freedom and, of course, food. Your vacation to this tropical paradise is the perfect opportunity to splurge and indulge in some of the best eats in Texas. Your stay at South Padre Island KOA Holiday® offers comfortable lodging, stellar amenities and easy access to one great meal after another.
If you want to entice your senses and excite your palate, you won't have to look too far. South Padre Island is filled to the brim with delectable restaurants and eateries you won't want to miss. For a one-of-a-kind culinary experience, here are some of the foods you are sure to enjoy in South Padre Island.
Great Seafood Restaurants by the Beach
With its warm tropical weather and the Gulf of Mexico right on our doorstep, SPI offers some of the best fishing in the country — so you can be sure there will be plenty of fresh catches at local seafood restaurants. Enjoy waterfront views as you eat your weight in local and seasonal seafood options fresh from the fishing boat. Shrimp, fish, crab, oysters — take your pick. Whether you choose to dine at a charming seaside shack or a swanky seaside restaurant, you have not experienced the SPI culinary scene until you taste some of our wild-caught seafood selections.
Southern Soul Food Restaurants in South Padre Island
Southern soul food is the ultimate comfort food, and in Texas, this culinary treat is not to be missed. While the dishes may sound familiar, like mac and cheese, ham hocks, brisket or okra, the depth of flavors you'll experience are out of this world. Spicy, savory, sweet and succulent — all this and more describes our local authentic, home-cooked soul food restaurants.
Right by the Border
Whether you have a taste for some authentic Mexican food or our state's signature Tex-Mex, SPI has tons of options to choose from. You may notice that South Padre Island is just a hop, skip and a jump from the border. That means we boast some of the best Mexican cuisine in the Lone Star State. So, whether you're craving a signature mole or shrimp fajitas grilled to perfection, just ask our friendly KOA staff for a few recommendations.
SPI Restaurants for the Adventurous Palate
While SPI may feel like an isolated bit of paradise, our small strip plays host to some of the most exciting culinary trends. If you're in the mood for something new or exotic, South Padre has a restaurant for you. Sample some delicious sushi, Thai or Asian fusion dishes. Or, see what's coming out of New Orleans with some of the best cajun food this side of Bourbon Street. There's also a whole assortment of healthy, vegan restaurants if you are looking to keep things light during your vacation.
Pier 19 Restaurant & Bar
Pier 19 Weekday Hours
December 12, 2018 - January 01, 2022
7:00 A.M. to 10:00 P.M.
Open 7 days a week
Conveniently located just a short walk from your RV site or your cabin at the South Padre Island KOA Holiday®, Pier 19 offers a little bit of everything you have come to expect from the SPI culinary scene. Whether you are in the mood for scrumptious Tex-Mex inspired nachos or some locally sourced seafood, you will enjoy a wonderful dining experience overlooking the water right on the bay. Pier 19 is a great place to eat, relax or have a few cocktails with the best scenery that South Padre Island has to offer. They serve breakfast, lunch and dinner, so anytime is a great time to dine at Pier 19.
Download our menu(s)
Pier 19 Menu
Start Planning Your Foodie Vacation in South Padre Island
Our mouths are watering just thinking about all the delicious meals you will get to enjoy when you visit us here in South Padre Island. So, what are you waiting for? Book your stay at South Padre Island KOA Holiday® today and experience a culinary adventure like none other. Give us a call at 956-761-5665 for more information.