Last Minute Vacations Close to McAllen, TX
Fall is a great time to travel. This time of year is often filled with quick trips for those looking for one more spree before winter's chill sets in. McAllen, Texas, is the pride of Hidalgo County and one of the fastest-growing cities in the state. Yet, sometimes it's nice to get away from the hustle and bustle and escape to a picturesque destination where you can relax and have some fun.
If you are wondering where you should go for a last-minute vacation deal close by, you do not have to look far. Here are some great destinations that are just a short distance from McAllen, TX.
Take a Culinary Journey to Laredo, TX
Tex-Mex is a cuisine enjoyed all over the world. Yet, to truly indulge in this culinary delight, you must visit the Lone Star State. Tex-Mex is a hybrid that deliciously blends Mexican roots with Texan flavors — so it's no wonder that some of the most memorable examples of these scrumptious foods are found close to the border. While Laredo, TX, has a rich history and epic bird watching opportunities, some might argue that it is best known for its array of Tex-Mex restaurants.
From tasty soft tacos and scrumptious breakfasts of chorizo and egg to unforgettable antojitos such as corn in a cup and nachos, your visit to Laredo will leave you feeling full and happy.
Explore the Rich History of San Antonio, TX
Historic roots run deep in the South Texas Plains. No place better exemplifies this region's rich heritage than San Antonio. Your trip to Alamo City would not be complete without a visit to the historic Alamo — but why stop there?
The Mission Trail includes four notable missions, each a UNESCO World Heritage Site. We recommend renting a bicycle from the city's bike share and hitting the trail that passes by each mission in turn. Along this route, you'll enjoy distinctive architecture and learn the unique history of this incredible city.
Visit the State's Largest Ranch in Kingsville, TX
Cowboys are alive and well in the state of Texas. Vast and expansive ranches continue to dot the landscape, carrying the traditions of the cow herders of old. However, one ranch in Kingsville reigns supreme — the appropriately named King Ranch. This historic ranchland spans across 825,000 acres of South Texas, from Brownsville to Corpus Christi.
During your tour, you'll be treated to the ranch's history. You'll also get the opportunity to see thousands of head of cattle, majestic horses and hundreds of wildlife and bird species.
Lounge on the Beaches of South Padre Island
The Texas Coast is an oasis of relaxation, adventure and beauty. Among the collection of seaside towns, South Padre Island stands apart. This resort community is a collection of rich and colorful experiences and breathtaking ecosystems you will not find anywhere else. From swimming and surfing to sandcastles and sea turtle rescues, SPI is teeming with activities the whole family will enjoy. Even in fall, the sub-tropical climate allows you to take part in a full-fledged beachfront vacation.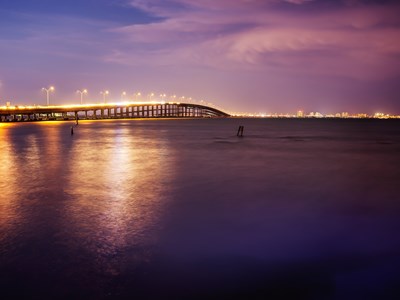 For affordable accommodations, incredible vacation packages and ample amenities and activities near McAllen, TX, visit South Padre Island KOA Holiday. While we're proud to provide waterside tent camping and RV Sites, we also offer Deluxe Cabins and vacation rentals where you can enjoy beachside luxury at its finest.
If you need a last-minute escape, book your stay at South Padre Island KOA.