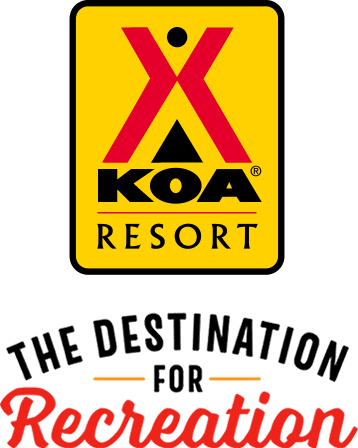 KOA Resort Campgrounds
KOA Resorts offer a carefree vacation in the great outdoors. Enjoy robust recreation and staff-led activities, kick back and relax by the resort-style pool, or grab a bite to eat, all while never leaving the campground. And with plenty of RV Sites with KOA Patios® and Deluxe Cabins with full baths to meet your needs, it's the ultimate camping getaway.
KOA Resorts Feature:
RV Sites with a KOA Patio®
Deluxe Cabins with full baths and linens
Premium Tent Sites
Resort-style pools
Indoor and outdoor group facilities
Directions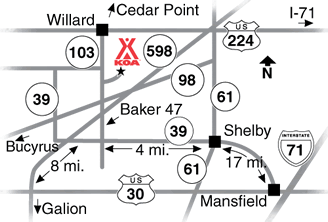 Please check shelbymansfieldkoa.com for directions from major cities in Ohio.  
From Mansfield: West on US 30, then right (north) 8 miles on SR 598, cross SR 39, then left onto Baker 47, go 2 miles and cross SR 98, go 1-1/2 miles on right.
From Shelby: West on SR 39, at junction of SR 39 & SR 96, on west side, stay right on SR 39 for 2 miles, right onto Baker 47 for 4 miles. 
GPS: N40.94861, W82.74323
 
Google maps works perfectly, do not use Mapquest or your Garmin, they will take you to the wrong Baker Rd.
Get Google Directions
Oct 06, 2020
It was great
Sep 09, 2020
Enjoyed the activities with my nephews like the wet hayride and paddle boats. Tent site we were at was snug and dirty which was not appealing. Very close to other campers and not private at all for the price. Staff was kind however and helpful.
Aug 27, 2020
We had an excellent, fun, and relaxing time!
Aug 27, 2020
Loved the jumping pad, the playgrounds and the restrooms were nice as well as the pond.
Aug 27, 2020
tent sites were way to close to one another all have so called tent pads a small maybe 8ft wd mulch pile."mound" 12ft tent wouldn't fit not that you would want to sleep on a pile. Not close to websites 12ft haha. We had 2 get 2sites one was a jewel in the rough 38j we wanted to all stay on this big site cause other was embarrassing 38g they refused to work with us paid for both sites stayed on 1.
Aug 26, 2020
Helpful staff clean campground fun activities
Aug 20, 2020
We had a great time. The staff was very friendly. They delivered ice and firewood to our campsite. Lots of activities for kids and adults. We will be back.
Aug 20, 2020
Awesome time there! Staff was very friendly and helpful. We normally go to the KOA in Monroe Michigan which is only 20 minutes from us but we decided to try this one and it was more than worth the extra hour and a half drive! Definitely will be back!
Aug 20, 2020
I came up to see some family that have permanent sites. The cabins were all booked so I simply brought my tent. My site 38 D was very small but I made it work. Your campground was very nice and clean. I was impressed that there were so many free things for families to do. Too bad my kids are all grown. Well done.
Aug 12, 2020
My girls loved it here! Will visit again!
Aug 11, 2020
Wonderful quite remote area, clean bathrooms and showers. Staff was super friendly and polite, definitely recommend to anyone looking to just get away for a while. I
Jul 30, 2020
My children had fun doing various activities all day long. Tent sites a little slim but we were barely at the site because we were having so much fun with all of the things to do on the property. A special shout-out to the young staff that were running activities. They were knowledgeable and friendly. I've been telling everyone how impressive KOA is. We've already booked our next visit!
Jul 29, 2020
We enjoyed everything you have to offer. And have booked another trip next month.
Jul 22, 2020
Very clean, well maintained campground. We enjoyed the planned activities and were comfortable being there during the pandemic as the staff did a great job follow protocols. Tent sites are close together, but lots of shade from the trees.
Jul 19, 2020
This is a wonderful campground!
Jul 12, 2020
We had a wonderful time. The staff was very friendly and helpful.
Jul 03, 2020
This is our new favorite campground! Coming back in August! So clean and well kept! Beautiful!
Jun 23, 2020
great clean, kind and welcoming campground. Everyone was so helpful. TONS of activities for the kids and the adults! bathrooms were clean, kitchens were clean, no litter anywhere. It was a wonderful weekend, and we will most definitely be back!
Jun 23, 2020
Clean facilities, friendly staff, and so much to do! Enjoyed our stay and will be back!
Jun 18, 2020
The staff was great, but the amenities were not only unrivaled but so well maintained!
Jun 17, 2020
Great place, but the tent camping sites are terrible, considering the price. The mulch pad was too small for our basic 10 x 10 tent. I've NEVER stayed at a campsite where the spots were so close together. My tent was so close to my neighbor's tent that I could hear their entire conversation from my bed at night. Kids had a blast, but the lack of privacy means we won't be coming back.
Jun 17, 2020
I thought the price to stay was kinda high. Until I realized how much was involved. I've never been camping at a place that offered so much to do. Everything was well kept, clean, working, always something to do for kids and adults. We had a great time and definitely will go back!!
Jun 18, 2019
Great campground and super staff!!! Will be staying there again!!!!
Jun 13, 2019
We had a great time. We love the flexibility of picking out our own campsite. The weather was good. The only downside was my husband said there was not any hot water in the showers on Saturday morning.( down the hill) He was in the Army so he made it work though.
May 30, 2019
We had an amazing time. The kids loved going to the lake and doing the paddle boards. Thank you
May 17, 2019
Great first experience with a KOA. The staff was warm and welcoming, and we expect to visit again when in the area. Especially happy there is not a ban on breeds of dogs. Our pittie enjoyed the dog park even though it was a bit muddy. And we enjoyed seeing her happy!
Sep 19, 2018
Wonderful service!!! Clean, immaculately maintained campground. The best ive ever been to!!!! The employees went above and beyond EVERY step of the way!!! I will most definitely be staying here A LOT more often!!!
Sep 12, 2018
This was the nicest, cleanest campground I have ever been to. Despite it raining the entire weekend, there were plenty of activities to keep my little one entertained. We cannot wait to come back again!
Aug 12, 2020
I have always heard that the Shelby KOA is really great, so I had to go. Our first impression was "Really!" The landscaping, when you drive in, is amazing/beautiful!! At check in the staff was very cordial, check in was fast, and we were escorted to our site. We had a pull thru, full hook up site that was very spacious. My only regret here is I didn't reserve a patio site. The stone pad was level, but a tree limb crowded my awning. I went to the office and asked if a limb could be trimmed, within 10 minutes the issue was resolved. The site had cable with quite a few channels, it did catch my eye that CNN and MSNBC were available, but not Fox. There is a Fox Business channel. There is an awesome play area for kids, we wouldn't see our grandchildren for days! The pool area was always busy. Back to the landscaping, someone came around watering and pruning the flowers at every campsite every morning! We walked around the permanent campers sites and every one was very well taken care of. There is much more I could go on about, but one point is we have another reservation set up for the end of September! As my title says, Now I know.
- bisonf on Trip Advisor