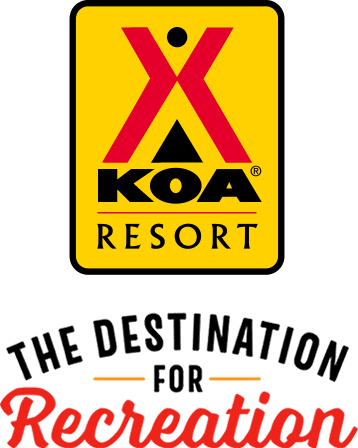 KOA Resort Campgrounds
KOA Resorts offer a carefree vacation in the great outdoors. Enjoy robust recreation and staff-led activities, kick back and relax by the resort-style pool, or grab a bite to eat, all while never leaving the campground. And with plenty of RV Sites with KOA Patios® and Deluxe Cabins with full baths to meet your needs, it's the ultimate camping getaway.
KOA Resorts Feature:
RV Sites with a KOA Patio®
Deluxe Cabins with full baths and linens
Premium Tent Sites
Resort-style pools
Indoor and outdoor group facilities
Directions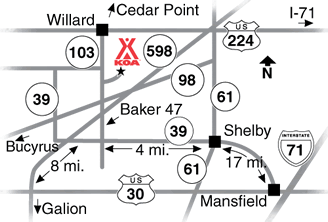 Please check shelbymansfieldkoa.com for directions from major cities in Ohio.  
From Mansfield: West on US 30, then right (north) 8 miles on SR 598, cross SR 39, then left onto Baker 47, go 2 miles and cross SR 98, go 1-1/2 miles on right.
From Shelby: West on SR 39, at junction of SR 39 & SR 96, on west side, stay right on SR 39 for 2 miles, right onto Baker 47 for 4 miles. 
GPS: N40.94861, W82.74323
 
Google maps works perfectly, do not use Mapquest or your Garmin, they will take you to the wrong Baker Rd.
Get Google Directions
Dec 25, 2020
We paid extra for a patio and gas grill and the grill did not work but I always have my gas grill so we cooked steaks on mine.
Oct 26, 2020
This campground is clean. The amenities are great. The staff is friendly. The sites are large. It is a wonderful place to stay.
Oct 24, 2020
Love koa & all the staff.
Oct 24, 2020
Great place to stay. Clean and well cared for. Professional and well trained staff. This was our 2nd time back.
Oct 23, 2020
I always enjoy our stay at the KOA but still struggle with the cost. Camping is a family event and I still feel strongly campsites should include more than just 2 adults. We are avid campers across the U.S. and you are one of very few who do not include any children in your site rates.
Oct 23, 2020
Probably our favorite campground to stay at.
Oct 23, 2020
It was perfect weather and camp ground
Oct 20, 2020
Very nice campground. Well kept facilities. Many activities for the kids. Trick or Treat was terrific and well attended. Wifi needs to be improved, especially in the lower section.
Oct 17, 2020
We enjoy Scarecrow weekend every year. Our kids/grandkids rent a cabin, and we celebrate the entire weekend with the activities, along with watching the children enjoying trick or treat. Then, we remained until the following Friday for 5 days of the most peaceful, relaxing time we've had in years. This KOA is our favorite happy place. The owners are super, and the campgrounds are immaculate!!
Oct 17, 2020
Very relaxing! Very nice campground!
Oct 15, 2020
Liked it so much we are going back
Oct 15, 2020
Always nice. Stayed 5 times this season. Wish the internet signal were stronger & phone reception there were better but other than that, great. Maybe the WiFi can be stronger in the future.
Oct 15, 2020
It was nice and quiet but I know it is expected at this time of year so we ill come back during the summer time.
Oct 14, 2020
Always enjoy ourselves at Shelby KOA. Everyone is very friendly and helpful. It is clean and nicely landscaped with lots of great activities. We love camping there.
Oct 14, 2020
It was a fun weekend watching my grandson truck or treating.
Oct 14, 2020
We enjoy staying at shelby KOA. Everyone is so friendly and helpful. This KOA has everything to offer for the kids.
Oct 14, 2020
This is our favorite place to stay. Everyone is so kind and friendly. Everything is clean and well kept. the flowers were beautiful.
Oct 14, 2020
Very relaxing. Very well maintained property. It is nice that most of the activities (miniature golf, pedal carts, train ride, etc.) are included in the price instead of paying individually for them. Makes the stay more enjoyable for parents. Loved all the flowers throughout the campground.
Oct 14, 2020
This is our favorite go to KOA in Ohio all sites pull thru large and level and all facilities are well maintained We were there during Halloween and there were so many great things for everyone to do. Highly recommend as grandparents we saw lots of families/kids enjoying the playground and bikes.
Oct 14, 2020
Great services. Friendly staff. Clean spacious sites. Terrific Halloween activities. Defiantly will be back
Oct 14, 2020
My family has stayed twice now and we have enjoyed it both times. The staff is great and always helpful. We will definitely be staying next season and bringing some family too!
Oct 14, 2020
I loved our stay at this resort. This was the3 rd time this year. Oct was such a beautiful month also to go with the trees changing color and it was in the 70s. The workers here are very Courteous and anything we ever need the right on it and bring it to us. So many things for the kids to do also and the cabins are so clean and cozy. Highly Recommend this to be your next vacation stay.
Oct 14, 2020
Our 10 person cabin was EXTREMELY SMALL. The activities were fun but too close together. Not enough time for adults and kids to have fun. Wish they were spread out more.
Oct 14, 2020
This is one of the best campgrounds we have been in a very long time....all aspects of safety during this pandemic....and everyone was so friendly
Oct 14, 2020
There is so much to do here. We loved this campground and all of the facilities. We will be back.
Oct 11, 2020
We had a wonderful relaxing stay at you KOA. We will be back.
Oct 09, 2020
Great times as always
Oct 09, 2020
Absolutely love this place. Staff are so kind and willing to help in any situation. tho we aren't there for all the amenities we find it a great place .
Oct 07, 2020
Clean facilities and friendly staff! Our whole family had a great weekend and enjoyed the activities!
Oct 07, 2020
Very, very clean campground with so many activities. Love it! This was our second year in a row staying here in October and we intend on staying here for many, many years to come!
Oct 06, 2020
It was a wonderful as last year but had some flaws, did not notice on The bill When we checked in filled out paperwork and told them two did not come and we still got charged both nights for 5 kids but we had 3, also our grill did not work we had to use neighbors they came and worked on it didn't do good for supper we had to go next door to use the grill again. And both faucets leak but good
Oct 06, 2020
Everyone is so pleasant and helpful. The grounds are well maintained. There's so much for everyone do! Can't wait to go back!
Oct 06, 2020
Halloween weekend. It was very well organized and safe. Camper spots were spaced very well. A little expensive but well worth the money a few times per year especially if you have children.
Oct 06, 2020
We love this campground!!! Will be back next year.
Aug 12, 2020
I have always heard that the Shelby KOA is really great, so I had to go. Our first impression was "Really!" The landscaping, when you drive in, is amazing/beautiful!! At check in the staff was very cordial, check in was fast, and we were escorted to our site. We had a pull thru, full hook up site that was very spacious. My only regret here is I didn't reserve a patio site. The stone pad was level, but a tree limb crowded my awning. I went to the office and asked if a limb could be trimmed, within 10 minutes the issue was resolved. The site had cable with quite a few channels, it did catch my eye that CNN and MSNBC were available, but not Fox. There is a Fox Business channel. There is an awesome play area for kids, we wouldn't see our grandchildren for days! The pool area was always busy. Back to the landscaping, someone came around watering and pruning the flowers at every campsite every morning! We walked around the permanent campers sites and every one was very well taken care of. There is much more I could go on about, but one point is we have another reservation set up for the end of September! As my title says, Now I know.
- bisonf on Trip Advisor