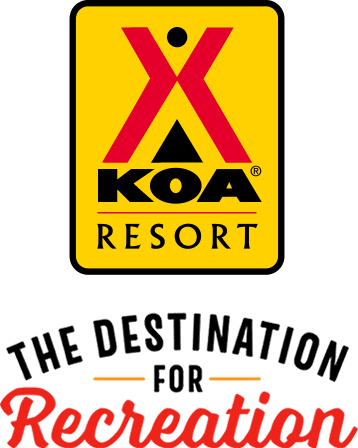 KOA Resort Campgrounds
KOA Resorts offer a carefree vacation in the great outdoors. Enjoy robust recreation and staff-led activities, kick back and relax by the resort-style pool, or grab a bite to eat, all while never leaving the campground. And with plenty of RV Sites with KOA Patios® and Deluxe Cabins with full baths to meet your needs, it's the ultimate camping getaway.
KOA Resorts Feature:
RV Sites with a KOA Patio®
Deluxe Cabins with full baths and linens
Premium Tent Sites
Resort-style pools
Indoor and outdoor group facilities
Directions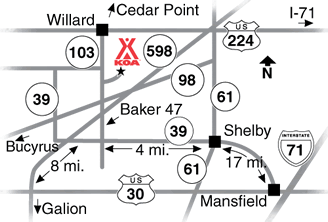 Please check shelbymansfieldkoa.com for directions from major cities in Ohio.  
From Mansfield: West on US 30, then right (north) 8 miles on SR 598, cross SR 39, then left onto Baker 47, go 2 miles and cross SR 98, go 1-1/2 miles on right.
From Shelby: West on SR 39, at junction of SR 39 & SR 96, on west side, stay right on SR 39 for 2 miles, right onto Baker 47 for 4 miles. 
GPS: N40.94861, W82.74323
 
Google maps works perfectly, do not use Mapquest or your Garmin, they will take you to the wrong Baker Rd.
Get Google Directions
Sep 15, 2021
Nice place to stay.
Sep 15, 2021
I would definitely recommend this campground to anyone that loves the peace and quiet but also likes to have things to do during the day. It is very clean and has a nice store/kafe.
Sep 15, 2021
Very nice stay.
Sep 15, 2021
Well kept facilities - newer miniature golf 18-holes was well kept. Great stay
Sep 14, 2021
Absolutely beautiful there. I highly recommend to everyone. Bathrooms were always clean. Lots of things to do with the kids as well. Very friendly and helpful staff members.
Sep 14, 2021
Great communication and friendly staff. Loved the grounds and cabins. Everything is so nice! Bathroom and kitchen accommodations were great! The free activities are a plus and they have a big store in case you forget anything.
Sep 14, 2021
All the staff was friendly and we had lots of conversations with them! They were all very helpful and the campground was beautiful, had lots if activities. And was very clean!
Sep 14, 2021
Very clean, very friendly staff, all around great place to stay!!
Sep 14, 2021
Very clean helpful and great customer service! Thank you koa!
Sep 14, 2021
Clean, well kept, plenty to do. 10/10
Sep 14, 2021
The cleanest and most well run campground I have ever stayed at. Friendly helpful staff. Definitely the place to be in the Shelby Mansfield area. We will be back.
Sep 14, 2021
I had only 2 people staying. I changed it to 4. I was charged the extra money but the room only had accommodations for me people. But again I was charged for 4 people. The cafe was closed. The pool was closed. When you pay almost $700 for a glamming tent. Everything should have been offered. Oh and my gate key never worked. Had to keep using the paper one that was given at first.
Sep 14, 2021
Great place to stay. Clean, Friendly, Outstanding job.
Sep 14, 2021
Really Nice staff. Very clean and well put together park. The cafés food was excellent
Sep 14, 2021
Loved the weekend there!! Quiet relaxing just the Hubby & fur boys!! Lots of area to walk & explore���
Sep 14, 2021
Wish we lived closer. Would definitely bring our grandkids. Highly recommend
Sep 13, 2021
Very beautiful location. Extremely helpful and friendly staff. Awesome customer service. Would love to stay again soon
Sep 12, 2021
Friendly staff, clean campground & bathrooms, family & pet friendly.
Sep 11, 2021
We have stayed several time while on our way to other destinations, but it is so lovely we hope to plan a longer visit soon! Gorgeous park!!
Sep 10, 2021
Great weekend, weather was good, friendly staff, clean grounds,and they installed new fence around dog park. Cant wait for next stay.
Sep 08, 2021
Great campgrounds, great owners!
Sep 08, 2021
We enjoyed 5 great days there, just relaxing with friends and enjoying the park. My only complaint would be to heat the pool, as advertised.!!
Sep 08, 2021
We LOVE this campground. It's beautiful with large roomy sites, an exceptionally nice staff and wonderful owners. Best place we have ever camped so far.
Sep 08, 2021
Had a great long weekend. Staff very friendly and helpful. Booked next year same weekend.
Sep 08, 2021
Let me say this. I had my daughter and two of her friends that I took camping. They are thirteen years old. They had a good time. That is what is important. C It was for them. Therefore there were pros. Let me tell you about the con. I have no problem if a group of people get drunk and have a good time around the campfire. our neighbors were more than that and i cant explain it wont allow
Sep 07, 2021
We love staying here. Very nice campground with lots of activities planned.
Sep 07, 2021
We have been going here for over fifteen years. We also have been to many KOA's across the country and this one is one of the best without a doubt. Clean, large sites, great people. If you want to get away to camp and just relax….go here.
Sep 07, 2021
Camping is a family event and I understand the fact that you are considered a "resort" however I think it is still disappointing that your site only includes 2 adults. I also think it is disappointing that you are now charging $4 for an additional vehicle and 2 vehicles passes do not come with your site reservation. A vehicle that can fit easily at your site and not occupy your extra lot.
Sep 07, 2021
We hated to leave and get back to reality!!!!
Sep 05, 2021
Have not met a nicer staff or workers at other campgrounds. Everyone has been a super help and so polite. Enjoy each time we stay. A well organized facility. Thx!
Sep 04, 2021
We stayed Sunday to Wednesday so we understand that all amenities may not be available. We checked in and Melissa was very friendly if we needed anything let her know and they will give us access to the amenity. Also her coworker Brian was awesome. The stay was great.
Sep 04, 2021
Beautiful campgrounds! Lots of things for kids. Highly recommend
Sep 03, 2021
Great site 88B wonderful people working there. The campground is very remote so no Antenna TV service but that was ok we were there to rest. We will be back next year.
Sep 02, 2021
Wonderful staff and comfortable cabin. What more could anyone ask.
Aug 31, 2021
We had a super time and plan to return next year. Gary and Vickie are super hosts and all the staff we had contact with were helpful and very nice.