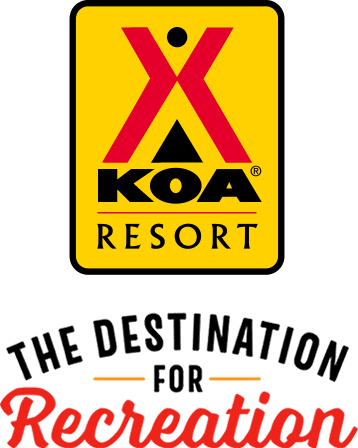 KOA Resort Campgrounds
KOA Resorts offer a carefree vacation in the great outdoors. Enjoy robust recreation and staff-led activities, kick back and relax by the resort-style pool, or grab a bite to eat, all while never leaving the campground. And with plenty of RV Sites with KOA Patios® and Deluxe Cabins with full baths to meet your needs, it's the ultimate camping getaway.
KOA Resorts Feature:
RV Sites with a KOA Patio®
Deluxe Cabins with full baths and linens
Premium Tent Sites
Resort-style pools
Indoor and outdoor group facilities
Directions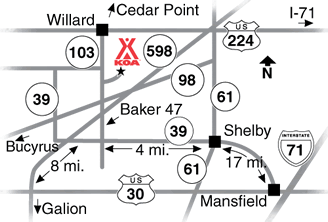 Please check shelbymansfieldkoa.com for directions from major cities in Ohio.  
From Mansfield: West on US 30, then right (north) 8 miles on SR 598, cross SR 39, then left onto Baker 47, go 2 miles and cross SR 98, go 1-1/2 miles on right.
From Shelby: West on SR 39, at junction of SR 39 & SR 96, on west side, stay right on SR 39 for 2 miles, right onto Baker 47 for 4 miles. 
GPS: N40.94861, W82.74323
 
Google maps works perfectly, do not use Mapquest or your Garmin, they will take you to the wrong Baker Rd.
Get Google Directions
Jul 26, 2021
We were here 2 years ago for a family reunion and decided to bring our 2 grandkids back since there is do much to do! I really enjoyed the combination packet, we wore a yellow bracelet instead of buying each activity individually! So this stay was even better than the other 2 stays prior to this!!! Thanks for a great vacation!
Jul 25, 2021
It was one of the nicest KOAs we have been too just with there were less seasonal spots.
Jul 24, 2021
Need more signs telling where the turns are passed the roads often and had to keep turning around
Jul 24, 2021
Loved our stay! All of the staff was so nice and helpful with everything! Sites were nice and lots of activities for the kids.
Jul 24, 2021
We had a great week in the cabins. Lots to do to keep everyone busy. Thank you for offering all of this and so many cabin options!
Jul 24, 2021
Arrived too late to enjoy activities! Did use the dog park which was very nice!
Jul 23, 2021
We had fun, the grandkids absolutely love the campground and all the activities they have for them to participate in. The only disappointment they had was that the kids craft was making the same craft two days in a row. This campground is the best. Thanks for another great stay and we cannot wait to come back in September.
Jul 23, 2021
We arrived early to find out that there was an early check in fee of $10 per hour. I thought this was a bit high. I would not mind paying a fee of $10 but not per hour. The extra $30 dollars brought our rate to $103 for the 18 hours we stayed.
Jul 23, 2021
Nice well taken care of.
Jul 23, 2021
We love staying here! Beautiful, peaceful if you want. Many things to do....
Jul 22, 2021
A lot of fun and activities for kids. I loved the flowers and ferns!
Jul 21, 2021
Great place. The best KOA we have been to. Everyone is so friendly.
Jul 20, 2021
As always we had a wonderful time. The grandkids loved all the activities.
Jul 20, 2021
I wish all campgrounds would set their standards to match those of the Shelby/Mansfield park. Great job on everything. Keep it up.
Jul 20, 2021
It was very clean and the staff was very helpful. I activated the grandchildren enjoy and love all the difference park.
Jul 20, 2021
We had a great time. Even though the weather did not cooperate and rained like cats and dogs, everyone was so kind and nice. Very pleasant time and will be back.
Jul 20, 2021
Expensive!!! Can't check in till 4 or even use the premises until 4 but charged a full day
Jul 20, 2021
We had a wonderful stay and will be definitely coming back
Jul 20, 2021
We had an enjoyable stay. Unfortunately we were unable to use the GAGA pit, due to mud from rain and the jump pad was not working. The mini golf was a very nice course. Tie dye was wonderful. Adult craft a lot of fun. Pool was nice and clean. The Kafe workers seemed annoyed every time we ordered something and took a very long time to prepare the food, but the food we ordered was good.
Jul 20, 2021
Many things for children to do. Friendly staff and a beautiful place. My mom said she felt like she was in Florida with all the pretty flowers. Campers are spaced apart well. Nice store and good food served in the restaurant. My brother stated he had never seen as nice of a shower room as you have. I was not far from home but felt like I had traveled far away for a nice vacation. Thank you
Jul 20, 2021
Rain sucked but, the stay was great and the amenities were great as well!
Jul 20, 2021
A sight backed up to a creek sounds inviting but it wasn't. The sight was very small no cable and plenty of mud not to mention bee's under the cover of the electric panel. Now I know that there were severe rain storms. The fire pit was buried in the ground and the cooking grid was in the shape of a U. I will not recommend your campground to any one .My wife and I have been camping for many years.
Jul 20, 2021
it was perfect
Jul 19, 2021
My favorite campground by far. Very clean abs the staff are so much fun.
Jul 19, 2021
This campground is very clean! the people are friendly and make you feel welcome, from the desk staff to the teens working the activities, always giving a wave and or a smile! Love to stay at this campground, the scenery is beautiful!
Jul 19, 2021
Many activists to keep the whole family entertained and a very clean campground!
Jul 19, 2021
Heard a lot of hype about this campground but thought it was just okay. Camp store is well equipped. Even has a build a bear for the little ones. Grounds need maintenance. Example, mini golf area over grown and heavily weeded. Other disappointment were the scheduled events, none started on time. Had to wait 40 minutes for a hay ride to arrive and we were the first in line?!.
Jul 19, 2021
The only complaint I would have is that everything in our yurt was covered in long black dog hair from the people that stayed before us clumps all over the floor and all over the bedding and the rug.. I swept really well on our first day but we couldn't avoid the hair because there was so much. Everything else was perfect.
Jul 18, 2021
The stay was great. Hope to see you all again next year.
Jul 18, 2021
had a great time only gave you a 4 because of shower house don't like that I had to keep pushing button for water to stay on and it took awhile for the water to get hot.other then that your place is awesome
Jul 17, 2021
This is the best campground we have ever stayed at. Very friendly staff. We highly recommend
Jul 17, 2021
It is a really nice park. lots of things to do
Jul 17, 2021
We had a fantastic time and my son (12) had a blast on the jump pillow. The only thing I would say was the Kafe' was a bit disappointing. Service was less than desirable, the food was salted way to much for my taste, and I was never charged correctly usually paying more. That being said we had a wonderful time and will return.
Jul 17, 2021
My husband and I stayed in the Cozy Cabin, we enjoyed the cabin and the campgrounds immensely. The mattress on the bed was so comfortable, and the cabin was perfect for our needs. We have no complaints, the only thing we didn't care for was how close to your neighbors the sites are, they are packed in so tight in some places that you are looking out the window right into your neighbors windows.
Jul 16, 2021
The campground is wonderful! So much for kids to keep busy and have fun!! I will have to say that I was not impressed with the owner, Vicki. She approached me when I drove up and questioned me very rudely!! It was not a warm welcome at all! She needs to greet people with some respect! I was so excited to come and visit with my friend and then was so down when I was rudely greeted by Vicki! Rude!
Jul 16, 2021
Clean, quiet campground with lots to do. We loved the pool, fishing, mini golf, bouncy pillow, and bumper boats. Definitely plan to visit next summer, hopefully without all the rain!
Jul 16, 2021
This is a very nice campground! It is easy to get in and out of, and is very clean. There are tons of amenities for kids (and adults!). The sites are nice and long. The staff is very nice and friendly.
Jul 16, 2021
All staff members were friendly and helpful. Loved that the stay included activities like mini golf, pedal carts, etc! Sites and facilities were very clean. May be the best campground we've ever stayed at.
Jul 16, 2021
Our stay at the Mansfield KOA was great! It was our first time in our camper, and the staff was extremely friendly and helpful! Our two kids (3 and 5) had a blast, and there was a ton of activities for the whole family. It was a clean campground, we will definitely be back!
Jul 16, 2021
Amazing. Staff and Community are out of this world!
Jul 15, 2021
It was awesome.. Everyone in the store and check in were nice and accommodating.
Jul 14, 2021
We had a wonderful stay. So much for the children to do. Everyone was friendly and everything was clean and well kept.