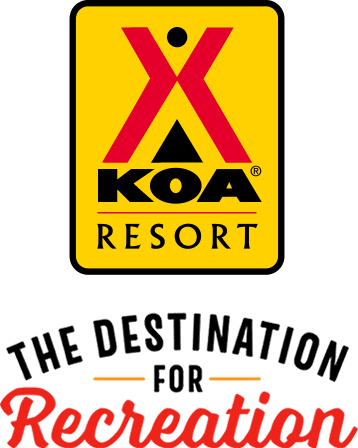 KOA Resort Campgrounds
KOA Resorts offer a carefree vacation in the great outdoors. Enjoy robust recreation and staff-led activities, kick back and relax by the resort-style pool, or grab a bite to eat, all while never leaving the campground. And with plenty of RV Sites with KOA Patios® and Deluxe Cabins with full baths to meet your needs, it's the ultimate camping getaway.
KOA Resorts Feature:
RV Sites with a KOA Patio®
Deluxe Cabins with full baths and linens
Premium Tent Sites
Resort-style pools
Indoor and outdoor group facilities
Directions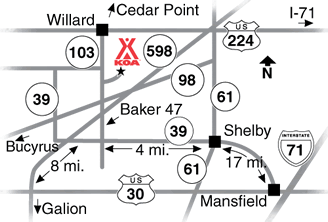 Please check shelbymansfieldkoa.com for directions from major cities in Ohio.  
From Mansfield: West on US 30, then right (north) 8 miles on SR 598, cross SR 39, then left onto Baker 47, go 2 miles and cross SR 98, go 1-1/2 miles on right.
From Shelby: West on SR 39, at junction of SR 39 & SR 96, on west side, stay right on SR 39 for 2 miles, right onto Baker 47 for 4 miles. 
GPS: N40.94861, W82.74323
 
Google maps works perfectly, do not use Mapquest or your Garmin, they will take you to the wrong Baker Rd.
Get Google Directions
Sep 22, 2021
Loved the pool! The movie night was awesome! The crafts for the kids, a lot of fun! We had a great time!
Sep 22, 2021
Clean, safe, cozy, and beautiful!
Sep 21, 2021
This campground is excellent for families! We loved all of the activities! The staff was very friendly and the entire campground was very clean. We will definitely be back for another stay!
Sep 21, 2021
What a great weekend. The grandkids had a blast with all the activities that were planned. The adults enjoyed the Adult craft and the corn hole tournament. The weather was beautiful. The staff was excellent as always. We absolutely love coming here. Cannot wait to be back in the fall and then over the 4th of July. Thanks to all of you for making this a great getaway experience.
Sep 21, 2021
We had an amazing time. Cabins were very clean, and nice. Excellent and super fast service. Love the fun train! Thank you!
Sep 14, 2021
Very clean helpful and great customer service! Thank you koa!
Sep 14, 2021
Clean, well kept, plenty to do. 10/10
Sep 14, 2021
I had only 2 people staying. I changed it to 4. I was charged the extra money but the room only had accommodations for me people. But again I was charged for 4 people. The cafe was closed. The pool was closed. When you pay almost $700 for a glamming tent. Everything should have been offered. Oh and my gate key never worked. Had to keep using the paper one that was given at first.
Sep 12, 2021
Friendly staff, clean campground & bathrooms, family & pet friendly.
Aug 31, 2021
We had a super time and plan to return next year. Gary and Vickie are super hosts and all the staff we had contact with were helpful and very nice.
Aug 31, 2021
We had a great time this past weekend. Staff was very friendly and there is a lot to do with kids and family. We stayed in the California Cabin. It's very clean and everything is there for you (besides food). We tried to do everything that was offered but ran out of time! We will definitely come again. The kids can't stop talking about our camping trip and wanted to stay longer.
Aug 31, 2021
The facilities, customer service, and amenities are amazing, clean, and friendly. I do think we shouldn't be charged for a full day of staying when check in as 4pm. I think a half day charge would be more appropriate.
Aug 31, 2021
Great place to stay with your family. The grounds are beautiful. There is staff everywhere. I read all the reviews (including the negative) before booking. We stayed in the Mars yurt. Every single staff member we came in contact with was amazing including Vicki. They sent text messages keeping us updated on events. It was an amazing experience from beginning to end.
Aug 24, 2021
Really only complaint was that the cabin was not well stocked at all. Only one spatula, no can opener, no wine bottle opener even though there were wine glasses etc,
Aug 24, 2021
We had a wonderful stay! We even added an extra night while we were there! We highly recommend it!
Aug 24, 2021
The Cozy cottage was great! Perfect amount of space for 2 people. The only thing I would change would be the mattress on the bed. It sinks in the middle :-( The overall amenities of the property were great too ... Lots of different activities and the property was well cared for. Thank you for your hospitality!
Aug 23, 2021
the wifi never worked. It was a huge hassle getting towels and trash bags. Nobody ever picked up trash. We live out of town and was in area for business. My older kids wanted to come visit in the evenings and eat dinner with us., but they wanted us to pay $7 a person for it. Even though they was coming to the cabin no swimming or anything else. I can stay in a nice hotel with room services cheaper
Aug 21, 2021
stayed from a sunday till tues--little problems were taken care of--do not understand why office is not open till 11 now that school has started--especially when checkout is at noon for cabins--did want to do things on morning of checkout but had to go find someone to open boats because office wasn't open yet--many things only for weekends--but will be back before close for season
Aug 20, 2021
Our stay was enjoyed by all. Our cabin leaked water due to rain fall , therefore we were moved to another cabin which we appreciated,
Aug 18, 2021
They always have such friendly helpful people in the office...we stay a few times a year..the grandkids just love this place
Aug 17, 2021
Very clean place. Everyone is friendly and very helpful. Lots lots of fun things to do.We will be back! Everyone in our party had a great time.
Aug 15, 2021
This was our 3rd year here and as always the grounds are extremely well kept. Very clean and provides many activities for everyone to do and they are included in the price. Provides golf cart for rental, the cabins are very nice and the store is exceptional. My only suggestion would be to spray for bees by the cabins.
Aug 15, 2021
The staff is wonderful and go out of their way to make your stay enjoyable. The glamping tent was a great way to camp. So many activities for the kids to enjoy. We will definitely be going back.
Aug 14, 2021
The staff was very friendly and helpful. It appeared they were experiencing the "employee shortage" that is hitting most places so a lot of areas were not cleaned or maintained. The employees who were there were hussling from place to place trying to keep customers happy. It made it easy to overlook little annoyances when the employees were always smiling.
Aug 14, 2021
LOVE THIS KOA, STAFF IS AWESOME, EVERYONE THAT WORKS THERE IS SO NICE!! CABINS ARE GREAT, NICE AND CLEAN ! LOVE LOVE THE SHELBY MANSFIELD KOA
Aug 13, 2021
Love the camp ground, lots to do, staff super friendly. Only thing was to many bees and nests around cabin. Did have staff come and remove some big ones which was great, but still had alot flying around. I'm allergic so not good for me. Other than that had a great time at pond, swimming in pool and hot tub. Love the store had a great variety of things to buy. Been to this camp ground 4 times.
Aug 13, 2021
Owner and staff were friendly. A charge of 40 dollars for early arrival was excessive. Facilities were clean and nice.
Aug 12, 2021
It was fantastic except for the rib dinner. Ribs were burnt. Also disappointing that the electric boats weren't working
Aug 12, 2021
Great. As always
Aug 11, 2021
The grounds were well kept with beautiful flowers and foliage. Clean, spacious cabins. Lots of activities for the kids to do
Aug 11, 2021
The campground has everything one could desire. The cabin we stayed in was clean and comfortable.
Aug 11, 2021
Employees were friendly, facilities were extremely clean and the kids and adults enjoyed all the activities. Awesome weekend! Thank you
Aug 11, 2021
Thank you for a wonderful stay! Our cabin was very clean and cozy. There was plenty for everyone to do. We had an amazing time and we will definitely be back next year!
Aug 05, 2021
The campground was very nice and clean. Pool was nice, activities for the kids was nice and the store and food service were very reasonable. I rate this as a 3 because of the Bass cabin and golf cart rental. The cabin was clean, but the whole cabin wasn't level. There were nails sticking up at the bottom of the stairs and I slept down hill. As for the golf cart, rental should be for all day.
Aug 04, 2021
We had a great time! Our cabin was great and spacious. All the activities were fun and the pool was nice.
Aug 03, 2021
This was our first stay at this KOA and it was absolutely enjoyable. So much was included in the price and will definitely make this a yearly trip. We had some issues with other campers walking through out campsite and they staff was on it immediately. Thank you so much for the great memories!
Aug 03, 2021
My wife our kids our grandkids all loved everything about this place activities pool campground cabins and camping spots.We've stayed at a lot of campgrounds in our 60 some years one of the best.Thanks to you and your great staff.
Aug 02, 2021
Cabin and facilities were clean, staff was friendly and courteous. It was a great time for all!
Aug 02, 2021
We love the Shelby/Mansfield KOA. Everything is so clean & beautiful, the staff is so friendly & helpful. It's just beautiful!
Jul 29, 2021
I enjoyed my stay very much..the cabin my daughter's family was in had an issue with the air conditioning not working properly and the staff was so quick to bring a fan and a portable air conditioner...they just go above and beyond..we didn't get to see amy on this stay but the young girl that helped us was trained just as well and super friendly and helpful
Jul 29, 2021
Was not happy with TV service or internet service.
Jul 27, 2021
Always a great time! The Kafe has great food and the staff very friendly. Cabins are comfy and clean. We had several different cabins with our family being so big and all were perfect for each of us. Amenities are great too! Two suggestions: 1. Please stock the lake better with fish so kids get that thrill of catching a fish. 2. Please move the mirror in cabin 2 to a different wall.
Sep 18, 2021
We came to the campground with a few friends -- we ended up getting a single cabin (amazing!), another couple had a cabin (they booked later, so only had cabins with an outside bathroom available, I would recommend booking sooner than later and getting a cabin with a restroom), and another couple had a camper; we ended up checking out the surrounding areas, hiking, checking out Mansfield, and walking around the campgrounds. At night we had a fire, s'mores, BBQ cookout, and hung out all night in chairs. We didn't have too many bugs which surprised me but either we got lucky or they recently sprayed. First time to a KOA and I have to say it was a pleasant surprise.
- dubdarko on Trip Advisor