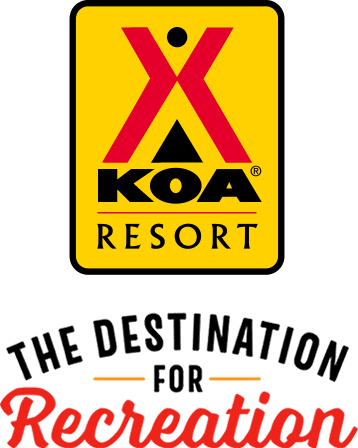 KOA Resort Campgrounds
KOA Resorts offer a carefree vacation in the great outdoors. Enjoy robust recreation and staff-led activities, kick back and relax by the resort-style pool, or grab a bite to eat, all while never leaving the campground. And with plenty of RV Sites with KOA Patios® and Deluxe Cabins with full baths to meet your needs, it's the ultimate camping getaway.
KOA Resorts Feature:
RV Sites with a KOA Patio®
Deluxe Cabins with full baths and linens
Premium Tent Sites
Resort-style pools
Indoor and outdoor group facilities
Directions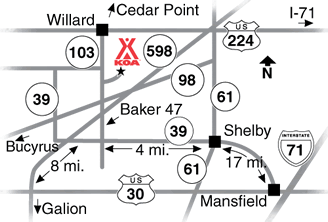 Please check shelbymansfieldkoa.com for directions from major cities in Ohio.  
From Mansfield: West on US 30, then right (north) 8 miles on SR 598, cross SR 39, then left onto Baker 47, go 2 miles and cross SR 98, go 1-1/2 miles on right.
From Shelby: West on SR 39, at junction of SR 39 & SR 96, on west side, stay right on SR 39 for 2 miles, right onto Baker 47 for 4 miles. 
GPS: N40.94861, W82.74323
 
Google maps works perfectly, do not use Mapquest or your Garmin, they will take you to the wrong Baker Rd.
Get Google Directions
Jul 17, 2021
It is a really nice park. lots of things to do
Jul 17, 2021
We had a fantastic time and my son (12) had a blast on the jump pillow. The only thing I would say was the Kafe' was a bit disappointing. Service was less than desirable, the food was salted way to much for my taste, and I was never charged correctly usually paying more. That being said we had a wonderful time and will return.
Jul 17, 2021
My husband and I stayed in the Cozy Cabin, we enjoyed the cabin and the campgrounds immensely. The mattress on the bed was so comfortable, and the cabin was perfect for our needs. We have no complaints, the only thing we didn't care for was how close to your neighbors the sites are, they are packed in so tight in some places that you are looking out the window right into your neighbors windows.
Jul 16, 2021
The campground is wonderful! So much for kids to keep busy and have fun!! I will have to say that I was not impressed with the owner, Vicki. She approached me when I drove up and questioned me very rudely!! It was not a warm welcome at all! She needs to greet people with some respect! I was so excited to come and visit with my friend and then was so down when I was rudely greeted by Vicki! Rude!
Jul 16, 2021
Clean, quiet campground with lots to do. We loved the pool, fishing, mini golf, bouncy pillow, and bumper boats. Definitely plan to visit next summer, hopefully without all the rain!
Jul 16, 2021
This is a very nice campground! It is easy to get in and out of, and is very clean. There are tons of amenities for kids (and adults!). The sites are nice and long. The staff is very nice and friendly.
Jul 16, 2021
All staff members were friendly and helpful. Loved that the stay included activities like mini golf, pedal carts, etc! Sites and facilities were very clean. May be the best campground we've ever stayed at.
Jul 16, 2021
Our stay at the Mansfield KOA was great! It was our first time in our camper, and the staff was extremely friendly and helpful! Our two kids (3 and 5) had a blast, and there was a ton of activities for the whole family. It was a clean campground, we will definitely be back!
Jul 16, 2021
Amazing. Staff and Community are out of this world!
Jul 15, 2021
It was awesome.. Everyone in the store and check in were nice and accommodating.
Jul 14, 2021
We had a wonderful stay. So much for the children to do. Everyone was friendly and everything was clean and well kept.
Jul 13, 2021
We were very impressed with this campground. It was clean and ALL the staff was friendly and helpful. Kids loved the fun train!
Jul 13, 2021
This was our third time at Shelby/Mansfield KOA and we talked our family into coming too. We had so much fun and made many memories. I knew they would fall in love like we did. We are all booked for 4th of July next year! But of course we are coming in October for the Halloween fun! Thank you for a great stay!
Jul 13, 2021
This KOA is amazing!! There is so much for kids to do, our grandchildren loved it. Everyone associated with the resort is very friendly and helpful. My only issue issue is with the spotty WIFI on B05. When the weather doesn't cooperate, tablets are life savers!! This was not our first, or last, visit. We will be back. Thank you!! Tom
Jul 13, 2021
We really enjoyed the amenities and the courteous staff. We traveled as 2 adults and 2 11 year old girls. The girls had a blast and we were glad that we didn't have to worry about their safety. Great place for families!
Jul 12, 2021
Need to do some maintenance around the camp grounds the putt putt golf needs some work to make it nice again weeds and tree work around some of the flower beds
Jul 12, 2021
This is the best KOA in Ohio and possibly all of the United States!!! Ultra clean facilities. Every staff person from the check in counter to the kids that deliver the firewood are superb. If you are traveling into Ohio then you need to make this KOA your destination. It truly lives up to the KOA "Resort" name.
Jul 12, 2021
Fantastic! All employees were very kind and helpful. Plenty of activities for adults, teens, kids, and toddlers. Bathrooms/showers were all very clean as well.
Jul 12, 2021
We had a wonderful time! They have tons of activities for the kids that kept them entertained all weekend long!
Jul 12, 2021
We highly recommend Shelby Mansfield KOA! We have been going to the resort for many years and each outing is fabulous! Well organized, super clean, and some of the nicest people we have met are working at this KOA. Bravo!
Jul 12, 2021
Love coming to this campground! Campsites are such a nice size and everything is so clean. Staff is also so friendly!
Jul 12, 2021
We had a great stay. All the employees had smiles on their faces, always spoke to us and was always asking if they could help in any way. So many activities for visitors of all ages. We will definitely be back again.
Jul 12, 2021
Everyone was very pleasant. At first I was disappointed that our site didn't have the stamped patio, but the owners did their best to fix the deck where we were to make it better. It is a very nice park & we had a great time !
Jul 12, 2021
We had a wonderful experience!! We will definitely be back!!
Jul 12, 2021
We loved it there! The kids had a blast and so did the adults. Can't wait to come back!
Jul 12, 2021
This was a very relaxing and enjoyable weekend. The staff was very helpful and polite. Will stay again
Jul 12, 2021
Immediately pulling off of the main road and into the campground, we felt welcomed, safe and well taken care of. The staff was extremely friendly and helpful. We truly cannot say enough about them, they were great. The grounds were well maintained and very clean. Kudos to the staff in Shelby for your hospitality and cleanliness. WE WILL BE BACK
Jul 12, 2021
We stay here 2-3 times every year. I have always rated a five because they are great, friendly and wonderful service. However, we always stay in our camper. This time we stayed in a tent for the fun of it. Different part of the park and even though they say quiet time is 11pm, there were groups going loud and strong passed 2am. This KOA needs someone monitoring the evening time.
Jul 12, 2021
Really nice campground, besides the site we were at (90). The sites are close together!! Other than that, I really liked it. The staff was friendly. The cafe was kinda of pricey.
Jul 11, 2021
Stayed for the 4th if July weekend. We had a great time camping. Restrooms were very clean. The ladies at the front desk were very nice and helpful. The fireworks display was awesome. Thank you so much, we will see you next month.
Jul 10, 2021
Top notch KOA, Biggest Rig friendly, roomy sites, beautiful grounds, quiet location, activities for every family member, well stocked store, great food served at on site cafe and wonderful staff.
Jul 09, 2021
Large camp sites, friendly staff, lots to do for the kids, and just had a great time. Thanks for everything!
Jul 09, 2021
So much fun for the whole Family!!
Jul 08, 2021
We had a great stay as always. 3 year coming for July 4. Love the activities. Love how Ed made wine bingo better. He only gave people 4 bottles of wine instead of 7 done in the past. Made game last longer . I would say only bad experience we had was the cafe. I got taco salad chips very stale. Pizza was r done all the way. However, everything else was great
Jul 08, 2021
Campgrounds were clean, well kept. Excellent communication about activities, my questions were always answered quickly. All personnel were pleasant and helpful. We had a great time!
Jul 08, 2021
This was our 4Th. year at the Shelby KOA and have been very happy with everything. Employees have been very nice and the whole campground looked great and very clean . Already reserved a cabin fir next July 4th week. �
Jul 08, 2021
The two cabins were perfect sizes for our family and the outdoor space (and weather:) made for lovely evenings.
Sep 18, 2021
We came to the campground with a few friends -- we ended up getting a single cabin (amazing!), another couple had a cabin (they booked later, so only had cabins with an outside bathroom available, I would recommend booking sooner than later and getting a cabin with a restroom), and another couple had a camper; we ended up checking out the surrounding areas, hiking, checking out Mansfield, and walking around the campgrounds. At night we had a fire, s'mores, BBQ cookout, and hung out all night in chairs. We didn't have too many bugs which surprised me but either we got lucky or they recently sprayed. First time to a KOA and I have to say it was a pleasant surprise.
- dubdarko on Trip Advisor