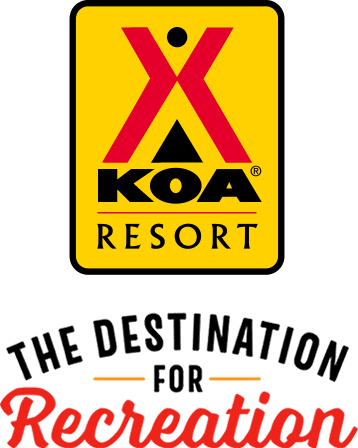 KOA Resort Campgrounds
KOA Resorts offer a carefree vacation in the great outdoors. Enjoy robust recreation and staff-led activities, kick back and relax by the resort-style pool, or grab a bite to eat, all while never leaving the campground. And with plenty of RV Sites with KOA Patios® and Deluxe Cabins with full baths to meet your needs, it's the ultimate camping getaway.
KOA Resorts Feature:
RV Sites with a KOA Patio®
Deluxe Cabins with full baths and linens
Premium Tent Sites
Resort-style pools
Indoor and outdoor group facilities
Directions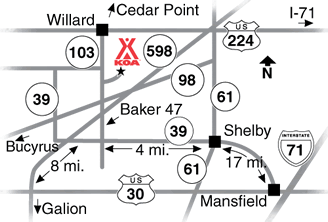 Please check shelbymansfieldkoa.com for directions from major cities in Ohio.  
From Mansfield: West on US 30, then right (north) 8 miles on SR 598, cross SR 39, then left onto Baker 47, go 2 miles and cross SR 98, go 1-1/2 miles on right.
From Shelby: West on SR 39, at junction of SR 39 & SR 96, on west side, stay right on SR 39 for 2 miles, right onto Baker 47 for 4 miles. 
GPS: N40.94861, W82.74323
 
Google maps works perfectly, do not use Mapquest or your Garmin, they will take you to the wrong Baker Rd.
Get Google Directions
May 29, 2021
Great place with tons of stuff to do!
May 29, 2021
Great quiet overnight stay. Well-maintained facilities with lots to do if you have children. We'd definitely stay here again and recommend it for others.
May 28, 2021
Always our favorite place to camp
May 26, 2021
The donuts & pizza are wonderfully tasty & economical. The owners & staff are friendly & helpful. Made reservations fir next year prior to leaving.
May 26, 2021
Staff and camp ground were wonderful! Highly recommend....GREAT family vacation!
May 26, 2021
Wonderful as always
May 26, 2021
It was great. I loved it. Besides some repairs and a bigger bed would be nice.
May 25, 2021
Very clean campground. Lots to do.
May 25, 2021
This is our favorite place to camp! We love everything about this KOA. We're amazed by the cleanliness of this campground and the staff are very friendly. If I could give it a higher rating, I would.
May 25, 2021
We arrived thru express check-in which was awesome! Pulled right in and they escorted us directly to our site. After set up, went to the cafe for supper and ice cream and a stroll thru the beautiful grounds. The next day, we went sightseeing and came back and rented a golf cart to go fishing in the fishing pond. Lots of activities for families. The employees are incredible.
May 25, 2021
One of the nicest parks on the east coast. If you have kids this is the place you want to be. All kinds of activities. Zip line. Boats. Bikes. Train. Crafts. Enormous play area. Absolutely no mud anywhere. Very large grasses sites. Huge patios. Nice pool. This is the standard every park should use. Great job all around. Absolutely beautiful property.
May 25, 2021
The site was very large, and well taken care of. We really enjoyed the weekend thanks for doing a great job
May 25, 2021
We had a great time!
May 24, 2021
Everything promised was delivered in a fast, friendly manner !
May 24, 2021
Always the best!
May 24, 2021
Clean and friendly
May 24, 2021
So many fun things to do! This was our first time staying in warm weather, (we usually visit in fall) and we're already booking another summer trip. The staff adds to the enjoyment, all are friendly and fun! Pool is nice and clean!
May 24, 2021
Short overnight stay. Staff was very helpful and the site was great.
May 22, 2021
Everyone was very helpful and polite. People were always working at something to keep up the grounds. Very quiet and peaceful with plenty of things to do for the children. We have dogs, so the only complaint would be that the K9 park was so far away. I just kept telling myself that it was good exercise.
May 22, 2021
Wonderful campground with so much to do, especially for kids. We weren't traveling with children but our two dogs enjoyed the pet run. The store was stocked well, the site was quiet and the only thing I'd like changed is later store hours. We would definitely camp there again.
May 21, 2021
Had a fun time and will definitely do it again
May 20, 2021
Always a great place to stay. Staff is always friendly and attentive. One of our favorites to stay at.
May 19, 2021
We stayed in the Western cabin and loved it. The bed was comfortable, the propane grilled worked like a charm. The campground is clean and the staff are wonderful. We will be back.
May 19, 2021
It was wonderful
May 18, 2021
Gary & Vickie are always very friendly and they'll stop and talk with you. Very clean restrooms , great activity. Ron & Nancy
May 18, 2021
Very well kept facility, very friendly staff!
May 18, 2021
We had an absolutely wonderful stay at this KOA! The grounds are awesome, sites roomy and the camp store (although a little overpriced) is well stocked! We didn't have WiFi, which was annoying, but gave us a reason to truly disconnect.
May 18, 2021
Nice campground. Lots of activities. Bathrooms were nice and clean. We will be back!
May 18, 2021
It was very relaxing quiet in the evenings with plenty of activities to keep you busy. Was a very nice break from the day to day life.
May 18, 2021
We enjoyed ourselves so much we stayed an extra night and booked our next stay here for June. Very clean, staff is amazing and plenty for the kids to do.
May 17, 2021
We loved the Shelby KOA. The only thing that could make it better is if there was blacktop instead of stone
May 17, 2021
We enjoyed our weekend very much!
May 17, 2021
always nice!
May 17, 2021
This was our first time here ,we are already planning on returning
May 11, 2021
Love it there, been there several times and will be back, great owners and employees!!!
May 11, 2021
First time at this KOA and absolutely loved it. Will definitely be back in the warmer months to take advantage of the pool, etc. Kids had a blast with so many activities for them to do and the staff was very kind and helpful. Wonderful stay!
May 11, 2021
A pleasant stay even though part of the campground was flooded.
May 10, 2021
GREAT PLACE LOVE CAMPING AT YOUR KOA FUN PLACE TO BE. WE WILL BE BACK