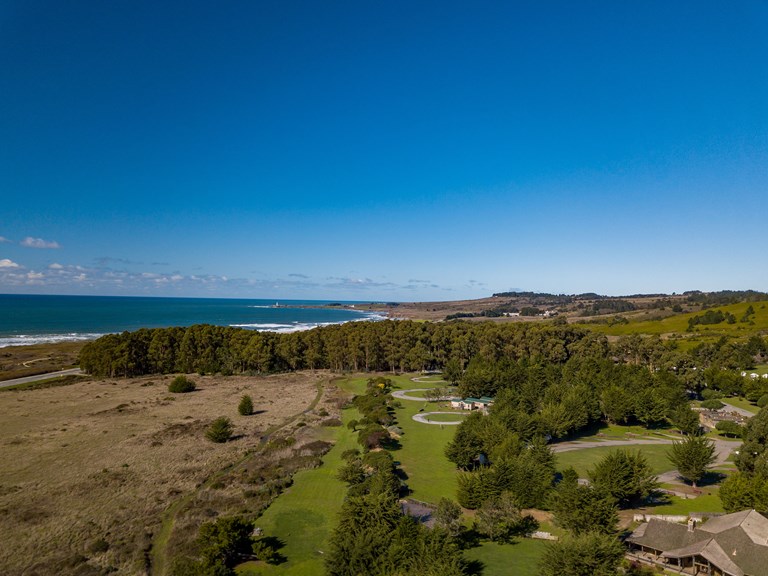 Santa Cruz North / Costanoa KOA Reviews
Directions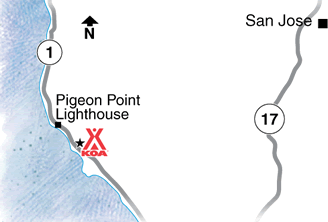 Driving South From:

San Francisco: 1 hour south on HWY 1

Half Moon Bay: 25 miles south on HWY

Entrance is on the left, 3 miles south of Pigeon Point Lighthouse. Look for Rossi Rd and signs for Costanoa and KOA.
Driving North From:

Santa Cruz: 25 miles north on HWY 1

Entrance is on the right just north of Ano Nuevo State Park signs.  Look for Rossi Rd and signs for Costanoa and KOA.
Get Google Directions
Sep 21, 2020
Clean grounds Beautiful surroundings.
Sep 16, 2020
The staff is very helpful and the campground is incredibly clean. I can't wait to visit again.
Aug 21, 2020
Unfortunately, Tuesday 18th, due to will fires in the area, we had to evacuate the campgrounds around 10:30 at night. For me I was very difficult evacuating because I was on a bicycle tour. I had to bicycle 24 miles back to Half Moon Bay not knowing if I was going to find a place to sleep,
Aug 16, 2020
The staff is very friendly while checking in and out. Clean restroom and shower. One thing I like best is that during COVID-19 they re-drew the camping site spaces and make each site bigger, which makes our camping experience much more comfortable and enjoyable. Will come back next time.
Aug 14, 2020
Overall a very nice stay. One bummer about tent campsites is no fire ring/pit. We took advantage of fireplaces by Comfort Stations, but it's a little weird being right outside the bathrooms. Speaking of bathrooms, they were some of the nicest I've experienced camping and I imagine that has more to do with Costanoa than KOA, but still a very nice perk. Love ocean location & Carla in reg v. helpful!
Aug 13, 2020
We camped in a tent at the lighthouse camp ground. The campsites were close together but we were able to stay separated. The communal camp fires located by the bathrooms supplied free wood. The facilities were clean with free hot water showers and flushable toilets. We had great access to hikes and the beach. Overall we enjoyed a great trip!!
Aug 13, 2020
The bathrooms and campground were clean, and there were excellent adaptations to COVID-19 - we felt safe! Only downsides were that it was busier than we expected (lots of RVs) and there was a baby crying through the night.
Aug 09, 2020
A gorgeous campground with tons of possibilities. We enjoy "glamping" while still pitching our tent. Warming stations, showers,clean restrooms, even restaurants and a general store! We enjoy the hiking trails and have been able to watch the full moon rise from the lookout overlooking the ocean and surrounding forest. Hike to the beach is equally awesome. Near Pescadero for a bike ride and lunch.
Aug 09, 2020
It was lovely, great for hiking and easy access to the coast. They do seem to have a lot of rules (eg. no hammocks, no fires in tent camping area), and my friend was unexpectedly approached by security in the middle of the night when she went to use the restroom, acted like she needed an escort. Other than that, it really was lovely to be able to camp with friends in a beautiful place.
Aug 07, 2020
It is a very nice campground, clean and everyone is friendly. However it was upsetting that we were only allowed 1 car in the Tent camping area but most other tent campers had more than 1 car. I had called prior asking if we could pay for an extra car was was very rudely told no so this was upsetting when there was 6 tent camp sites and we had at least 10 cars every night
Aug 05, 2020
The first night was amazing! The set up of where they moved some of the tent sites had less privacy than we are used to, but we got over it. The second night a large rowdy group moved into some bungalows from the lodge and were making noise late and back up the next morning at it again early. It sounded like a frat party. We told the ladies at check out, but no accommodations were offered.
Aug 05, 2020
Clean. Friendly people. Beach access is about a mile and a half walk but well worth it.
Aug 05, 2020
INCREDIBLE! We didn't want to leave. Even with activities/amenities limited, it was still a beautiful and fun place to stay. Great location near the cost, weekend immaculate grounds and friendly folks.
Aug 02, 2020
We had a great stay and really appreciate the physical distancing that was created so we could camp safely.
Aug 01, 2020
The location and facility were excellent. My only disappointment was in the way the tent area does not allow for privacy.
Jul 27, 2020
Very friendly and welcoming staff. Beautiful campgrounds with plenty to do and see. We just wish that there was a fire pit at our site in ohlone because it was so cold without one.
Jul 27, 2020
It is truly a resort experience! Our family loved it!
Jul 26, 2020
So it was a spare of the moment road trip.I got a tent spot "lucky". So we headed down the one from Pismo to Costanoa it was so beautiful. So we arrived in Santa Cruz to our spot at 3pm everything went smooth until I packed the shower tent and not the tent we are supposed to sleep in! Eeek went to the front & SO AWESOME!!! they had a spare tent!! Saved the day thank you to the staff:)
Jul 25, 2020
Great, easy stay for families!
Jul 20, 2020
The staff make the place for sure, although the place is nice and well kept.
Jul 19, 2020
I really liked how clean the campsite was, how friendly the other campers were, and how nice the whole campground looked. I didn't like how there wasn't a place to build a campfire next to our tent.
Jul 17, 2020
Showers/restrooms neat and tidy! Our campsite is perfect for our big family, kids enjoyed playing on the grassy ground, spacious, the only thing we cant do was that we can't do camp fire because of the fire hazard so we need to go to the family area to warm ourselves.. we wanted to go back here next time!!
Jul 17, 2020
We had a great time for our first time KOA camping, we are a family of 4, small kids had fun, and we stayed at the light house grove camping site, the bathroom are clean we wanted to stay longer but we will definitely coming back to camp again. im thinking if i should get the membership.
Jul 14, 2020
Reservation made a year in advance, the site was so short the fire pit was on our bumper. The narrow site barely allowed us to open cargo doors due to the trellis around the the electrical box. This was not worth $118. The tent site for $54 was awful. They tried to put my one discount in the 3 night tent sight, not the 4 night RV site. I called several times,staff was rude. Worst KOA ever.
Jul 13, 2020
We stayed there from July 10-12 and I must say it was a really good break for our family. The location is awesome with lot of activities to do around the area like hiking and walking to the beach. Proper social distancing protocols were in place, restrooms and shower was very clean and had limitations on how many people can be in at a time. Would highly recommend this place.
Jul 13, 2020
The grounds are beautiful, well kept, with great amenities. Also, no mosquitos!
Jul 05, 2020
Beautiful spot, clean bathrooms, COVD precautions are in place, which made us feel secure. Anything you forget you can buy at the very clean cozy store.
Jul 04, 2020
Loved it. First family camping experience after the birth of our last child. Was great for our family, the trails were amazing. The tent camping area was great. Only thing I wish we had was a fire pit.
Jul 03, 2020
Beautiful setting but would not return. My site was in the middle of a traffic loop, seemingly only one without a fire pit. It was noisy (weed-wackers, screaming children), there was trash on the ground, and I was hassled by security (had to defend that check-in had asked me to stay at said site). Left feeling ripped off, the price did not reflect the lack of advertised amenities & unfriendliness.
May 08, 2020
The tent camping closed due to covid 19 and so they moved us to a bungalow for no extra cost. It goes to show you that experience is their priority not taking advantage of being the only coastal resort open and charging huge prices. This is our staycation place and I'll be spending a lot of time here over the course of this pandemic
May 06, 2020
We enjoyed our stay! I would like to send a shout out to Gary and Ed for providing us with wood at night to enjoy the community fire pit.
Apr 27, 2020
It was beautiful, spur of the moment, staff was amazing, whole place was very clean, food was good... nothing bad to say except we didn't want to leave! Cant beat the view...
Apr 22, 2020
I rested for two days.
Apr 13, 2020
This was our first stay at any KOA facility and we were highly impressed! We have already recommended it to others who are planning ahead to have a stay. It was a fabulous experience!
Apr 09, 2020
Rainy evening. Too late to set up tent properly. Rule about no sleeping in vehicles should have Ben posted more prominently, so I could have gone elsewhere before paying you my $45.70. Cold, wet night. Not good.
Apr 06, 2020
We are tent campers and inquired about staying on one of the tent platforms that some of the RV sites have. We were told that we must have an RV. I think this is a ridiculous rule. If I'm willing (or foolish enough) to pay the RV price to utilize the tent platform, I should be able to. KOA doesn't lose any money. You should revise this rule!!
Mar 30, 2020
Best camping experience of my life. It's been a long time and it appears camping life is all together different these days!!
Mar 30, 2020
It was awesome! Everyone was really friendly and knowledgeable about the area. I really liked the rustic atmosphere of the amenities, the comfort center was nicely kept and clean. The landscape was very well kept and I think this camp/spa retreat is a place that offers the vacationer the perfect retreat for relaxation. The site offers a variety to choose from and I will be returning soon.
Mar 28, 2020
Excellent place for the price it is classy nature.
Mar 05, 2020
Great little camping spot. The tent area was a little strange. It is an exclusive grassy area a little sloped. It does get quite windy here in the evenings so be aware of that. This place is walking distance (long walk) to the beach. They have a petting zoo area and horses on site. They even have a nice play ground for the kids. This is great for a long weekend... much more you may get bored.
Feb 24, 2020
It was lovely! I really appreciated the comfort stations providing a warm refuge since I was tent camping and it was quite cold out.
Feb 24, 2020
Was great super spot
Feb 22, 2020
Camped overnight. Comfort stations saved us since we didn't check weather and it was brrrr.
Aug 12, 2020
Best KOA I've been to. It's near a lighthouse and not far from the Santa Cruz boardwalk. They have a garden and great views of the ocean. Bring a camera.
- James Nixon on Google
Aug 10, 2020
(Translated by Google) Good place to cool off (Original) Tempat yang baik untuk menenangkan diri
- Semuel Lentho on Google
Jul 30, 2020
We love it here. The grounds are beautifully maintained. Great restaurants and accommodations to suit most people's needs
- Kathie Fitch on Google

Santa Cruz North / Costanoa KOA
Open All Year
2001 Rossi Road at Hwy 1
Pescadero, CA 94060
Check-In/Check-Out Times
RV Sites, Tent Sites
Check-in: 2:00 pm, Check-out: 12:00 pm
Santa Cruz North / Costanoa KOA
Get Google Directions

© 2020 Kampgrounds of America, Inc.