Directions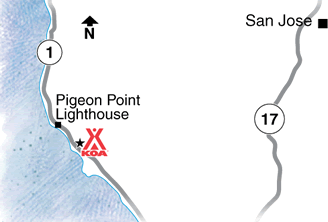 Driving South From:

San Francisco: 1 hour south on HWY 1

Half Moon Bay: 25 miles south on HWY

Entrance is on the left, 3 miles south of Pigeon Point Lighthouse. Look for Rossi Rd and signs for Costanoa and KOA.
Driving North From:

Santa Cruz: 25 miles north on HWY 1

Entrance is on the right just north of Ano Nuevo State Park signs.  Look for Rossi Rd and signs for Costanoa and KOA.
Get Google Directions
Apr 12, 2021
I liked the lay out and the amenities- lots of green space and places to hang out- My campsite W01 was not very good or private . people, including kids constantly walked thru my site to get to the bathroom. Also, the picnic table was placed next to the shrubs on the next campsite-and it was not accessible- It should be on the grassy area- this site should not be a camp site-
Apr 12, 2021
Trina and Hal assisted us when we arrived. They were fantastic and got us a spot. The entire staff was efficient and friendly. I really like what they have done adding new plants and the first section with the paver patios-wow! Will definitely return. Very pleasant experience.
Apr 11, 2021
Great stay. Facilities being cleaned up and improved. Only issue was sewer dump higher than my trailer.
Apr 11, 2021
Seascape Village has beautiful sites and would be nice for multiple night stays if you can get in this area it is worth staying at. In the other loops the sites are way too close together like a parking lot with hookups. It's a shame because they have some great things like tent platforms, kids play area and activities and a nice dog run.
Apr 11, 2021
Wonderful as always!
Apr 11, 2021
The spots are crazy small and I have a teardrop. The area is beautiful. The store is well supplied. However it is criminal that you cannot sell a bottle of Chardonnay for less than $35. I found one unchilled mediocre $25 bottle. Terrible internet.
Apr 10, 2021
Enjoyed family time
Apr 09, 2021
Glamping to the max! Best RV resort in Northern California for those who like the amenities and feeling safe during these crazy times. Staff and facilities were awesome.
Apr 09, 2021
We had a wonderful time. We loved being so close to the beach. The live music on Saturday was a real treat.Cascade bar and grill has great food. The campgrounds are clean , well kept and the employees are very friendly and helpful. We will definitely be coming back. Darla Hicks
Apr 09, 2021
Wend maintained. Guests seemed to be courteous following rules if the campground.
Apr 09, 2021
Nice views, nice people and close to the ocean. Will return!
Apr 06, 2021
It was very relaxing and the weather was perfect. We felt the spaces were rather narrow and very close together, although the area behind with the table and fire pit and platform for a tent was nice. All in all it was a very enjoyable stay.
Apr 06, 2021
Great Location . Clean and well maintained
Apr 06, 2021
It's such a clean, friendly place near the ocean.
Apr 05, 2021
We had such a wonderful family adventure! Having little Siri with 3 teenagers meant walks on the beach, mountain bike rides, and searching for migrating whale spouts! The grounds were clean and well kept with spacious sites. We will definitely plan to eat back soon!
Apr 05, 2021
Far more of a resort than a campground. Staff was very friendly and helpful. Easy access to the beach and surrounding small towns.
Apr 05, 2021
Very nice we loved the patio and furniture Great!!!
Apr 03, 2021
Our favorite place !
Apr 03, 2021
Loved the grounds, layout, and access to both good food and each. Staff seemed less than thrilled to creatively help- maybe some customer service training at the entry gate and lodge. Everyone everywhere else- general store and restaurant were amazing!
Apr 03, 2021
Very nice comfortable location. Felt very safe & bathrooms and showers were clean. At one point an obnoxious woman took over a neerby gazebos with a hammock, computer and all her aerobics stuff, screamed at her family, "I need my space!" and proceeded to blast her music and do her aerobic routine. After an hour, I requested someone go by and ask her to turn it down and they promptly did.
Apr 02, 2021
Beautiful area, easy to get to with an RV. Even with the activities closed there is plenty to do and explore.
Apr 02, 2021
As always, we love our time here at Costanoa! It is our favorite place to stay!!
Apr 01, 2021
Our stay was very successful from registering, checking in, arriving and departing. No flaws or hiccups. Thank you for such a clean facility.
Apr 01, 2021
Stayed in spot which is too narrow. Neighbor was having party the entire weekend with over 25 people counted in the space, directly under my bedroom window. The party continued Friday and sat night. Finally at 11:30 I called and the party was stopped. Roaming security should have seen and corrected the problem prior to my call. Not relaxing at all. Very well kept and friendly staff.
Apr 01, 2021
Everything was fine. Wished there would have been some partial dining inside at least.
Mar 31, 2021
Beautiful grounds, great food. Perfect location. Will definitely go back.
Mar 31, 2021
Overall it was very nice. It seems like most of the rules that are stated aren't followed. People walking through campsites, Pit Bulls and other breeds that aren't suppose to be allowed are there. Masks not being worn outside your campsite, extra visitors where at various campsites, large groups taking over some of the command ares, as if it was their own private area.
Mar 31, 2021
Great place , wifi a bit spotty , but overall we would stay there again in the future
Mar 31, 2021
We enjoyed our stay in the Seascape Village loop. The additional amenities in that loop are very nice. We particularly liked the Weber barbecue and the nice table with chairs instead of the usual picnic table. While it's a bit on the pricy side at $150 a night, we'll be back.
Mar 31, 2021
Costanoa KOA is an absolute paradise! The grounds are lovely and very well layed out. The KOA is a short distance over to the beach for some fun in the sun and a romantic walk at sunset. The staff are super friendly and very helpful : ) Highly recommend going for a visit!
Mar 29, 2021
Wifi is important to me. Wifi here was very weak. Disappointing but I love Costanoa
Mar 27, 2021
Friendly staff, wonderful amenities, and clean facilities!
Mar 27, 2021
Enjoyed the stay. Beautiful area. Rest rooms and grounds were clean and neat. Friendly check-in. Black sage on number 11 needed to be trimmed. Loved the store and the garden.
Mar 26, 2021
Costanoa is a great place to stay. Only recommendation is they need to have a better way of letting you know if open fires are allowed or not.
Mar 26, 2021
You all are are so friendly & helpful. Thank you!! The resort upgrades in Seascape loop are beautiful. We have stayed with you for many years, and were very impressed our last visit. It's near impossible to book sites, as you're booking so far in advance, but when we can get a site it's an amazing time. Having Pine Tent open is also great, great people & food. We look forward to our next vis
Mar 26, 2021
It was too short! The campground is amazing and I can't wait to go back.
Mar 26, 2021
We were in Seascape Village loop which had very sturdy table and chairs, gas grill and paver patio and fire pit. Everything was very clean and well maintained. Sites were nicely spaced around a lush lawn. Loved walking around the organic garden.
Mar 26, 2021
Love the new set at Seascape the chair and fire pit were very fun. We were disappointed with the lack of internet service and the cable hook up was equally disappointing. Cell service was very bad unless you were by the restaurant or little store. We know this is a camping experience but sometimes you still need to be connected to the outside world and this was not possible at Costanoa.
May 05, 2021
We needed somewhere to stay at the last minute for two nights, as we were unable to amend our existing reservations and Scott was extremely helpful in accommodating us. For our first night, we had a patio site, which was great and if we return to this area, we would definitely select one of these. Our second site was a standard pull-through, less space, but it served our needs. Walking access, just five minutes across Highway 101, is possible from the campsite and well worth the effort to view the sunsets!
- Scotlyon369 on Trip Advisor
Apr 15, 2021
See my post on Costanoa
- Tom Fahrenbruch on Google
Apr 13, 2021
This place is amazing!! Spent some time there with my oldest and his family and had a blast! Everyone is so friendly, the park is very tidy and beautifully landscaped! Loved the firepits and table and chairs at each site. Really enjoyed Town square which had a little bar and food menu. They had a band on Saturday!a great selection of drinks beer and cider! Plus they have growlers and you can sit At a table while the kids play a huge size connect four game!! The showers were clean. The power was not working in the bathroom so I couldn't blow dry my hair. But I left my Lights on and ran my battery dead so when I went to go leave I had to get a jump and was really grateful to the maintenance guys who were able to bring around jump cables!! It's a bit of a walk to the beach but well worth it!! I would drive if you are taking little kids though that is a crazy street to try and cross!
- Tamara Starkey on Google