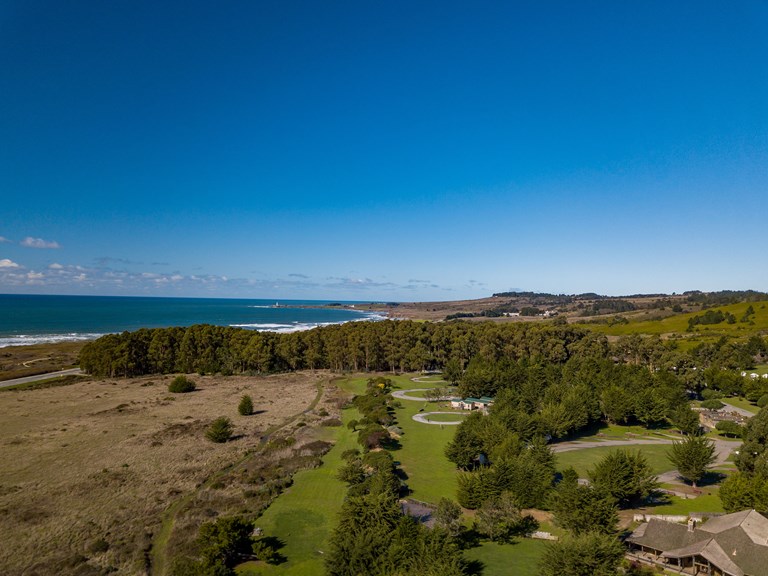 Santa Cruz North / Costanoa KOA Reviews
Directions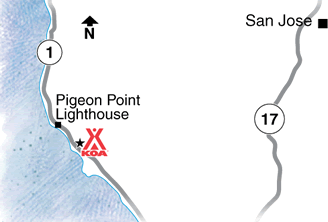 Driving South From:

San Francisco: 1 hour south on HWY 1

Half Moon Bay: 25 miles south on HWY

Entrance is on the left, 3 miles south of Pigeon Point Lighthouse. Look for Rossi Rd and signs for Costanoa and KOA.
Driving North From:

Santa Cruz: 25 miles north on HWY 1

Entrance is on the right just north of Ano Nuevo State Park signs.  Look for Rossi Rd and signs for Costanoa and KOA.
Get Google Directions
Jul 17, 2020
No internet, very frustrating. Thankfully we only stayed one night. The grounds and restaurant are great. If you don't need internet, I give it a 10.
Jul 16, 2020
We have stayed at this facility several times. This is the first time we stayed on the Whales loop. It was very crowded and noisy!! I even called security one night at 9:45. Although is was before Quiet hours the noise was unreal. We will never stay in the back area again. Very disappointed
Jul 16, 2020
We really liked the grounds and the store but the wifi was really unreliable. Based on what everyone was paying, I think that Costanoa should invest in a better internet option. Also, the firepits were so small that it was difficult to make a safe fire that actually produced heat on the chilly evenings.
Jul 16, 2020
They messed up some of the best campsites like S 22 where you had lawn and now you have dirt
Jul 16, 2020
Love the campground, great sites, the internet is nonexistent even standing by the pole.
Jul 15, 2020
great time nice people BUT too many rules not with standing the new restrictions from COVID, RELAX we are vacation.
Jul 15, 2020
Stayed at Eucalyptus, nice long spot (E10) with private deck, shade and oh so important a wind break from the impressive eucalyptus stand. Spots were kinda close together though. Overall enjoyed the hiking trails and proximity to the beach.
Jul 15, 2020
Very clean campground with nice amenities. Wish there could be a little more privacy in between campsites. Close to beautiful beaches. Overall great campsite.
Jul 15, 2020
We love this place and will come back again, but there was no internet access for the four days we were there, when it was crowded and not crowded. For the dramatic increase in price to stay, this was disappointing.
Jul 14, 2020
Loved the grounds and all of the amenities. The restaurant on the premises was so nice. Also loved the location and trails to the beach. We will definitely be back.
Jul 14, 2020
great place to camp people are nice and the views are amazing
Jul 14, 2020
Workers are efficient and keeping us safe! Only problem was that our site (50) put our 19 foot van too far away from the sewer connection. We couldn't back up to reach it due to the railroad tie blocking us from going farther back. Sites 48 and 46 are the same. We moved over briefly to site 52 to dump black and gray water, which delayed our departure by at least 30 minutes. Thanks to all
Jul 13, 2020
We were amazed by the whole place.the initial greeting when we arrived was warm and welcoming our site was amazing - spacious, clean nice tables and chairs provided, new Weber grill, nice fire pit, safe area for kids to play and ride bikes, beautiful view of the water. Definitely staying again!
Jul 13, 2020
This is the most beautiful rv campground I've ever been to. Already booked my next stay. The landscaping is incredible.
Jul 13, 2020
The campsite is very well maintained and beautiful. The only negative is the RV sites are on top of each other and there is no privacy of any kind. I would recommend spacing the sites out, especially with COVID-19. Campers/RVer's on top of each other and a lot of people were not wearing mask. Staff all had mask on and was practicing social distancing.
Jul 13, 2020
Awesome grounds! Clean, lots of grass & loved the booze cart.
Jul 12, 2020
Your Manager is rude! ( short, blond heavy set woman) read my yelp review about her screaming at me. I was wrong for not knowing at 0615 about quiet hour when I was working out. But her behavior was unacceptable!! Threatening and screaming, also no mask! E1 is not a premium back in! Also lots of ticks there. Loose dogs who ran at my dogs. Beach is a 1 mile away across highway 1. Not on the beach!
Jul 12, 2020
restrooms were clean and well-stocked. security was good.
Jul 11, 2020
We've been coming since 2004. Love this place
Jul 11, 2020
Overall, had a very nice stay. Facilities were clean and well maintained. However, we were unaware dogs were not allowed on the beach. Therefore, after walking all the way down to the access point, had to turn around and come back. We also discovered we came home with more occupants than we left with. We discovered ticks on our dog and in our motorhome the day after we left.
Jul 11, 2020
The park was nice and clean. My only gripe was the price.
Jul 10, 2020
We had a great time. We felt very safe. We already booked our next stay. All of your staff were also very pleasant.
Jul 09, 2020
Beautiful area! Dog friendly. People friendly. Premises clean. Campsites expensive and close together. For the price the campsites should at least have a functioning BBQ.
Jul 09, 2020
Beautiful campground, close to the water and hiking. The general store offers the best healthy foods. A warning, some of sites have a bit of a slope.
Jul 09, 2020
At check-in, the staff refused my reservation because I had a Sprinter Van pulling a Happier Camper. I'd rented a large pull through (50+) and my rig is 29 feet. He claimed my Happier, which is simply a fiberglass box without an engine, qualified as a second "recreational vehicle" and so we couldn't use the spot we rented. He threat to kick us out if all four didn't sleep in the Sprinter. FU!
Jul 07, 2020
Great place but pricey.
Jul 07, 2020
Sewage line clogged, backflowing raw sewage into our site. The immediate response of available staff was completely unacceptable. Eventually a manager arrived, and at least was able to provide insurance information. By that time, we had already moved our RV, and abandoned the camping gear contaminated by the outflow.
Jul 07, 2020
Breakfast from the Pine Tent Cafe was the highlight of our stay. Really enjoyed the flowers and shrubs. The beverage cart was a nice plus too. What the backin site lacked in width was made up for in depth, Sadly, our trip came to an abrupt early end when sewage backed up into our site. You won't see us soon, but in time we may consider returning, just not to site 24 or 23.
Jul 07, 2020
We were in site 22, our site and all around us had weeds,dry grass I really felt like I was in a low class campground, we paid over a 100.00 per night, i really expected better accommodations. If we ever return it will be a long time!
Jul 06, 2020
Stayed July 4th weekend 3 nights $450 pricey (booked last year) went to book for next year $825 for 4 nights! Seascape loop. Very nice but too expensive going to make reservations somewhere else.
Jul 06, 2020
Such a beautiful place! The staff were all excellent and helpful and the grounds were immaculate. The restaurants available onsite were good and very convenient too.
Jul 04, 2020
The best people working to help your stay be perfect. Improvements on camping spaces is making for excellent paved walkways, patios, and fire pits. Great facilities and grounds maintenance. My fire pit was cleaned out before I got up in the morning.
Jul 03, 2020
We always love staying at Coastanoa. The improvements in landscaping and new patios with fire pits and high end tables and chairs Make the Seascape Village sites even more attractive. Watch out not to put bushy landscaping too close to the RV pads though! Good job protecting from COVID19 spread!
Jul 03, 2020
The gardens are gorgeous. Property well maintained. The staff was terrific. Nice food choices. I would choose a different parking spot for our next visit. We were next to the bathhouse. I also think it would be nice to have spaces for people without children. I love children but the noise was a bit much.
Jul 03, 2020
This must be KOA's flagship park. I loved everything about it; Clean bathrooms, firepits, trails to the ocean, restaurants, friendly staff, everything you need! You don't need to leave the campground. I wish I had stayed longer but I will definitely be back. Beautiful!
Jul 03, 2020
We had no idea the resort would be so beautiful! We will be back. Thank you!
Jul 02, 2020
Lovely property. Very cute general store. Love the Pine Tent for our morning coffee and delicious pizza in the evening. Gorgeous location and the smell of eucalyptus everywhere. I also like the new bar cart that drives around taking orders! Thank you for all of your precautions during the pandemic.
Jul 02, 2020
Wonderful time!
Jul 01, 2020
Very expensive, narrow sites, felt cramped.
Aug 10, 2020
(Translated by Google) A good place to cool off (Original) Tempat yang baik untuk menenangkan diri
- Semuel Lentho on Google
Jul 30, 2020
We love it here. The grounds are beautifully maintained. Great restaurants and accommodations to suit most people's needs
- Kathie Fitch on Google
Jul 28, 2020
This might seem on the pricey side for a KOA, but there is definitely a spa resort feel to it. The restaurant uses produce from the garden and there are lots of organic treats in the general store. It is across the street from the gorgeous seascape of the Año Nuevo State Park.
- Sarah Lacasse on Google

Santa Cruz North / Costanoa KOA
Open All Year
2001 Rossi Road at Hwy 1
Pescadero, CA 94060
Check-In/Check-Out Times
RV Sites, Tent Sites
Check-in: 2:00 pm, Check-out: 12:00 pm
Santa Cruz North / Costanoa KOA
Get Google Directions

© 2020 Kampgrounds of America, Inc.