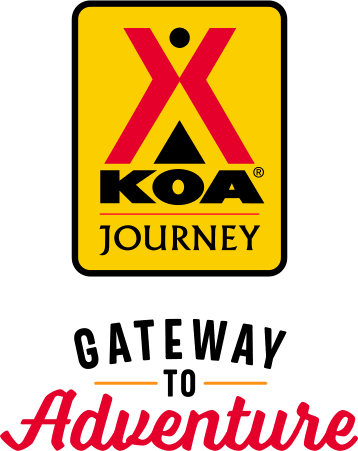 KOA Journey Campgrounds
KOA Journey campgrounds are the perfect oases after a day on the road. Whether it's along the way or a quick getaway, they've got you covered. Located near the highways and byways of North America with long Pull-thru RV Sites, they deliver convenience to the traveling camper. Pull in, ease back and take a load off.
KOA Journeys Feature:
Pull-through RV Sites with 50-amp service
Premium Tent Sites
Well lit after hours check-in service
Directions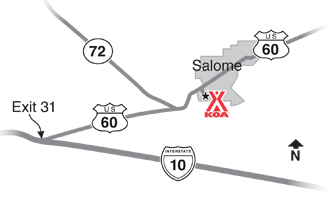 East on I-10 from Quartzsite & California: Take Exit 31/US 60 E/Wickenburg/Prescott onto US 60 East. At mile marker 54, turn right onto KOA's entrance road.
West on I-10 from Phoenix & Buckeye: Take Exit 81/Salome Rd/Harquahala Hwy. Turn right onto Salome Road. Travel 31 miles to Hwy 60. Turn left (west) on Hwy 60, go 2 miles.  At mile marker 54 turn left onto KOA's entrance road.
GPS: 33.760976, -113.649419
Get Google Directions
Jun 14, 2019
Friendly staff, but some of the facilities could use a little maintenance. Off season, but most amenities were very nice.
Jun 06, 2019
they always have space available, our go to place...
Jun 05, 2019
someone set a railroad track too close to the campsite and they seem to use it mostly at night. not KOA's fault. for a desert campground it was really nice, mild days and cool nights. plenty to do at the site.
Jun 04, 2019
My stay was Awesome! Large clean private bath rooms! There was tons of space and activities, gathering space, TV, ping pong table, microwave, coffee maker and a laundry, books, card games, board games, DVD player, large assortment of DVDs and best of all a pool table. Outside there is a swimming pool, mini golf, horse shoes and corn hole. There no way you can be bored here.
Jun 01, 2019
Convenient, lovely pool and spa, clean,
May 30, 2019
Actually we only wanted to stay 2 nights. But we welcomed so warmly and the place was so pleaseant, so we stayed longer. Thank you for the nice time!
May 29, 2019
Great place to stay. Everything is clean and easy to access.
May 20, 2019
Very nice people, all the amenities are there.
May 17, 2019
We love this place! It is our winter home. The people are like family to us!
May 17, 2019
The facility is pretty Spartan for a KOA. However, the location has been convenient for two of our trips to Arizona. The facility was clean. The office is never open. The two staff Members I did encounter were nice and helpful. The mini golf course needs lots if repair. The price was reasonable. We night stay there again for a one night stay, again it is convenient of our route through Ariz
May 17, 2019
Would have liked some shade trees...would be better to stay in the winter months of course than the summer. Staff was very friendly and all was clean and neat.
May 12, 2019
A nice and helpful Owner. Everthing was very Cleaner, even the Pool.
May 11, 2019
Very nice and clean. Everything was in top shape.
May 05, 2019
Matt and staff were great. We enjoyed our stay for 3 months. The pool is awesome. The weekly pot-luck, pancake breakfast and hot dog night were great gathering & socializing.
May 04, 2019
Friendly staff, Clean facilities.
May 03, 2019
Quiet nice pool/jacuzzi to relax
May 02, 2019
Typical KOA-clean and easy overnight stay. Linda was very friendly and pleasant. They had package, their own creation, of things to see and do in the area with history, locations and maps. This was enough for us to want to come back to area.
Apr 28, 2019
The only issues we had was loud highway noise and no shade, but that's why they call it the desert.
Apr 27, 2019
It was a wonderful place to stay. Great employees very friendly loved the pancakes!
Apr 27, 2019
Your office hours are really short so I literally never saw an employee the entire time I was there. I do believe your campground is the most desolate KOA I have seen and I have been in 24 states.
Apr 24, 2019
...friendly staff, large lots, cleaning restrooms and shower - looking for a place to stay choose here.
Apr 24, 2019
Very Clean pool and spa and the restrooms were not only very clean but also air conditioned. There are currently some amazing cacti blooming in the first block west of the KOA.
Apr 21, 2019
Je suis depensee ces quartres jours avec mon ami, Pierre. Notre sejour etait excellente. Nous avons fait la conaissance des personnes tres aimable. La restaurant en la ville etait tres bonne. Je suis achetee cette tres jolie souvenire pour ma mariee aussi.
Apr 17, 2019
Great for our overnight stop. Very nice facilities
Apr 15, 2019
Staff is great and doing an amazing job here! Looking forward to coming back next year. I hope KOA will put some money into this park so we can continue to love it! Thanks for the great winter.
Apr 09, 2019
My stay was very brief. I was traveling and needed a safe place to stay to rest. This KOA was very clean and everyone was very friendly.
Apr 03, 2019
We love the staff and the other campers. We spent 3 months there, and have reserved the same site for 2020.
Mar 31, 2019
Easy to get in clean park and Restrooms and showers are great
Mar 30, 2019
Very nice and clean campground. We really enjoyed our stay there.
Mar 25, 2019
Our stay was very enjoyable, the only thing that I found was that there should be more trash receptacles throughout the camp grounds.
Mar 25, 2019
Check in was very pleasant and easy and facilities are good.
Mar 25, 2019
We loved it. All the staff were friendly and the pool was just perfect. We will be back. Thanks John and Suzann
Mar 25, 2019
The tent camping site was nice. One neighbor played head banging music pretty loud from 6 to 10 or so in the evening. Not enough shade.
Mar 25, 2019
All gravel - no landscaping-internet did not work-okay as we just stayed over night but drove by a nice place down the road in the morning-laundry shower and the building were good
Mar 24, 2019
One overnight Walked dog Showered Hot tubed Paid for internet(stopped connecting after 15 minutes) Headed North
Mar 23, 2019
The park is really very nice, friendly service and great level parking. If you have transportation you are not too far from groceries (35 mile) and great areas to sight see. Having come here to get away from the freezing temperatures its a great place to wind down and relax.
Mar 21, 2019
Very nice people, gravel sites as you would expect in the desert. Very clean and organized. I had a little difficulty with my water connection in my new Motorhome and they were there in minutes to help. Very friendly snow birds, I would certainly stay again.
Mar 19, 2019
Great time as always, only issue was water pressure was a little low.
Mar 19, 2019
We spend 2 weeks a year at the park and always find the staff helpful and cheerful. The facilities are always clean and available. The utv/atv access to trails are the best. We'll be back next year.
Mar 19, 2019
Road our ATV and had a wonderful St Patrick's day camp function meal.
Feb 01, 2021
Staff is above & beyond with helpfulness and friendly demeanors. Very clean facilities, bathroom, clubhouse, etc, but even the outside tables. Grounds kept up, everything was great!
- Christina Danner on Google
Jan 29, 2021
Great KOA with easy access to go off roading into the desert. There were alot of friendly people staying and enjoying themselves at the park. The pull through site we had was very spacious and super clean. We would definitely stay again.
- James Reilly on Google
Jan 19, 2021
One of the nicest KOAs we've stayed at in a long time. Staff is above andd beyond friendly good little Mexican restaurants just down the street
- Sheri Vess on Google