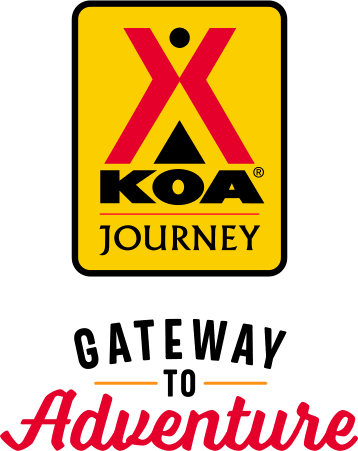 KOA Journey Campgrounds
KOA Journey campgrounds are the perfect oases after a day on the road. Whether it's along the way or a quick getaway, they've got you covered. Located near the highways and byways of North America with long Pull-thru RV Sites, they deliver convenience to the traveling camper. Pull in, ease back and take a load off.
KOA Journeys Feature:
Pull-through RV Sites with 50-amp service
Premium Tent Sites
Well lit after hours check-in service
Directions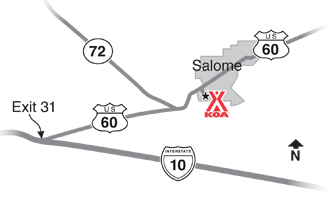 East on I-10 from Quartzsite & California: Take Exit 31/US 60 E/Wickenburg/Prescott onto US 60 East. At mile marker 54, turn right onto KOA's entrance road.
West on I-10 from Phoenix & Buckeye: Take Exit 81/Salome Rd/Harquahala Hwy. Turn right onto Salome Road. Travel 31 miles to Hwy 60. Turn left (west) on Hwy 60, go 2 miles.  At mile marker 54 turn left onto KOA's entrance road.
GPS: 33.760976, -113.649419
Get Google Directions
Feb 09, 2021
How ever helped us find a spot when we came was awesome. I did make a reservation after hours, but nothing was in the box. Needed one to plug in just an extension cord. Found a tent site. It was only around 5:30 or so . Went to office in morning to say we ended up in a tent site. Office said I was for 89, but no paperwork, first said wasn't going to give disc, payed for leg site, but finally did.
Feb 08, 2021
Great stay, very friendly staff, clean conditions throughout. Not too bad with road traffic or noise. Quiet community. Stars are amazing art his location. One thing I would suggest though as a tent camper it was hard to drive my steaks into the ground they bent very easily due to what I'm imagining is a concrete subfloor . All in all an amazing place I will definitely go back again and again
Feb 07, 2021
First time camping, older person, the host and everyone at this campground was friendly and respectable. The site was large, clean, the showers and bathrooms ware immaculate. The pool and jacuzzi and social space were clean and well maintained. This KOA had a very welcoming and warm atmosphere.
Jan 19, 2021
The campground was well maintained, and people were friendly. There were lot's of amenities and some food options close by. The hours for quiet are 6 am - 10 pm. There was a couple that came in, and for over an hour they were screaming at each other. However, the grounds themselves, and everything is in really good shape and clearly taken care of.
Jan 08, 2021
A little hard to find, as they are off the beaten path but that meant a very quiet night. Clean, friendly atmosphere. Park full of citrus trees, loved that it backed up to BLM property. Lots of walks with a variety of cactus to see. Would definitely stay there again.
Nov 29, 2020
One of the Best KOA's we have stayed at. Very clean, very friendly staff. An Outstanding stay.
Aug 01, 2020
We were very glad the pool was open. The restrooms were very clean.
Jun 12, 2020
We went during a non busy time...middle of June and Loved it! Very clean.
Feb 10, 2020
Awesome Loved the pool and hot tub KOA people were great Along with everyone we met there
Oct 30, 2019
We had a great time! Nice facility and friendly people!
Sep 29, 2019
Extremely clean!
Jun 05, 2019
someone set a railroad track too close to the campsite and they seem to use it mostly at night. not KOA's fault. for a desert campground it was really nice, mild days and cool nights. plenty to do at the site.
Jun 04, 2019
My stay was Awesome! Large clean private bath rooms! There was tons of space and activities, gathering space, TV, ping pong table, microwave, coffee maker and a laundry, books, card games, board games, DVD player, large assortment of DVDs and best of all a pool table. Outside there is a swimming pool, mini golf, horse shoes and corn hole. There no way you can be bored here.
Mar 25, 2019
The tent camping site was nice. One neighbor played head banging music pretty loud from 6 to 10 or so in the evening. Not enough shade.
Mar 09, 2019
What a wonderful experience!!! Excellent amenities but more importantly was the people!!!!! I will be back!!!
Feb 18, 2019
A return trip for me. Friendly folk. Staff as well as Campers! The county has some rules that the staff conveyed to me in a kind manner, and helped me to a solution! Loved playing pool, nice clean hot tub, roomy showers, tv and morning coffee was a treat! All round great two night stay!
Feb 12, 2019
Got to the site late, but the office had left our instruction packet by the office door. Had everything we needed to find our site, get set up and get around the park. Everyone we met was very nice and helpful. Works out to be a great spot to overnight between Phoenix and Joshua Tree National Park.
Jan 19, 2019
My first overnite at a KOA. Very pleasant, & the staff was super helpful. Beautiful amenities. Clean!
Jan 15, 2019
I was tent camping and had a pretty good experience. However, the tent sites are too close to the RV sites. (not much privacy). Also, there is no outdoor kitchen facility. This would help tent campers greatly. Lastly, the campground bathroom facilities could be expanded to handle more traffic. I
Dec 14, 2018
Do you guys not have WiFi? We didn't see a network and certainly didn't have access to a password when we arrived after hours. This was a major disappointment after driving 20 miles from the highway to stay with you all and didn't have cell service.
Oct 25, 2018
Very accommodating in my site request. Friendly staff. Clean showers and restrooms. Beautiful pool and spa area.
Sep 09, 2018
Clean, quiet place, equipped with bathrooms, showers, swimming pool, and dinning area. Great rate for the tent sites. Need better internet connection.
Mar 24, 2018
Only two bathrooms. Need more so people don't have to wait. There are two more in the community room. That's all I could find. No privacy between sites. Staff was friendly. Bathrooms were spotless.
Feb 23, 2018
Clean clean clean....from the showers to the pool to the club rooms to the sites. Friendly and helpful staff. Even had discussion on which sites would work best for us! Loved the library/ game room. Olympics were on and two places to watch. Loved th 24 hr clubhouse as old folks ARE up at all hours! All things brought to staff are taken care of immediately. All round enjoyable.
Feb 13, 2018
Friendly. Laid-back. Excellent facilities and sqeaky clean. Will stay again.
Dec 18, 2017
Bathroom ( big and clean ) 10/10
Oct 06, 2017
Neat, organized, great location, and very kind people :)
Mar 23, 2017
Excellent KOA camp ground. Spacious, clean, top notch facilities. Clean bathrooms and showers. Superb Wi-Fi; a pain to sign in but worth the trouble because the signal is strong and the service is fast for email, etc. Nice orange trees, well landscaped. Staff is friendly and helpful. The best KOA I have ever stayed at and I have been to 15 or so.
Mar 19, 2017
Great facilities and Jennelle (manager) is a wonderful host. Will stay again!!!
Mar 12, 2017
The campground was beautiful and the pool and hot tub felt great
Mar 04, 2017
One of the best KOA's we have stayed at. Loved the crystal clear and refreshing jacuzzi and pool. Everyone there seemed to be having so much fun playing together at games in the evening. The private bathrooms are a real plus and all was tidy and clean. Staff was exceptionally friendly and helpful.
Oct 17, 2016
Friendly! Great pool. An oasis. Good for tents!
Oct 04, 2016
Could not get logged in to wifi. Liked the pool and spa. Bathrooms very nice.
Sep 28, 2016
Good facilities, easy to find a site as a late check bathrooms were immaculate, best I've seen from a KOA. Great stop!
Sep 20, 2016
Very clean & quiet.
Mar 11, 2016
Slowest internet speed since dial-up. Unpleasant fighting in Rec Room over TV. Great little hot tub, clean restrooms, friendly staff.
Jan 17, 2016
The people around us were very nice. And sociable.
Aug 06, 2015
We payed the $28 and never stayed. It was sketchy. Too wide open. And way too visible by outsiders. We did not feel comfortable enough I even stay one night. And I've stayed in some pretty bad koas
Aug 05, 2015
A very nice site and well looked after. It's good to know that the office closes at 4pm, or in Summer at least. And to know that the quiet nights get suddenly interrupted by the early morning train. We didn't know and got a surprise as the tent quivered and we thought the train was going right through.
Feb 01, 2021
Staff is above & beyond with helpfulness and friendly demeanors. Very clean facilities, bathroom, clubhouse, etc, but even the outside tables. Grounds kept up, everything was great!
- Christina Danner on Google
Jan 29, 2021
Great KOA with easy access to go off roading into the desert. There were alot of friendly people staying and enjoying themselves at the park. The pull through site we had was very spacious and super clean. We would definitely stay again.
- James Reilly on Google
Jan 19, 2021
One of the nicest KOAs we've stayed at in a long time. Staff is above andd beyond friendly good little Mexican restaurants just down the street
- Sheri Vess on Google