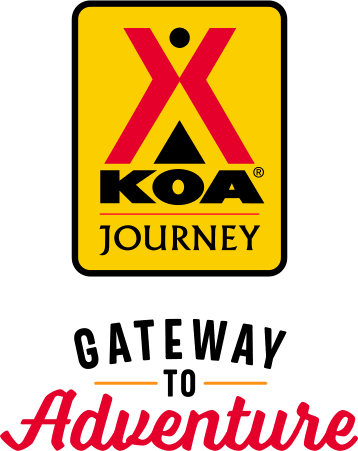 KOA Journey Campgrounds
KOA Journey campgrounds are the perfect oases after a day on the road. Whether it's along the way or a quick getaway, they've got you covered. Located near the highways and byways of North America with long Pull-thru RV Sites, they deliver convenience to the traveling camper. Pull in, ease back and take a load off.
KOA Journeys Feature:
Pull-through RV Sites with 50-amp service
Premium Tent Sites
Well lit after hours check-in service
Directions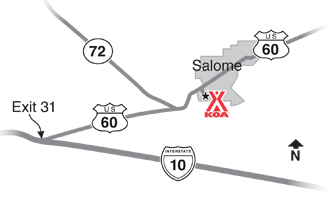 East on I-10 from Quartzsite & California: Take Exit 31/US 60 E/Wickenburg/Prescott onto US 60 East. At mile marker 54, turn right onto KOA's entrance road.
West on I-10 from Phoenix & Buckeye: Take Exit 81/Salome Rd/Harquahala Hwy. Turn right onto Salome Road. Travel 31 miles to Hwy 60. Turn left (west) on Hwy 60, go 2 miles.  At mile marker 54 turn left onto KOA's entrance road.
GPS: 33.760976, -113.649419
Get Google Directions
Feb 21, 2021
Very clean campground and bathrooms!
Feb 21, 2021
Very quiet. Great access to the desert. Good amenities, needs cable tv.
Feb 20, 2021
The wind was terrible and it was cold. Did not enjoy my stay there.
Feb 16, 2021
The campground was very clean, the staff was friendly, and helpful. Lots of great trail riding, will come again. The one negative is the WIFI, I did not like giving all my information to an outside source for "free internet access for 30 days". Every time I left camp I would have to go through a login process to access the WI-FI again. 5 stars if they fix the WI-FI.
Feb 16, 2021
Linda was exceptional, very helpful, big beautiful friendly smile! Look forward to our next stay!
Feb 15, 2021
Very large camping sites. Super clean and organized for all sizes of trailers and RV's. LOTS of wind and some rain but gravel kept mud to a minimum. Great staff.
Feb 15, 2021
We had so much fun on the ATV trails. Great winter destination. Amenities were nice. Facilities were well kept and clean. Everyone was very friendly.
Feb 14, 2021
The people that work there are all great. The only thing I would recommend is there are 2 fenced dogs by the dog walking area that have a fit whenever anyone goes by. I would recommend moving them to the back of the RV park if they return.
Feb 14, 2021
Need cable. Office hours extended
Feb 14, 2021
great greaters will recommend to friends thanks
Feb 13, 2021
Stayed for one month. Great spot!
Feb 13, 2021
clean and nice place to stop on the way to or from west coast. we will stay agian in the future.
Feb 12, 2021
it was great the only thing that was missing was the kitchen being closed, but that couldn't be helped because of the pandemic , i would like to no how i could work/camp there
Feb 12, 2021
GREAT CAMPING-GREAT PEOPLE. WILL STAY AGAIN!
Feb 10, 2021
Middle of nowhere. Good place to hide from virus
Feb 09, 2021
We had a wonderful time in Salome. The campground was clean, and the area is beautiful, if you like the desert. They did a great job of keeping everything in good shape while working around difficult Covid conditions.
Feb 08, 2021
Swimming pool was really great, heated and no one there in the morning. Great place to stay.
Feb 07, 2021
Great place. Lots of room for utv and trailers. Very helpful and friendly staff. Stayed several times.
Feb 05, 2021
Our stay was great. The Staff was very friendly and helpful. Could not ask for anything more.
Feb 03, 2021
The staff is always ready to assist you in any way they can. They keep it clean and the rv's respect each other's privacy. I will be back this winter for my eight year.
Feb 02, 2021
My 3rd time here. The place is always super clean. Employees are always very pleasant. Anything you need they do their best to provide. Only thing they could not control this year was the cold weather. Did get to see the mountains blanketed in snow one morning. As always nice visit. Nice little town.
Jan 29, 2021
Great KOA - very clean and we appreciate the large pull thru site. Great location for going off road into the desert. The long term people staying at the rv park were all friendly and actively riding around having a good time.
Jan 29, 2021
As always it was great. Clean shower laundry room and recreation room areas Nice spa and pool. Great area of Blm land out back gate to walk dog
Jan 29, 2021
We stayed as a pit stop from one destination to another. It fit us perfectly. The staff was friendly and helpful. Bathrooms were clean. A nice restaurant was within walking distance as we didn't want to unhook the trailer.
Jan 26, 2021
Arrived late as we had told the office..Had a little trouble finding our late arrival instructions. I think the office could be better marked in the dark of night. I did not like the 5.00 dollar extra charge for park fee. RPI told us that the fee was a flat 10.00 dollars. Everything else was fine.
Jan 25, 2021
WE (wife 2 dogs and myself) stayed for 7 days we were with our local ATV club to do some trail riding and also go to the RV show in Quartzite AZ.. I found the RV sites to be clean and spacious , check in was quick, many trails close by to enjoy. Campground was fairly busy the week we stayed but was quiet. Note there are railroad tracks across the highway from campground but very little traffic.
Jan 24, 2021
Staff was friendly, park clean and quiet. Voltage was adequate. Nice stay.
Jan 23, 2021
We had a great time and meet a lot of new friends.
Jan 21, 2021
Busy place. The BEST WIFI we have found anywhere...bar none. Excellent food at the Salome Restaurant. Not fancy, just very very good.
Jan 20, 2021
One of the friendliest KOA we've been too.
Jan 19, 2021
Your staff was great, we also enjoyed speaking with one the the maintenance worker from Washington State.
Jan 19, 2021
GREAT! Everything was clean (site, spa, pool, showers), no loud noise. Weather was great. Easy access to Quartzsite, and other places. Great value for all the extras.
Jan 19, 2021
Big place with several options for Sprinter RV sites. Nice and clean showers near the pool house and patio building with big screen TV. Lots of ATVs driving around making dust but we are in the open desert. I love Arizona and would go back!
Jan 18, 2021
Very peaceful and relaxing. The camp host was super friendly and she had a good sense of humor. We will return again in the Fall.
Jan 18, 2021
Great staff and clean grounds. Everyone friendly. One very minor issue was small shower stalls. Wonderful campground for side by side enthusiasts!
Jan 18, 2021
Four night stay, 1/2021, excellent staff. The campgrounds, best suited for the campers with their off road vehicles. For the vacation in the desert for others, the campground provides the heated pool and great bathrooms, showers and a nice activity room. Gravel covered lot keeps the dust down, water, electricity provided, but lacking shade trees, it's the desert. Our group will be back next year.
Jan 17, 2021
Very pleasant place to stay with nice laundry and pool area. I would come back again.
Jan 16, 2021
Another great KOA site. Hope to use it again.
Jan 15, 2021
Easy check in, very clean camp ground. Very large campsites!
Jan 10, 2021
I've been enjoying this park through out my travels in the area Very clean facility
Feb 01, 2021
Staff is above & beyond with helpfulness and friendly demeanors. Very clean facilities, bathroom, clubhouse, etc, but even the outside tables. Grounds kept up, everything was great!
- Christina Danner on Google
Jan 29, 2021
Great KOA with easy access to go off roading into the desert. There were alot of friendly people staying and enjoying themselves at the park. The pull through site we had was very spacious and super clean. We would definitely stay again.
- James Reilly on Google
Jan 19, 2021
One of the nicest KOAs we've stayed at in a long time. Staff is above andd beyond friendly good little Mexican restaurants just down the street
- Sheri Vess on Google