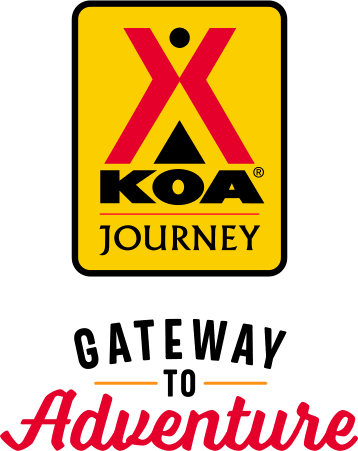 KOA Journey Campgrounds
KOA Journey campgrounds are the perfect oases after a day on the road. Whether it's along the way or a quick getaway, they've got you covered. Located near the highways and byways of North America with long Pull-thru RV Sites, they deliver convenience to the traveling camper. Pull in, ease back and take a load off.
KOA Journeys Feature:
Pull-through RV Sites with 50-amp service
Premium Tent Sites
Well lit after hours check-in service
Directions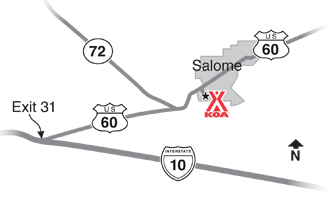 East on I-10 from Quartzsite & California: Take Exit 31/US 60 E/Wickenburg/Prescott onto US 60 East. At mile marker 54, turn right onto KOA's entrance road.
West on I-10 from Phoenix & Buckeye: Take Exit 81/Salome Rd/Harquahala Hwy. Turn right onto Salome Road. Travel 31 miles to Hwy 60. Turn left (west) on Hwy 60, go 2 miles.  At mile marker 54 turn left onto KOA's entrance road.
GPS: 33.760976, -113.649419
Get Google Directions
Sep 05, 2021
Our electricity post was lying flat on the ground and our water was under a bench out of order Pool and spa were gross which is probably why they were locked Game room was advertised as 24/7. It was locked On the plus side the site was clean and the single bathroom that was open was clean.
Aug 19, 2021
We got in late, maybe 11pm, as we had done at many other KOA's during our 3 week trip, and this was the only KOA that did not leave us a late registration package at the office. I had to just go pick a spot that was open. Luckily the place was empty. In the morning another gentleman who was staying there came up to me and described his bad experience as well and recommended I leave a review.
Aug 13, 2021
The campground was empty and he put us in the only spot that has animal holes all around. Pool was a very dirty green/brown. So was hot tub. Would not go back here. EVER.
Aug 07, 2021
Had a nice stopover visit. Did our laundry and swam in the pool. Checked out Don Cactus Bar & Grill, wonderful place. Be sure to flush the water lines if you visit in the hot summer. The park is basically not used during hot summer but full after temperatures cool down. Would stay again as a stopover.
Aug 03, 2021
Very efficient staff and clean restrooms
Jul 27, 2021
Swimming pool had a rat floating. Recreational room was full of bugs. The only positive was that the bathrooms were super clean.
Jul 23, 2021
Thank you for letting me use your ladder
Jul 23, 2021
We were grateful they allow people to stay even if they were unable to reach someone and register for the night. Big storm came thru and knocked out power and we ended up having to use our generator and our pumps to use water from our tanks. Thankfully we were fully stocked. Nice neighbor said same storms hit night before as well. Looked neat and clean but had no after hours # to call someone.
Jul 08, 2021
No water from 8pm till afte 7:30 am
Jul 03, 2021
Property was clean & well maintained. Pool was great. Bathrooms & showers clean �
Jul 02, 2021
Very convenient KOA. Clean facilities, air-conditioned club house was a huge bonus for tent campers in 117 degree weather. Clean pool. Good location. Highly recommend!
Jul 01, 2021
Facilities were clean and neat. Site was spacious and good hookup. Pool great!!!!...staff were friendly and helpful....
Jun 30, 2021
Friendly staff, well maintained campground, very clean showers. A nice place to rest for a few days.
Jun 28, 2021
Was a great stay. We stay at this park to ride off-road toys around Salome
Jun 15, 2021
Large areas to set up in. Not very busy at all. Very nice facilities and staff. Close enough to Lake Havasu and Parker Canyon Dam.
Jun 14, 2021
The biggest issue was the amount of bees in the pool area. There appears to be a hive someplace near the pool. Also there isn't much shade. Of course if we were in seasin there may be peiple parked next to you which would provide shade.
Jun 12, 2021
Very quiet & convenient - loved pool & jacuzzi
Jun 09, 2021
Great place to take a swim and rest your head whilelasimg through from Palm Springs to Prescott. It's off season now so we had the pool to ourselves! Clean park.
Jun 05, 2021
The place is extremely clean. Everything is provided, although not much staff presence. I think this is because of the small number of guests. Very few people about. The pool is very nice and well taken care of. I'd stay there again.
Jun 02, 2021
Awesome Campground! Very clean and Pool and hot tub were Perfectly Refreshing & Relaxing! The front desk was accommodating and very helpful. We will definitely stay again when in the area!
Jun 01, 2021
Very clean and open. Large spaces, very wide. Motorhome towing Jeep.
May 30, 2021
Lovely, clean, quiet campground. Great bathrooms!
May 30, 2021
No trees Nothing just a gravel lot. Very ugly
May 29, 2021
Justin was very helpful and courteous. The campground is clean and nice. We came a little off season, so not too many campers. Had a great night sleep. Easy in and out off the highway. Thank you Justin
May 19, 2021
First time here, just overnight. Sites level, big. Campground clean, would definitely return if passing through or wanting to just hang out!
May 19, 2021
Good spot, clean and friendly owners. Good for a night or two.
May 17, 2021
The park was clean, site was level and spacious. Great for our one night stay. Not enough to do around there for any length of stay.
May 16, 2021
Just passing through but everything I needed was available for my tent camping. However, the site I was given the electrical plug didn't work so I had to change sites. Lucky the campground was not busy so I was able to do so without any problems.
May 10, 2021
We were in your Park for just over 2 months. What a great place to be. Just happened to be near our claims but also everyone was helpful, friendly and took very good care of the park.
May 06, 2021
Very clean and organized. Only in for one nite but will be back I'm sure.
May 06, 2021
Just a one night. Stop one of the cleanest bathrooms we've seen in 5 weeks on the road. Mystical sunset.
May 06, 2021
It's was getting dark and EVERY RV park I called around Lake Havasu was full. I called Salome KOA after hours and got their voicemail BUT the message said they had room even if you didn't have a reservation. The park was clean, easy to find a spot and hook up and we enjoyed the pool and a late checkout the next day. First review I've left after probably 100 KOA stays. Highly recommend.
May 04, 2021
Great and very friendly
May 04, 2021
We had a great experience.
May 02, 2021
As always, the best in everything a campground can offer! The most friendly and professional staff you could ask for. Exceptional service and facilities! My sincere thanks to everyone!
Apr 25, 2021
All of the employees were very helpful and friendly. The campground was always clean and well taken care of.
Apr 21, 2021
We stayed at Salome one night while en route to Carlsbad, CA. The campground was very clean and well landscaped with desert flora, but also has beautiful roses! We used the laundry and one of the K-9 areas. Both were great. The staff was very friendly and helpful. We will definitely stay here again.
Apr 19, 2021
Plea to of space in each site. Nice and quiet.
Apr 15, 2021
3 month stay at Salome. The employees, from the manager Matt down to Monte, Melody and all who work there are wonderful! Always helpful and positive. The ability to receive mail through them (and they go everyday to post office!) was above and beyond. Even delivering heavy items right to our site. Never had concerns with water or electric unlike other parks. Thank you for a great season!
Apr 15, 2021
Rest rooms were clean. Pool was clean and area well maintained. Staff was very friendly.
Apr 15, 2021
Very pleasant. This campground has everything you could want. We spent a lot of time in the pool, the game room had tons of indoor and outdoor games. The bathrooms were clean and showers were great. Loved having the hot/cold water dispenser. There's even a big TV with lots of DVDs. We had perfect weather as well, 80s during day and 50s at night. We would love to come again!
Apr 15, 2021
Check in was pleasant and quick. We have a smaller rig so we really appreciated the clubhouse and the game room. The spa and pool is nice. Monty the groundskeeper is very cool and considerate and shared some of his information to help make our travels go more smoothly. Thanks to all. We'll be back!!
Apr 13, 2021
WILL BE COMING BACK WINTER OF 2021/2022
Apr 13, 2021
Very friendly Staff, nice site, enjoyable stay, will be back later this year
Jun 19, 2021
It's a great park with a wonderful staff. Justin is the best!
- MeL Moore on Google
May 29, 2021
Great campground! Quiet and clean but a bit off the beaten track. Well worth the trip! Thank you!
- Carol DeBeaussaert on Google
May 02, 2021
Wide spaces, quiet. Last minute reservation. Very clean
- Rick Holdsworth on Google