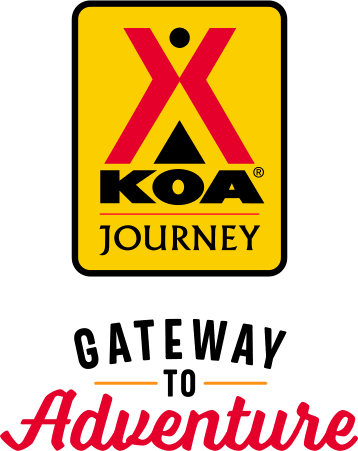 KOA Journey Campgrounds
KOA Journey campgrounds are the perfect oases after a day on the road. Whether it's along the way or a quick getaway, they've got you covered. Located near the highways and byways of North America with long Pull-thru RV Sites, they deliver convenience to the traveling camper. Pull in, ease back and take a load off.
KOA Journeys Feature:
Pull-through RV Sites with 50-amp service
Premium Tent Sites
Well lit after hours check-in service
Directions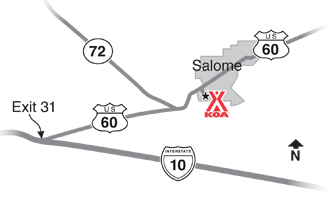 East on I-10 from Quartzsite & California: Take Exit 31/US 60 E/Wickenburg/Prescott onto US 60 East. At mile marker 54, turn right onto KOA's entrance road.
West on I-10 from Phoenix & Buckeye: Take Exit 81/Salome Rd/Harquahala Hwy. Turn right onto Salome Road. Travel 31 miles to Hwy 60. Turn left (west) on Hwy 60, go 2 miles.  At mile marker 54 turn left onto KOA's entrance road.
GPS: 33.760976, -113.649419
Get Google Directions
Dec 02, 2019
Great camp sites with the longer pull thru. Facilities were well maintained and clean!!!! Staff was friendly and helpful. Our group really enjoyed the club house and game room!!! Esp since it was cold and raining. My pups like the exercise area plus all the Convenient waste stations through out the park :)
Dec 02, 2019
A very nice clean resort including restrooms pool etc! Manager very helpful with any questions
Nov 27, 2019
Great campground to escape to the remote dessert. Friendly staff and lots of amenities.
Nov 19, 2019
Clean campground, very quiet. Train tracks there but only one or two a day coming through. Nicest people. Very big area for ATVing out in the desert
Nov 17, 2019
missed the put put course enjoyed the spaghetti meal
Nov 17, 2019
Nice and clean. Very quiet.
Nov 15, 2019
One nite stay . Very spacious sites with two sewer connections on 50 amp. Staff is helpful and friendly. It is close to train tracks so if noise s a concern look for the 30 amp sites. Sites are gravel and level. Nice pool and hot tub. There is a game room and club house.Have stayed twice as my overnight stop. Will stay in the future when passing through with a longer stay in mind.
Nov 11, 2019
Mainly just a parking lot but great place.
Nov 10, 2019
Great,nice pool
Nov 09, 2019
hardly worth 44.00 dollars a day, for a place to park on rocks, there is nothing there, and I doubt we used that much utilities, most KOA's are over priced, is the desert maybe 20 buck's would be actual price for the comforts
Nov 04, 2019
Easy in and out on paved roads but none of the roads to the sites were paved. Dusty and would have been worse if there had been more campers. Heated pool but very small. They started serving Sunday breakfast which was large, very tasty and reasonably priced. Access to ORV area behind the Campground. Groceries are 40 minutes away in Quartzite.
Nov 04, 2019
Bathrooms were large, well stocked and immaculate.
Nov 03, 2019
Stayed for 5 days.Nice big spots, friendly staff. Loved the pool/whirlpool. Laundry room was nice, but is getting updated machines. We will definitely be back this winter.
Nov 02, 2019
Very nice park, large spaces, super nice people. Also a great off road area. We will be back.
Oct 31, 2019
Matt and the crew were fantastic. The campground has all the amenities, plus lots of extras. We enjoyed our stay, and would definitely return.
Oct 30, 2019
Very responsive staff, clean and quiet... route 60 well paved but full of small rocks that dinged and scraped undercarriage and two dings in window...drive slow.
Oct 30, 2019
We had a great time! Nice facility and friendly people!
Oct 29, 2019
Off the beaten path. We stayed one night very few people there. Clean facility with no shade.
Oct 29, 2019
Nice improvements and facilities for out in middle of desert.
Oct 27, 2019
I had a very comfortable two-night stay at this KOA. They have two TVs on site and, being that I'm Deaf, Matt very kindly took it on himself to activate the Closed Captioning for me on both TVs. The pool and spa were really nice, too!
Oct 16, 2019
could not check in office was closed because someone was sick
Oct 16, 2019
Nice park but hard to find in the dark.
Oct 08, 2019
Very helpful staf, super clean and easy in and out.. Large spaces. We only stayed one night on our trip but we were treated as if we were there for the whole winter.
Oct 05, 2019
Nice wide spots, very clean, great pool, friendly staff- would stay here again!
Oct 02, 2019
The handicaped showers were excellent. So many facilites do not have enough room. The staff who we interacted with were very friendly and helpful, please let them know.
Sep 29, 2019
Bon wifi, bel accueil, grands sites, belle piscine et spa.
Sep 29, 2019
Extremely clean!
Sep 28, 2019
Stay here every time we are in the area. Staff very pleasant. Spa and pool great.
Sep 27, 2019
Park was very desolate and remote. Rest room and shower very clean and nice. Dog walk non-existent and just a patch in the desert.
Sep 24, 2019
Great site considering its location in the middle of nowhere! Helpful staff who were very obliging with our late arrival. Very clear with good facilties
Sep 01, 2019
in the middle of the desert. so hot , and no trees/shadow. but very very nice showers and toilets. nice people . good place to stay
Aug 28, 2019
Great place! It's clean with many restrooms, superb showers (bathrooms) and the pool is awesome too. In August you need it with the really high temperature. Mind: over 110 Degrees Fahrenheit. Matt is a great host who helps you with all questions and there are many games and facilities, for young and old.
Jul 26, 2019
What a terrible experience. When we arrived, your 2 page length wifi tutorial didn't work. But the worst of all, there was a page about a snake warning. So in the night we should wear boots and take a walking stick. Where do you expect us to keep those things?! We are on a holiday, why would we have those things with us?? So we didn't stay at your site, we left for Blythe, what a horrific camp
Jul 23, 2019
Best people you could ever ask to deal with. The owner (Matt) went above and beyond for us when we had an unfortunate break down with our rig. The campground is amazing, with a ton of things for the kids. Our kids enjoyed the game room and the outdoor games especially. The bathrooms were very clean and private! The club house allowed us to do laundry in the AC. Very impressed, we will visit again.
Jul 11, 2019
Does your location fill up in the Winter time? Thanks for the shaded spot. Very disappointing that the town did not a restaurant.
Jul 11, 2019
We like the place, but was a little far from all the places we wanted to go, It was a nice place, well kept
Jul 03, 2019
I had KOA on our map guide and was glad I did. This was the first time I had taken my kids in my old Airstream. We passed lots of other RV parks that looked from "Ok" to "Horror Movie setting". Our stop at KOA was brief but had everything we were looking for. My kids were totally stoked to find a nice clean pool with more floaty toys than we could use. KOA will be our go to travel stops f
Jun 30, 2019
Most wonderful oasis in the desert! Loved every moment of my stay.
Jun 14, 2019
Great stay. Well kept clean pool great for walking in. Laundry room clean and roomy with tables for folding cc clothes. Nice showers. Friendly & helpful staff. Free WiFi. Internet possible. Especially when no AT&T In area of Salome. Highly recommend. Would return.
Feb 01, 2021
Staff is above & beyond with helpfulness and friendly demeanors. Very clean facilities, bathroom, clubhouse, etc, but even the outside tables. Grounds kept up, everything was great!
- Christina Danner on Google
Jan 29, 2021
Great KOA with easy access to go off roading into the desert. There were alot of friendly people staying and enjoying themselves at the park. The pull through site we had was very spacious and super clean. We would definitely stay again.
- James Reilly on Google
Jan 19, 2021
One of the nicest KOAs we've stayed at in a long time. Staff is above andd beyond friendly good little Mexican restaurants just down the street
- Sheri Vess on Google