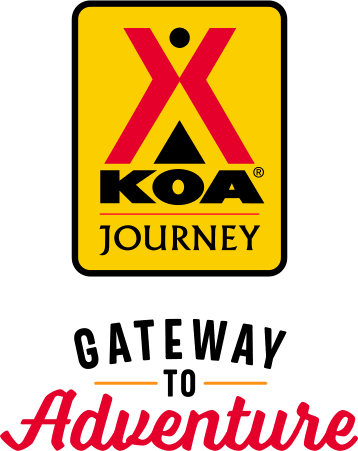 KOA Journey Campgrounds
KOA Journey campgrounds are the perfect oases after a day on the road. Whether it's along the way or a quick getaway, they've got you covered. Located near the highways and byways of North America with long Pull-thru RV Sites, they deliver convenience to the traveling camper. Pull in, ease back and take a load off.
KOA Journeys Feature:
Pull-through RV Sites with 50-amp service
Premium Tent Sites
Well lit after hours check-in service
Directions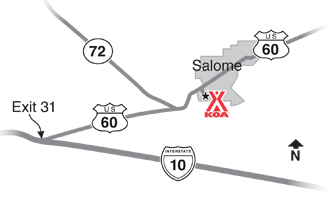 East on I-10 from Quartzsite & California: Take Exit 31/US 60 E/Wickenburg/Prescott onto US 60 East. At mile marker 54, turn right onto KOA's entrance road.
West on I-10 from Phoenix & Buckeye: Take Exit 81/Salome Rd/Harquahala Hwy. Turn right onto Salome Road. Travel 31 miles to Hwy 60. Turn left (west) on Hwy 60, go 2 miles.  At mile marker 54 turn left onto KOA's entrance road.
GPS: 33.760976, -113.649419
Get Google Directions
Nov 04, 2020
Site 131 level, gravel 1 to 1 1/2 inch , train every night or two. Pool was nice, inpool lights never came on. Whril pool nice , whole big desart to take a walk. Close restraunt with real good food. Stayed 2 weeks needs tlc
Nov 04, 2020
Great place for snowbirds and overnight stays
Nov 02, 2020
Great place to stay this time of year. Quiet and clean. Make sure you get gas before getting off the 10 when heading west.
Oct 23, 2020
Very clean , friendly staff.
Oct 22, 2020
Nice park, Matt was very accommodating and friendly. We have stayed at their park on our way to and from Phoenix for the past several years and hopefully for many more years to come!
Oct 19, 2020
The young lady who took care of us when we arrived was very personable - a great staff member! Even though this KOA is off the beaten path, I'm glad we found it. It was clean and 1/2 between where we came from and where we were headed. I bet it is a fun place to stay when COVID practices are not in place.
Oct 18, 2020
Great pool, great club house and game room. Very quite, level spots with a really nice host. It's a great place to break up a long drive. The stars at night were brilliant. It has every thing you need to be comfortable, but not much around in town.
Oct 15, 2020
During our overnight stay we enjoyed the pool, hot showers, and the community room that was nicely decorated for Fall. We were happy to have plenty of space in the tent site for two small tents.
Oct 14, 2020
Just an overnight stay on the way East.
Oct 11, 2020
The stargazing was fantastic. We were just passing through. Perfect spot to spend the night.
Oct 06, 2020
Off season and very hot, but nice clean KOA
Oct 02, 2020
We were very blessed to stay for 10 months, while staying safe this summer. Matt, was wonderful.. we watched as they did some improvements during the extremely hot summer. So to sum it up, we came for the winter and stayed safe in the summer. Thank you so very much
Sep 19, 2020
Very clean campground. Loved the clubhouse and the pool. Both were so clean it was unreal. Showers and bathrooms were on par. We will defiantly staying there again.
Sep 12, 2020
Nice...relaxing...quite...
Sep 05, 2020
Just stayed one night in the off season. Clean and safe feeling campground, no complaints.
Aug 22, 2020
Very clean amenities and easy hookup!
Aug 07, 2020
Very nice clean campground. Great hosts! The whole area was friendly!
Aug 04, 2020
Small park but big level spaces - friendly people
Aug 02, 2020
your ad in KOA book said cable TV, WIFI. We pulled in after a very hot long drive. We travel with pets. only cable was in club house. Not a great option for us. WIFI? 2 TOTALLY USELESS CONFUSING PAGES OF HOW TO CONNECT! PHONE NUMBER FOR TECH NO ANSWER! WE DID HAVE 50 AMP ELECTRIC.
Aug 01, 2020
We were very glad the pool was open. The restrooms were very clean.
Jul 18, 2020
Extremely friendly and welcoming staff. Nice pool, spa and clubhouse with TV. Gameroom was unfortunately closed due to COVID. Very clean campground and restrooms/showers. Great for an overnight stay.
Jun 12, 2020
We went during a non busy time...middle of June and Loved it! Very clean.
Jun 08, 2020
Very Clean and well maintained park. Friendly staff.
May 26, 2020
we hid out at salome az koa because of the virus matt and his staff took extreme great care of us from making sure groceries were in the office store to checking in on us it was nice to have the pool back it was the safest place we could have choosen lots of fun things to go and do by yourself cant thank everyone enough for there kindness cant wait to go back
May 21, 2020
Immaculately clean; well run by friendly and accommodating staff...much appreciate the extra safety concerns during this time of social mitigation...
May 13, 2020
Our usual winter stay became unusual as the Covid 19 pandemic unfolded. Matt and his staff provided us , and others, a safe haven to stay. Matt checked often to see that people felt safe and cared for.
Apr 01, 2020
Always friendly people Even with the coronavirus outbreak nation wide.
Mar 29, 2020
Friendly staff. Always ready to help with questions about the area. Property is well maintained and recently upgraded in several areas, Adequate space for our ATV and trailer parking. Planning to return again in December for another 3 months. One of the best KOA campgrounds I've stayed at over the past several years.
Mar 29, 2020
We just stayed for an overnight stay. Looked like if you have side by sides or desert toys a lot of people stay here. Sites are large.
Mar 27, 2020
KOA Salome has become family to us. We spend our winters there. The staff does a great job keeping things neat and clean and they are very friendly and helpful.
Mar 26, 2020
Loved it! Great KOA. Clean, friendly and with nice amenities.
Mar 24, 2020
Love this KOA but prices are to high
Mar 24, 2020
Checked in after business hours. Matt was great. He had the packet ready for us at the door. First time staying at Salome KOA, the sites are very wide, however not as long as we needed. But it worked out just fine. We arched our motorhome and trailer to keep them attached. No problem. Thank you for accommodating us.
Mar 23, 2020
VERY FRIENDLY WORKING STAFF. MANAGER WORKED WITH US TO ALLOW US TO EXTEND OUR STAY AN ADDITIONAL MONTH IN THE SITE WE WERE IN SO WE WOULDN'T HAVE TO MOVE. ENJOYED THE TUESDAY AND FRIDAY KOA SPONSORED MEALS FOR SOCIAL GATHERING. ALL FACILITIES WERE ALWAYS KEPT CLEAN.
Mar 23, 2020
Utilities all at the road on a pull through making it impossible keep tow car hooked up (a big reason for pull through) and to use all utilities. They also put us in the only muddy space when others went unused that night. Previously KOA's have called us to say spaces were muddy. This one did not.
Feb 01, 2021
Staff is above & beyond with helpfulness and friendly demeanors. Very clean facilities, bathroom, clubhouse, etc, but even the outside tables. Grounds kept up, everything was great!
- Christina Danner on Google
Jan 29, 2021
Great KOA with easy access to go off roading into the desert. There were alot of friendly people staying and enjoying themselves at the park. The pull through site we had was very spacious and super clean. We would definitely stay again.
- James Reilly on Google
Jan 19, 2021
One of the nicest KOAs we've stayed at in a long time. Staff is above andd beyond friendly good little Mexican restaurants just down the street
- Sheri Vess on Google