Top 10 Camper Questions From Our Campers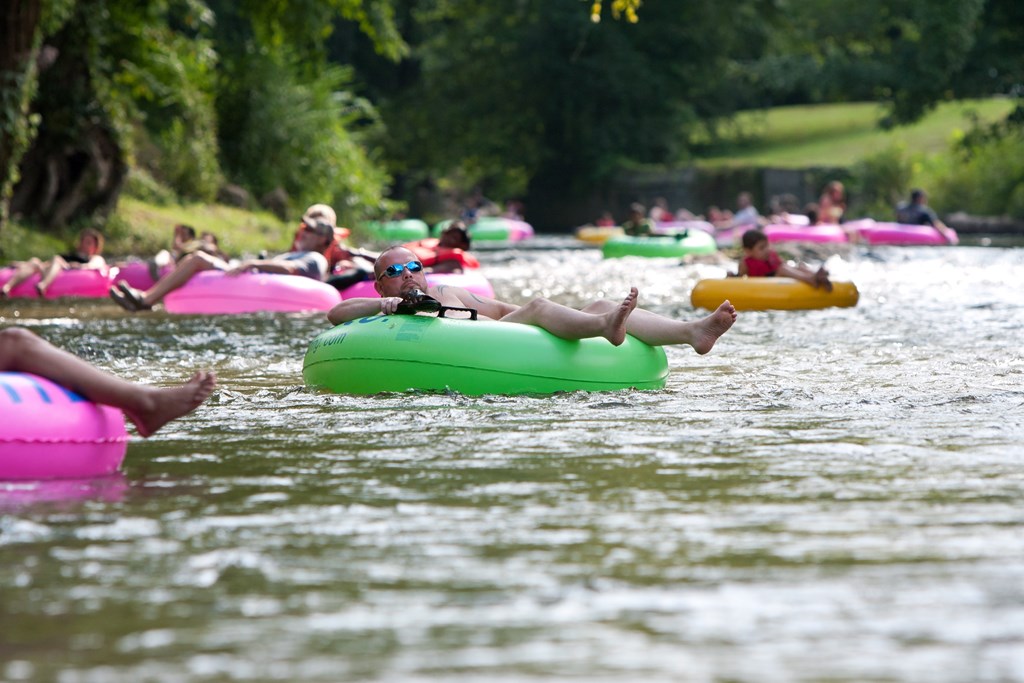 Pondering your next camping excursion? Have some questions about what to expect? The site types? The amenities? What is the pet policy? Check out the top questions we receive from our campers and the answers to them.
1. CAN I USE MORE THAN ONE DISCOUNT OR COUPON TOWARDS MY RESERVATION?
Only one discount or coupon can be applied per reservation.
Pro Tip: Our front desk staff will let you know if there are any discounts that will apply to your stay. Just ask!
2. CAN WE HAVE CAMPFIRES?
Absolutely! What's camping after all without a roaring campfire? Each site is equipped with a fire ring, perfectly suited for your marshmallow roasting pleasure. We kindly ask that the rings are not altered in any way.
3. WHAT ARE THE CAMPGROUND QUIET HOURS?
Our staff enforces the quiet hours from 11 PM to 7 AM. Radios, pets, air horns, bright lights and/or blinking lights, and other noise must be kept at reasonable levels at all times.
4. CAN WE USE MOTORIZED SCOOTERS OR A GOLF CART?
Golf carts are welcome! There is a $10 per day fee charged for guests who bring their own golf cart or guests can rent a golf cart when they get here. ATV's and mini bikes are not allowed. Road legal motorcycles are restricted to directly entering and leaving the campground only.
5. CAN WE GO FISHING?
The Salmon Falls River, known for being plentiful with small trout, is great for fishing. Cast a line and test your luck. Purchase your Maine fishing license here.
Pro Tip: Milton Three Ponds feeds the river, and is just 5 miles up the road. Great fishing, boat rentals available.
6. CAN WE BRING BICYCLES?
Absolutely, bikes are a great way to get around the campground. No fee or registration required. For the safety of all, please no riding bikes after dark. Please lock your bikes at your campsite when not in use.
7. Can we bring our PETS?
Yes! You must present a copy of your pet's rabies certificate when you check-in. There is no limit to the number of pets allowed on an RV site and there is no pet fee for RV sites. A maximum of two pets are allowed in accommodations per night and a fee of $10 per pet per day will be charged.
8.What do we do with our TRASH?
Please place all household trash in the dumpsters at the entrance gates. Recycling is mandatory. No trash bags of any kind are allowed in the recycle dumpsters. Large items such as lawn chairs, grills or appliances may not go in the dumpsters.
9. WHAT SIZE RV SITES ARE AVAILABLE AND WHAT HOOK-UPS ARE INCLUDED?
All campsites have water and electric hook-ups, in addition to a picnic table and campfire ring. In addition, some sites may have cable TV hook-ups, sewer hook ups or additional amenities.
10. HOW MANY VEHICLES ARE PERMITTED AT MY CAMPSITE?
Only one vehicle may park at your campsite, per order of local Rescue Department. You can have a second vehicle on the grounds for a $10 per day fee and it must be parked in the visitor parking lot.
You May Also Like:
Why You Should be a Seasonal Camper at Lebanon KOA
The Ultimate Guide to Lebanon, Maine
7 Ways to Stay at Lebanon KOA on Salmon Falls River