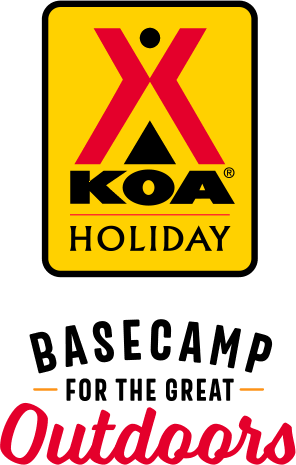 KOA Holiday Campgrounds
Whether you're exploring the local area or hanging out at the campground, KOA Holidays are an ideal place to relax and play. There's plenty to do, with amenities and services to make your stay memorable. Plus, you'll enjoy the outdoor experience with upgraded RV Sites with KOA Patio® and Deluxe Cabins with full baths for camping in comfort. Bring your family, bring your friends, or bring the whole group – there's plenty of ways to stay and explore.
KOA Holidays Feature:
RV Sites with a KOA Patio®
Deluxe Cabins with full baths
Premium Tent Sites
Group meeting facilities
Directions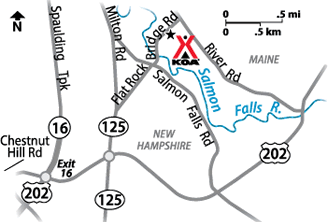 From Boston: Take Route 95 North to Portsmouth, New Hampshire. Go left at the split (Exit 4), which will put you on the Spaulding Turnpike (Route 16 North) toward New Hampshire. Follow the Spaulding Turnpike to Exit 16 and follow the signs to Route 125 North toward Milton. Go one block and take your first right onto Flat Rock Bridge Road. At the stop sign, cross Salmon Falls Road and continue driving straight over the bridge to the campground entrance.
Get Google Directions
Oct 17, 2021
I take my family and we all love it
Oct 17, 2021
As a seasonal we were treated crappy and placed in the middle of folks who didn't have to follow rules.. and then was summarily dismissed as they eliminated 11 seasonal sites…we were out of there anyway… over 5 thousand dollars for a summer that was very unpleasant to stay there. Weekends may be fine but ridiculously expensive. If that is your mindset… have at it !
Oct 13, 2021
Large but did not feel overcrowded. Staff at office super nice. Wide array of activities available. Bike riding not great in this area - roads busy and narrow to no shoulder. Part of the campground we were in was mostly bare dirt sites - road also mostly dirt - pretty dusty.
Oct 13, 2021
This is our 2nd stay, & both times we've had issues with our site. We have a 40' TT, which we told the campground about, & they put us in a site that was so sloped we had to use 6 leveling blocks & a jack under the axle to try to level it. I went to the office & the employee acted mildly annoyed with my concerns. As KOA members, we should have been given a more suitable site.
Oct 13, 2021
Beautiful facilities. Staff was excellent. Sites were clean but not level. Took a lot of blocking to get the camper level. In addition, the site provided was not the same as the one pictured that I thought we were securing.
Oct 13, 2021
Clean and fun. Good pool/hot tub/ropes, etc. Campsite / campground layout aweful. We had to use thirty feet of electric cord to reach a poorly positioned outlet post. Campground oddly straddled a public road, those with kids be careful. WIFI did not work for us or several guests we spoke with. The dump station we used was backwards and you had to be facing into the campground to connect.
Oct 13, 2021
we love this campground...the kids always have a great time
Oct 13, 2021
Had a very nice stay at their RV site. Bathrooms were clean and there were decent amount of activities for the kids.
Oct 12, 2021
Was seasonal for 4 years. The campground has so much potential but unfortunately management sucks. Lance is a hard worker and I think he could make the place amazing if they let him do what he wants. Heather on the other hand only shows up when she has to… her heart isn't in Lebanon it's only in Stratfford. Contracts for seasonals didn't come out till 10/9 when we close 10/11 were given
Oct 12, 2021
Great family campground. Lots to do for the kids, relaxing for the adults, lots of room at each of the campsites but most of all the extremely friendly staff you all have there. Been to a lot of camp grounds an staff isn't near as nice, friendly and helpful as Salmon Falls river Me. Thanks for allowing us to stay and enjoy ourselves. Mike M from Va Beach Virginia.
Oct 12, 2021
We booked in January for 2 sites next to us and we're not given that. The staff was not very apologetic and did not seem to care. Very disappointing.
Oct 12, 2021
We were very surprised with the efforts to improve the campground. We have gone there quite a few times in the past, and it is nicer than it's ever been; we will be booking again next year.
Oct 12, 2021
LOVED our stay as usual - the only 3 things I have 1) I think you should have all septic sites that aren't tent sites 2) the dump station is on the wrong side of the trailer 3) the pump station that we went to over flowed
Oct 12, 2021
We have been coming to this KOA for the past 3 years. They are putting a lot of hard work into making the property better. Enjoyed our stay as usual.
Oct 12, 2021
Large campground with friendly and helpful staff. The mini-golf and the rope course made it a lot of fun during the weekend. Kids had a lot of activities to do: trampoline park, hay rides, trunk-or-treats, heated pool and slide. Only issue we had was with the wood (we purchased a wagon-load): it was a bit expensive and also raw/wet that we couldn't get a good fire going consistently.
Oct 12, 2021
Awesome campground with lots to do!
Oct 12, 2021
This was our second stay. Loved it just as much. Staff is sooooo helpful, responsive and friendly. We are ready to book for next year. We stayed in the cabins. One thing I noticed, the floors were perfectly neat and swept, but when we spilled and wiped up, they were very dirty. Maybe they didn't get washed in between residents. We will be rebooking a cabin reguardless lol.
Oct 12, 2021
Great weekend lots to do! Great site and campground.
Oct 12, 2021
We had so much fun and will definitely be back next year.
Oct 12, 2021
Had a wonderful time, kids loved it! Very helpful and friendly staff.
Oct 12, 2021
Great Place! Very Friendly and professional. Jaime the manager is great and easy to work with. THANK YOU FOR A GREAT LAST TRIP of the season!
Oct 12, 2021
Not a lot of trees for a campground. No shades on the cabin window so we hung up a sheet for privacy. A loud party on the horseshoe field by our cabin until 11pm that was more like a tailgating with the music, alcohol and ball field spot lights. I ended up with 30+ spider bites on my face, back, neck, and arms.
Oct 12, 2021
Nice, clean campground with plenty for the kids to do.
Oct 12, 2021
The sites were nice and the bathrooms were very clean. My only complaint would be that traffic flow on the map wasn't very clear. We ended up towing the camper down a deadend street and had to reverse back and then cut through some unoccupied tent sites to turn around and exit the grounds. Some people at the nearby sites said they commonly saw people making the same mistake. Otherwise great!
Oct 12, 2021
We loved our site. Just wish we could pick out sites ahead of time, because there are a few I would of been disappointed in if we got placed on. More lighting needed near the office and parking lot. Lots of activities and very friendly staff.
Oct 12, 2021
good service, clean
Oct 12, 2021
We all had a blast playing mini golf, doing the ropes course and swimming in the heated outdoor pool. The slide was awesome. Everyone was super friendly, bathrooms were clean, and it was an all around great weekend for our family. We already booked our memorial day weekend for 2022 along with two additional families who've never been to this campground before!
Oct 12, 2021
All activities were not on time and no explanation as to where they were and not having WiFi for that big of a campground is crazy. Rental RV was nice but small and bed mattresses were so thin you felt the wood. Gold cart prices are expensive should be discounted if renting an RV.things campground had that are nice are river and rope course and mini golf, heated pools, etc. bathrooms were clean
Oct 12, 2021
This KOA is a big operation - great for families with kids. Lots of activities every day. The bathrooms are very good. We are 2 retired people so it did not have the kind of peace and quiet we have in other KOA's. Our site was by the road and a blinking yellow light that obviously blinked all night. There is a lot of traffic in and out of the campsite. The internet is non-existent.
Oct 12, 2021
We loved it and had the best time!
Oct 12, 2021
It was great, the people were friendly, The only problem was that it was quite crowded. It must be because it was a holiday weekend.
Oct 11, 2021
We really liked our campsite, close to the playground. Lots of activities we played bingo but it did not last the one hour as it stated on the activity sheet...
Oct 11, 2021
We stayed in one of the campers and it was very nice, the staff is very friendly, they had a bunch of fun activities for my family and we love this campground!
Oct 11, 2021
quiet, comfortable and relaxing
Oct 09, 2021
Very nice overnight stay, close to a nice walk along the river. Campground is clean and staff was friendly.
Oct 07, 2021
Friendly staff. Lots of activities if that is your thing. Dog park had a lot of scat and containers not emptied for at least 7 days. No WiFi to cabins(working on it), did not work at rec ctr as stated. Found food under couch, had to reclean tub. Tip envelope for cleaning? Minimal supplies provided for length of stay TP/towels. Fresh towels $30 charge! RV next to us left debris. No cleanup
Oct 06, 2021
I thoroughly enjoyed our restful and fun stay. Lots of things to do. The store is well stocked and even includes an ice cream bar. My wife and I excited to return next season.
CAMPGROUND RESPONSE / COMMENTS:
We are so glad you enjoyed your stay with us! See you next season!
Oct 06, 2021
We had a wonderful weekend. Leaves were just beginning to pop. While most area campgrounds in NH & Me were already closed for the season, this resort still had both pools open. Heated and the "For the Brave of Heart" Unheated. There were many families camping this weekend and enjoying nearly perfect October temperatures. A little rain tried to dampen the adventure, but no!
Oct 05, 2021
Beautiful place, friendly staff, well kept.
CAMPGROUND RESPONSE / COMMENTS:
Thank you! Please come again soon!
Oct 05, 2021
The staff could not have been better. The on line registration site indicated we were supposed to have a ten patio. The awning was broken on our unit was broken. This would have been a benefit due the rain. The staff was very apologetic for the error. Otherwise, this is a great campground with things to do for all age groups.
CAMPGROUND RESPONSE / COMMENTS:
Thank you! We will pass your kind words on to our team.
Oct 05, 2021
Cabin was just about spotless, and so very worth it! We wish we could've stayed longer!
CAMPGROUND RESPONSE / COMMENTS:
Thank you for sharing your thoughts! Please come again soon!
Oct 04, 2021
The first deluxe cabin we were in the tv's did not work, luckily the one next door was open and we switched but we had already unpacked. Also, we book this campground for the activities. We booked the ropes course and was later called to say no staff and had to reschedule to the morning of checkout. The game room had nothing to get with tickets. We love the campground, just a few disappointments
Oct 04, 2021
We had a great time even though the weather wasn't great. Having the cornhole tourney and pool and hot tub still open made the whole weekend worth it. I love your campground and may consider a seasonal
Oct 19, 2021
We tented a trailer from them at one of their site. Trailer was very clean and well maintained. Bathroom was very small but that's expected from this small trailer. The kitchen was good with almost everything you need for the stay. The full bed was spacious for two. They also have two bunker beds good enough for 2 kids. The platform outside was very good, the awning was very useful when it rained during our stay.
- Santhosh Sathiyaraj on Google
Oct 19, 2021
Great place great people.
- Bill n Kelz on Google