Directions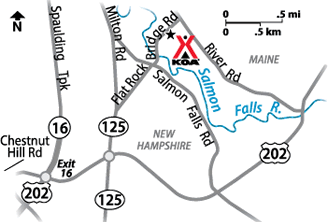 From Boston: Take Route 95 North to Portsmouth, New Hampshire. Go left at the split (Exit 4), which will put you on the Spaulding Turnpike (Route 16 North) toward New Hampshire. Follow the Spaulding Turnpike to Exit 16 and follow the signs to Route 125 North toward Milton. Go one block and take your first right onto Flat Rock Bridge Road. At the stop sign, cross Salmon Falls Road and continue driving straight over the bridge to the campground entrance.
Get Google Directions
Nov 18, 2020
I respect the staff. Who were great. However, I feel that paying a high price to stay the campground should have kept the pool with slide cleaner it was not. With the amount of registered campers the larger pool should have been fixed as I know on August 13 the pool company was ready to come and put a new liner in! It was not done and with the virus that pool was bigger to keep people separate!
Nov 11, 2020
As seasonal campers for many years at Flat Rock Bridge campground we were given 3 weeks to find a new campground or figure out what to do with our camper. This was poor ownership of this property. They should have had the respect to inform us at the beginning of the season that we no longer could camp here. Very badly handled. I will continue to Inform all campers I know and social media sites.
Nov 04, 2020
We just stayed one night, but it was easy in and out and very friendly people.
Nov 02, 2020
The worst campground I've ever stayed at!
Oct 31, 2020
The communication was terrible and as a seasonal we felt unwelcome. Customer service was lacking as well as security. Management never addressed my concerns
Oct 30, 2020
Last 3 years has been lies tension pricing drama moves then out. No hot TUBS no pool no activities is it worth staying No security.
Oct 27, 2020
Need better customer service, communication, and organization. Their lack of this is affecting the overall campground. Maintenance staff were wonderful but most activities staff were not friendly. Activities Director works at ropes course almost all day and can be snappy towards campers. Amenities are ok, lots needed to be fixed but weren't(security gates, no lighting in parking lot, pool liner)
Oct 23, 2020
Reserved a space with cable which was not working when we got there, we where told they have been having trouble for awhile. Loud fireworks late at night. Dogs off leach. I will say that staff was wonderful.
Oct 20, 2020
Expensive Sebago price Not worth the money this year but paid it like paying for a nice hotelAnd when you get there the pool is empty less money last year and everything worked
Oct 17, 2020
Peak foliage weekend. Lots of campers but still had a quiet, private site.
Oct 16, 2020
Staff is unfriendly, manager is not a people person. One pool closed all season. O activities and it's director is a joke. Never ever would I refer or visit this place again!!!
Oct 15, 2020
We are very hopeful that KOA will take this campground to the next level. It is not up to KOA standards now. The office staff needs some basic training as when we were checking out another staff member started talking to the person we were talking to about keys to a golf cart. Should have waited till we were done. Also they would not check out a bag of ice at that time had to get back in line with
Oct 15, 2020
This must be a new location for you. Using Lebanon, Me. is false information and misleading. You must not be proud of the town you are in. Confusion between corporate and location as to what the end of year for closing. KOA says the 13th and actually the 12th was closing day. Caused confusion with other quests we recommended.
Oct 14, 2020
Activities were horrible same thing every weekend. How many times can you have wildlife encounters come in over the course of a season. Time for a new activities person.
Oct 14, 2020
Our 1st time at a KOA. Clean, good sites, like all the activities for kids.
Oct 14, 2020
Our camp site was very large. We found campers to be inconsiderate of other's campsites. We constantly had to tell people they were walking though our site to walk around. The employees were wonderful to deal with. I would comeback again and park my camper a little different so that people would not run, walk, and ride there bikes through our campsite. Thank you
Oct 14, 2020
I love that there are so many activities offered, although we were just there for Columbus weekend, the trunk or treating was a disaster, the "glow dance party" was not a dance party. The movies listed were not what was shown. The winners for the trunk or treating and golf carts were not announced, if it even happened. There needs to be activities on both sides of the road and list where they are
Oct 14, 2020
Everyone was courteous and helpful. We played mini golf and did the zip type obstacle course. The sites are good size and clean. The group I went with will be back!!
Oct 13, 2020
Staff is extremely rude. Campground dirty. Activists non existent. One pool broken the other filthy. Activities director was rude about children and said how she was not there to baby sit them. Nothing for teenagers. Advertised that there was wifi throughout and there wasn't. Would NEVER go there again
Oct 13, 2020
Amenities were not being offered as noted in contract. Lack of communication when there was schedule changes. Covid protocols were handled unprofessionally with negative response. Many inconsistencies in reference to questions or concerns by KOA staff.
Oct 13, 2020
We loved our patio, pull through sites. Our site was on the end p74, our friends however had quite a few kids cutting through their sites. They don't want to continue camping on those site because this is the second year we had to report the teens cutting through. Those sites are the most expensive ones with the patio and we shouldn't have to worry about people cutting through.
Oct 13, 2020
We always enjoy our stay at Salmon Falls. We are a returning crew of four families that have come for quite a few years. We love the newly added ropes course and mini-golf along with the many added activities. Our children range from two years to 13 years and they are all enterained for the duration. We have two trips booked for next season already.
Oct 13, 2020
This is the second year in a row camping at Salmon Falls KOA. We won't be making it 3 in a row. We felt it was very disorganized, and staff was rude. None of the staff were on the same page about anything. Felt like a totally different campground then the previous year. We loved it October 2019! We couldn't wait to go back. We went back October 2020 and we're very disappointed.
Oct 13, 2020
Big improvement in the property from last year. Keep up the good work.
Oct 13, 2020
great site layout though not ideal as power was on the wrong side
Oct 13, 2020
They did not seem to enforce their Covid 19 guidelines. But other than that, great campground and great people. Easily 5 stars in a normal year.
Oct 13, 2020
enjoyed stay because of friends we were with. Staff was friendly. Greatest complaint was that Covid guidelines were not enforced such as at the Jump pad. Also, many long term trailers were unkept.
Oct 13, 2020
We "rented" one of the RVs. While SRF is a kid's dream space, the RV rental left much to be desired. It was a cross between an airplane and doll house. What I didn't expect: you MUST manage grey water, so showering discouraged (army style OK; bath houses available) the beds are a 1 1/2" futon on plywood, like sleeping on a floor. Bring kitchen towels. Stove broken; staff was tired. Otherwise OK.
Oct 13, 2020
We had a great time. We will be back next year.
Oct 13, 2020
Good sized sites. A variety of activities. Only disappointment was the cable for TV did not come in.
Oct 13, 2020
We love this campground but there are a few frustrating details. Love the pools and river, the location to our home (NH). The amenities are okay. Bathrooms were dirty but we have a camper so no big deal to us. Firewood is expensive and wet. Worst part is they never told us we needed a 24hr reservation for a pump out. The response when we asked was oh we tell some people, but sometimes we forget.
Oct 13, 2020
staff was friendly, like all the improvements, despite the group behind us were very loud and their dog barked constantly we had a good time.
Oct 13, 2020
Great way to spend the final family camping trip of the year. Staff was friendly and accommodating. Fun activities planned all weekend.
Oct 13, 2020
The ropes course was amazing.
Oct 13, 2020
Staff is great, very friendly and helpful! Not having sewer hook-up through the grounds is a drawback. Our cable was not worth hooking up, came in terrible, not a big deal except we paid for it as part of our rate. All the restrictions put on this KOA, because of Gov. Mills, made it difficult to be able to enjoy the pool at our leisure and unable to get in on our warmer day. �
Oct 13, 2020
The bathrooms weren't very clean and there were a lot of very loud and disrespectful teenagers running around. I heard the F word more in one day from these kids than I probably have the rest of the year combined. Parents were no where to be found. The office was responsive but it was still very annoying especially when my 6 & 8 year old kids were hearing it all.
Oct 13, 2020
Always a fun time up there and always so many great and fun activities for the kids. The only thing I didn't like was paying the almost 8 dollars for a bundle of wood with maybe 5/6 logs in it. Other than that little gripe it was an awesome weekend! See you next year!
Oct 13, 2020
smooth check in, late in evening, great site
Oct 12, 2020
The stay was pleasant enough.There were far too many golf carts going around at high speeds, kicking up dirt. Most staff were friendly and helpful, however, there was one older female staff member in the store/office that was rude and not helpful at all. Also, the young man 'monitoring' the pool did not monitor at all. There was no supervision on the inflatable jump pad AT ALL.
Oct 03, 2020
Un lugar muy bello, para caminar, hay lugares para divertirse, para jugar, de entretenimiento y la naturaleza viva
- Odilon Alavez on Google