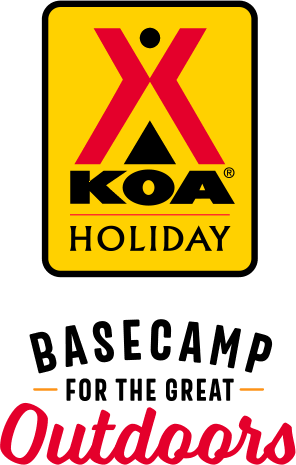 KOA Holiday Campgrounds
Whether you're exploring the local area or hanging out at the campground, KOA Holidays are an ideal place to relax and play. There's plenty to do, with amenities and services to make your stay memorable. Plus, you'll enjoy the outdoor experience with upgraded RV Sites with KOA Patio® and Deluxe Cabins with full baths for camping in comfort. Bring your family, bring your friends, or bring the whole group – there's plenty of ways to stay and explore.
KOA Holidays Feature:
RV Sites with a KOA Patio®
Deluxe Cabins with full baths
Premium Tent Sites
Group meeting facilities
Directions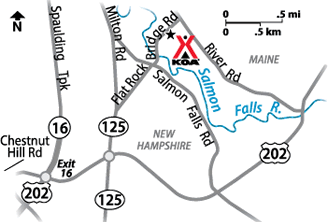 From Boston: Take Route 95 North to Portsmouth, New Hampshire. Go left at the split (Exit 4), which will put you on the Spaulding Turnpike (Route 16 North) toward New Hampshire. Follow the Spaulding Turnpike to Exit 16 and follow the signs to Route 125 North toward Milton. Go one block and take your first right onto Flat Rock Bridge Road. At the stop sign, cross Salmon Falls Road and continue driving straight over the bridge to the campground entrance.
Get Google Directions
Jul 26, 2021
They need to get staff in there that knows how to communicate appropriately with people. Also a brand new system because it's clearly not right as it overcharges people and then the staff comes looking for you. Maybe an appropriate way to deal with it would of been sorry we think there's an error on our end instead of blaming me that would be better
Jul 26, 2021
We had a very lovely stay! The weather great and the activities were also. My kids loved the slide, ropes course, mini golf, and the movies at night in the theater having breakfast with Santa Sunday morning was an amazing experience also! Santa Randy was fabulous! It was very clean and staff were great! We can't wait to go back next year! �
Jul 26, 2021
Great campground lots of things for the whole family to do
Jul 26, 2021
I do not recommend the Lebanon KOA Holiday on Salmon Falls River Holiday to anyone. Multiple people were put into spots that were too small, and you couldn't pick your own spot. We also went with other people and asked to be next to each other; they did put us on consecutive numbers, that were across the road from each other. They had plenty of rules, none of which were actually enforced. Our
Jul 26, 2021
This is now our favorite campground! There is something for everyone and the sites are a great size!
Jul 26, 2021
The check in process is long. My cabin was unlocked when I arrived. When my nephew he checked in, I noticed he had dish towels in the cabin and I did not. It would be nice to have a checklist of items that are suppose to be at the cabin so you are not charged if items not received. There was a confusion with my golf cart rental and it got repossed from me twice.
Jul 26, 2021
Bathrooms were always clean and easy to find. The site was amazing. Plenty of things to do. However the check in process needs improvement there was long lines, most check in staff seemed very confused. Another party with us was sent to 2 wrong sites it wasnt the best start.
Jul 26, 2021
1st disappointed stay. I asked at check in about reservations & was told we did not need them. We attempted the ropes course & for a party of 9, 2 went. They then let 2 more kids go leaving 1 out. The boy working it then told my 7yr old that's life & sometimes you don't get to do everything & someone gets left out. He was very rude, let me teach my child life lessons.
Jul 26, 2021
Our tent site was small and very rooty and was littered with toilet paper from previous campers that had to go the bathroom in the middle of the night. Maybe more bathrooms throughout would help. We love the amenities and lots of activities for the kids!.
Jul 26, 2021
More than enough to do in the campground. Stayed for 3 nights and it wasn't enough time. Staff was amazing
Jul 26, 2021
The bathrooms were spotless, our site was near them so I could see how often they were cared for. This is a very busy, huge campground. There were a lot of multiple family sites, which looked like everyone was having a blast. There were a ton of activities throughout the day for kids and adults. It is not a grassy campground, so be prepared with outdoor rugs, if that is what you prefer.
Jul 25, 2021
We had the best time, there were a few things that could be improved- warning safari tents that we will get skunks inside every night even if there is no food, adding WiFi in our area. Photos showed safes on mini fridge and there were no safes, add rubber mats to changing rooms so you're not in muddy puddles trying to change- a safer way into the river - all minor issues had the best time
Jul 25, 2021
First time ever. The customer service was horrific I am in the customer service industry so this does not come easily for me to write. We went to play pool In the arcade. Missing balls and stick. Then we went to play miniature golf and there were no golf balls. When I addressed the issue Pam said " well if you don't like it you can go camp somewhere else". I was stunned. Horrible
Jul 25, 2021
Our trailer smelled like toilet/sewage. We asked every day and everyone was dismissive of my husband and I. Upon packing up the car as we were driving home we could smell the toilet/sewage smell was in all our belongings. Staff not always helpful, one in particular yelled at my daughter and her friend a couple times; they weren't doing anything wrong but he felt yelling was necessary.
Jul 25, 2021
We loved every min!!! Stayed in cabin 260. We had kids like in lower 20s next door was absolutely amazing seemed to be considerate that we had a 4 yr old with us. Definitely be back next yr. !!!!!!
Jul 25, 2021
Very nice staff willing to help with almost anything and clean facility.
Jul 24, 2021
Our stay was terrible. Our rental RV had many problems. The stove broken, the propane tank was mishandled & it took staff a long time to get it lit. The worst problem was with the toilet. The seal was broken, the bowl couldn't hold water so gasses from the tank were emitted into the unit constantly. I rated favorably because they refunded the stay. We could try again the facility upgrades are nice
Jul 24, 2021
Staff were all very friendly and helpful!
Jul 24, 2021
The staff was fantastic!
Jul 24, 2021
We got site 113 to start with. I have a 38' travel trailer and this site was way to small and just a mess of roots. Septic water and power were poorly located. After a couple days I asked the front office to move. They were super helpful and happy to help. We paid a small upgrade fee for a patio site and it was great. The recreation staff was great! Lots of work being done, it looks great.
Jul 24, 2021
Most amazing stay ever upgraded to deluxe campsight with water lights electricity ..so unbelievably peaceful used all attractions staff above and beyond amazing my son had so much fun will be back soon yall rock
Jul 24, 2021
We rented a camper and liked having the amenities of one. The beds were quite firm. The campground amenities were great. The included adventures course was awesome as well as the waterslide, pool and jumping pillow. Due to so much recent rainfall, the river was very high and quite scary. Life jackets for kids are a must when the river is high, but the camp store doesn't sell them.
Jul 24, 2021
This was our first time at this KOA. We were very surprised in how things were being managed over the actual campground itself. During check in, 4 people stood behind chatting while one woman checked everyone in. The site we were assigned had a flooded firepit. We asked for it to be filled up n and were told no. The main road is not safe for speed and the waterslide had kids not following the rule
Jul 24, 2021
Too many kids nearby our site 202. We are old couple who like quiet.
Jul 23, 2021
This was our second time staying and my kids LOVE it there. There is so much for them to do and the water slide and river are huge benefits! We cant wait to visit again next summer!!!
Jul 22, 2021
Campground Staff super friendly at campsites. Some staff confused by pool rules. Reservation system needs a fix to accommodate people on site and not hold for campers that cancel. We were denied a site because it was not available yet no one stayed there during our stay and another camper flooded in 1ft of water and not allowed to move although clearly open sites available.
Jul 22, 2021
The RV tank was never emptied, it backed up the first day there, it soiled the shower curtain and was not changed after partially emptied.Because if this the bathroom smelled horrendous and we could not use it.It back up again on the our third day because it was never properly emptied.On the only sunny day workers decide to landscape and forced us out of our pool spot and had no where to sit
Jul 22, 2021
The site is nice and the people are wonderful. Love all the new (and old) amenities there... Pools, slide, cornhole, jumping pad, etc) The trailer was nice although it had a couple leaks. The 2 things I'd suggest addressing were that the mattresses were so thin it was like sleeping on the plywood below. And every bathroom should have a few hooks as there's nowhere to hang your towel or cloth
Jul 22, 2021
I liked it very much, the only problem is that it is raining alot. And before that I tried to call the place to cancelled 2 days a heads to reschedule to another time due to the weather forecast was not that goodl, but no one answers, and I left a messages and no one returned my call. We had no choice of having to go that week.We only got 2 good days to enjoys.and the the other days was raining.
Jul 22, 2021
Great location for a family get-together! Grandkids had an awesome time with pools, water slide, tubing on the river, and especially the water battle! Will be back next year.
Jul 22, 2021
Wonderful family get together. Sites clean and well managed.. Wacky Water Week was perfect. See you next year.
Jul 22, 2021
Tons of activities for the kids! My Granddaughter loved the splash pad! We will definitely be coming back!
Jul 21, 2021
Moved our site without telling us. Didn't even put us in a comparable spot. Charged me $276 more than the bill said. They did refund it after I noticed the error. They never would have caught it. I booked a year in advance so I'm glad I looked it up… all kids got ear infections from the pool plus they watched them fish a dead rat out of the filter and not clean the pool, pool was a slight ye
Jul 21, 2021
Lazy river is great. KOA staff and policies could be better. Our RV site was originally supposed to be across from deluxe cabins when booked last fall. Over the winter KOA moved the RVs to a different location. Very disappointed and there was no communication. In addition, our RV toilet was broke. Now KOA charges $39 to reserve a site...but will you move the site over winter??
Jul 21, 2021
One of our favorite campgrounds!!!
Jul 21, 2021
Our campsite was dirty upon arrival, scraps of paper, partially opened medicine/ lozingers, etc. There is a need for a shelf in both the shower and shower vestibule on which to place soap, shampoo, eyeglasses etc. Bob, whom escorted us to the site was very friendly- best aspect of our visit
Jul 20, 2021
Ower 3rd year was wonderful. Enjoy every moment with the family and the amenities. I'm a little upset about the parking price for the $10 a DAY for an extra car. That's a little to much, don't you think? Especially when you don't offer a rebooking fee anymore. And charging a full day the day of checking in when its at 3pm and out at 11am. We really enjoy this campground but its getting to pricey.
Jul 20, 2021
We booked with friends 1 year ago to locked in sites. Upon arrival we were given other sites. We were told when the Kia took over they moved everyone and we should have been notified, we were not. Not only were we moved from the large group but I personally booked 2 sites for my family and they were separated. We did not book them together, I booked 2! I could keep going but don't have the space
Jul 20, 2021
Had a great time.
CAMPGROUND RESPONSE / COMMENTS:
We are so glad you had a great time with us! Please visit again soon!
Jul 20, 2021
This was our 10th year (with the exception of 2020) staying at Flat Rock/KOA Salmon Falls and we were impressed by all the updates since KOA took over! We stayed in the safari tents for the first time & will definitely do that again! What an upgrade from tenting! Overall a pleasant experience. Only complaint is a staff member vaping in front of kids on the water slide.
Jul 20, 2021
I'm disappointed by all of the added fees (daily fee for a second car, limited use of ropes course and mini golf, etc) and the crowding of new campsites in the campground. Also, my site, 347, is a hill and we made the best of it with our tent but we should have been warned. Plus, a few dishwashing stations at the bathrooms would be nice.
Jul 20, 2021
Initially it was great, lots to do for the kids. It got really crowded later in the week with kids unsupervised being aggressive on Friday and Saturday. Lots of noise at night on Friday with no security around. One site was burning pallets in their fire pit. The activities are really good, I would come back during the week not on weekends. No wifi except real close to the office was a bummer.
CAMPGROUND RESPONSE / COMMENTS:
Thank you for taking the time to share your feedback with us. We do have multiple camp rangers around the grounds each night. During you next visit, please feel free to call the office or the manager on duty regarding any concerning behavior, and it will be addressed.
Jul 20, 2021
Excellent stay. Jamie at the front desk, Dusty from maintenance crew & Ali at the ropes course were great team members that we had a chance to interact with. They always had smiles on their faces and were very helpful with everything. Clean bathrooms and lots of activities for people of all ages, especially kids.
Jul 22, 2021
A great campground.
- Deanna Coyne on Google
Jul 19, 2021
Great place for families. They have everything you need and are very accommodating.
- Tara Smith on Google
Jul 26, 2021
Great place to camp with the family!! Bathrooms were kept very clean. Wish it was a little less expensive. You can't bring in firewood from outside the campground!!! Very disappointed with how many water activities got canceled due to rain during water week.
- Kristina Raymond on Google