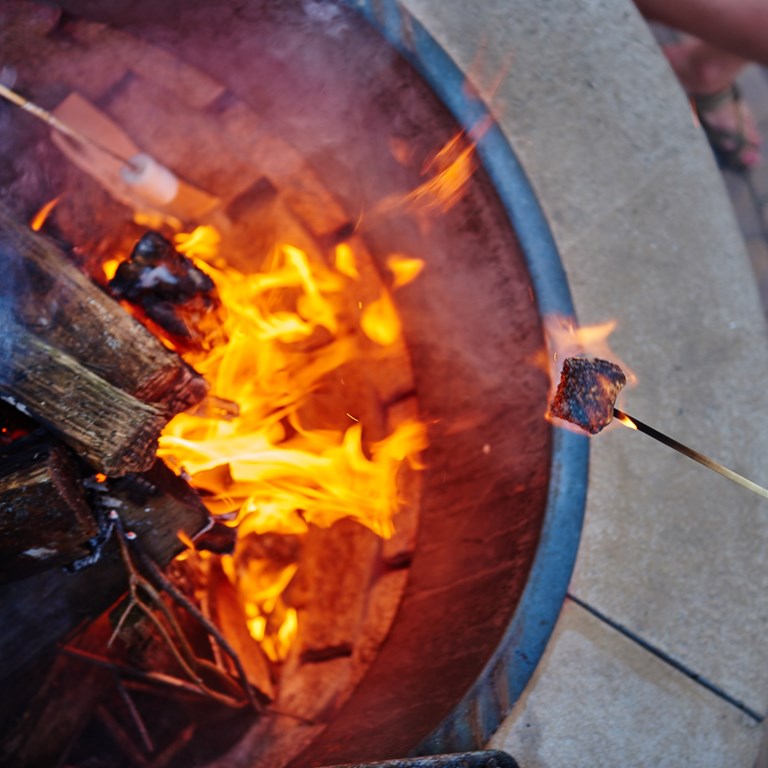 Lebanon KOA on Salmon Falls River Reviews
Plan your escape today!
Directions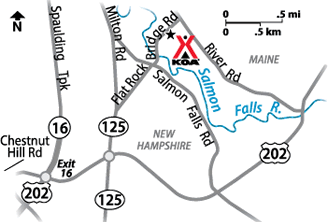 From Boston: Take Route 95 North to Portsmouth, New Hampshire. Go left at the split (Exit 4), which will put you on the Spaulding Turnpike (Route 16 North) toward New Hampshire. Follow the Spaulding Turnpike to Exit 16 and follow the signs to Route 125 North toward Milton. Go one block and take your first right onto Flat Rock Bridge Road. At the stop sign, cross Salmon Falls Road and continue driving straight over the bridge to the campground entrance.
Get Google Directions
Aug 01, 2020
The staff was very nice and helpful but, I booked in February, 2 safari tents, and requested certain sites and was told I could have them. When I got there, they weeent available. Also, the bathrooms were EXTREMELY dirty and so was the pool. The theatre has sticky seats. Overall, the place was not clean. My lamp was also broken and I witnessed another camper go into my tent and take the fan and la
Aug 01, 2020
Lance was very helpful and checked in on us multiple times. Jeff helped us on arrival as we got lost. There should be better markings of the "streets" to show people where to go. Witnessed several arrivals with same issues. Staff very polite. Beds rock hard. Should try to upgrade mattresses. Wish second pool was open(torn liner). Overall experience we will be back.
Aug 01, 2020
Pool unavailable. We rented a premium site with patio and half way through our stay an overflowing dumpster was moved to the middle of the field by our site which was wretched smelling. The river was nice, but a lot of trash; the campground should clean the trash up to entice people to want to use the river. HUGE wasps by the bouncy pillow. Was told they dont bite, but scary for children.
Jul 31, 2020
It was fun however the cabin had no cable and when we arrived our cabin was dirty. Although they cleaned it for us we had clean again due to the floors being so gross that our feet where covered on black dirt also I feel that the pool could have been a little cleaner
Jul 31, 2020
Friday and Saturday mornings both men and womens toilet paper rolls were empty. And I would recommend a bench or a chair in the shower stalls thank you
Jul 31, 2020
We were greeted by an unwelcoming staff. The lady that checked us in couldn't even tell us how to get to our lot. The campground seemed cluttered, dirty and in need of attention. My wife was reprimanded in the camp store for not wearing her bracelet that we was given in at check in time even though I was standing with her wearing my bracelet. We found that unprofessional and embarrassing.
Jul 31, 2020
We had lots of fun! Very enjoyable! Alot of activities for the children. And the amenities are great! Will definitely be coming back.
Jul 31, 2020
Safari tent was very nice however the floors should be stained or varnished so they wouldn't be so dirty. Also the tents should have a broom in them for the occupants to use during their stay. The hand dryer in the ladies room was very dirty the 3 days we were there and were never cleaned. Disappointing.
Jul 30, 2020
My only complaint is that our neighbors partied until 3am. Running, screaming, music. My 2 year old was up until they retired at 3am.
Jul 29, 2020
Fantastic time, staff was really courteous. Common areas and facilities were well maintained. Large pool was out of service for our entire stay but sometimes things happen. I guess lightning took out the pumps?
Jul 29, 2020
We have been coming for 5 seasons. Have witnessed the KOA takeover, this year we had some issues BUT we have to say this years General Manager was the right man for the job and we would love to see him stay on longterm to take Salmon Falls to its highest potential. Please keep him. Hire more staff to help him succeed in very area needed, cleaning pools, staff for the water slide, camp counselors
Jul 29, 2020
Campground littered with trash, one pool with water slide open and not even cleaned or maintained. Other pool vandalized. Trash on playground. Building materials and supplies lying around everywhere which is a it liability hazard due to the amount of people and kids there. River littered with tires and junk Website said a restaurant but wasn't even open at all place just not maintained
Jul 29, 2020
We were sent to a dirty RV, when we finally got into a clean one it smelled like sewerage. We were told that some of the RV's were winterized wrong last year and that's why they smelled! So the staff knowingly put us into a trailer that smelled horrible and charged 230$ per night. The north pool had been closed all three visits this summer and the other pool was filthy all of the time.
Jul 28, 2020
The only thing I did not like was the trash was to close to our site but other then that we had a very good time love the changes that they made from last year we will definitely be back
Jul 28, 2020
our stay was fantastic everyone in the family had a great time . I have been going to Salmon falls since I was a teenager back then it was Kings and Queens Court was as I remember it and more granddaughter had a great time
Jul 28, 2020
Amazing campground. Very kid friendly. I would recommend that since floating on the river is a main attraction that they take time to just make it a little more appealing. The entry site is run down old camp sites maybe they could rake the side out a little better. Other than that we loved it we had a group of 51 people all together and had a blast. We will be back in August!
Jul 28, 2020
The kids loved the slide and we enjoyed the river and mom golf. I would recommend renting a golf cart if you are across the street. I also wish for safety there was signage for oncoming cars and even speed bumps installed on the street for golf carts crossing.
Jul 28, 2020
Our Family had such a great time!! We booked another stay and we are coming back in a few weeks!!
Jul 28, 2020
Very well done for a KOA just getting off the ground. Only thing would be to look at your sewer setups for the sights. Uphill is bad. Other than that I enjoyed our stay. Thank you
Jul 28, 2020
Great campground, helpful and pleasant staff. Our only complaint is that there was a leak in the bathroom of the trailer we rented, and even though it was addressed by the staff, it wasn't fixed and we had to deal with it all weekend.
Jul 27, 2020
Stayed here in the past...unsure about future trips. Disorganized and rude staff however the general manager was very nice and took care of our issues.
Jul 27, 2020
While the there were a number of things to do (mini golf was new, rope course was nice) the location felt in transition between old and new for the facilities.Had a significant number of seasonal campers mixed in with visitors for the weekend. It was loud (past the 11pm quiet times) and the sheer number of people speeding around of golf carts was unpleasant (the place is that that large...)
Jul 27, 2020
Grew up camping here 20+years ago, came back on the other side with my wife and son. Some nice changes and updates from back in the day, only complaint was our campsites picnic table(S30). Half of one of the seats was broken and rotted. Probably should be repaired/replaced.
Jul 27, 2020
The only sugestión or complain have nothing to do with the staff or that management, is the water pressure from the showers, staff and management were very nice and polite.
Jul 27, 2020
We loved everything about it. The staff was friendly, the grounds are clean and nice, and there is a ton to do! We will definitely be returning, and are even looking into doing a seasonal rental there. Thank you, can't wait to come back!
Jul 27, 2020
The grounds are nice and the staff very friendly. There are tons of amenities that my children had a blast with. I had two major concerns about our stay that will probably lead us to not returning in the future. The first being the general disregard from other campers to our "space". My main concern though is the lack of enforcement of some rules, especially curfew and speed limits for carts.
Jul 27, 2020
Being that it is copied the camp ground was over packed. We did however practice social distancing. They have been a lot of up grades, but the things that have not changed has brought this camp ground way down. There are to many kids driving carts and driving to fast. Quiet time was not recognized. I had to call security 2 nights in a row at 1 and 2 am. Will not return.
Jul 27, 2020
We found a great spot. Staff was very nice and helpful. I love the big pool, the liner needs to be replaced and they do need to get rid of the hornet/wasps flying around everywhere by the pond as my son was stung on his hand when it landed on him. Other than that they are doing a great job and we love it.
Jul 27, 2020
Other than the time & paperwork involved for check-in we thought it was a great place and will be back.
Jul 27, 2020
Everything was perfect... we loved...
Jul 27, 2020
We loved our stay at salmon Falls koa! Lots of activities for my twin boys and their friend aged 12. Kid and pet friendly campground. We experienced a closing of the water slide for Saturday which was not Well communicated. Unfortunately could get away for the weekend. We will be back though.
Jul 27, 2020
Lots of loud language, smoking, fighting. Also not fair to the people who cam for a long weekend to never get a chance at golf carts or rope course, they are booked before you even get there. Seemed really overcrowded compared to other years with the other owners. Sadly a much rougher crowd now. The store had no food so they encouraged ALOT of drunk people to drive to cumberland farms, bad idea
Jul 27, 2020
Peaceful, affordable and very funny
Jul 27, 2020
It was amazing very relaxing. Everyone is super friendly and easy to get along with.
Jul 26, 2020
We had an amazing time other than the RV needed to be pumped. Everything was perfect thanks
Jul 26, 2020
Nice visit. Nice & friendly staff. Very attentive to guests!!
Jul 26, 2020
We had an awesome time, and we will be back!! Everything was great, and the staff was very kind!
Jul 26, 2020
Despite the rough arrival when the site we were assigned to didn't exist... and we ended up needing to request a picnic table and fire pit. It all worked out in the end. We made great friends who travel to other KOA's and shared stories about our experiences. We may be back in a year or two when the transition to a KOA reflects what we are used to.
Jul 25, 2020
I gave this a 4 because it's a great family campground. Patio sites should be family, not for older couples. These sites are in complete sun with no shade and trailers should pull in the other way to get shade. Fellow campers either walked thru or drive thru the site next to us until Thursday when another trailer pulled in thankfully. Sadly not a campground for us.
Jul 25, 2020
I was camping with family and called two months in advance to make sure our sites were together and when I arrived they had moved my site on the other side of the campground. They have two pools but only one was working and it was too crowded. The ropes courses was closed much of the time and when it finally opened we couldn't go. This place has a lot of potential but needs some maintenance.
Jul 25, 2020
Not clean, pool was disgusting (dead frogs, hair clumps, water was very cloudy) bathrooms were disgusting, many and many of mishaps that were corrected but I still don't think I'd ever return.
Jul 24, 2020
Cabin was mostly clean. Floors were very dirty..
Jul 23, 2020
so pleased to see that KOA is investing in meaningful updates - the kids love camping here... we will be back!!
Jul 23, 2020
They couldn't find the paperwork for registration, questioned if we had a tent site, I said no we have 32' RV. Which was in the reservation. We were given a site that was still too small and had to return to registration and they apologized for giving us a 25' RV site. We had a nice stay afterwards. Allowing people to pick their own sites would be helpful moving forward.
Jul 22, 2020
Stay was a nighmare, we've stayed 4 years at the same site and was told at check in we couldn't have it, even though we were told at reservation we could. Camper was dirty sight was dirty. Half ameities were closed including 1 of the only 2 pools on hottest weekend . There were over 100 people in the small waterslide pool which was unsafe. staff seemed unconcerned after 4 years likely won't be bac
Aug 01, 2020
We had a wonderful time the only problem was my daughter got bit by a dog and it supposedly was a service dog. Come to find out it never had paperwork. So my daughter's first day of camping last year really was miserable for her..
- Jessica James on Google

Lebanon KOA on Salmon Falls River
Open July 1 - October 12
21 Flat Rock Bridge Road
Lebanon, ME 04027
Check-In/Check-Out Times
All Sites
Check-in: 3:00 pm, Check-out: 11:00 am
Lebanon KOA on Salmon Falls River
Get Google Directions

© 2020 Kampgrounds of America, Inc.