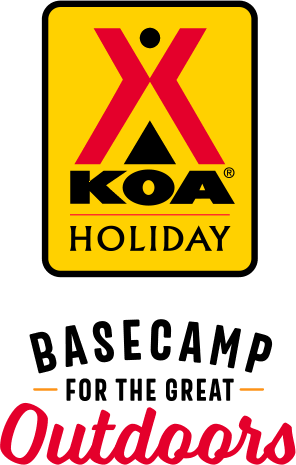 KOA Holiday Campgrounds
Whether you're exploring the local area or hanging out at the campground, KOA Holidays are an ideal place to relax and play. There's plenty to do, with amenities and services to make your stay memorable. Plus, you'll enjoy the outdoor experience with upgraded RV Sites with KOA Patio® and Deluxe Cabins with full baths for camping in comfort. Bring your family, bring your friends, or bring the whole group – there's plenty of ways to stay and explore.
KOA Holidays Feature:
RV Sites with a KOA Patio®
Deluxe Cabins with full baths
Premium Tent Sites
Group meeting facilities
Directions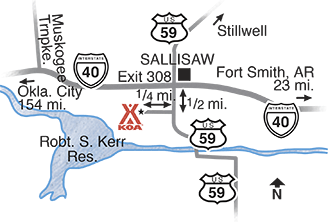 Oklahoma I-40: Exit 308, turn south (Hwy 59) and get into the right lane. Go 1/2 mile and turn right - just past a small KOA sign on the right and across from a very large KOA sign on your left. You will be turning just before the Chevy/Dodge dealership and just after a large parking lot. Go 1/4 mile down paved road (KOA Power Dr).
GPS: N35.43887, W94.81034
Get Google Directions
Sep 19, 2021
So convenient, friendly and clean. The new area is very nice.
Sep 19, 2021
We just spent 6 days at the Salisaw KOA & had a wonderful time. We camp there frequently enjoy the park and our camping experience. The Maust family are great hosts and in order the fully experience there hospitality you need to spend more time in the park. They have many things for the kids to do and the park is very clean & staff very accommodating. I would recommend this park to anyone! KMC
Sep 19, 2021
We stopped here just as an overnight stop. The amenities of the park are great, especially if you have dogs or horses. That being said, the flies are terrible so prepare with a fly swatter and being quick entering/exiting your RV.
Sep 17, 2021
Nice and clean.
Sep 16, 2021
We did an overnight while traveling west. Best campground we stayed at. Very clean. You can tell the owners care about their campground. Everyone was friendly and helpful. Easy on and off I-40. They had the best internet (5G) Just added a new section with patios. Highly recommend this campground.
Sep 16, 2021
Clean, nice, lived the hot tub.
Sep 16, 2021
As always clean and friendly! Alot if improvements being done!
Sep 15, 2021
The patio sites were beautiful. Easy access. Customer service was amazing. I wished our patio lights worked but with it being brand new we understand
Sep 15, 2021
Campsite was very clean and well taken care of. Amenities were fantastic and restroom was very clean. The only think I would complain about is the traffic of cars/campers in and out all night long, campers leaving bright lights on beaming into our tent, and the firewood was not worth the 6$ for 5 large sticks(not logs).
Sep 15, 2021
Great campground. First time to stay there. 24 hour laundry a plus. Addition and improvements increase value. Friendly staff. Thanks for allowing us to stay.
Sep 14, 2021
We had a great time at the KOA. We loved our cabin. The pool was wonderful! Your staff is super friendly! We love staying with you every time we come from Minnesota to visit our grandma. Thank you for keeping such a beautiful campground!
Sep 14, 2021
We used one of the deluxe cabins and were very happy with it. Very clean and well equipped. The air conditioners were a little noisy, but I guess it is a cabin after all. Campground was clean and we really liked the dog park. Getting our dinner delivered was a nice treat after a long day's drive
Sep 14, 2021
Great place, stopped overnight while traveling.
Sep 14, 2021
Very nice, quiet camp ground. Clean, neat, great Wifi, all amenities. Owner and staff were all pleasant and knowledgeable. We planned on one night but stayed three! Will definitely stay again when in that area.
Sep 14, 2021
Easy in and out. Lots for kids to do
Sep 13, 2021
Awesome Every thing Great
Sep 13, 2021
The park was really nice. We stayed in the new section, on concrete. Fabulous! The staff and yard guys were very friendly. We went to the casino near by…AND WON! Not much else to do.
Sep 13, 2021
Loved the open air (read Cool!) lots and especially the delux lot we stayed in.
Sep 12, 2021
It will be a 10 once the new section is complete! Beautiful park!
Sep 12, 2021
We only stayed one night , but it is a quality RV place.
Sep 11, 2021
These folks work hard to provide a first-rate camping experience. Thanks to all.
Sep 11, 2021
The dogs loved the little dog park, the pool and play area looked great, and it was right off the freeways. Very nice stay.
Sep 11, 2021
Was there one night while traveling. Nice folks. Nice place. Wonderful WiFi. No cable but can stream.
Sep 11, 2021
Nice peaceful park. Very clean
Sep 10, 2021
Quiet location and very clean.
Sep 10, 2021
Very nice, kids loved the pool and I appreciated the friendly people...
Sep 10, 2021
Had site in the new section and was awesome.. can't wait to return..
Sep 10, 2021
Our cabin didn't have an outdoor grill because it broke, and since it didn't come in; the owner was kind enough to provide us with a gas grill. Even though we did have our outdoor grill to cook over the open flame. The staff is very friendly and owners are very gracious and kind. Watched the fish and turtles swim in the pond. The walking trails were nicely mowed. Great place to stop!
Sep 10, 2021
Very nice. Would stay longer than 1 night next time.
Sep 10, 2021
Very well kept KOA. Clean grounds, friendly, helpful staff. Lots of entertainment for the kids. Excellent management! Will definitely use again!
Sep 10, 2021
Very impressed with the bathrooms and service. Very nice staff.
Sep 09, 2021
Excellent facility. Staff was super nice and accommodating.
Sep 09, 2021
Pretty with nice trees. Very friendly staff. Very clean. Lots of things to do. K9 camp was big and shaded. Plenty of room to walk the dogs.
Sep 09, 2021
Nice rustic camp ground.. Friendly staff. Enjoyed the 2am thunderstorm; the dog not so much.
Sep 09, 2021
The new section of this park is awesome! There is plenty for kids to do also.
Sep 08, 2021
Worked perfect for our over night stay
Sep 08, 2021
Clean and friendly staff!
Sep 08, 2021
Never been disappointed.love our stay
Sep 20, 2021
Great place and amazing service!!
- Kim Wilson on Google
Sep 17, 2021
We stayed here one night, we had a really great time. I received a text message early in the day letting me know that my cabin was ready and when we arrived in the late afternoon it was ready and the air-conditioning was on full blast on a 95° day. It was so nice that they had it ready for us. The place was absolutely spotless and the surrounding campground was really nice too.
- Scott Baker on Google
Sep 14, 2021
The staff was very friendly and helpful. They have a small diner and will deliver your food to your spot. That is very nice after traveling and you just want to relax. The campground is beautiful and well maintained. Highly recommend...
- Janice Roberts on Google