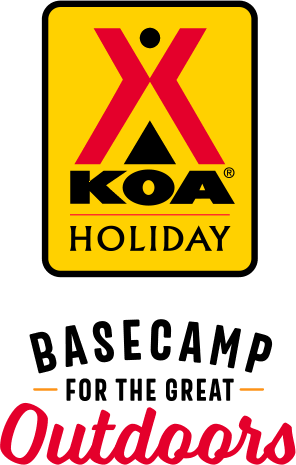 KOA Holiday Campgrounds
Whether you're exploring the local area or hanging out at the campground, KOA Holidays are an ideal place to relax and play. There's plenty to do, with amenities and services to make your stay memorable. Plus, you'll enjoy the outdoor experience with upgraded RV Sites with KOA Patio® and Deluxe Cabins with full baths for camping in comfort. Bring your family, bring your friends, or bring the whole group – there's plenty of ways to stay and explore.
KOA Holidays Feature:
RV Sites with a KOA Patio®
Deluxe Cabins with full baths
Premium Tent Sites
Group meeting facilities
Directions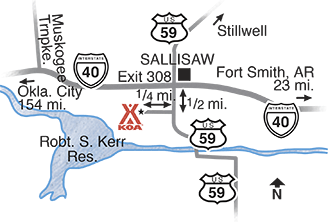 Oklahoma I-40: Exit 308, turn south (Hwy 59) and get into the right lane. Go 1/2 mile and turn right - just past a small KOA sign on the right and across from a very large KOA sign on your left. You will be turning just before the Chevy/Dodge dealership and just after a large parking lot. Go 1/4 mile down paved road (KOA Power Dr). GPS: N35.43887, W94.81034
Get Google Directions
Feb 11, 2021
Cold and windy outside but we received a warm welcome and comfortable care
Feb 11, 2021
This kOA is awesome. Service beyond expectation. Thank you to the girls for everything, you are awesome.
Feb 10, 2021
The location was more then adequate and the patio was quite large. However upon arrival there were 3 staff members on duty and not one of them was wearing a mask. These members were all young and probably not concerned about having or getting COVID. However they come in daily contact with the public. Many of these people are elderly and/or could have compromised immune systems or other issues.
Feb 09, 2021
STAY HERE ANYTIME HEADED EAST ON I-40 AS SALLISAW IS MY WIFE'S HOME TOWN. ONLY ISSUE IS DRAINAGE ANYTIME IT RAINS AND IS THE REASON FOR THE 4 RATING.. APPEARS NEW SITES ARE BEING BUILT WITH CONCETE PADS. HOPE OVERNIGHT SITES AND CONSTRUCTED WITH DRAINAGE IN MIND.
Feb 08, 2021
Great customer service. Everyone was so kind and went out of their way to be helpful. Thank you so much!
Feb 07, 2021
My 2nd time here. Like it very much. Loved site #11 with the huge deck.
Feb 07, 2021
We came in late, and The lady at the desk was so friendly and explained everything in detail over the phone. The site is so beautiful and clean. Next time we will stay longer. We had such an amazing experience!
Feb 06, 2021
It was great, quiet and very nice.
Feb 04, 2021
This place was great. Everything was clean and quite. Nice playground, nice bathrooms, nice laundry and dog area. We will definitely come back again.
Feb 03, 2021
It was our first stay at this KOA and we only spent one night but we will definately be back. It was one of the nicest KOA we have ever been to. Even with the covid issues they were very welcoming. Everything went just as they told us it would. We received a text with all the info we needed to know. Once we got there all the facilities were impeccable. The bathrooms were amazing. Thx
Feb 02, 2021
Very nice level site. Helpful friendly workers. Lots of nice spaces to walk dog. Very pretty wooded setting.
Feb 02, 2021
Kevin was a pleasure to talk with. Very informative about grounds layout and amenities. Also above and beyond to share local information as well. Bathrooms were cleaner than most anywhere I've stayed !!
Feb 02, 2021
Excellent stop, clean, easy access and friendly staff!
Jan 29, 2021
Very clean bathrooms and showers. Unfortunately the cable TV was out.
Jan 28, 2021
This is the nicest KOA I've stayed at in 25 years! Tent sites were clean and the sites with the sand were super easy to use for tent setup!! Bathrooms looked newly remodeled. Bathrooms were warm, showers were large and easy to use. There were places to put clothes to keep them dry while I was in the shower. Check in and out were very easy!
Jan 27, 2021
We hung out at the hot tub, enjoyed a beautiful evening, and slept well. Friendly staff, clean restrooms, and hot shower.
Jan 25, 2021
We were very happy with the cabin . It was clean and the staff was nice. Thankyou
Jan 21, 2021
We stayed at the Sallisaw Koa three nights in a premium pull through site. The staff is great and very friendly and helpful. We stayed in the winter so we didn't get to experience all the fun things this Koa has to offer. This Koa is small compared to newer RV parks and most spots are taken by long term visitors. It was really mudy in several places and needs better drainage.
Jan 20, 2021
wonderful, a little noisy with all the construction, but understand this is the off season and the best time to do it
Jan 20, 2021
They staff was very helpful and that made the stay pleasent.
Jan 19, 2021
WONDERFUL. Have stayed there twice so far. Planning to bring whole family for a stay. Friendly staff. Incredible play area for children. Showers were divine. Hope to see you soon.
Jan 19, 2021
Easy in and out for our overnight stay
Jan 18, 2021
The cabin was clean and well appointed. Bed was comfy. Area was quiet. We loved it.
CAMPGROUND RESPONSE / COMMENTS:
We're glad to hear that you enjoyed your stay! We try to make everything as comfortable as possible so you can relax. See us next time you're in the area!
Jan 17, 2021
Awesome owners! Very accommodating! Lots of activities on the property! They even have a hot tub a d nice showers! Highly recommended!
Jan 17, 2021
There was a spider in the bed. My father had passed away and we had to go back to Texas and get paper work for his funeral and they didn't credit me back on the last night and checked out before 8 that morning....
CAMPGROUND RESPONSE / COMMENTS:
We're very sorry for your loss. Unfortunately, spiders love warm places, including our homes :>). When you called to say you were leaving early, you didn't say why but said your stay was GREAT. We accommodated you well, even blocked our LAST cabin for the next 2 nights with no charge/cancel fee. If we filled the last night, we are happy to refund. Again, sorry for your loss.
Jan 16, 2021
Hosts were very accommodating, cabin was clean and very nice
Jan 16, 2021
Didn't use any amenities, bathroom or showers. First time we were not escorted to our site.
CAMPGROUND RESPONSE / COMMENTS:
Thanks for staying! Usually we don't escort, partially because of COVID + our park is pretty easy to navigate and we write on the map where you need to go. We are always happy to though if it's requested! :)
Jan 13, 2021
Great facility and helpful personnel
Jan 12, 2021
Very clean park. Safe and secure. Staff go above and beyond
CAMPGROUND RESPONSE / COMMENTS:
Thank you so much! We've NEVER had any issues here, plus we live on site so if there was one we would be out right away. We know a long day on the road can be tiring, and the staff and ourselves are always here for you!
Jan 11, 2021
Fun place to stop and stay. Best staff I have meet at a KOA yet, and the most amazing and comfortable bathroom/showers probably in any KOA location. You can order food, or items from the sotre and it will be brought out to you. Great stay thats worth it.
CAMPGROUND RESPONSE / COMMENTS:
Thanks for staying with us! We do our best to accommodate everyone traveling, no matter the needs. If you're ever passing through again be sure to stop by!
Jan 11, 2021
Rented a deluxe cabin. Very clean, great amenities, and a wonderful place to stay. Dog-friendly campground, and the fenced dog park and trails at the back of the park were a bonus! Friendly and helpful staff!
CAMPGROUND RESPONSE / COMMENTS:
Thank you for the kind review! We know the four-legged family members can't be left behind on vacation so we make it just as fun for them as you!
Jan 10, 2021
Excellent accommodations! I will return.
CAMPGROUND RESPONSE / COMMENTS:
Thank you so much, we loved having you here. See you soon!
Jan 09, 2021
Very welcoming staff, only a quick overnight but have put it on my list to come again and enjoy all the amenities. Sites were flat and long, internet fast and strong. Sites were a bit tight, didn't like looking at the neiboring sites blackwater connection just outside my front door. Picnic tables and fire pits at each site are always welcomed. Will come back and stay longer!
CAMPGROUND RESPONSE / COMMENTS:
Thanks for staying with us! We're working on wider and concrete sites right now. Maybe next time you can stay in one of them! :)
Jan 08, 2021
Friendly staff, immaculate restrooms, easy on/off I-40, quiet. Exciting to see expansion construction.
Jan 06, 2021
Called 3 days before our stay to upgrade our cabin, they were super helpful and have always been so nice. Every time we travel to see family we will stay here because of how awesome the staff is.
CAMPGROUND RESPONSE / COMMENTS:
Thank y'all so much! We loved having you here and we're really happy to hear that you enjoyed it too. See you next time!
Jan 05, 2021
Very helpful in any request. Very friendly and courteous staff. Clean facilities.
CAMPGROUND RESPONSE / COMMENTS:
Thank you, we appreciate y'all :)
Jan 05, 2021
Stayed one night nice place facilities are well equipped and maintained.
CAMPGROUND RESPONSE / COMMENTS:
Thanks! We do our best to keep everything up to date for anyone passing through to make it as easy as possible of a stop. We hope to see you again :)
Jan 04, 2021
We usually camp at KOAs in our camper but were traveling without this time so we stayed in a cabin. It was clean and very nice and perfectly furnished. We came in late on Christmas Eve and had no problems with late check in. Will definitely be staying again on our way through!
CAMPGROUND RESPONSE / COMMENTS:
Thank you so much for staying! We loved having you here and hope you had a great Christmas morning, even if you had to be on the road. See you next time!
Jan 04, 2021
Clean restrooms with large private showers. Staff was nice and helpful. Easy access from the interstate. Good internet speed and cable channel selection.
CAMPGROUND RESPONSE / COMMENTS:
We're happy to hear that you enjoyed your stay!
Jan 04, 2021
Absolutely wonderful. Helped me backed motorhome in the pouring rain. Showers were incredible. Wonderful stay.
CAMPGROUND RESPONSE / COMMENTS:
Thank you! We do our best to go above and beyond so you can have a wonderful and relaxing stay. We hope to see you again next time!
Jan 03, 2021
Nice relaxing stay. Well maintained campground. Friendly staff.
Jan 17, 2021
The deluxe cabin we stayed in is super clean! We were very pleasantly surprised. They also run a little food delivery service. Great chicken wings! Nice place to walk the dogs. If you're a hot tub person they have that too. It's been a lovely quiet weekend. We will definitely recommend to others and we'll be back too.
- Dawn Williams on Google
Jan 05, 2021
This is one of the nicest campgrounds I've stayed at. The onsite keepers were very friendly as well.
- L V on Google
Jan 06, 2021
Staff very helpful and friendly.
- Teresa Denton on Google