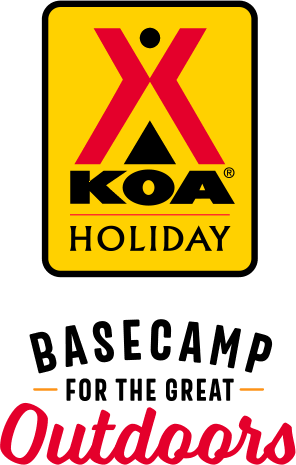 KOA Holiday Campgrounds
Whether you're exploring the local area or hanging out at the campground, KOA Holidays are an ideal place to relax and play. There's plenty to do, with amenities and services to make your stay memorable. Plus, you'll enjoy the outdoor experience with upgraded RV Sites with KOA Patio® and Deluxe Cabins with full baths for camping in comfort. Bring your family, bring your friends, or bring the whole group – there's plenty of ways to stay and explore.
KOA Holidays Feature:
RV Sites with a KOA Patio®
Deluxe Cabins with full baths
Premium Tent Sites
Group meeting facilities
Directions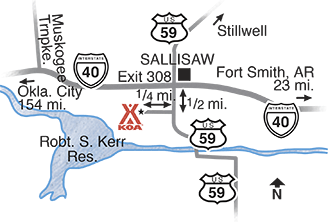 Oklahoma I-40: Exit 308, turn south (Hwy 59) and get into the right lane. Go 1/2 mile and turn right - just past a small KOA sign on the right and across from a very large KOA sign on your left. You will be turning just before the Chevy/Dodge dealership and just after a large parking lot. Go 1/4 mile down paved road (KOA Power Dr). GPS: N35.43887, W94.81034
Get Google Directions
May 08, 2021
We love staying here as guests of owners who truly care about your experience while staying here. Maintenance is ongoing and thorough, sadly lacking at so many other campgrounds throughout the U.S. This campground is doing a good job getting repeat campers, ourselves included. Thanks and keep doing such a great job.
May 08, 2021
It was short but very nice. The employees were very amazing and very sweet!
May 08, 2021
Need to fix, not eliminate, the cable TV on the back row..
May 07, 2021
Better with a concrete pad. Quiet
May 07, 2021
We got in late and set up for the night. We awoke in the rain and headed out as the campground was flooding
May 07, 2021
Great camp hosts! Very nice park.
May 07, 2021
Very nice staff
May 07, 2021
Our stay was part of a multi week trip from New England to the Southwest. We liked that the camp was so close to I 40, and also close to town. We were able to catch jp on laundry and get some needed supplies. We experienced a nasty thunderstorm during the night and the staff kept us advised of conditions by text!
May 06, 2021
Very nice staff. Caring and go out of their way to make people comfortable Nice facilities- even in the rain with strong winds
May 06, 2021
Really appreciate the great Internet service. It is really an exception when the Internet at a campground is actually usable. My only negative about this location is that the property turns into a lake when it rains, as it did when we were there.
May 06, 2021
Despite constant rain & flooding this is a great family friendly KOA . Staff were very accommodating!
May 05, 2021
The amenities were great. My son caught 5 fish in the pond! The only issue we noticed were the spots got muddy after it rained. Lots of shade.
May 05, 2021
Beautiful location!
May 05, 2021
Employees/everyone very kind. Truck broke down.They let us stay extra day.Tyvm. Service guy for truck was amazing at Dodson. Downside. Cable/wi-fi Neither Would work. Was told they never do. Then take off site and reduce rate.
May 05, 2021
Everything was very nice.
May 04, 2021
Enjoyed the deluxe cabin and the grounds were beautiful. Loved the pond. Easy to get in and out of with the trailer.
May 04, 2021
Great campground and superior staff
May 04, 2021
Just needed a one night stay-over while traveling across the country. If we were to be in this area again we would definitely consider staying for a longer period of time. Great park, great employees.
May 04, 2021
The campground itself is really nice. Clean, well maintained. Site was level and easy to access. Lots of fun activities for families and kids. Super friendly staff. Close to I-40 but far enough off that road noise was not an issue. Only negative - the immediate 'neighbor' is an electric company equipment lot. Lots of truck and equipment noise starting at 7am.
May 03, 2021
Great campsite. Road noise was non-existent and the train whistle was far enough away to bring a smile.
May 03, 2021
Nice campground. We stopped for the night on our way West. Soaked in hot tub after long day, was refreshing. Bathrooms are clean and seem new. We had a beautiful spot with a deck and a grill, which we used for dinner. Cable TV did not work, but since we were there for only 1 night no big deal plenty of antenna TV. Wifi was not that strong. Easy off and on RT 40. Thanks
May 03, 2021
Excellent customer service - kudos! WII FI worked- yeah! Nice and quiet at night. Sites are a bit close together. Biggest problem is the muddy interior roads after rain. Could definitely use more gravel. We would definitely stay again.
May 03, 2021
Great customer service, great layout and bathroom facilities clean. Great vibe and friendly place. Quiet and away from highway.
May 03, 2021
What a great place. Not only is it very well kept but lots of trees. The owners are just the nicest people and work endlessly to accommodate all your needs. Many new improvements have been completed and signs of a large expansion to the campgrounds. We will definitely stay here again when we come through.
May 02, 2021
Great overnight stay. Nice sites, shade trees. Friendly staff.
May 02, 2021
We have stayed here many times and highly recommend this KOA. The owners are wonderful people and go out of their way to make your stay as accommodating as possible. It's big rig friendly and the WiFi is excellent. We will definitely stay here anytime we are in this area.
May 02, 2021
We spent only 1 night here. But the staff and campground were very clean and accessable.
May 02, 2021
It was great. Although after we moved to the new cabin on our last day to avoid rain with our tent we were experiencing some issues with the tv staying on Wi-Fi. I'd recommended am extender or something to improve signal strength but I'm not 100% sure that fix it. Also the shower's hot water for some reason wasn't working.
May 02, 2021
Park need work on drainage. Our site was flooded 3-4" of standing water where the hookups are.
May 02, 2021
Lack of hot water in the rest rooms. One men's shower never had hot water.
May 02, 2021
Pull thru site 38 (water and electric only) along water was peaceful. Excellent, clean rest room. Great stop over.
May 02, 2021
Enjoyed the location so well, we returned days later as our trip ended. The staff are a delight and the facilities are very convenient and clean.
May 01, 2021
We have stayed with you on previous occasions and the only complaint is the tv cable. You advertise that you have cable but it is terrible. Same thing in October of 2020. Please fix.
May 01, 2021
Love this little campground. Easy on and off the interstate. The only issue are some of the sites. I think there should be more gravel to help with the drainage. When it rains, sites are under water. The staff all were very friendly, and helpful.
May 01, 2021
Despite a severe thunder storm we felt welcome, safe and comfortable staying here. Clean common areas.
May 06, 2021
Very nice cabins.
- jean justice on Google
Apr 19, 2021
Beautiful property! Very clean. Owners are extremely accommodating. We enjoyed our stay and I highly recommend.
- Melanie Calkins on Google
Apr 19, 2021
Stayed in one of the deluxe cabins. Beautiful, and comfortable. Will definitely return.
- Thomas Gould on Google