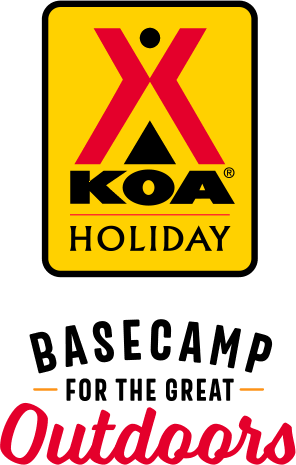 KOA Holiday Campgrounds
Whether you're exploring the local area or hanging out at the campground, KOA Holidays are an ideal place to relax and play. There's plenty to do, with amenities and services to make your stay memorable. Plus, you'll enjoy the outdoor experience with upgraded RV Sites with KOA Patio® and Deluxe Cabins with full baths for camping in comfort. Bring your family, bring your friends, or bring the whole group – there's plenty of ways to stay and explore.
KOA Holidays Feature:
RV Sites with a KOA Patio®
Deluxe Cabins with full baths
Premium Tent Sites
Group meeting facilities
Directions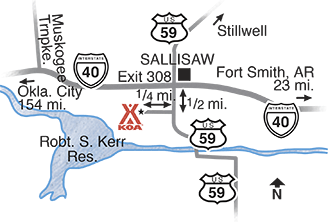 Oklahoma I-40: Exit 308, turn south (Hwy 59) and get into the right lane. Go 1/2 mile and turn right - just past a small KOA sign on the right and across from a very large KOA sign on your left. You will be turning just before the Chevy/Dodge dealership and just after a large parking lot. Go 1/4 mile down paved road (KOA Power Dr).
GPS: N35.43887, W94.81034
Get Google Directions
Jul 23, 2021
Good location with attentive owners. Would stay again.
Jul 22, 2021
smaller park. had mostly gravel level sites. kinda close. customer service was excellent.
CAMPGROUND RESPONSE / COMMENTS:
Thanks for staying with us and we're glad to hear you enjoyed our park. If you're ever back here, make sure to request a concrete pad or a wider site as our new addition has both those options. Hope to see you again!
Jul 22, 2021
To much noise cars trucks trains no maintenance goose droppings everywhere office help great
CAMPGROUND RESPONSE / COMMENTS:
Hello, we believe you may have written this review for the wrong park. We have no geese, and the section of the park you were in is brand new. Hopefully you actually enjoyed your stay!
Jul 21, 2021
Great stay . Very friendly staff and accommodating. Clean facilities. Would stay again.
Jul 21, 2021
Very helpful and quick to respond. Campground clean and quiet. Good for refreshing the mind and body. Laundry area new. Staff courteous and friendly.
Jul 21, 2021
The people were friendly and the bathrooms were very clean.
Jul 21, 2021
Excellent! Dawn was so gracious to assist us. We had booked the wrong date and arrived late, exhausted, and in need of a shower. This is the best KOA that we have visited in our travels across the US on our Harley Trike. Everyone was so friendly an d went above and beyond to make our stay perfect. We will definitely visit again. Bathrooms/ showers very clean and spacious! Thumbs up �
Jul 20, 2021
Decent KOA, nothing special.
Jul 20, 2021
We absolutely loved this campground. They had so much fun stuff for the kids to do, especially the little fishing pond. The staff was very friendly and attentive. They kept the grounds clean and nice for everyone.
Jul 20, 2021
Good pull through loss, helpful staff, great wifi. Right off the interstate.
Jul 20, 2021
My second stay here. Very clean and the host family is the best. What customer service they provide.
Jul 20, 2021
The wife and I have stayed in the KOA in the past. We prefer to be in cabins not a tent. I'm sure we will stay in more KOA cabins when we decide to go some where. The cabins that have an AC unit is greatly appreciated after driving 6 to 8 hours for us being senior citizens. The clean bath and shower is an additional benefit. Thank you for the accomodations. Phil Withrow
Jul 19, 2021
This was a great campground. The owners and staff were very friendly. My daughter loved the flashlight scavenger hunt.
Jul 19, 2021
Great staff, great campground, great atmosphere!
Jul 19, 2021
Enjoyed it. Quiet and fun.
Jul 18, 2021
The staff was very friendly and the campground was well maintained and clean. There's a variety of activities for the whole family!
Jul 18, 2021
We had a wonderful time. Lots to do. Everyone so friendly. We'll be back for sure.
Jul 18, 2021
Staff was very friendly and helpful camp was well kept
Jul 18, 2021
Had a great stay very nice koa definitely would stay there again
Jul 17, 2021
Late checkin went great. Site was nice and relatively clean except for some discarded food in the fire pit. All hookups were fine.
Jul 17, 2021
Wonderful livestock facilities were great
Jul 17, 2021
Nice shade, great WiFi and nice people staffing!
Jul 17, 2021
I love this park. Even with people coming and going it is very peaceful. It's really pretty and well maintained. I highly recommend it.
Jul 16, 2021
Perfect! Would love to see the spots marked with a number easier to identify which one you've reserved. Great place to stay!
Jul 16, 2021
The staff was amazing. The trailer was awesome! We loved our stay and before we left had already contacted friends and family to tell them how wonderful it was. I was especially happy with the way the staff was so supportive of the bond between my child and his support dog and how they were unable to be separated. It was great to see a place understanding of special needs children.
Jul 15, 2021
Nice place very clean.
Jul 15, 2021
Wish we would have been able to stay longer then our one night during our road trip. This property has a ton of amenities that some Kampgrounds don't have. The staff are all very friendly and the property was so nice. Lots of trees and good space between spaces. We will defiantly be back!!
Jul 15, 2021
This is the best KOA we have stayed at. The people are friendly and have a vision for making each stay memorable. Not all KOAs are created equally, so other KOAs need to take note. We were only able to stay one night, but we had things to do from the time we arrived until we left.
Jul 14, 2021
Beautiful campground, staff was very helpful and friendly.
Jul 14, 2021
Great place to stay. It's safe, clean and the staff is great
Jul 14, 2021
Stopped here twice on way to TN from California. Stayed on the way there and on the way back. Great facilities.
Jul 14, 2021
Only stayed one night. Everything is clean and easy access. I have 2 small dogs and they have a nice dog area with benches to sit on and it is taken care of, so your not dodging bombs, if you know what I mean. The pool is nice and they have lots to do for kids to keep active. Hope to have more time the next time in the area to get to rent a kayak.
Jul 14, 2021
Excellent location - beautiful, level sites with mature trees. Sparkling pool alongside every fun activity a kid could dream of. Hosts were super accommodating and you can tell they really prioritize the guest experience for their customers!
Jul 14, 2021
3 rd Stay Service & Facilities *****Star !!!
Jul 25, 2021
Awesome people here, they treat everyone like family
- John Hog Creek on Google
Jul 24, 2021
Stayed here in 2018 and again on 22 July. There were major improvements made since 2018. Will definitely recommend this campground
- Thomas Speece on Google
Jul 19, 2021
Great campground, great wifi
- Donald Croley on Google