Sallisaw / Fort Smith West KOA Holiday Recreation
Let's get off our electronics and get active! We have so many options, you'll have a difficult time fitting them all in.
Fishing
The campground has a small catch and release pond.  6 miles south is Kerr Lake and the Arkansas river with #16 Lock and Dam.  Other lakes are from 20 minutes to an hour away.
Playground
We have a great playground with slides, swings(babies, too!), monkey bar, small climbing wall, balance beam (don't worry, it's only 6" off the ground), and the infamous tire swing. We have shaded seating right near it for when you need a break.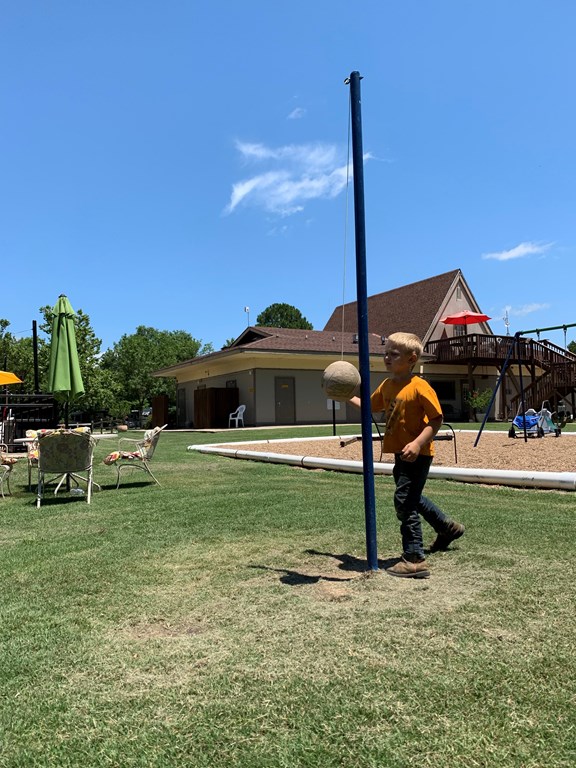 Tetherball
When is the last time you've ducked from a tetherball? Taken on your 14-year old son? Gotten yelled at for "accidentally" grabbing the rope? Don't you think it's time to give it another try?
Horseshoes
Practice some shots yourself or take on another or even create teams and a tournament.
Basketball
Take on your friends, family, or just practice some shots on our 1/2 court! There's always PIG!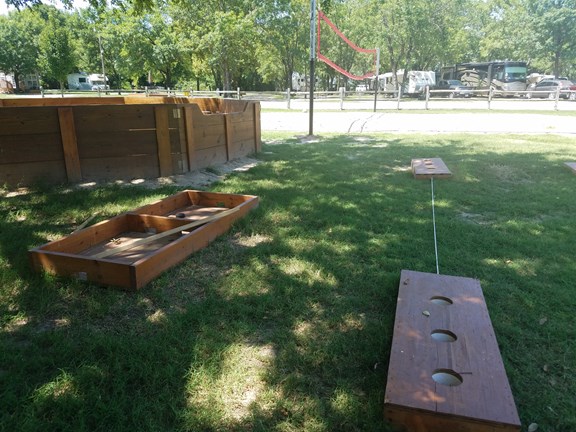 Ga-Ga Pit
Ga-ga ;(Hebrew: ??-???? literally 'touch-touch') is a variant of dodgeball that is played within an area shaped like an octagon about 3' tall called a ga-ga pit using one rubber kickball. The game combines dodging, striking, running, and jumping, with the object of being the last person standing. The game begins when one player throws the ga-ga ball into the air; while their backs are against the wall, the players shout "Ga" on each of the first three bounces. After three bounces, the ball is in play, and the players "hit" the ball at each other in the pit. A player who is hit by the ball below the knees is out. The game can be played by a group of individual players or with teams, as well as in one-on-one matches.
Volleyball
Gather up a few friends or family and get a fun game of beach volleyball started!
Box Hockey and Washer Toss
Have just a couple people? Try out box hockey, where the name means what it says: hockey in a box. Or, you can play some family fun washer toss!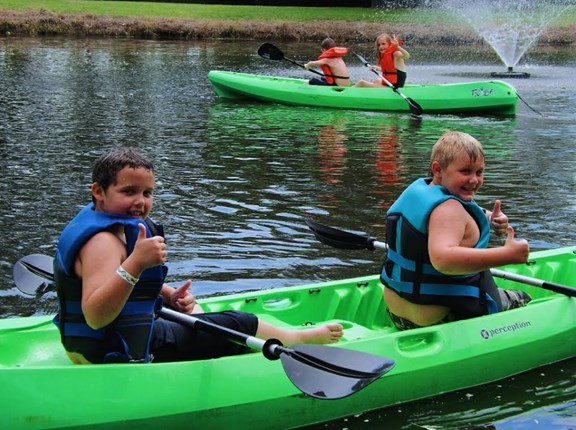 Kid's (big & little) Activities
Join us each weekend for special planned activities for kids! We have face painting, ceramic painting, candy bar bingo, water games, sack races, and movies. The favorite activity, though, is the flashlight candy hunt. Bring a  light and a bag and see what you can find after dark. See our weekly schedule (upon check-in) for times and locations. For example, some activities are: Swimming Pool, Family Board Games, Ga Ga Pit Tournament, Face Painting, Ceramic Painting, Candy Bar Bingo, Italian Sodas or Italian Cream Sodas, Sack Races & Water games, Flashlight Candy Hunt, and Movie night in the Activities Room.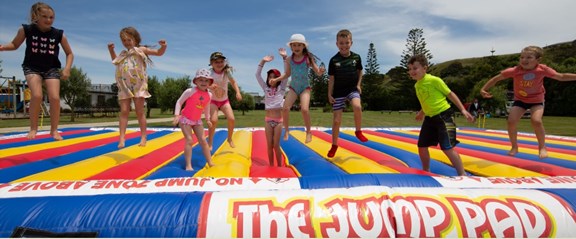 The Jump Pad
Check out our NEW Jump Pad this summer,  a flat series of inflatable tubes that provide kids (and adults) of all ages a way to have fun. The flat surface area allows many children and adults alike to use the Pad at any one time. A true "kid" magnet! And, even though it may be hot and sunny, there will be a shade sail over the pad to make it comfortable on your little one's tosies. Check our pictures at thejumppad.com.
Local Area Recreation