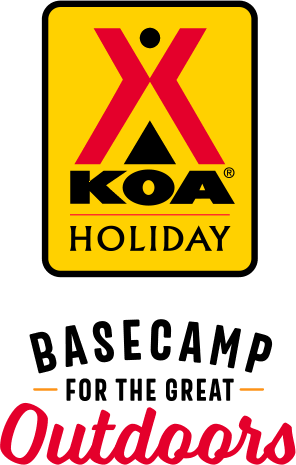 KOA Holiday Campgrounds
Whether you're exploring the local area or hanging out at the campground, KOA Holidays are an ideal place to relax and play. There's plenty to do, with amenities and services to make your stay memorable. Plus, you'll enjoy the outdoor experience with upgraded RV Sites with KOA Patio® and Deluxe Cabins with full baths for camping in comfort. Bring your family, bring your friends, or bring the whole group – there's plenty of ways to stay and explore.
KOA Holidays Feature:
RV Sites with a KOA Patio®
Deluxe Cabins with full baths
Premium Tent Sites
Group meeting facilities
Directions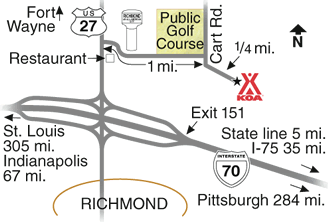 From I-70: Take Exit 151. Go north on US 27 about 1/4 mile, turn right (east) onto Highland Road, go 1 mile, turn right on Cart Rd and follow the signs.
GPS: N39.870933, W84.862657
Get Google Directions
Jun 20, 2021
Very clean and friendly campground... staff escorted us to site... full hookups were well placed... very clean bath house... pool was very clean and in use... best communication via email and text of any campground I've ever used.
Jun 19, 2021
Employees were very friendly and helpful. Grounds were kept very neat and clean. Will recommend to anyone.
Jun 18, 2021
Wonderful place to stay.
Jun 17, 2021
Danielle and her husband were more than helpful, accommodating us with several special requests. The sites were clean and level, with most freshly rocked. Access was easily managed for our 40 foot coach. Lovely site facing the pond, with good power and water pressure. Will definitely stay there again as it is very conveniently located with easy access from the highway.
Jun 17, 2021
Nice people running the place. We had a quiet site at the back of the grounds, FHU,30 amp back-in.
Jun 17, 2021
clean kampground with a friendly staff
Jun 17, 2021
Excellent service! The folks are nice and everything was clean and well maintained. We will be back.
Jun 17, 2021
Despite the late arrival, the staff did everything in their power to accommodate us and make us feel welcome. Will definitely stay again when in the area.
Jun 16, 2021
This is a great KOA! Small and friendly, Dirk, Danielle and the entire staff ensure you are having a great time! The grandkids had such a good time in May that we came back in June for another visit and to enjoy the pool! Everything is clean and well taken care of at this KOA! Recommend you add this one to your list of KOA's to visit this summer.
Jun 16, 2021
Nice camp. Enjoyed the activities. Just wish a little more room between tent campsites as felt like was on top of other sites.
Jun 16, 2021
It was great. Staff was very friendly.
Jun 16, 2021
What a blessing to have the hostess get us a site at the 11th hour! Thank you!
Jun 15, 2021
Very friendly and helpful staff and a clean atmosphere
Jun 15, 2021
I felt safe , The campground was very clean and organized, and the personnel were extremely friendly and made you feel like family!
Jun 15, 2021
We made a same day reservation over the phone with Danielle. Exhausted from traveling, we were so happy that she made the process so easy for us. We arrived well after the office closed, but she came to check on us to see if we needed anything. Wonderful customer service, beautiful campsites and so many fun things to do, especially for families. Thank you!
Jun 14, 2021
Nice stay. Some shade.. We don't use the pool or bathhouse. Pond was a funny color... fertilizer runoff?
Jun 14, 2021
Enjoyed the relaxed family atmosphere and very much appreciate attentive staff.
Jun 14, 2021
Absolutely love it there. Great owners. Will go back.
Jun 14, 2021
This is our go to KOA. They make us feel like family! We enjoy all the amenities. Delicious pizza and fire wood delivered to site. Garbage pick up. Clean pool, wonderful playground, crafts, games and hayrides. And most of all efficient and friendly staff! You just can't beat it!
Jun 14, 2021
We enjoyed our spot, good price for a full hookup and plenty of shade. This was our first time staying here, even though we live locally. The staff was friendly and they had fun activities planned throughout the day.
Jun 14, 2021
The campground is small but it is fantastic! The shower house and grounds are clean and well kept! Derk, Danielle and the team are wonderful! We highly recommend this campground!
Jun 14, 2021
The friendly owners really kept in touch before & during our stay. A very clean , friendly family camping resort! Loved having a wooded trail and a dog play area.
Jun 13, 2021
This is a great KOA! Wonderful, friendly staff. Lovely park. WiFi is okay. Lots of things to do. We'll maintained, gravel sites. Would definitely stay here again.
Jun 13, 2021
This is a beautiful KOA! The new owners have done amazing work to upgrade the KOA, gift shop, internet, roads and sites, etc. I stayed there two different times in June, 2021 and was very impressed with the camp grounds and the people--very friendly and helpful. Highly recommend!
Jun 13, 2021
Everything was good at the KOA. The staff were very friendly and went out of the way to help. The only concern was the traffic noise from I-70, which goes right by the campgrounds. We had a pop-up camper. Maybe the hard-side bigger campers don't hear the traffic noise as much. The manager there is working with the State to try and have a noise barrier put up.
Jun 13, 2021
Everyone was so nice and friendly. Clean campground and pool
Jun 13, 2021
Another fantastic weekend visit. We really enjoy this KOA! Everyone here is so friendly and sincerely want to ensure you have a great stay! We visited with our grandkids again and they had a super weekend! THE POOL WAS OPEN AND NEEDLESS TO SAY, WE SPENT THE MAJORITY OF OUR TIME THERE. THANK YOU DIRK, DANIELLE AND THE ENTIRE STAFF FOR A GREAT GETAWAY SPOT! WE WILL BE BACK TO VISIT!
Jun 13, 2021
Best kid friendly park we have ever stayed in!!
Jun 12, 2021
Super friendly, accommodating staff. Many enhancements being put into place. Dog friendly. Great place to stop along the way when traveling.
Jun 12, 2021
Very Friendly Staff
Jun 12, 2021
Just fine, no complaints.
Jun 11, 2021
Very clean. Love the new updates to the camp store and grounds. We ordered pizza and was good. The kids loved the pizza. Great time.
Jun 11, 2021
We camped in a tent for 2 nights. I think it was the cleanest nicest campsite I have ever stayed at!! It appeared to be full but yet it was very quite. Yes its close to interstate and you do hear that but really it was not that bad. The bathroom was very clean! We did not swim but the pool looked very clean. The staff was wonderful and they even delivered the fire wood to our tent site.
Jun 11, 2021
Great folks at KOA Richmond! We were in the process of purchasing a new RV which led to lots of uncertainties. The folks at this KOA bent over backwards because of our predicament. I give these folks an A+ A+!
Jun 11, 2021
Very friendly owners. The park has a lot to do for kids and is well maintained. The welcome text we received and ability to communicate with the owners via text during the stay is a nice touch. Owners have only had the park for a year but expect some great things for the future.
Jun 10, 2021
Your campground is nice. But as a retired couple I don't like having to pay for two children. I also feel that your rates are too high. I could stay in a hotel for less money. I have camped at this campgroud for over 30 years and we have never had to pay extra for having friends and family stop by to visit. We have 3 more weekends scheduled if changes are not made this will be the last year.
Jun 10, 2021
Our stay is always great! We love Derk and Danielle the owners, and all the staff really. They are all great people and always friendly! We love all the activities, swimming and fishing. We have a great time Everytime we stay there!
Jun 10, 2021
Beautiful place very nice staff
Jun 09, 2021
Beautiful camp ground and the owners were fantastic! Would go there again!
Jun 09, 2021
Stayed overnight passing through the area. The park was very clean and the staff very friendly and helpful. Our site was decorated with flowers and a great view of the lake. Site #59
Jun 09, 2021
We only stayed one night, but it was very comfortable. Danielle and Derek are very friendly and personable; the pizza was scrumptious! The campground very clean and orderly. Our two 80 pound fur babies were welcomed with open arms and enjoyed the walking trail - it was like walking in the backyard at home. (Mars, PA)
Jun 08, 2021
Consistently excellent service.
Jun 17, 2021
We stayed for one night. Everything was so clean and grounds were well maintained. Owner and manager led us to our site, which I like. The camp store was very clean and well stocked. Sites are large and accommodating. They have a great nature trail that we walked on. The staff was extremely friendly and check in was easy. We will definitely stay here again. Thank you for the complimentry doggy treat.
- Zoe Mossberg on Google
Jun 15, 2021
Very friendly staff
- Norma Brister on Google
Jun 15, 2021
Really nice people and nice facilities
- Jim Luebkeman on Google