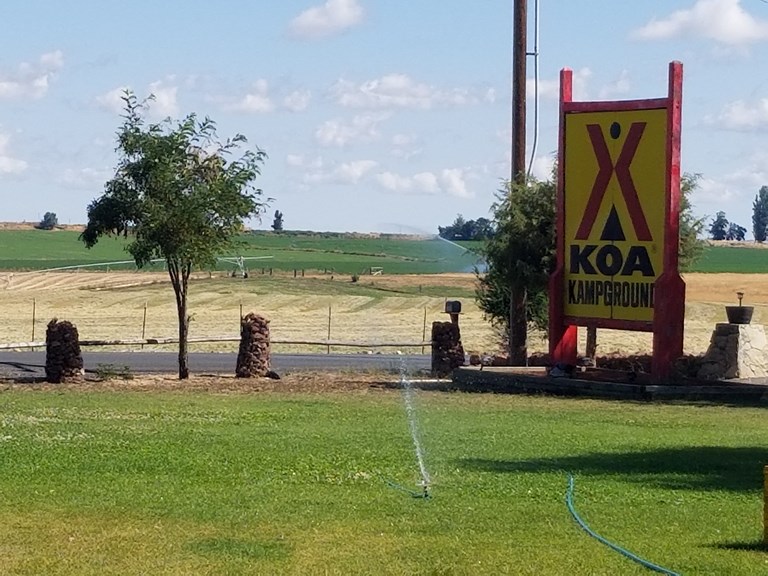 Redmond / Central Oregon KOA Reviews
Directions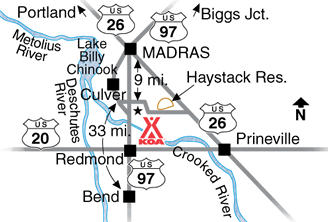 32 miles north of Bend, 16 miles north of Redmond or 7 miles south of Madras on Hwy 97. At mile marker 105, turn east on Jericho Lane. If coming from the east on 26, don't let GPS take you on dirt roads. GPS: N44.502203, W121.178515
Get Google Directions
Jul 11, 2020
Good location for a few days in Redmond or as an overnight stop north to south. Definitely go to Smith Rock! A little too far north if Bend is your main daily destination.
Jul 11, 2020
Mike and his staff were as nice and as helpful as they could be. We thoroughly enjoyed our stay, which was our first experience trailer camping. The staff happily helped us through our learning experience. This location is centrally located which gave us access to many attractions: Painted Hills, Haystack reservoir, Palisades State Park, and many many more locations.
Jul 11, 2020
Always s great stay! We'll be back!!
Jul 11, 2020
Solid 4.... space between sites is small. Picnic table right near neiggbors sewer hookup. Grounds not paved so very dusty when folks drive by. All that said, the people are so very hospitable. The little store is well stocked. Pizza truck on site. There is a pool and playground that we didn't use but many did. Some COVID precautions taken, but we were pretty self contained.
Jul 11, 2020
Nice and quiet and the staff was very friendly!
Jul 11, 2020
The campground was clean. The staff was super friendly and helpful. This location reminded me of why I love KOA!
Jul 11, 2020
Just a tent camp, 3 1-person tents during our motorcycle trip from Idaho to California. Rep at the desk was professional and courteous. I would stay there again.
Jul 10, 2020
Beautiful surroundings, quiet and very clean, awesome staff?
Jul 10, 2020
Nice location. Very friendly staff. They offer great pizzas delivered to your space. They were worth the price...tasty. Only criticism is that they are located 20 miles north of Redmond. We thought they'd be closer to Bend. Took us out of our planned route a bit
Jul 10, 2020
From check in to check out the staff was amazing, the camp was well maintained, bathrooms clean, garbage always emptied. The tent site was spacious and we really appreciated the grill cover over the fire pit. My stay was exceptional!!!
Jul 10, 2020
Very nice smaller park, convenient place to stay while traveling. Office staff was great, park appears to be cared for. I would stay there again if traveling through the area.
Jul 10, 2020
Wonderful teepee!
Jul 10, 2020
Just one night. Very nice
Jul 09, 2020
Pretty good location for exploring the area, really cool fire pits with a swivel cooking grate which we used multiple times for cooking over the fire. Staff were great, very friendly and helpful. Property could use a little maintenance and although no fault of the KOA, the constant wind was a bit of a nuisance.
Jul 09, 2020
Great view of mt. Hood
Jul 09, 2020
Great friendly service and clean campground
Jul 08, 2020
The staff were so friendly, the pool and bathrooms were sparkly clean, our tent spot was amazing and we had friendly neighbors. Caryn and Chris, who served us breakfast on the weekends, were so cheerful and kind. Thank you!
Jul 08, 2020
Wonderful rustic cabin. The staff were welcoming and made us feel at home. Our daughter loved the 4th of July glow parade. Centrally located for so many fun outings. Thank you so much, we will be back!
Jul 08, 2020
Friendly staff. Family friendly grounds. Nice bathrooms. Nice pool. Large market with lots of necessities and some luxuries too. Bought a pizza one night, I'd rate it 5/10. Close to The Cove to play in our boat. Will def be back again. I was disappointed tho, that one sink, one shower and one toilet were out of order in the ladies bathroom. There was always a line for the showers:(
Jul 08, 2020
Bring the dirt bikes and swimming gear
Jul 07, 2020
Friendly, helpful Staff!
Jul 07, 2020
Amidst a global pandemic and state mandated precautions around social distancing and wearing masks, not a single KOA employee on site wore a mask at any point in time.
Jul 07, 2020
Everything was fantastic except bathroom cleaning hour between 9am-10am wasn't super convenient. There was also one issue with a manager threatening to take my 4 year old sons bike away because he was riding on a gravel road between 2 RV's that he had no idea was not allowed. Could have been handled much better. Other than that everything was great!
Jul 07, 2020
Our stay was wonderful, except the picnic table was broken and unable to use. It would have made a world of difference for us; we told a young man on 7/5/20 about it and he said he could fix it easily. It was never fixed. We were unable to play games, sit, etc at the table. We sat in our tent or car; very disappointing. The last night, we pulled an empty table over to our site (N tent site).
Jul 06, 2020
Bad cleaning time of 9am when everyone needs in the bathroom....no water in camp spot ...urinals not working but the staff was great.
Jul 06, 2020
Overall it was a nice place to stay. The sites were a bit too cramped - with only 1 bathroom, it got very busy over a holiday weekend. There was hardly any shade, so luckily I was able to run out and buy a pop-up canopy, and it wasn't too hot. Make sure to come prepared!
Jul 06, 2020
Quiet place. Clean facility.
Jul 06, 2020
Stay was awesome. Very friendly staff.
Jul 06, 2020
Staff were very friendly. Everything was very clean and loved the pool! Also loved that they had everything we needed at store.
Jul 06, 2020
We had an amazing three day last minute stay until our second night. Maria & Julia or Julie were running around on their cart changing the garbages (right after the ice cream social) and my husband stopped them to ask for a ride to the bathroom (jokingly) and we chatted & laughed for just a few minutes. Then we hear a lady yell at the sweet girls from across the tent sights "girls hurry up"!
Jul 05, 2020
Your Kampground was all I needed for my stay in Central Oregon. It is in a good location. Was very clean and well maintained. I received a good welcome and lots of good information. I give you a 5 star rating for all of that. The only reason I would not highly recomend to others is because I would prefer to be in a more wooded location.
Jul 05, 2020
Wonderful stay! Will definitely stay again. Great staff and accommodations!
Jul 04, 2020
Loving the new owner and upgrades.
Jul 03, 2020
The staff were all friendly and helpful. The bathrooms were clean. My family enjoyed the swimming pool and basketball hoop. Thanks for a nice place to stay!
Jul 03, 2020
1 night traveling south, clean , easy pull through nice people
Jul 02, 2020
Cabin was great other than the Coffee pot which still had used coffee filter in it upon arrival. Also, breakfast advertised until 9:30, got there at 9 and was promptly informed everything was out. For an all you can eat breakfast, I got one pancake and some old eggs. Maybe advertise until 9 and operate until 9:30?
Jul 01, 2020
unfortunately the mens shower / restroom door lock broke in early evening and they fixed it soon after but changed code to get in and had to wait till 10:00 am next morning to get code, not good.
Jul 01, 2020
Very friendly staff. Surprised at how quite campground was despite how full campground was. I don't have little kids anymore-pool was open, ice cream social, glo parade for kids
Jul 01, 2020
The pool was down for a short time on Sunday due to something getting caught in the filter and the gentleman in charge explained to us it would be closed until they could get it fixed. We were due to leave that day at checkout so knew we didnt have long for the kids to swim. He approached us within about half hour and told us we could go in to the pool area. He was kind & polite.We love this Place
Jul 07, 2020
Fantastic campground! Great pool, bathrooms were clean and had 4 individual showers with instant hot water! Ice cream socials and breakfast were a big hit. They also did a light parade on saturday night for the kids to walk around the whole park with glow sticks. Then played a bunch of games in their open field after. Also hosted water balloon games/fight which the kids loved. The employees were very helpful before and during our stay. Looking to book our next stay for Labor Day weekend!
- Aaron Owens on Google
Jul 04, 2020
This is a great campground! Very clean and well kept. The amenities are wonderful and it's a great place to take the grandkids.
- Kelli Wilsie on Google
Jun 28, 2020
We loved it, we were tent camping, staff very helpful and friendly, facility is clean and well kept. We recommend it for tents and rv's
- M Smith on Google

Redmond / Central Oregon KOA
Open All Year
2435 Southwest Jericho Lane
Culver, OR 97734
Check-In/Check-Out Times
All Sites
Check-in: 2:00 pm, Check-out: 12:00 pm
Operating Hours
Sunday: Open 8:00 AM to 10:00 PM
Monday: Open 8:00 AM to 10:00 PM
Tuesday: Open 8:00 AM to 10:00 PM
Wednesday: Open 8:00 AM to 10:00 PM
Thursday: Open 8:00 AM to 10:00 PM
Friday: Open 8:00 AM to 10:00 PM
Saturday: Open 8:00 AM to 10:00 PM
Redmond / Central Oregon KOA
Get Google Directions

© 2020 Kampgrounds of America, Inc.