Port Lavaca / Matagorda Bay KOA Holiday Recreation
Our local area is known for great red fish and trout fishing and other bay activities. Enjoy your time at our campground and spend a day at the bay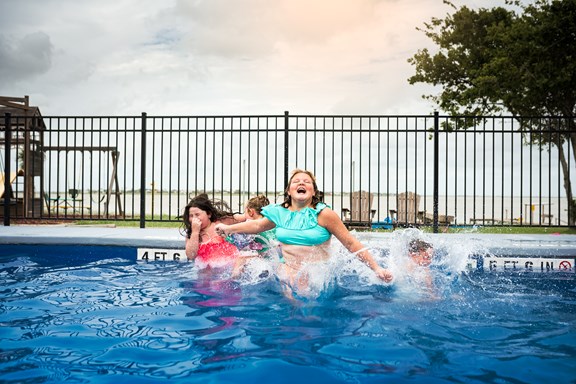 Pool
What a better way to cool off in the Texas heat than to swim in "The Big Texan"? We have the worlds largest fiber glass pool! Relax at the pool and enjoy the scenery of the gulf!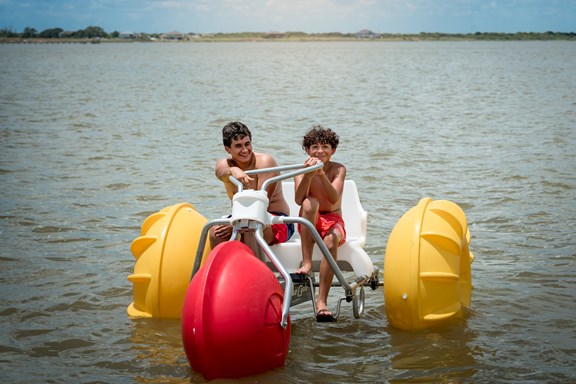 AQUA CYCLE
Looking for a new fun way to enjoy the bay?? Try one of our aqua cycles for a new kind of adventure! Guaranteed to make memories that last for a lifetime! 
For more information stop by the office!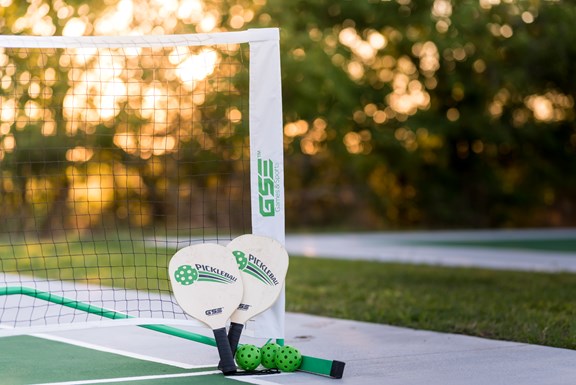 Pickleball Courts
Challenge a friend or fellow camper to a game of pickleball!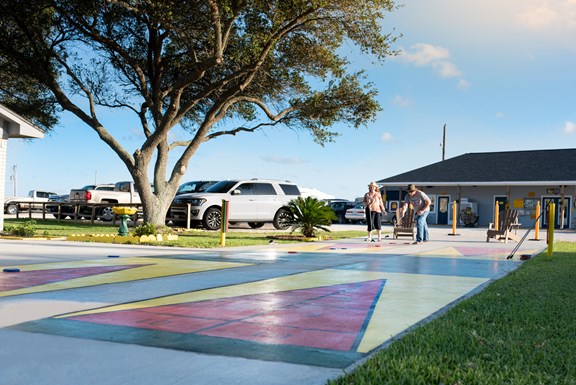 Shuffleboard
Shuffleboard is fun for all ages!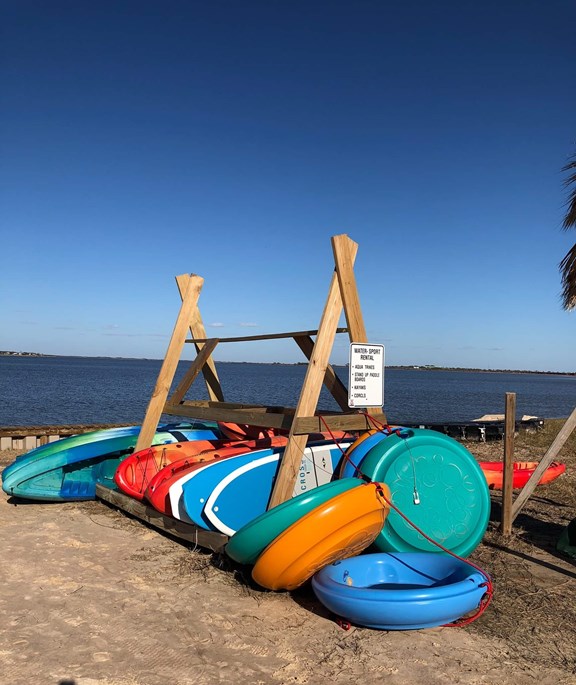 Kayak and Water Feature Rentals
Ready for an adventure? Rent one of our kayaks or other water features and enjoy the gulf. You might even get to see a dolphin.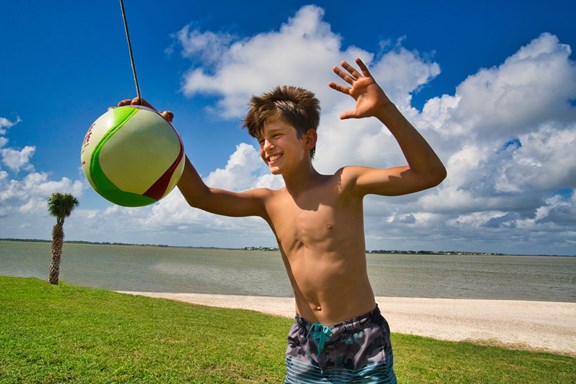 Tetherball
Looking for a fun activity to do while camping? Stop by the community area and play a game of tetherball!!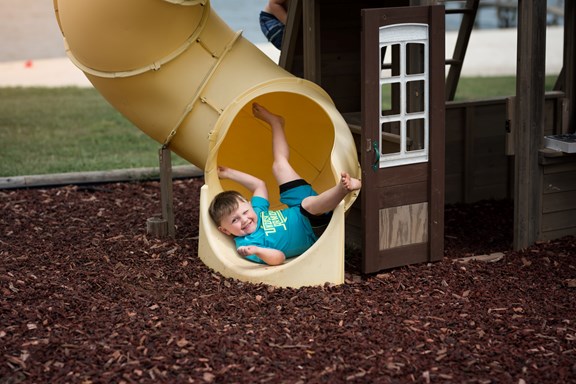 Playground
We have a playground area located by the bay. Parents can relax and watch the children play while enjoying the beautiful scenery and the bay's breeze!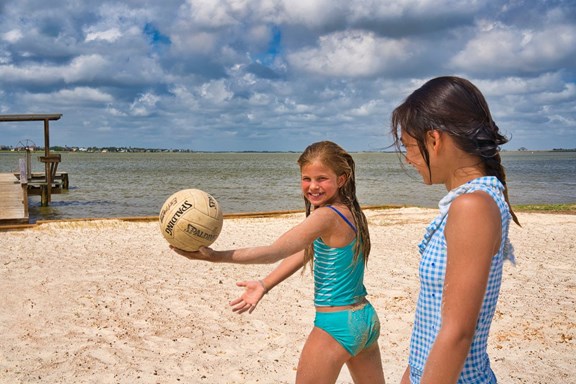 Volleyball
Get your camping pals together and challenge them to a game of volleyball!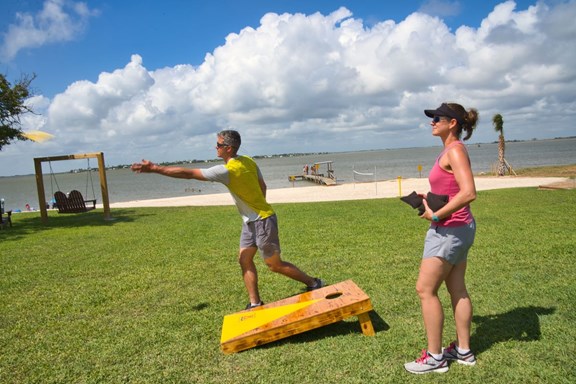 Cornhole Toss
We have cornhole boards available upon request! Ask one of our team members about them when you see them out!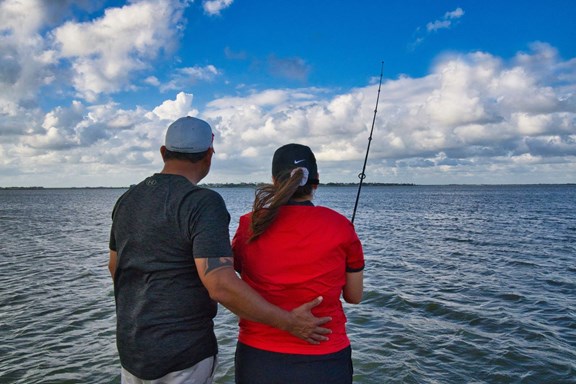 Fishing From the Pier or Directly from the Bayshore
Our Bay is famous for fishing. You can catch Flounder using a small hook and bait shrimp. They are in very shallow water, so casting from the shore is best. Live shrimp is best.
Another favorite is redfish, best to catch in shallow waters with live mullet.  The live bait will do all the work for you on a number 3 hook.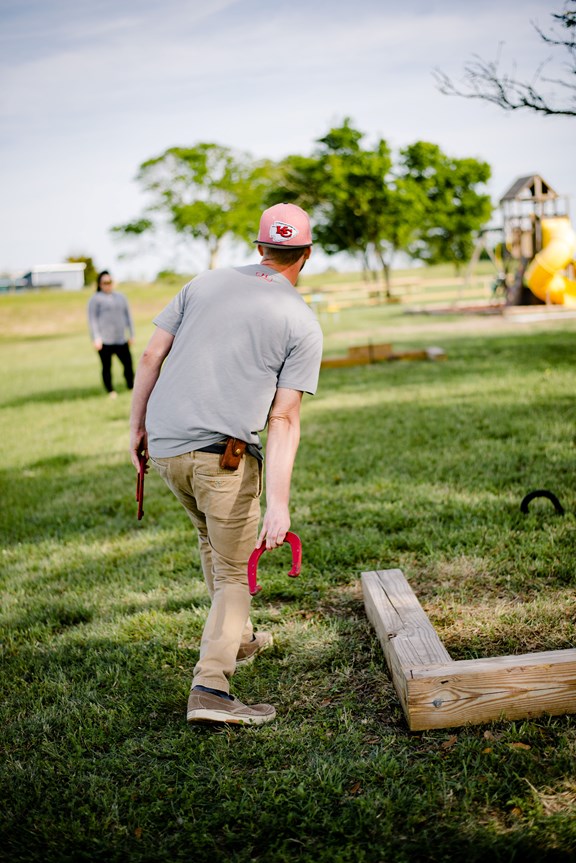 We Offer Horseshoe Pits and Horseshoes
Horseshoes evolved from the sport of quoits played in ancient Greece with metal discs or DISCUS. Common citizens at the time who could not afford a real discus, made their own by bending horseshoes - and VOILA  HORSESHOES game is born
Later, the Romans adopted the game and the game spread with the spread of the Roman army across Europe. 
Original goal was to see who could throw the horseshoe the furthest, eventually the idea of using a stake or metal pin driven into the ground, to use specifically as a target to throw at, totally redefined the pastime from a game of distance to a game of accuracy.  
One player pitches both shoes in succession to one pit, followed by the other player. This is formally called an inning. Normally only one pitcher can score points per inning, however some leagues and tournaments play "count all", in which all points in each inning are counted. A live shoe that is not a ringer, but comes to rest six inches (6") or closer to the stake, has a value of one (1) point (alternate scoring methods give 2 points if the horseshoe leans on the stake. Aka a "leaner"). If both of one player's horseshoes are closer than the opponent's, two points are scored. A ringer scores three points. In the case of one ringer and a closer horseshoe, both horseshoes are scored for a total of four points. If a player throws two ringers, that player scores six points. If each player throws a ringer, the ringers cancel and no points are scored. If two ringers are thrown by one player and one ringer by the opponent, the player throwing two ringers scores three points. This is typically called "two dead and three" or "three ringers three" for score keeping purposes. Such occurrences are called "dead ringers" and are still used toward the pitcher/ringer average. Back-yard games can be played to any number of points that is agreed upon, but are usually to 21 points, win by 2. In most sanctioned tournaments the handicapped divisions pitch 50 shoe games, most points win. If there is a tie, the pitchers pitch an additional 2 innings (alternating pitch) until the tie is broken. Championship divisions, or non-handicapped divisions are pitched to 40 points, regardless of the number of shoes pitched. 

This article is material from the Wikipedia article https://en.wikipedia.org/wiki/Horseshoes used under Wikipedia "Reusing Wikipedia content" , https://en.wikipedia.org/wiki/Wikipedia:Reusing_Wikipedia_content
Splash Pad
We have several ways to cool off at our campground! The pool, the bay, and now a brand new spash pad!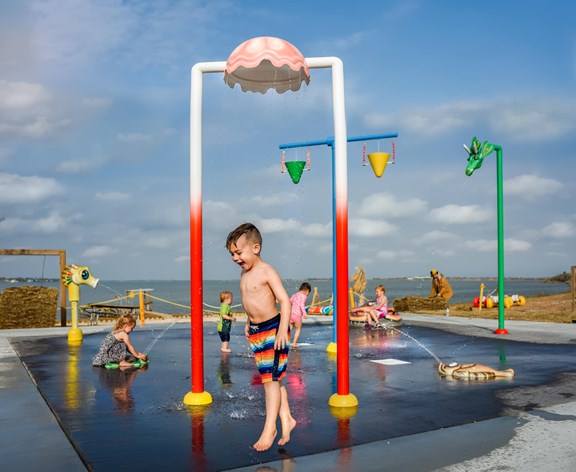 Splash Pad
Not feeling the pool, or the beach? Check out our brand new splash pad with 6 water features! Our campground offers several ways too cool down in the Texas heat!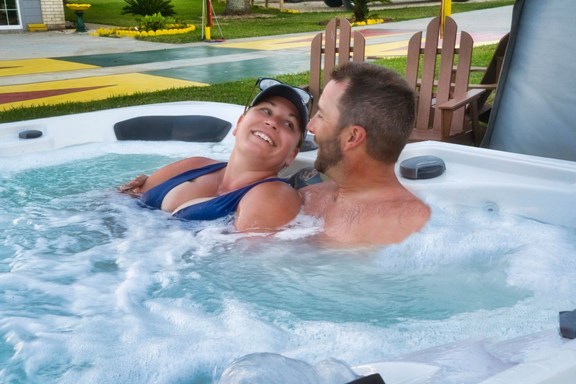 Hot Tub
Hop in the hot tub for a nice relaxing time and enjoy the view while doing so! Hot tub is for (18+)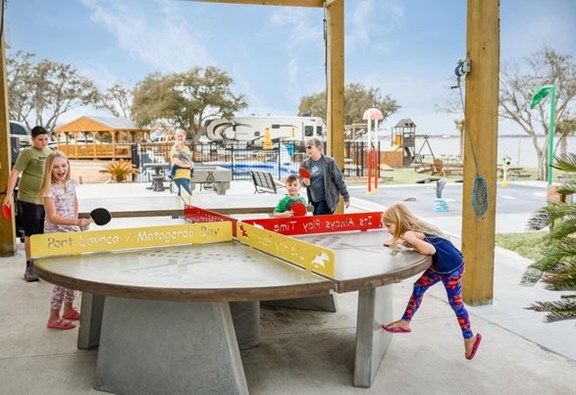 Pocket Park
Looking for fun activities in the outdoors? Visit our pocket park where you can challenge a camping buddy to a game of foosball, ping pong or table tennis!
Local Area Recreation