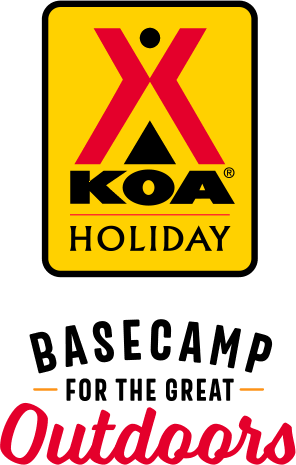 KOA Holiday Campgrounds
Whether you're exploring the local area or hanging out at the campground, KOA Holidays are an ideal place to relax and play. There's plenty to do, with amenities and services to make your stay memorable. Plus, you'll enjoy the outdoor experience with upgraded RV Sites with KOA Patio® and Deluxe Cabins with full baths for camping in comfort. Bring your family, bring your friends, or bring the whole group – there's plenty of ways to stay and explore.
KOA Holidays Feature:
RV Sites with a KOA Patio®
Deluxe Cabins with full baths
Premium Tent Sites
Group meeting facilities
Directions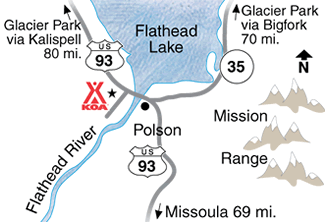 From I-90: North on Hwy 93, stay on Hwy 93 through Polson, then second left after Polson Bridge.
Get Google Directions
Jul 21, 2020
Very nice, great people, best view of any KOA except South Padre Island!
Jul 21, 2020
Great staff, great facilities and great location!
Jul 20, 2020
We've stayed here before and loved it so we came back. People are super friendly, great location and lots of things to do in the area.
Jul 20, 2020
Site not level and too close together.
Jul 19, 2020
Campsites were great and had a wonderful view of Flat Lake.
Jul 18, 2020
Excellent campground with a wonderful view of the lake. Well maintained facility. We enjoyed the view from the hot tub out over the lake. The next morning we set on the deck and watched the sunrise over the lake. Just an awesome campground!
Jul 18, 2020
people and owner where Fantastic
Jul 18, 2020
Beautiful! Great welcoming office team.
Jul 16, 2020
Beautiful setting, helpful staff
Jul 16, 2020
Drove around the lake, what a scenic drive. Stopped by the Glacier brewery in Polson had a few cool ones and played the game cornhole....Spent 5 days visiting the area, had a great time!!!!!!!!!!!!!!!!!!!!!!!!!
Jul 15, 2020
Beautiful, clean facilities ���
Jul 15, 2020
A very nice, well maintained park, and great managers. Lots of things to do if there was no COVID-19. Made do with great views and no crowds when hike along the rivers.
Jul 15, 2020
The staff was awesome. Very pretty views. Very clean facility. Sites were very tight. Only about 5 feet from my fire pit to my neighbors slide out which happened to be fabric. Not ideal for young kids as it's on a hill.
Jul 14, 2020
Very nice park they keep it very clean will be back
Jul 14, 2020
Great 2-night stay at a clean and well maintained park. Covid-19 measures in place. Definitely will return.
Jul 14, 2020
Absolutely a beautiful campground and views!
Jul 13, 2020
Great location, sites are large and grassy. Mini golf and a pool. Great views!
Jul 13, 2020
Beautifully kept grounds, efficient check in, and friendly and helpful staff.
Jul 13, 2020
Very nice. People were very friendly and helpful. Really appreciated the dog park!! Would love to come back and stay longer. Judy
Jul 12, 2020
Awesome clean and quiet. The best Park ever! Nice amenities so clean!
Jul 11, 2020
Fantastic location above Flathead Lake! Some spots were tight even for a KOA (my neighbor's power pole was in my campsite) and it is not level (I could not get level with my Anderson Blocks). Also my site (# 28) had little usable space because of the hill. Definitely try to book one of their super premium sites or a deck site to get some more space and a better view of the lake!
Jul 11, 2020
Stayed 2 weeks, a delightful stay with nice views of mtns and Flathead Lake
Jul 11, 2020
Everything was perfect
Jul 11, 2020
Super friendly staff. Great sites. Easy dump location. Cute little pool and spa, the kids had a blast! Great outdoor common area with beautiful view of the lake. BEST GIFT SHOP EVER!
Jul 10, 2020
The campground was clean including the bathrooms and showers. The only complaint I would is the beauty bark that is on a few camp sites. The bark is not good for children and we had to remove multiple slivers from the hands and feet.
Jul 10, 2020
Great place! Will return soon for our fourth stay Hopefully.
Jul 09, 2020
Best koa yet thank u all for a great two week stay
Jul 07, 2020
Super friendly and helpful staff! Very clean common areas.
Jul 07, 2020
Always a great time at the KOA in Polson. Friendly faces, clean, always ready to help if there is any problem. Will be back. Thank you !
Jul 06, 2020
Nicest, friendliest KOA so far!
Jul 06, 2020
It was so nice we stayed 4 more days
Jul 05, 2020
Every aspect of this KOA is wonderful. This includes the staff. Hold this rv park/campground as your companies bench mark!
Jul 05, 2020
Awesome.... Great folks running this KOA
Jul 04, 2020
Everything was wonderful except for our dog being attacked by an off leash dog and all of our belongings to include our truck, camper, children's bikes, camp chairs, and cooler being covered in bird poop. Our neighbor in the site next to us whom also worked at the KOA had bird feeders all over their site, this is very unsanitary and should not be allowed.
Jul 04, 2020
We had a blast. The staff and facilities are awesome! Lots of fun activities for the kids. Very Relaxing!
Jul 02, 2020
Awesome staff and location.
Jul 01, 2020
Beautiful park with friendly employees. I was disappointed that putt putt golf was $12 a person there, and the next KOA that we went to was $1 a person. We stayed at several KOAS on our trip, and was never offered any military discounts etc, and never told about memberships we could have gotten to save more money too.
Jul 01, 2020
nice place with nice view and very friendly people.
May 09, 2021
LOVE THIS PLACE! So beautiful and peaceful.
- Shannan Stoltz on Google
Apr 21, 2021
Great spot and friendly staff.
- Phillip Silver on Google
Oct 07, 2020
Great views from any spot. All the amenities, even a gym, and very solid mini golf!
- Tom Garvey on Google