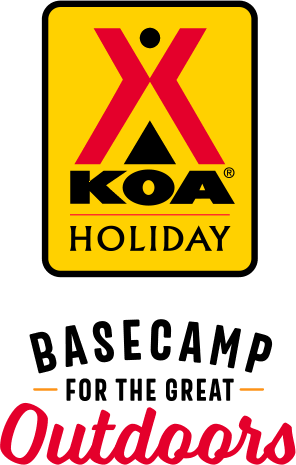 KOA Holiday Campgrounds
Whether you're exploring the local area or hanging out at the campground, KOA Holidays are an ideal place to relax and play. There's plenty to do, with amenities and services to make your stay memorable. Plus, you'll enjoy the outdoor experience with upgraded RV Sites with KOA Patio® and Deluxe Cabins with full baths for camping in comfort. Bring your family, bring your friends, or bring the whole group – there's plenty of ways to stay and explore.
KOA Holidays Feature:
RV Sites with a KOA Patio®
Deluxe Cabins with full baths
Premium Tent Sites
Group meeting facilities
Directions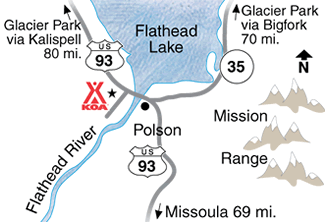 From I-90: North on Hwy 93, stay on Hwy 93 through Polson, then second left after Polson Bridge.
Get Google Directions
Oct 19, 2020
There were some minor confusion about pymt amt within the new system but the staff handled it efficiently n things were fine. The staff was very friendly and easy to talk to. The grounds were beautiful, it was disappointing that some of the typical services were unavailable due to Covid but that is obviously out of anyone's control. We do hope to return again in the future!
Oct 05, 2020
Everyone was so nice and polite during our stay. The cabin was very clean and cozy. We liked the hot tub and the privacy of the yard. We loved it and our dogs found it very relaxing also.
Oct 03, 2020
Loved the stay. Everyone was friendly and our cabin was delightful. Made friends with a juvenile Great Horned owl that I named Micah, Awesome.
Sep 29, 2020
Enjoyed the Kottage very much. It's cozy, but sleeps 3 well enough. Great views and yard space.
Sep 25, 2020
Beautiful location, very friendly and helpful staff, clean and well stocked cabin. Loved our personal jacuzzi! Thanks for a great stay!
Sep 21, 2020
Very enjoyable
Sep 18, 2020
Wonderful resort. So glad I was able to stay here. I highly recommend it. All the staff was so helpful and friendly.
Sep 15, 2020
The Polson KOA has a great location, and the Kottage is well situated for privacy. The staff is professional and friendly, especially Karen at the front desk and "Gator Bait" Roger from maintenance..
Sep 15, 2020
Super accommodating, very clean and beautiful spot!
Sep 11, 2020
We have stayed at 6 KOAs. This one was the most disappointing. Aside from the "over the top" covid cleaning, the mandatory $150 refundable cleaning deposit was very off putting. The staff was the least friendly and helpful we have encountered. Maybe it is because they also run the class A only motorcoach park next door. And we aren't in that crowd. It was clean.
Sep 05, 2020
nice facilty, friendly staff.
Sep 05, 2020
We stayed in a deluxe cabin for 3 nights. It was great. We loved the views, even though the RVs blocked most of it from our cabin at the resort below. Wish that they weren't there. Pool and hot tube were awesome with equally awesome views. Staff was friendly and helpful throughout. We would definitely stay again.
Sep 01, 2020
It was just very expensive for what we got.
Sep 01, 2020
Our stay was pleasant in an immaculate environment. We hope to stay again. We appreciate their courtesy and personal service.
Aug 31, 2020
Cust srv was great. Grnds were clean. Cabin was cmftble. Only issue was that my car had been hit by the sprinklers ,which had dried on my cars paint . Leaving hard water spots over the entiire surface of the car including the windows. As a professional auto detailer, I know the cost to remedy this would be around $200-$300 dollars. The hard water minerals don't come off easily.It has to be buffed.
Aug 29, 2020
We stayed in the deluxe cabin, they are extremely nice ,very clean and comfortable. We had an awesome vacation. Two thumbs way up.
Aug 28, 2020
Loved our stay and will come again!
Aug 24, 2020
Warmly welcomed, clean facility, beautiful scenery. They seem to go above and beyond. Would definitely come back!
Aug 22, 2020
This review has been removed by KOA due to profanity.
Aug 21, 2020
Beautiful area. Cabin exceeded expectations. Wow. Impressive store on site. Friendly staff. I hope to return soon.
Aug 20, 2020
We stayed in a Lodge and it was awesome! Kids loved the pool!
Aug 18, 2020
I the love KOA in Polson and the cabin - I've stayed in the same cabin twice this year. However, the price is high for a cabin only.
Aug 13, 2020
Very nice. The staff is very attentive. Had a mouse in our cabin, but hey - it's the great outdoors!. Laundry room was very clean. Would highly recommend.
Aug 10, 2020
Every staff member was friendly and smiling. The park itself is absolutely gorgeous and so well cared for. We did not want to come home! ;)
Aug 03, 2020
Very nice KOA. Great view of the lake too. Super nice staff.
Aug 01, 2020
Very nice ! Customer service was very polite!! Enjoyed it!!
Jul 27, 2020
Very pleasant! Lovely location and well maintained.
Jul 21, 2020
Stayed in lodge. Grounds, staff, & lodge were awesome!
Jul 19, 2020
My family and I had a wonderful time staying 3 nights in the cabin. Only real complaint was if you needed anything, you were better off going to town because prices at the camp store were a bit excessive. We had a wonderful time though, and will stay at a KOA again.
Jul 11, 2020
had a good time,enjoy the fireworks that we saw that was shot off by flathead lake,
Jul 07, 2020
Staff are very friendly. Helpful. Clean. Great views.
Jul 06, 2020
Love the location, friendly staff, and all the extra precautions taking place to make sure the cabins are clean and sanitized. This was our second trip here and enjoyed it very much.
Jul 04, 2020
Great for families with kids.
Jul 01, 2020
We stayed in lodge number one and it overachieved on our expectations. It was more roomy than we had expected, it was immaculately clean and the staff responded to our every need and request. I would highly recommend this KOA campsite to anybody thinking about staying here. Beautiful scenery and great location only 10 minutes away from grocery stores and restaurants.
Jul 01, 2020
Wonderful cabin and very clean and felt very comfortable that all covid concerns were Taken care of, love montana
Jun 25, 2020
Very nice spot will be back for sure
Jun 24, 2020
We enjoyed our stay with you & the staff was very helpful & pleasant. The deluxe cabin we rented was equipped with everything we needed, as well as CLEAN & comfortable. The only drawback was we couldn't see Flathead Lake & the mountains from our deluxe cabin. :( So in order to get the views we desire, we wouldn't rent a cabin again, but would select an RV site & RV camp there instead.
Jun 15, 2020
It was good but we really wish the cabins all had a bathroom facility
Jun 15, 2020
The place was clean, the general store had the best items, the views were perfect, and to top it off our neighbors were cool. We will be back again.
Jun 12, 2020
Our stay was wonderful! Everything was perfect! We loved the KOA and will definitely return...hopefully soon! The cabin was very clean and so cozy!
Oct 07, 2020
Great views from any spot. All the amenities, even a gym, and very solid mini golf!
- Tom Garvey on Google
Sep 22, 2020
Great campground with awesome view! Restrooms were some of the cleanest we have seen. Has individual showers which are always a welcomed treat! Was only there for 1 night and would stop there again
- Jared on Google
Sep 14, 2020
Great place to stay
- Sandra Tordoff on Google