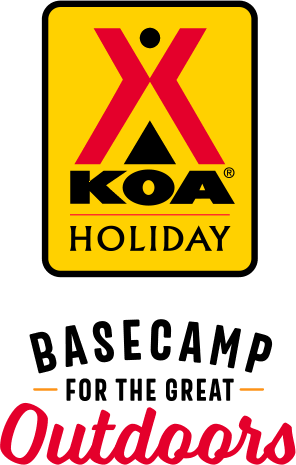 KOA Holiday Campgrounds
Whether you're exploring the local area or hanging out at the campground, KOA Holidays are an ideal place to relax and play. There's plenty to do, with amenities and services to make your stay memorable. Plus, you'll enjoy the outdoor experience with upgraded RV Sites with KOA Patio® and Deluxe Cabins with full baths for camping in comfort. Bring your family, bring your friends, or bring the whole group – there's plenty of ways to stay and explore.
KOA Holidays Feature:
RV Sites with a KOA Patio®
Deluxe Cabins with full baths
Premium Tent Sites
Group meeting facilities
Directions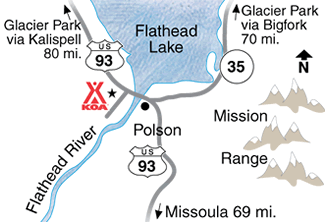 From I-90: North on Hwy 93, stay on Hwy 93 through Polson, then second left after Polson Bridge.
Get Google Directions
Oct 06, 2020
Nice campground it would be nice to have sewer connections, at the sites
Sep 20, 2020
all was good except when the sprinklers came on,
Sep 16, 2020
I'm use to tent sites at other KOA Campground, where I park on level ground by the tent site, either on grass or not. Basic Tent sites here seemed to be an afterthought. Pads were not level, neither were the parking areas. Campground appears build for RV's / trailers with hookups. Campground was clean, staff was friendly. Would recommend if you have a RV or trailer, not for basic tent.
Aug 27, 2020
Wonderful place to stay with beautiful views and a friendly staff. My 7 year old loves the pool!
Aug 21, 2020
I arrived late and left early as I was just passing through but I appreciate the late arrival system. It was easy to find my spot and everything was as I expected.
Aug 15, 2020
great location and staff is amazing!
Aug 11, 2020
We had a party come in late by our tent site and make a lot of noise and there was a light/bulb by the building by the recyclables that kept flashing on and off that was distracting. Not enough bathrooms and extra cost for mini golf/table tennis isn't seen at most KOAs. Great people and wonderful location - I'm guessing due to COVID, that's why no food was offered? Need hot tub for younger folk
Aug 11, 2020
Great accommodations, friendly staff, and clean campground. My only con is that the tent sites do not have water faucets.
Aug 07, 2020
Nicest KOA in the US
Aug 04, 2020
I stayed at a tent site. There wasn't access to electricity or water, but I knew that ahead of time. It was an extremely hot day, and the tent sites offered no shade. I found solstice under a pine tree near my site. Paul, the owner, was very nice and accommodating. I would really like to see the price lowered for a tent site (it was $42 for 1 night!)
Aug 02, 2020
We found the pool and gift shop to be great.However the tent spot was less than desirable.Three sites crammed next to each other on a bit of grass Cabins directly across the road.Not worth the money for sure.
Jul 27, 2020
Beautiful views and a very well run campground. Nice pool and professional staff
Jul 26, 2020
Site was great and super clean facilities all around. Only comment would be if the showers were a tad bigger to accommodate clothes and a sink for shaving instead of walking into the bathroom area for this. No big deal though. Also nice there is a restaurant in walking distance as well.
Jul 26, 2020
Super nice people working there. Clean facilities!
Jul 23, 2020
Customer Service was great! Very friendly staff
Jul 23, 2020
Beautiful, clean, and entertaining place to stay!!!
Jul 13, 2020
The staff there is extremely friendly and helpful. They make you feel welcome! The facilities were very clean and taken care of, which is very much appreciated especially during this pandemic!
Jul 07, 2020
Our stay was great!! Only critique I would offer is if there is any chance of getting showers and bathroom closer to the tent area or over by the dog park/volleyball area. The side hill location and uneven ground makes it difficult for persons with mobility problems like my husband to walk up to the office to use the facilities.
Jun 29, 2020
Great KOA site and enjoyed our stay of one night. Nice to shower in the morning before we went on our way.
Jun 25, 2020
Was so impressed with everything about our stay. The hosts were friendly and helpful, the views were incredible, and the pool was warm! Our only disappointment was the playground being closed (but understand that is a common policy during these times). Overall would highly recommend!
Jun 24, 2020
Amazing experience and the best customer service. Thanks for making our trip unforgettable.
Jun 20, 2020
It was a wonderful stay. The staffs are very friendly and helpful. The facility is very clean. Location is good.
May 26, 2020
We had a wonderful time and the staff was so nice and very helpful!
May 23, 2020
It was excellent! I loved the view and location. The staff was professional and courteous.
Nov 10, 2019
Very clean and well kept grounds. The staff was very nice and everyone was very helpful. Outstanding views all around with multiple deer in the adjacent field. Highly recommended!
Sep 22, 2019
The campsite was absolutely beautiful. So very clean. Staff and management were genuinely friendly and helpful. It was so nice to see recycling bins at an RV park. This trip they seemed few and far between. If we ever go through Polson again we will definitely stay there again.
Sep 20, 2019
Friendly staff and quite campground
Sep 02, 2019
Tent campsites are on a slope. I would not tent camp here. Cabins and rv sites are fine. Facilities are fine.
Sep 02, 2019
Very relaxing, beautiful views. The staff are very accommodating.
Sep 01, 2019
Very friendly and accommodating. Nice pool, shower and all around Montana hospitality!
Aug 23, 2019
Beautiful views! SUPER friendly staff! More set for BIG pusher RVs and only two tent � sites.
Aug 22, 2019
very well maintained campground, clean pool and Spa ! We were a bit far from the only restrooms and shower though.
Aug 18, 2019
Very clean, well taken care of property. Camp site was large and not crowded. We didn't use the swimming pool nor the mini golf. Thé Check on was very efficient. Showers and bathrooms very clean.
Aug 17, 2019
Easy check-in super friendly staff. Great peakaboo views of the lake. Had a great stay in a very beautiful location.
Aug 16, 2019
Wish the sites were farther apart. Fantastic service and personnel . And the campground was emaculat. Very clean. Thank you much.
Aug 03, 2019
Beautiful and well maintained campground. RV sites are level and clean with lovely views of the Lake. Staff is friendly and attentive. Very comfortable place to spend a few days! Definitely will come back.
Aug 01, 2019
Very nice KOA. Well kept and great views of the mountains and flathead lake!
Jul 29, 2019
Well I'm not Spanish speaking so tried to decide what it asked.Overall as a tent camper instead of trailer camper we felt like we were on a park area for the koa... and with only 2 spots that we could see we were low priority on what tent campers appreciate. We paid a hefty fee for no privacy ... but koa's Are better suited for car camper people .. staff and bathrooms etc were clean Airbnb ne
Oct 07, 2020
Great views from any spot. All the amenities, even a gym, and very solid mini golf!
- Tom Garvey on Google
Sep 22, 2020
Great campground with awesome view! Restrooms were some of the cleanest we have seen. Has individual showers which are always a welcomed treat! Was only there for 1 night and would stop there again
- Jared on Google
Sep 14, 2020
Great place to stay
- Sandra Tordoff on Google