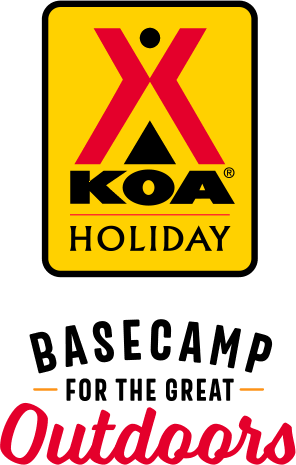 KOA Holiday Campgrounds
Whether you're exploring the local area or hanging out at the campground, KOA Holidays are an ideal place to relax and play. There's plenty to do, with amenities and services to make your stay memorable. Plus, you'll enjoy the outdoor experience with upgraded RV Sites with KOA Patio® and Deluxe Cabins with full baths for camping in comfort. Bring your family, bring your friends, or bring the whole group – there's plenty of ways to stay and explore.
KOA Holidays Feature:
RV Sites with a KOA Patio®
Deluxe Cabins with full baths
Premium Tent Sites
Group meeting facilities
Directions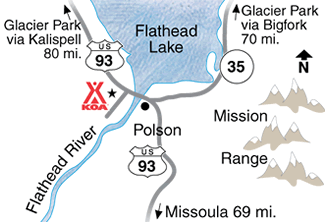 From I-90: North on Hwy 93, stay on Hwy 93 through Polson, then second left after Polson Bridge.
Get Google Directions
Jul 21, 2021
Great set up. Appreciated being able to order food delivery. The pool and laundry were wonderful and the view was spectacular Thanks.
Jul 21, 2021
Clean, orderly grounds. Very friendly and competent staff. Cute store.
Jul 20, 2021
Lots of rules and regulations. That's okay if they are enforced. Had to deal with a family reunion partying at the site next to us past the quiet hours 3 nights in a row. 17+ people hanging out at the site at all hours and that's not even counting the children. As one drives into the KOA there are luxury sites on the left that are the best I have ever seen. The KOA sites are nothing like that.
Jul 19, 2021
Great location with views of the lake and the Rockies; lovely patio with glider chair facing the lake
Jul 19, 2021
The staff were amazing. So friendly and helpful. The view was phenomenal
Jul 19, 2021
Very well maintained. We had a good time playing in the pool and at the park.
Jul 18, 2021
Not the KOA's fault but too hot to enjoy all the amenities
Jul 18, 2021
I had only stayed one night, but as a single female staying by myself, I felt so safe and welcomed. All of the staff was very nice and even brought me firewood after I had said I didn't need it the first time. Bathrooms were very clean. Great atmosphere! I will stay again next time I go through that way!
Jul 17, 2021
Great park, loved our premium site with the view and bbq!!
Jul 16, 2021
Staff & grounds are great!
Jul 15, 2021
Really nice campground that looks out onto the lake. My only concern was that our site was not very level. What normally takes us five minutes to level our RV took close to 45 minutes because the site sloped so much. Very nice and helpful staff.
Jul 15, 2021
The sites were amazing and the staff were very helpful and friendly. It was very nice stay.
Jul 14, 2021
The RV park and commons building with showers, restrooms, laundry and store were very clean. Except those were the only public restrooms and showers and they were not available for an hour at 11:00AM for cleaning. Owners and staff were very friendly and helpful. Be sure to bring your own drinking water - the water at the RV hookups had a very strong metallic/chemical taste and was not drinkable.
Jul 13, 2021
Nice location near Polson. Property is clean and well managed.
Jul 13, 2021
Always nice staff members great views. Clean.
Jul 12, 2021
beautiful view of the lake from our nice long site staff very friendly and helpful
Jul 12, 2021
It was a great getaway
Jul 11, 2021
Only complaint is the wifi. It worked partially and only some of the time. While you aren't on vacation to be online it is useful to have especially since the cell phone service is so bad.
Jul 10, 2021
One of, if not the nicest campgrounds I've stayed at!! Can't wait to come back!
Jul 10, 2021
Very nice location. Staff is helpful and friendly. It would be nice to have a restaurant on location
Jul 10, 2021
Nice campground. Enjoyed the location and scenic offerings!
Jul 10, 2021
The General Manager, Larry Manno and his staff made sure we had the most memorable time. Our site was specious, grass, trees and a beautiful view of Flathead Lake. We enjoyed it so much we made reservations again for 2022.
Jul 10, 2021
Not our kind of place…..clothes lines, dog pens, dogs barking and unleashed. Very poor WiFi; miniature golf in shambles. Tailored to young families with lots of kids and pets, which is fine if you fall into that category. Same experience in Billings KOA. We will avoid all KOA sites in the future. But……. The Polson fireworks show was spectacular!
Jul 10, 2021
The deluxe cabin was clean and well appointed. Beautiful views from the sitting deck next to registration. The older couple that checked us in were absolutely the sweetest and so accommodating. We had an excellent time. Laundry was so nice. We are regular travelers for work and stay in many KOA cabins and honestly there wasn't anything remotely to change about this place.
Jul 09, 2021
You really should have better wifi/internet service. Many people are working vitually now.
Jul 08, 2021
Very clean, beautiful views, awesome staff! Pool was amazing! We will make it there every year!
Jul 08, 2021
Very good stay at a well run, well maintained and clean facility. The only thing that was somewhat annoying is your request that campfires be extinguished by 11:00pm. It doesn't get dark until 10:00pm and we would have liked to have the option to enjoy the evening longer. What is the reason for this rule if those around the campfire adhere to your quiet hour policy?
Jul 07, 2021
The staff was nice and the bathrooms and showers were very clean. The only disappointment was paying $19.00 for a family of 4 to play on their mini, mini golf course, which contained advertising at every hole. The mosquitos were bad during our stay, and they were going to fog at 8pm during outside time for a lot of people.
Jul 07, 2021
We got engaged here this last weekend enjoying the sunset view on the hill after a round of mini golf. Thank you for making it so special!
Jul 07, 2021
Extremely disappointed with our stay. Tent sites were not at all as pictured and described in brochure. No campground kitchen as advertised. No running water nearby, had to haul water from the office just to wash dishes. No wood chips or grass campsite, it was all rocks. One small tree for shade wasn't enough. For $78 per night I'd expect some water and electricity. I will not be back.
Jul 06, 2021
We had a wonderful stay for the 2nd year in a row at the Polson KOA. Lots of upgrades since last year. The general store, customer service and pool were wonderful.
Jul 05, 2021
We had a great time!
Jul 05, 2021
Must give a shout out to the staff. Larry went out of his way to accommodate our wishes to be able to stay through the holiday, then we ended up with a phone call to have to leave early. Thankyou again. Really is our favorite campground. We will be back.
Jul 05, 2021
This was my first time to stay at a KOA. I stayed in a cabin. It was very clean and had a beautiful view. It was very peaceful and the staff was very friendly.
Jul 05, 2021
Always great, camp sites, staff, management all 10's. Anybody that asks where I go camping. I tell them the KOA in Polson. This time I brought my granddaughter and she loved it.
Jul 04, 2021
Best KOA e we have ever been to. Great service, facilities were immaculate and we had a campsite with an incredible view of the lake. My parents joined and stayed in a cabin that was modern and clean, yet still felt like they were camping. Fantastic stay!
Jul 04, 2021
We only stayed one night but would come back again for sure!
Jul 03, 2021
Clean, well stocked deluxe cabins. Good location to visit Polson, go to Flathead Lake, and Glacier National Park. Would stay again
Jul 14, 2021
Best campground I think I've ever seen. Clean, very well maintained, has a lot of room, yet easy to walk around. The tent pad is pebble gravel, so be prepared with air mattresses and thick sleeping pads.
- Jessica Hodge on Google
Jul 11, 2021
Just stopped by to play mini golf. Nice place and nice people.
- Patricia Engel on Google
Jul 08, 2021
A KOA Holiday, this is an outstanding campground situated on a hillside overlooking Flathead Lake and the Mission Mountain Range. Site are gravel and fairly level with lighted picnic table. Store, pool, hot tub, mimi-golf, volleyball, basketball playground and ping pong. Laundry/Showers.
- Caroline Davis on Google