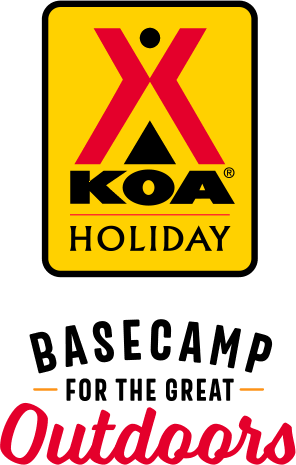 KOA Holiday Campgrounds
Whether you're exploring the local area or hanging out at the campground, KOA Holidays are an ideal place to relax and play. There's plenty to do, with amenities and services to make your stay memorable. Plus, you'll enjoy the outdoor experience with upgraded RV Sites with KOA Patio® and Deluxe Cabins with full baths for camping in comfort. Bring your family, bring your friends, or bring the whole group – there's plenty of ways to stay and explore.
KOA Holidays Feature:
RV Sites with a KOA Patio®
Deluxe Cabins with full baths
Premium Tent Sites
Group meeting facilities
Directions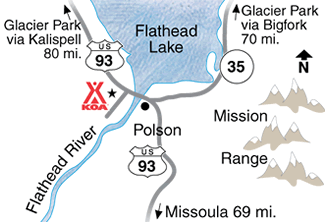 From I-90: North on Hwy 93, stay on Hwy 93 through Polson, then second left after Polson Bridge.
Get Google Directions
Aug 03, 2020
Very nice KOA. Great view of the lake too. Super nice staff.
Aug 03, 2020
It was a wonderful park. We made return reservations for next year!
Aug 03, 2020
Very beautiful park, and close to numerous amenities. Can't wait to go back next year!
Aug 02, 2020
We found the pool and gift shop to be great.However the tent spot was less than desirable.Three sites crammed next to each other on a bit of grass Cabins directly across the road.Not worth the money for sure.
Aug 01, 2020
Clean site friendly staff nice place for a overnight stay
Aug 01, 2020
Had some RV problems and they were very accommodating
Aug 01, 2020
Very nice ! Customer service was very polite!! Enjoyed it!!
Aug 01, 2020
We enjoyed our stay at the KOA in Polson. It has breath taking views and is centrally located to site see many places. Thank you!
Jul 31, 2020
Campground and facilities were extremely clean. Staff was friendly and helpful, which made for a pleasant stay all around.
Jul 31, 2020
Very friendly staff, clean, but seemed tight and smaller spaces than what they charge for!
Jul 29, 2020
Very nice campground with helpful staff.
Jul 29, 2020
We had a beautiful site and view of the Lake. The only problem was that our neighbor parked his vehicle in front of his trailer after he unhitched and totally blocked our view from our seating area. I was hoping KOA would drive by and ask him to park behind the trailer as other people were doing.
Jul 28, 2020
Very nice resort. We are already planning for next summer.
Jul 27, 2020
Very pleasant! Lovely location and well maintained.
Jul 27, 2020
Our stay was very good. Staff was very friendly and helpful. The showers and bathrooms very nice and clean.
Jul 27, 2020
Beautiful views and a very well run campground. Nice pool and professional staff
Jul 26, 2020
Always love staying there!!!
Jul 26, 2020
Fabulous KOA! The entire staff is welcoming and very helpful. The facilities and grounds are sparkling clean! Amazing views of Flathead Lake!
Jul 26, 2020
Site was great and super clean facilities all around. Only comment would be if the showers were a tad bigger to accommodate clothes and a sink for shaving instead of walking into the bathroom area for this. No big deal though. Also nice there is a restaurant in walking distance as well.
Jul 26, 2020
Super nice people working there. Clean facilities!
Jul 24, 2020
The staff was very friendly. There was hook ups for all our camper needs. There was a store and a pool. There were lots of shade trees. It was pet friendly. We could not have asked for more.
Jul 23, 2020
Customer Service was great! Very friendly staff
Jul 23, 2020
Very clean and organized
Jul 23, 2020
Beautiful, clean, and entertaining place to stay!!!
Jul 22, 2020
Great job on COVID stuff..mini golf should be part of stay and not cost any extra..Very great staff. Reasonable size spots
Jul 21, 2020
Very nice, great people, best view of any KOA except South Padre Island!
Jul 21, 2020
Stayed in lodge. Grounds, staff, & lodge were awesome!
Jul 21, 2020
Great staff, great facilities and great location!
Jul 20, 2020
We've stayed here before and loved it so we came back. People are super friendly, great location and lots of things to do in the area.
Jul 20, 2020
Site not level and too close together.
Jul 19, 2020
My family and I had a wonderful time staying 3 nights in the cabin. Only real complaint was if you needed anything, you were better off going to town because prices at the camp store were a bit excessive. We had a wonderful time though, and will stay at a KOA again.
Jul 19, 2020
Campsites were great and had a wonderful view of Flat Lake.
Jul 18, 2020
Excellent campground with a wonderful view of the lake. Well maintained facility. We enjoyed the view from the hot tub out over the lake. The next morning we set on the deck and watched the sunrise over the lake. Just an awesome campground!
Jul 18, 2020
people and owner where Fantastic
Jul 18, 2020
Beautiful! Great welcoming office team.
Oct 07, 2020
Great views from any spot. All the amenities, even a gym, and very solid mini golf!
- Tom Garvey on Google
Sep 22, 2020
Great campground with awesome view! Restrooms were some of the cleanest we have seen. Has individual showers which are always a welcomed treat! Was only there for 1 night and would stop there again
- Jared on Google
Sep 14, 2020
Great place to stay
- Sandra Tordoff on Google