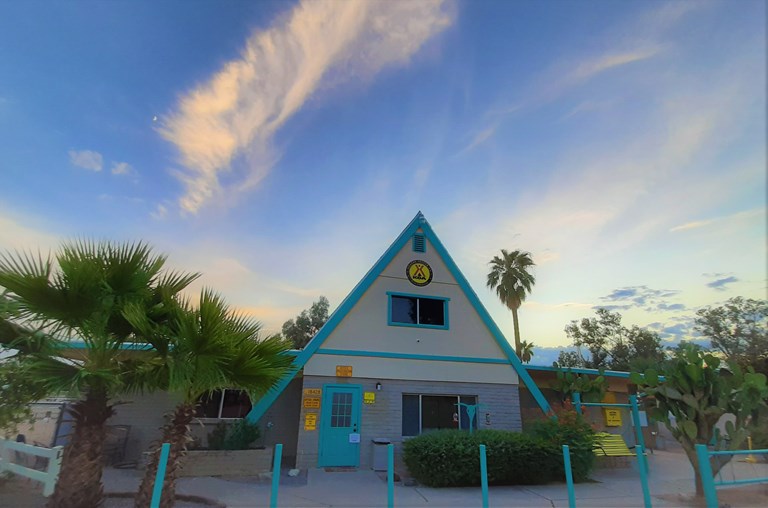 Extended Stays
Enjoy the desert lifestyle year-round in one of our shady full hook-up sites at special extended-stay rates.
$100 non-refundable deposit (will not be refunded if you cancel or do not show up for stay) due at time of reservation.

May 1 2020 thru September 31:

30 AMP sites: $400 per month plus electric

50 AMP sites: $425 per month plus electric

October 1 2020 thru April 30 2021:

30 AMP sites are $550 per month plus electric

50 AMP sites are $575 per month plus electric

Activities
Here on the campground, explore unique cactus gardens, soak up some sun, and then take a refreshing swim in the pool (heated all winter)!
Hike to the top of Picacho Peak if you dare; experience the 7,000-year-old, 4-story adobe structure and National Monument "Casa Grande" Ruins in nearby Coolidge; travel toward the Catalina foothills of Tucson to tour the inner-workings of self-contained ecosystem BioSphere 2, or take a day ride up to the Kitt Peak Observatory, or through the 'forest' of towering, thousands-year-old Saguaro cactus in the Saguaro National Park; head due south about 10 miles in your side-by-side to comb the open desert for thousands of acres of federal public and state trust land. If the arena lights come on next door, head on over to Aros Arena for timed Arizona-class roping!
And remember, It's a dry heat!