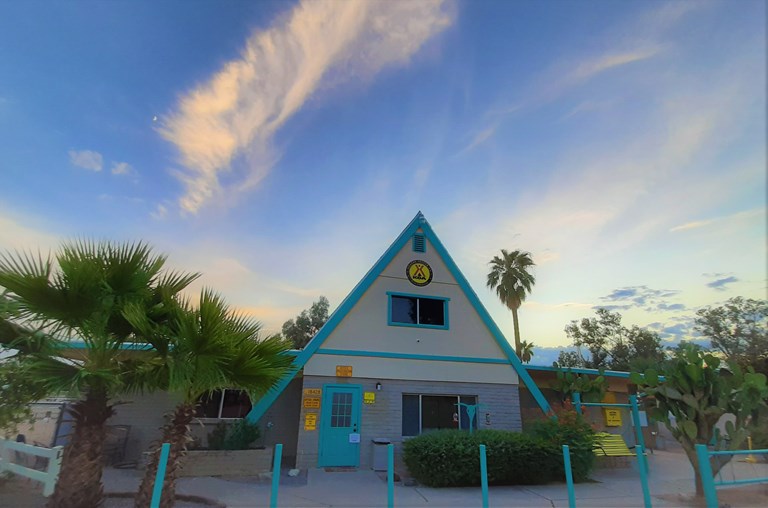 General Campground Information
Picacho General Store
We have a small store that will supply some of your camping needs.  We have RV parts, personal hygiene items, laundry and dish soap, picnic supplies, wood, charcoal, cookies, chips, multiple snacks, ice cream, soda, water, ice and much more!
Campground General information
We are a family and pet friendly park with playground, heated pool and room to play for the kids.  Large spaces for your RV allow for family activities with a picnic table and fire ring at your site.  The dogs will enjoy our fenced in K9 Kamp with obstacles and room to play. We have a Nite Registration box for after-hours campers -- please completely fill out an envelope with payment Before entering the Campground. Thanks and enjoy your stay! -- The Ramsey's and Staff
Founders' and Presidents' Awards
We are proud of our achievements and among them are the Founders' and the Presidents' Awards
Cancellation Policy
A credit card deposit equal to the registration charge for your first night (with the exception of monthly reservations) is required to book a reservation.  A $10 fee is charged for cancellations made prior to deadline; the balance from your deposit is then refunded to your credit card.  Cancellation after deadline, or being a no-show, will result in forfeiture of your deposit (i.e., the deposit will not be refunded).  If you are unable to honor your reservation, please call to cancel before these deadlines:
RV/Tent Site:  48 hours prior to check-in

Cabin:  7 days prior to arrival date

RV (monthly):  Please notify us -- however, the non-refundable $100 deposit collected at time of reservation is forfeit (i.e., the deposit will not be refunded) if you cancel or no-show

Check-In & Check-Out; Office Hours
Early check-in will be charged at $5.00 per 30 minutes.  (If site is available)
Check-Out Time: 11:00 AM (Please re-register before 10:30 AM if staying an extra day)

Late check-out will be charged at $5.00 per 30 minutes.  (If site is available) 
Winter Office Hours: 9:00 AM - 7:00 PM;
Summer Office Hours: 9:00 AM - 3:00 PM.
Rules for the Campsite
Clean your site:  Don't leave a dirty site for the next campers.
All sewer hoses must be leak-free and be elevated off the ground for proper drainage.
Put your fire out:  Be sure to put your fire out before bed or heading out for the day.  Make sure coals and ashes are cold. 
Clean up after your pets:  Clean up immediately after your pet poops!  Be sure your pet doesn't go to the bathroom in someone else's site. 
All vehicles must display a car pass at all times.  Two vehicles per site.  Extra vehicles need to park in an approved designated area. 
No washing of cars or RV's permitted.  Contact office for approved RV washing vendor. 
No clotheslines permitted in campground. 
Please do not cut through occupied campsites.
Put everything back:  If you moved the picnic table, or other items on the site, move them back.  And, if you created holes or trenches fill these in, they can be dangerous for new campers.
Activities
Winter Activities 2019/20: Bingo Nights, Potlucks, Ice-Cream Socials, Fireside Hot Dog and Marshmallow Roasts, Poolside BBQ's and many more!
Spring Activities 2020: Hayrides, Heated Swimming Pool dips, Combing the desert in a side-by-side, pickup truck, or motorbike!
Speed Limit 5 MPH
Our young son lives and plays on the campground.
PLEASE observe the 5 MPH speed limit at all times!
Pool, Clubhouse and Laundry Room Hours
-- Summer Hours Currently Observed --
Swimming pool is open 9:00 AM to 7:00 PM (weather permitting)
No lifeguard is on duty.  Swim at your own risk.  No glass containers, food or smoking/vaping is permitted in pool area.  Children under 12 must be accompanied by an adult.
Laundry room open 9:00 AM to 7:00 PM - Please do not leave clothes in the machines unattended.  No outdoor clotheslines are permitted at your site.  Please help us keep the laundry room clean.
Clubhouse is open 9:00 AM to 7:00 PM - DVD's are available for checkout through the office.  Our books are on the exchange program.  If you take one, please leave one.  Put away any board games when you are done with them.  Foosball, cornhole, and other games are available. Please help keep the coffee/tea station clean.  All children under 12 must be supervised while in clubhouse.
WiFi
Our WiFi coverage is spotty and bandwidth is limited.  The Picacho WiFi network is available for emails, web browsing and social media.  Streaming TV/movies/games is prohibited and will result in throttling or banning without notice.  We do not get cable or fiber-optic line here.  For best results, go to the clubhouse or WiFi hot-spot booth.
SSID: Picacho
pw: TucsonNW
Pet Policy
We are very pet friendly, but we ask you to please follow a few simple rules for the safety of the animals and the people here at our campground. Please check with the office regarding breed restrictions and pet limits.  All dogs must be on a leash no longer than 6 feet. Dogs must not be left alone outside of the RV when owners are inside or away from their site.  Please do not tie dogs to trees or plants.  We have a super nice K-9 Kamp that is open 24 hours for your convenience. Please pick up after your pets immediately for the consideration of others.  Pets will not be allowed in buildings, bathrooms, pool area or playground.  Pets must sleep in your camping unit at night.  Excessive barking or aggressive dogs of any breed are not welcome.  Sorry pets are not welcome in our cabin rental unit.
Visitors Policy
Visitors must register at the office upon arrival. All campers are responsible for their visitors and if extra visitors are at your site without having registered, you and your visitors may be asked to leave the campground.  Maximum of 6 people per site including visitors.
All guests must pay $5.00 per person per day.  Guests who stay less than a half hour will have their fee refunded. 
Guests are not permitted to bring pets.
If you are just visiting a registered guest at their site for a less than a 30-minute period, we still need you to register at the front office before entering the property. Thanks and enjoy!
ATVs, side-by-sides, motorcycles & golf carts
...are all allowed in the park.  Please limit to point-to-point driving only.  Follow speed limit and direction of traffic signs. Happy riding.
Quiet Hours
10:00 PM to 7:00 AM.  All our guests deserve a good night sleep!  Please take conversations and exterior noise inside your RV.  If we can still hear you inside your RV, it's still too loud.  Excessive noise at any time is not allowed.  All children under 18 must be at their site by 9:00 PM.
Generators
Generator use is not allowed except during emergency situations.
Mail
Please have any and all US Mail sent to a local post office box (in Eloy).  Our office will only accept packages (e.g., from Amazon) addressed deliverable to your Site Number. Thank you.
Fires
Wood burning fires are permitted at your site only in the designated fire ring supplied.  Propane fires and charcoal BBQs are okay too.
Garbage
Our garbage dumpster is located behind the restaurant and across from Site 1.  There are several smaller trash cans located throughout the property, but we would like to reserve those for small bags of trash.
Tents
Tents are not permitted at our RV sites without approval. Please ask, thank you!
Other
Fireworks not allowed, except 4th of July if kept tidy.

Firearms are strictly prohibited for the safety of all campers.

This property is privately owned and operated. Please act accordingly. Disorderly conduct will not be tolerated. Relax, it's a Dry heat!

Feel free to reach out to us with your concerns and ideas at picachotucson@koa.com

Alcohol & Drugs
Alcohol shall not be in evidence at any time.  Disorderly conduct will not be tolerated.
Meth, cannabis, cocaine or any other drug is prohibited on our campground.
Discounts
We honor Value Kard Rewards members, and active-duty service-members with valid ID.
Meet Your Hosts
But it's a dry heat
We look forward to meeting you, keeping your stays with us relaxing, and providing something memorable to your stay.
To those we've met: Travel well, come back to dwell!