Current Status of Amenities/Compliance with COVID-19 Safety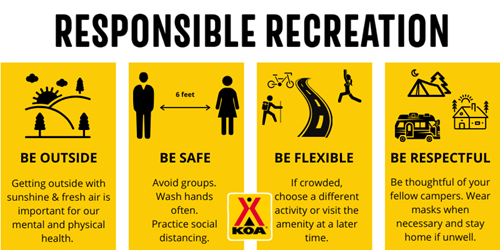 We are open for Camping. While state-wide camping is open in Pennsylvania, we are in a red zone, with a stay at home order until June 4th. We are not allowing day visitors. Please feel free to bring your own kayaks & canoes & stay cool on the river.
FACE MASKS are recommended in common areas per local health requirements and, per state and local guidelines, do not gather in groups of more than 10 anywhere on the campground.
GUEST REGISTRATION AND STORE HOURS: Sunday - Thursday 9:00 am - 8:00 pm
Friday - Saturday 9:00 am - 9:00 pm
STORE: Limited groceries, face masks required, & children must be attended by an adult.
Status of campground Amenities may change by your arrival date, but the following is the status as of today.
CLOSED: Playgrounds Jump Pad Liberty Lodge Game/Activity Rooms Planned Activities/Events
OPEN: Swimming Pool, Mini Golf, Gem Mine, Gaga Ball, Canoeing, Fishing, our nature trail, & our surrounding Natural Land Preserves
Thank you for your cooperation with these guidelines. They are for everyone's safety! We hope that you can use this time to enjoy the outdoors, your family, & your site to the benefit of your physical & mental well-being.