Planning a Country-Inspired Week in South Jersey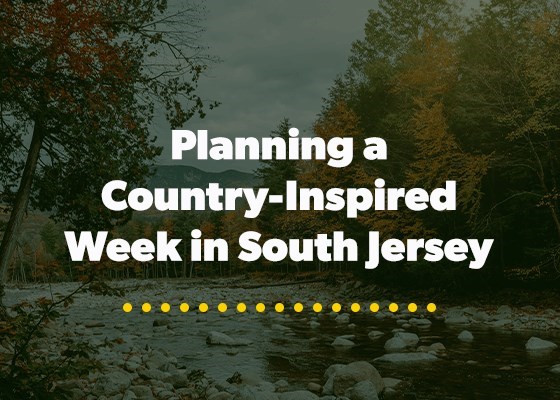 Commonly known for its bustling cities and gorgeous beaches, South Jersey is also home to some of the nation's greatest festivals, fairs and outdoor activities.
With its rich farmland and diverse culture, you'll want to give yourself plenty of time to explore all that this side of New Jersey has to offer. Make a day trip from your camping excursion to visit music venues, carnivals and rodeos — you are bound to find something enjoyable for the whole family when you stay in South Jersey.
Let's cover some of the hidden gems in the South Jersey area for you to plan an exciting week of country and culture.
Rodeos in South Jersey
Appreciate a slice of Western-style fun at a Southern Jersey rodeo show. Rodeos are electrifying community events for all ages, where you can witness traditional Americana with family and friends. Plan a day trip to two of the best rodeos in the state, listed below.
Cowtown Rodeo
With various traditional rodeos in New Jersey, one of the oldest is located south of I-195.
Though it began more than 90 years ago, the Cowtown Rodeo is one of South Jersey's most incredible hidden gems. It claims to be the nation's longest-running weekly rodeo in the U.S. With livestock raised at the rodeo since it first began, you'll enjoy seeing the grandchildren of horses that first pawed the turf in 1929!
The rodeo keeps with its Old West traditions and includes seven classic competitions — bull riding, steer wrestling, bareback riding, tie-down and team roping, barrel racing and saddle-bronc racing.
Shows are every Saturday night, starting at 7:30 pm and running from Memorial Day weekend to the end of September. Parking is free, and you can even invite guests to tailgate with you before the show. Arrive early to browse the Cowtown Farmers Market, open year-round every Tuesday and Saturday.
Purchase your tickets online and visit on 780 Harding Highway in Pilesgrove.
Game Horse Association of New Jersey
When you want to revel in gymkhana events between a group of horse lovers, look no further than the Game Horse Association of New Jersey. Bring the whole family along to spectate the games for free. The association aims to promote horsemanship, competition and fun with weekly horse shows that include over 60 riders.
Sit back and observe barrel racing, baton, poles, stake and plug racing. The season starts on the first Sunday of April and switches to every Saturday after Father's Day weekend. If you visit in the spring, keep in mind that shows pick back up every Sunday beginning in April before the season officially ends on the third Sunday of October.
Visit the on 161 Piney Lane in Newfield.
Festivals in South Jersey
Attend live music in South Jersey at intimate indoor venues or lively outdoor festivals. There's plenty to take in on this side of New Jersey while learning about the region's diverse culture and traveling across its rolling country landscape.
Barefoot Country Music Fest
If you're a music lover planning a summer trip to New Jersey, you won't want to miss the Barefoot Country Music Fest. This family-friendly, four-day festival happens once a year on the beautiful beaches of Wildwood, the southern-most barrier island in the state.
Invite your friends and have some fun in the sun while dancing and singing along to a blend of country headliners, up-and-comers and local favorites. The event happens rain or shine, and you'll want to purchase your tickets ahead of time on their website.
Attend the on 3601 Boardwalk in Wildwood.
Delaware Valley Bluegrass Festival
If you're a fan of bluegrass music, you won't want to miss the Delaware Valley Bluegrass Festival in South Jersey. Experience old-time Appalachia charm at this three-day event with music, food, gorgeous country views and culture.
Invite your friends and family and pull up a lawn chair to witness an extensive lineup of Canadian, Cajun, blues and traditional country music acts. Purchase your tickets in advance, enjoy the music and bring your guitar to the bluegrass "jamming" class, where you can play alongside other fans of the genre!
Attend the Delaware Valley Bluegrass Festival at 735 Harding Highway in Woodstown.
The Levoy Theatre
When you want something more intimate, check out several event venues near Clarksboro for music, drinking, dancing and more! If you're searching for the best place to see live indoor music in New Jersey, look no further than the Levoy Theatre.
Located just 33 miles north of Clarksboro, the Levoy Theatre aims to preserve Southern Jersey's culture and art with various musical performances and educational events. This historic theater was built in 1908 and is just one of the many locations across Southern Jersey where you can appreciate and learn about the area's diverse culture and live music.
You'll want to check out the Levoy Theatre's and purchase tickets online or at the door during box office hours Tuesday through Saturday.
Visit the on 126-130 N High Street in Millville.
South Jersey Fairgrounds
For glimpses of the beautiful country atmosphere of South Jersey, plan for fun rides, live entertainment and food at some of the most exciting fairs in the state.
Saint Margaret's Carnival
As you're planning your itinerary, add a day trip to the delightful Saint Margaret's Carnival for family fun. The annual six-day fair is located on the church grounds of Woodbury Heights and features carnival rides for all ages, live entertainment, delicious foods, a beer garden, carnival games and more! Saint Margaret's Carnival covers the span of an entire week, making it easy to plan for.
Attend on 773 3rd Street in Woodbury Heights.
Mt. Carmel Festival
If you're looking for a week of fun near your campsite, check out one of the oldest Italian festivals in the United States. The Mt. Carmel Festival got its start from an Italian tradition dating back to 1875 when Italian immigrants gave praise to the Virgin Mary for a safe journey to Hammonton, New Jersey.
Today, the festivities include a week-long feast and a procession to celebrate an Italian Catholic hero, where you can witness over 100 men carrying a tall and ornate structure, known as the "Giglio" through the streets of Williamsburg. Bring the whole family to enjoy food, carnival games, rides for all ages, music, beer and more!
Attend the Mt. Carmel Festival at 1 Mt. Carmel Lane in Hammonton.
Stay at the Philadelphia South / Clarksboro Kampgrounds of America for Country Fun
Spend your week getaway with Philadelphia South / Clarksboro KOA as your home base to rest and savor nature between your exciting adventures. The peaceful country campground offers relaxation during your busy week with cozy amenities, Tent Sites and more.
Relish the rich culture of Southern Jersey and take in the gorgeous rustic sights while staying at KOA. Choose from comfy Glamping Tents with tranquil private decks, Deluxe Cabins, Tent Sites and more!
Book your stay today!