Fun Things to Do Just Outside Philadelphia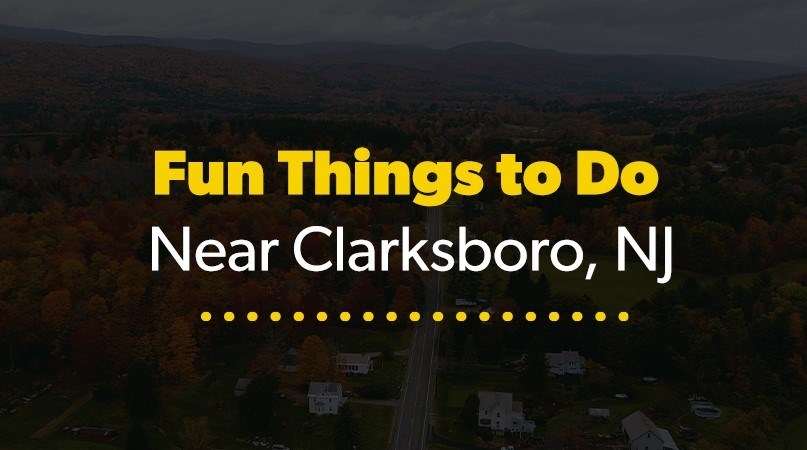 Fun Things to Do Just Outside Philadelphia
Camping in Clarksboro gives you the unique opportunity to explore the best of Philadelphia and the surrounding area, with access to a near-endless list of things to do in every season. While many people think of Philadelphia as just a place to visit the Liberty Bell, there are numerous destinations along the Delaware River that present plenty of opportunities for nature lovers. With a little exploring, you'll discover all the unique activities the Main Line area has to offer.
Read on to learn what there is to do near Philadelphia and Clarksboro, NJ, and how to make Kampgrounds of America your basecamp for all your seasonal adventures!
Things to Do in the Summer in Philadelphia and New Jersey
Summer in the Philadelphia area means it's time for some outdoor fun. These are some of the locals' favorite ways to spend the hotter months:
Try Kayaking at Pinelands Adventures
Get out of the city by visiting the Pinelands National Reserve. This reserve is the Eastern Seabord's largest forested area, with the New Jersey Pine Barrens covering most of the southern part of the state. Beat the heat and get active on a guided or self-guided kayak tour on the Pine Barrens rivers. While some background in paddling is ideal for your safety, there are river routes suitable for all experience levels. Tours can take several hours, so come prepared with plenty of water, snacks, sunscreen and a dry bag for your essentials.
Your rental fee covers the cost of the canoe or kayak, paddles and a lifejacket, which you're required to wear. Staff will transport you to your starting point and pick you up at an assigned pick-up spot when finished.
Celebrate at the Welcome America Festival
Philadelphia's Welcome America Festival takes place every summer as a massive celebration of Juneteenth and Independence Day. The festival lasts over two weeks, with historical demonstrations, speakers, educational exhibits, concerts, performances, parades and a colorful live fireworks show. It's also a great time to sample the region's food and drink options.
Attend the Cowtown Rodeo
Once you've learned all you can about historical Philadelphia, experience a bit of the West at the nation's oldest weekly running rodeo — Cowtown Rodeo in nearby Pilesgrove. It's one of the most unique things to do in South Jersey, offering shows running every Saturday night in the summer, rain or shine, with open-air bleacher-style seating. You can bring snacks and drinks in an approved cooler or stop by the cash-only refreshment shop on-site.
Fall Activities in Philadelphia and

New Jersey

What can you do near Philadelphia and New Jersey in the fall? Embrace the cooler breezes and crisp autumn air with these favorite fall activities.
Visit Independence National Historic Park
You can visit Philadelphia's Independence National Historic Park during any season — but few sites are as scenic as the Liberty Bell against a backdrop of red and orange leaves. While you're here, reserve a ticket for an Independence Hall tour, which runs every 15 minutes and lasts about 20 minutes. The tour will show you the building's historical highlights, including the room where the Constitution and Declaration of Independence were both signed.
You may not want to leave without a stop by the Benjamin Franklin Museum, which offers interactive exhibits, artifacts and a unique layout that pays homage to Franklin's character traits.
Explore a Local Farm or Orchard
Local farms and orchards offer some of the most immersive family fun near the Philly area. They're also the best places to be in autumn, especially when they let you pick your own produce or sample local goods. Two visitor-favorite destinations are the Howell Living History Farm in Hopewell Township and Battleview Orchards in Freehold. Each is about an hour's drive from Clarksboro and well worth the trip.
Howell Living History Farm operates as if it were the year 1900, without advanced farming equipment. Guests can experience life on the farm themselves and help with chores, fence building, cooking and even animal care. The farm's special events vary by season, with autumn bringing activities like wheat planting, plowing, barn auctions, basket and broom making, corn harvests and cider making demonstrations.
Battleview Orchards specializes in locally grown fruits and lets visitors pick their own seasonal produce, like strawberries, sour cherries, peaches, nectarines, apples and pumpkins. The property has a charming country store with homemade pies and other farm-sourced goods to set up the perfect picnic site.

Things to Do in the Winter in

Philadelphia and New Jersey

Just because it's winter doesn't mean those near Philly can't enjoy the great outdoors. Button up your winter coat and stock up on your favorite hot cocoa — these wintertime activities will help you appreciate the snow and chill around you.
Attend Blue Cross RiverRink Winterfest
You can visit Philadelphia's Blue Cross RiverRink Winterfest any day during the winter season from November through March. This months-long winter celebration includes outdoor ice skating, ice parties, s'mores making, fire pits, kid-friendly events and New Year's Eve fireworks on the waterfront. There are plenty of performances, food and cocktails to enjoy, making this event a can't-miss destination for winter travelers.
Tour the Philadelphia Museum of Art
Get out of the cold and snow by spending the day in the Philadelphia Museum of Art, one of the best Philly attractions and most beautiful art museums. Complete with 200 art galleries housing work from artists around the world, highlights include Diana in the Great Stair Hall, Renoir and Monet paintings in the New European galleries, an American art collection with historical pieces and even a rare armor display. See architectural replicas of Japanese tea houses and a Gilded Age drawing room or larger-than-life sculptures in the outdoor sculpture garden.
Reserve your ticket for this stunning historic site in advance so you don't miss out on this special experience.
Ways to Spend the Spring in

Philadelphia and New Jersey

If you're anywhere near Philly, you've got a medley of exciting springtime things to do in Philly and New Jersey. Celebrate blooming flowers and newborn animals with these springtime must-sees!
Check Out the Animals at Philadelphia Zoo
Take a break from Philly's historical sites and museums to see some living history at the Philadelphia Zoo. The Philadelphia Zoo boasts 42 acres of animals — including some critically endangered species, like the blue-eyed black lemur, mhorr gazelle and Sumatran orangutan — across nearly a dozen different exhibits. Spend the day seeing all of your favorite animals.
Go to the Essex County Cherry Blossom Festival
You've probably heard of Washington D.C.'s famed cherry blossoms, but did you know New Jersey has the largest cherry blossom collection in the country? With more than 2,700 spring-blooming trees, the Essex County Cherry Blossom Festival is a breathtaking excursion to Branch Brook Park in Belleville and Newark. The festival is an hour and a half from Clarksboro — bring a picnic and light jacket, and plan to spend the day taking a walking tour of the stunning scenery.
Head to the Philadelphia Flower Show
Each year, the Pennsylvania Horticultural Society puts on the Philadelphia Flower Show, attracting global visitors, gardeners and tourists alike. Professional designers and florists create one-of-a-kind outdoor displays according to the year's theme, with interactive demonstrations and events. When you're not looking at the unbelievable floral arrangements, you can grab a bite to eat or shop vendors at the indoor venue for handcrafted goods and gardening equipment with a farmer's market feel.
Enjoy the Season at Philadelphia South/Clarksboro KOA Holiday
As KOA's only New Jersey campground, Philadelphia South/Clarksboro KOA Holiday is your basecamp for all your local East Coast travels. Whether you're here for the weekend or looking for a long-term stay, you'll love the on-site amenities, including a pool, catch and release fishing pond, bicycle rentals and KampK9® for your four-legged friend. Learn more about lodging options available year-round. Pick up the phone or make a reservation online to start planning your seasonal escape!