A Guide to Exploring Philadelphia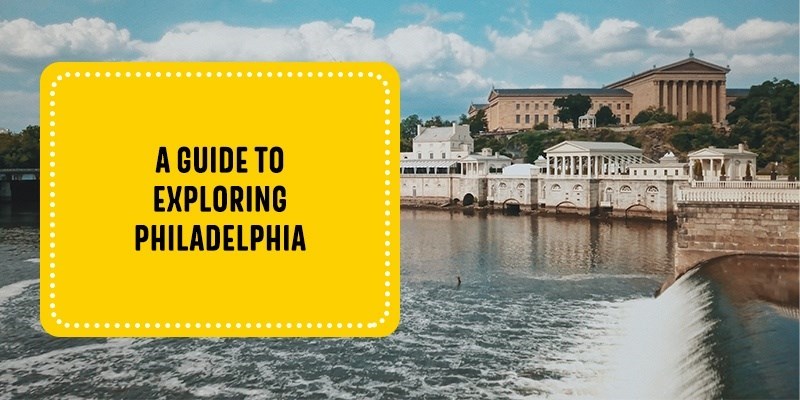 What is there to do in Philadelphia? From a history rich in diverse cultures to an active nightlife, Philadelphia has a lot to offer sightseers. As a traveler here, you can hop on the Philly Phlash for quick transport throughout the city, or go for a walk on the Benjamin Franklin Parkway, sampling chef-catered food and exploring the art scenes. Whether you are staying for a day or longer than a month, something new is always right around the corner.
Take a look at our Philadelphia travel guide to help you plan your trip to this spectacular city and make the visit even better.
Culinary Tour of Philadelphia, PA
Philly is home to fine-dining experiences and casual restaurants alike with cuisines inspired by a variety of cultural traditions. Known as the birthplace of the Philly cheesesteak sandwich, and with hoagies, scrapple, and water ice as a few other local favorites, more high-quality restaurants line the streets than you could visit during a short stay.
Award-winning chefs based in Philly for years include Stephen Starr, Marc Vetri, Greg Vernick, Cristina Martinez and many others. The city's food scene is also popular with new and upcoming chefs and small indie restaurants. Feel free to discover your own favorite picks, but here is a short list of popular dining places to help you get started.
Tony Luke's
The award-winning, original location of Tony Luke's is in South Philly near the I-95 overpass on Oregon Avenue. With sandwiches as the house specialty, Tony Luke's is a great place to try one of those famous cheesesteaks. Just keep in mind when ordering that locals rarely call them "Philly" cheesesteaks. Philadelphia Magazine named this restaurant "Best of Philly" for eight years. You can grab a hot sandwich to go from the streetside window on your way through the Southside or dine at the outdoor picnic area.
Pizzeria Beddia
Just off North Lee Street, this spot is famed for serving some of the best pizza in the Philadelphia restaurant scene. In addition to chef Joe Beddia's made-from-scratch, olive-oil drizzled pizzas, the Pizzeria Beddia has a wine menu, cocktails and beer. In Philly, pizzas are sometimes called pies, and this pizzeria has five minimalistic pies to select from with toppings like dandelion greens and Sicilian anchovies.
Amada
Owned by the Iron Chef Jose Garces, Amada serves up fine Latin and Spanish feasts. This restaurant has a full bar and a nice wine list. Dine in or order carry out for some creative takes on Latin dishes and delicious South Philly barbacoa.
Zahav
Michael Solomonov's Zahav in the Historic District is where you can find Israeli and Jewish cuisine. Another great place with an impressive track record, it even won the James Beard Award for Best Restaurant in 2019.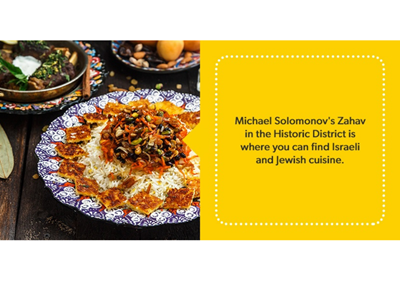 Sri's Company
Serving fine Sri Lankan curries with cinnamon and other traditional spices, Sri's Company is a cozy niche restaurant that serves takeout and delivery. The spiced beef and vegetables make for some delicious, hearty meals, and the curry is well worth the trip.
Museums
A Philadelphia visitors' guide would be incomplete without referencing local museums. Be sure you visit at least these two before your stay in Philly is over.
The Philadelphia Museum of Art
With about 150 metal, marble and plaster sculptures by artists like Claes Oldenburg and Toshiko Takaezu, the Philadelphia Museum of Art has a lot to take in. This is also one of the country's oldest art museums and has multiple buildings and touring areas. Here you can see the original work of famous painters like Marcel Duchamp, Monet, Degas, Renoir, Cézanne and Van Gogh.
The National Museum of American Jewish History
This museum in the Historic District focuses on Jewish culture and related historical events in recent American memory. During a tour of the National Museum of American Jewish History, you will learn about the immigration patterns of Holocaust survivors and much more. This is also a great family-oriented museum to bring children — there are many fun displays and educationally enriching activities just for kids in the heart of Center City. Plus, it's situated just five minutes away from the iconic City Hall!
Art
Want more things to see in Philadelphia after visiting the mainstream museums? The indie art scene and local landmarks make great places to take pictures and experience Philadelphia's culture.Body cop
The Rocky Steps and Statue
Located at the Philadelphia Museum of Art, the statue was originally created as a prop for the movie "Rocky III" before being donated to the city of Philadelphia.
The Labyrinthine Mosaic Museum
When you're done touring the official museums, come see this collection of street murals started by artist Isaiah Zagar, who inspired other daring Philly artists to jazz up their own neighborhoods.
Philadelphia, PA, Nightlife
Want to have a good time dancing and listening to DJs with your friends or family while you're in Philly? Experiencing long evenings mingling with the locals and other travelers is a lot of fun, so here is a short guide to Philadelphia nightlife.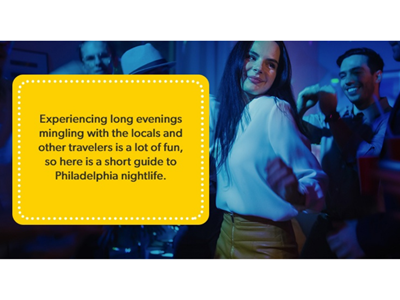 Raven Lounge
This bar and dance club has regular specials and events. The Raven Lounge opens at 8 p.m. and closes at 2 a.m. The DJ always plays a variety, and the moody but colorful atmosphere is the perfect setting for live entertainment and karaoke nights, too. You might even arrive in time for a comedy show or a quiz challenge.
Howl At The Moon Philadelphia
Howl At The Moon serves drinks and personal pizzas for when all of that dancing makes you hungry. You can book a private party or dance the night away on Thursdays, Fridays and Saturdays.
Other Things to Do in Philadelphia, PA
Once you've experienced the art and culture, there is plenty more to take in. Be sure to check out these other locations as well.
The Rittenhouse Square
Up for a stroll through a park? The Rittenhouse Square is cozier than Central Park in New York City with beautiful views of the surrounding buildings. When you wrap up your park visit, follow Walnut Street to the Reading Terminal Market for some post-walk fuel!
Eastern State Penitentiary
Tour the cellblocks and solitary confinement areas of the Eastern State Penitentiary that are said to be haunted, and make sure you visit Al Capon's cell before you go. Maybe you will hear the notorious American gangster playing his banjo as you wander the halls of the once crowded building.
Stay at Philadelphia South / Clarksboro KOA Holiday While You're in Philadelphia, PA
Visit Philadelphia overnight at our KOA Holiday location, located only about 20 minutes from downtown Philly, open all year round. The campground is a great place to stay and relax after a long day of sightseeing, with on-site amenities like a pool, fishing pond and KampK9® for our doggie guests.
Learn more about our lodging options and start planning for your seasonal escape to the East Coast. Our secluded Glamping Tents make the perfect romantic getaway, and your linens are provided. Reserve your stay at Philadelphia South / Clarksboro KOA Holiday online or give us a call! You're sure to get your fill of fresh air and recreation while you're exploring the city at our modern campsite.