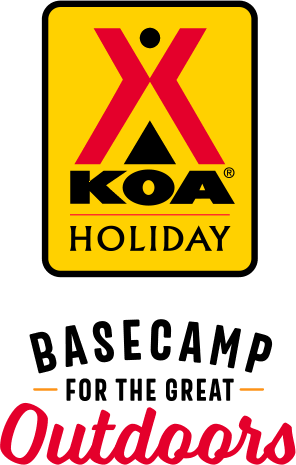 KOA Holiday Campgrounds
Whether you're exploring the local area or hanging out at the campground, KOA Holidays are an ideal place to relax and play. There's plenty to do, with amenities and services to make your stay memorable. Plus, you'll enjoy the outdoor experience with upgraded RV Sites with KOA Patio® and Deluxe Cabins with full baths for camping in comfort. Bring your family, bring your friends, or bring the whole group – there's plenty of ways to stay and explore.
KOA Holidays Feature:
RV Sites with a KOA Patio®
Deluxe Cabins with full baths
Premium Tent Sites
Group meeting facilities
Directions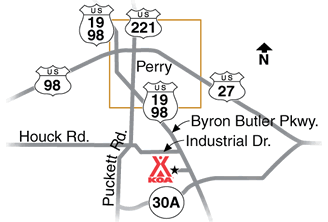 Take US 19 south from I-10 through Perry: Then 2 miles south of intersection with S. Jefferson (Winn Dixie and Walgreens on right) to campground. We are located ON Hwy 19 South.  Coming from the south on US 19, 1/4 mile north of CR 30 on left.
GPS Coordinates N30.07247 W083.56202
Get Google Directions
Sep 20, 2021
All ways clean and safe place to stay. Staff is always friendly and sweet pool is clean sites are nice .........................................................................................................................................................................................................................................................................................................
Sep 19, 2021
great place to visit thank you!
Sep 18, 2021
Awesome place to stay and this was our second time staying! Wonderful front ladies too! We will be back and thank you KOA!�����
Sep 18, 2021
Campground is great and the owners are always accommodating and thoughtful.
Sep 16, 2021
We had no picnic table at our site. I called and requested a table, was told one would be brought, but one never came. There was also garbage on our site and it looked to me like a lot of people lived there full time. We have been to dozens of KOAs and love them because all of the amenities are well kept. Perhaps this one has new ownership and is trying to get it up to speed.
Sep 16, 2021
Very back corner was very nice and a nice patio also got to watch cows and horses out in the pasture was a plus
Sep 16, 2021
The only thing you need more bath houses closer to the campsites. If you are staying one night people may it want to use their black tank and it was a longer walk than we usually have.
Sep 15, 2021
Quiet park in the back but roads in the park could be much better and gravel sites would be nice.
CAMPGROUND RESPONSE / COMMENTS:
We are glad you liked the back of the park and timing is everything, we've been working with a paver since April, we are finally on their schedule for the last week of this month!
Sep 14, 2021
We stayed in a cabin again this year, it was clean and they have done some work around the park and it is even better!! We will definitely be back!
Sep 14, 2021
Just stayed overnite on our way south. Campground was clean and staff was friendly
Sep 13, 2021
Very quiet, clean, friendly staff.
Sep 13, 2021
Just an amazing experience/stay at the beautiful Perry KOA! GREAT check-in experience and an amazing site. Beautiful sunsets and plenty to do in the area. Amenities were great and improvements still ongoing. Our site was probably one of the best, but there were so many others that we are excited to return and stay at! Keep up the GREAT work, Perry KOA!
Sep 13, 2021
We stayed 3 nights. It was a love-hate relationship. We had a super site in the back of the campground. It was very open and spacious with a concrete patio. But our site was full of dried grass clippings. The roads were bumpy. Fair amount of long term campers. Not sure why it is a holiday KOA. Run-down
CAMPGROUND RESPONSE / COMMENTS:
Sorry you were disappointed in your stay. We mow grass on Thursday mornings, we have quite a few summer monthlies (3 nurses, 1 ER dr, 3 working on local electric, etc), we are facing a $192K paving project later this month and the list goes on. 3 yrs and $1mil in fixes--should have made a TV show!
Sep 12, 2021
This place never disappoints!! We feel like home when we stay there �
Sep 11, 2021
Nice Park, great pool&Hottub!, Our 3rd time here.
Sep 11, 2021
Our lot was very un-level. Other than that, everything was good.
Sep 10, 2021
A great place to stop. Nice people. It's a half way point for us when returning home. We will be back
Sep 09, 2021
Site was a little unlevel, but all and all a very nice park.
Sep 08, 2021
It was great. Quite but just enough to do for the grandkids that were with us that they did not complain of being bored.
CAMPGROUND RESPONSE / COMMENTS:
Glad you were able to enjoy the quiet and keep kids busy at the same time! We strive for a quiet park. If ever in the area again we hope you'll stop!
Sep 08, 2021
Tight spaces.......no shade......asked for back in and didn't get.
CAMPGROUND RESPONSE / COMMENTS:
Unfortunately w/o a reservation on a busy weekend we did not have any back-ins with shade, only patio back-ins and all are sunny. I'm unaware of what the actual conversation actually was but will ask staff ASAP.
Sep 07, 2021
We only stayed one night passing through. Very nice and well maintained. Beautiful property!
Sep 06, 2021
Campground is adequate & the pool is delightful; however, the bathhouse really needs some TLC. Moreover, the overall appearance the the facility is shoddy!
Sep 06, 2021
We enjoyed our stay for a week. The facilities were quiet and enough room between sites. The laundry room was clean as was the pool area. Saw several workers cleaning and improving the property. Our only draw back was the low pressure for water from the faucet, but we made do and the owner even came out to check if there was a problem. We would stay here again, pleasant staff and friendly city.
Sep 06, 2021
It's a beautiful little campground. We were at site C-15 which included patio furniture, Adirondack chairs, a fire pit and a gas grill WITH a propane tank. We enjoyed our site as well as the pool. The staff were extremely hospitable!
Sep 06, 2021
Big sites! Super clean and beautiful country vistas is you stay towards the back.
Sep 04, 2021
The koa in Perry , was the nicest one we stayed out , The progress that Brian and have made is outstanding, their hospitality goes above and beyond, I would highly recommend this Koa
Sep 04, 2021
Under construction
CAMPGROUND RESPONSE / COMMENTS:
We have 5 of 132 sites closed due to just finishing replacing our 6th septic system. Infrastructure projects are very important and only affect a few sites at a time and none of them were on the row of your site.
Sep 01, 2021
pool was nice and so was the hot tub. problem is there is nothing around the tow it looked abandoned. the local wal-mart was so bad we didn't even shop there. we arrived on monday and left on tuesday.
Sep 01, 2021
Wonderful campground, love the wide spaces.
Sep 01, 2021
Very clean , amenities were excellent
Aug 31, 2021
The park shows improvement each time we stay here. Store is much improved with good selection of items. Keep working on interior roads and sites.
Aug 31, 2021
Took maintenance 2 hrs. To come fix cable. Waited on them before we could go eat dinner
CAMPGROUND RESPONSE / COMMENTS:
Fortunately there was nothing wrong with the cable but it was an hour between the first call giving us the wrong site no, and the second call with the proper site no, then it was about 20 minutes before we got to your site with the test tv which showed no issued with our cable.
Aug 30, 2021
Me and the wife stayed in the cabins without bathroom and everything met our needs. The only thing I would change is the mattress for the beds they definitely need to be upgraded.. I would definitely book again
Aug 30, 2021
So so much better than few years ago. Lots of improvements and clean-ups. New fitness center, clean pool area. Improved entrance/ exit area. Campground area improvements and store/check-in areas looking good. Thanks
Aug 29, 2021
friendly staff grounds well kept lots of upgrades
Aug 25, 2021
Other than rain that Mother Nature sent our stay was quiet and comfortable
Aug 23, 2021
Greatest place EVER! my mother and aunt were very comfortable and everyone here is always incredibly nice and helpful. It feels like home.
Aug 23, 2021
Very convenient location off of Interstate. But, The park probably was nice at one time but now needs an uplift. Bad roads, some kinda wooden encased flower gardens with nothing but weeds and older dilated travel trailers that appeared to be year round residents with numerous objects strewn around the site. We were very disappointed that this park had a KOA status.
Aug 20, 2021
This is our 10th stay here. Always a good night sleep
Sep 13, 2021
Love this place!!!! It's quiet, peaceful, and so relaxing. The owners Brian and Debbie are wonderful people and are so nice. It's like a lil slice of paradise for me 😍
- Tab Rohn on Google
Sep 13, 2021
The park was very nice and clean. The staff were very polite, friendly, and professional. It was nice having a lot that had full grass and was level. I wouldn't hesitate to stay there again!
- S. H. on Google
Sep 11, 2021
Just an amazing experience/stay at the beautiful Perry KOA! A great check-in experience started the journey to an equally amazing site. Beautiful sunsets and lots to do in the area! The amenities were on point and it is very obvious they are working very hard to keep things up and even make it BETTER! Our site was probably one of the best, but there were so many others that we are excited to return and stay at. Oh yeah… we will DEFINITELY be back! Please keep up the GREAT work, Perry KOA!
- Ron Harrison on Google