Local Area Attractions Near Paris Landing / Kentucky Lake KOA Holiday
The surrounding area abounds with many historic Civil War Sites, Antique Shops, Fishing on beautiful Kentucky Lake, Land Between the Lakes (LBL) National Recreation Area which offers hiking, fishing, & hunting as well as the historic Homeplace village, Elk & Bison Prairie, The Planetarium, & the Historic Iron Works Furnace. Fort Donelson Civil War Fort, Fort Henry and the Dover Surrender House are all within 15 minutes of our KOA.
Fort Donelson National Battlefield (U.S. National Park Service)
Fort Donelson is just a short 10 minute drive from the Campground. Make time to plan a visit to this historic Civil War site located on the beautiful Cumberland River, it is also a great place to spot birds, photograph, or have a picnic lunch after walking about the park taking in a little bit if our Nations history.
Land Between the Lakes National Recreation Area
Bike, drive, hike, picnic, relax, swim, and watch wildlife . . . all for free!
As part of America's great outdoors since 1963, Land Between the Lakes National Recreation Area manages over 170,000 acres of forests, wetlands, and open lands on a peninsula between Kentucky and Barkley lakes in Western Kentucky and Tennessee. The family friendly recreation area offers one of the largest blocks of undeveloped forest in the eastern United States.
Access over 300 miles of undeveloped shoreline, 200 miles of paved roads, 500 miles of trails, and 170,000 acres of forests and open lands.
In addition, you can enjoy some of the best camping, hunting, fishing, horse riding, off-highway vehicle driving and environmental-conservation education programs around. You'll also appreciate spending time at Homeplace 1850s Working Farm and Living History Museum, Woodlands Nature Station, and the Golden Pond Planetarium.
Take a week or a day to explore Land Between the Lakes National Recreation Area. There's something for everyone!With 300 miles of natural shoreline, lake access provides idyllic settings for camping, picnicking, hiking, fishing, boating, wildlife viewing, and water sports. Licensed hunts for deer, turkey, squirrel and other small game animals occur throughout the year.
Tennessee National Wildlife Refuge
Established in 1945, this refuge is an important resting and feeding area for wintering waterfowl and other migratory birds.  Complete with forests, farmland, wetlands and grasslands, this beautiful area is home for over 300 species of birds and other wildlife.  Located on and around Kentucky Lake, this establishment will surely be a relaxing place to enjoy nature!
There are many recreational opportunities, such as hunting, fishing, hiking, kayaking and biking, to name a few.  The Refuge Visitor/Education Center offers an exhibit hall, auditorium, and various activities for children.  
Open Monday-Saturday from 8am-4pm (except of Federal holidays) and entry is free.
1371 Wildlife Drive
Springville, TN 38256
Eiffel Tower - Paris, TN
"Engineering students at Christian Brothers University originally constructed the tower to commemorate the 1990 Memphis in May festival. Each year, the festival honors a country, and 1990 focused on France.According to Brother Patrick O'Brien, a public relations official for the university at the time: "[the tower] was the centerpiece of one of our most popular quads." Regardless, the wooden tower was a temporary structure. Moreover, it could not remain at the university because students began to climb it even though it could not support their weight.In April 1991, the Paris-Henry County Chamber of Commerce sponsored "Paris U.S.A.," an event created to celebrate the shared charm of the fifteen U.S. cities named for the French capital. Representatives from five Parises accepted their invitations to enjoy Paris U.S.A. in Paris, Tennessee.During the fall of that year, Brother Patrick O'Brien remembered the celebration and asked Paris if it would be interested in accepting a scale replica of the Eiffel Tower. The city accepted, and the job began." - Source; Wikipedia
1020 Maurice Fields Dr
Paris, TN 38242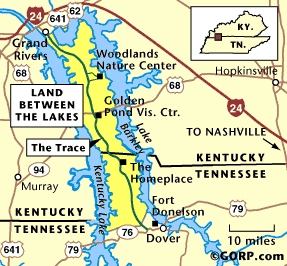 Kentucky Lake
Kentucky Lake is one of the best lakes for sport fishing in the country, whether it is crappie, bass, bluegill, or catfish you're hunting.  Kentucky Lake is also home to outstanding recreational boating, from jet skis to ski boats to pleasure boating. Sail the lakes, or rent a houseboat and have a good time. Kentucky Lake covers 160,300 acres.
Local Area Recreation Near Paris Landing / Kentucky Lake KOA Holiday