Local Area Attractions Near Paris Landing / Kentucky Lake KOA
The surrounding area abounds with many historic Civil War Sites, Antique Shops, Fishing on beautiful Kentucky Lake, Land Between the Lakes (LBL) National Recreation Area which offers hiking, fishing, & hunting as well as the historic Homeplace village, Elk & Bison Prairie, The Planetarium, & the Historic Iron Works Furnace. Fort Donelson Civil War Fort, Fort Henry and the Dover Surrender House are all within 15 minutes of our KOA.
Fort Donelson National Battlefield (U.S. National Park Service)
Fort Donelson is just a short 10 minute drive from the Campground. Make time to plan a visit to this historic Civil War site located on the beautiful Cumberland River, it is also a great place to spot birds, photograph, or have a picnic lunch after walking about the park taking in a little bit if our Nations history.
Dover Hotel (Surrender House)
Serving as an accommodation for riverboat travelers before and after the Civil War. It also was the place where Gen. Buckner and his staff used as their headquarters during the battle. It served as the hospital after the surrender. Much relevant Civil War history happened here. It was here at the Surrender House on Feb. 16, 1862 following a council of war with Brigade Generals Floyd and Pillow, Brigade General Simmon B. Buckner to the confederate defenders of Fort Donelson to Major General U.S. Grant, USA. The two senior confederate generals, having abandoned command escaped Lt. Nathan Bedford Forest, refusing to agree to the surrender, led his calvary regiment and a number of infantry men out of the defense without loosing a man or meeting opposition.
101 Petty St
Dover, TN 37058-3239
Land Between the Lakes National Recreation Area
Bike, drive, hike, picnic, relax, swim, and watch wildlife . . . all for free!
As part of America's great outdoors since 1963, Land Between the Lakes National Recreation Area manages over 170,000 acres of forests, wetlands, and open lands on a peninsula between Kentucky and Barkley lakes in Western Kentucky and Tennessee. The family friendly recreation area offers one of the largest blocks of undeveloped forest in the eastern United States.
Access over 300 miles of undeveloped shoreline, 200 miles of paved roads, 500 miles of trails, and 170,000 acres of forests and open lands.
In addition, you can enjoy some of the best camping, hunting, fishing, horse riding, off-highway vehicle driving and environmental-conservation education programs around. You'll also appreciate spending time at Homeplace 1850s Working Farm and Living History Museum, Woodlands Nature Station, and the Golden Pond Planetarium.
Take a week or a day to explore Land Between the Lakes National Recreation Area. There's something for everyone!With 300 miles of natural shoreline, lake access provides idyllic settings for camping, picnicking, hiking, fishing, boating, wildlife viewing, and water sports. Licensed hunts for deer, turkey, squirrel and other small game animals occur throughout the year.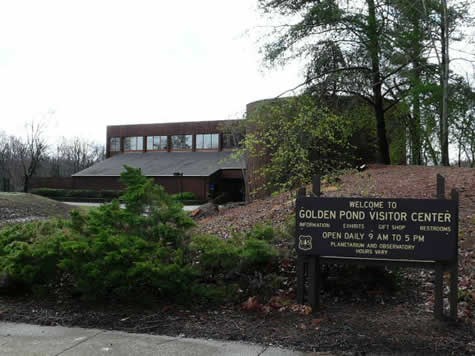 Golden Pond Planetarium and Observatory at LBL
When you visit the Golden Pond Planetarium, you will enjoy a variety of entertaining and educational programs presented with our Konica Minolta Mediaglobe II digital projection system which displays exciting images on the 40-foot dome of the theater.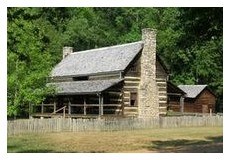 Homeplace 1850s Working Farm - LBL
This farm is part of the Revolutionary War land grant, issued as a land warrant. The owner, Mr. Coolant, took possession of the assigned 40 acres on 12/01/1808. The "hollow" or "holler" where the Home Place now stands is where the Coolant's worked their land for the next 10 years.
Farmers were fortunate to be located near the major mode of transportation for that day, the river. They lived between the Cumberland & Tennessee Rivers, this area is known as the four rivers, as it is also between the Ohio & Mississippi. The crossroad has a significant impact on farm life. News & goods usually reached farms within a few weeks, and sending farm raised produce & livestock was convenient.
It is a working history farm. Most of the farm & livestock are historic varieties from the Mid 19th- century.
When you visit you will see the men folk at work with their oxen, harvesting and curing tobacco, repairing a roof and you may even lend a hand at the walking plow or help in the repair of a fence.
This is a trip for the entire family.
Local Area Recreation Near Paris Landing / Kentucky Lake KOA