Paris Landing / Kentucky Lake KOA Recreation
The 2019 Camping Season is here and we're ready to enjoy our guests.
We would love for you to see our newly built RV patio decks, refinished Camping Cabins, and two new Deluxe Cabins, participate in a game of Disc Golf on our 9-hole professionally designed course as well as our charming 9-hole mini golf course, let your dog run around and play in the Kamp K-9 fenced in area, pan for treasure in the "Gem Mine" sluice, rent a pedal kart quad cycle, lounge by the pool and get your picture taken by our infamous PARIS directional signs!  
We also will have some fun weekend activities throughout the year so keep an eye out for upcoming events!  We look forward to seeing and hosting you soon!
Gem Mine
Come and take a step back into the 1840s when gold was king!  You may not find gold here, but you'll be amazed at all the wonderfully beautiful gems, rocks, and fossils that you can find using our gem mine!  Grab a sluice or a pan and sift the sand through the cool rushing water of the mine to find what prizes are in store for you.  Grab a gem brochure to match your findings to the pictures and realize that you did strike it "rich"!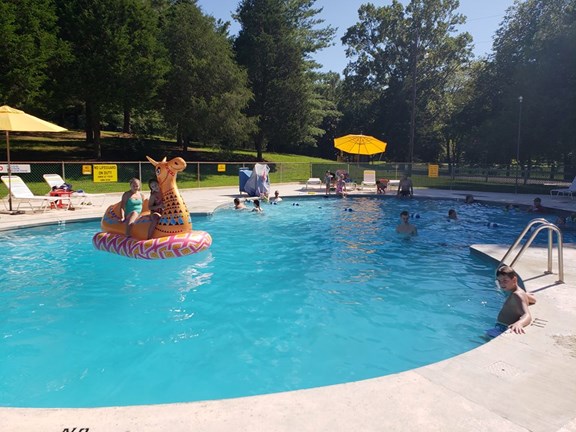 Swimming Pool and Pavilion area
Our pool accommodates EVERYONE!  Tiny humans can enjoy our shallow end while big "kids" can lounge and play in the deep end.  Our disabled friends are welcome as we do have an ADA lift available for them to enjoy.  Lounge under our shady umbrellas or soak up the sun!  
Our pavilion area has many tables for our guests to enjoy their food and beverages (as they are not allowed in the pool area).  Pavilion is also available for renting for parties.  In the summer months, our pool stays open later while people enjoy movies in the pavilion.  Watch a movie in the pool or out.  It's a great atmosphere to be in!
Local Area Recreation