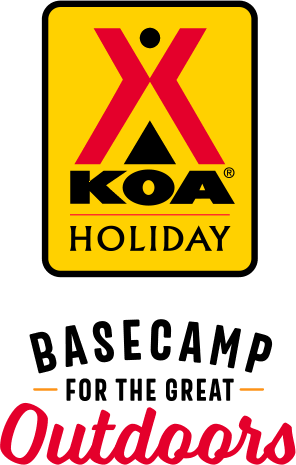 KOA Holiday Campgrounds
Whether you're exploring the local area or hanging out at the campground, KOA Holidays are an ideal place to relax and play. There's plenty to do, with amenities and services to make your stay memorable. Plus, you'll enjoy the outdoor experience with upgraded RV Sites with KOA Patio® and Deluxe Cabins with full baths for camping in comfort. Bring your family, bring your friends, or bring the whole group – there's plenty of ways to stay and explore.
KOA Holidays Feature:
RV Sites with a KOA Patio®
Deluxe Cabins with full baths
Premium Tent Sites
Group meeting facilities
Directions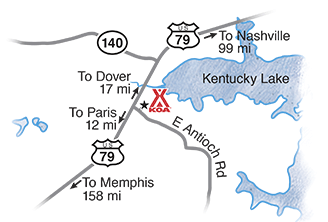 Traveling Northeast on US Route 79 from Paris, TN to 6290 E. Antioch Rd: turn right on E. Antioch Dr, drive 1/4 mile, turn left into KOA driveway. 
Traveling southwest from Clarksville, TN on highway US Route 79: drive 49 miles, cross over Tennessee River/Kentucky Lake bridge, drive 3 more miles, turn left before the Dollar General onto E. Antioch Road, drive 1/4 mile, turn left into KOA driveway.
Traveling East and West bound on I-40: Exit 126 to 641 north to Paris TN, take US Route 79 N 10 Miles, turn right at the Dollar General on E. Antioch Rd, drive 1/4 mile, turn left into KOA driveway.
Get Google Directions
Jul 24, 2021
First time we were there midweek and we opted for a deluxe cabin! Usually we are weekenders and in the rustics. So quiet and pleasant. My husband came inside cabin complaining about all the racket??? All the birds, insects, grasshoppers, frogs were all enjoying the dusk! The deluxe cabin was wonderful. Very clean and bright and comfortable AND they allow the fur babies for a small cleaning fee.
Jul 23, 2021
Well kept campground.Lots of shaded sites. Helpful people working there. Close to many attractions. They have a pool, miniature golf and a very nice playground for the kids. We would definitely stay there again.
Jul 23, 2021
Enjoyed the pool and trips to Kentucky Dam as well as "Between The Lakes"
Jul 23, 2021
We stay at a lot of KOA Kamping Kabins and this KOA is rated at the top of our list as far as cleanliness goes. Also the maintenance staff is to be commended for the obvious attention to detail that they put into their work. Overall, the staff was very friendly and helpful. I just can't say enough about about this KOA.
Jul 23, 2021
Loved the Play Area for my 2 year old. We only stayed one night so didn't get to enjoy the Pool or the Golf area . Wish the pool would stay open later. Maybe next time we can stay longer! So many things to enjoy! Staff were very friendly and helpful! If something is not right, tell management and they will make it right ! Thank you.
Jul 22, 2021
We only got to stay for a couple of days, but they were filled with fun! My son enjoyed the pedal carts, putt putt, playground, and swimming. My husband and I loved the safe and family oriented atmosphere. We can't wait to go again!
Jul 22, 2021
The best campsite! Not only was it neat,clean, and organized, the staff was amazing,plus all the activities!
Jul 22, 2021
It was a wonderful relaxing experience. Everything was so clean and everyone was exceptionally nice We stayed in a rustic cabin and the outside patio was so pretty and relaxing. Just sitting in the swing or doing my morning devotions at the picnic table . My grandkids loved the pool miniature golf and playground. We had fun eating s'mores by the outdoor fire pit. We will definitely be back
Jul 22, 2021
Had a great time. We will be back. Thanks
Jul 22, 2021
Nice pool nice laundry nice crew
Jul 22, 2021
Very peaceful stay great amenities and location.
Jul 22, 2021
Nicely laid out, relaxing, lots of big shade trees, clean pool, nice playground, well kept, very friendly staff, A+!!
Jul 21, 2021
It was excellent - The cabin was very clean and the soace itself was quiet
Jul 21, 2021
It was an overnight stay but every part of the park was very clean and well managed
Jul 20, 2021
Loved out clean and friendly the park was. Very nice stay for those who want to hang around and enjoy the park.
Jul 20, 2021
People are super friendly that run this place despite how busy they get at times. Very family oriented! Can't wait to go back!
Jul 19, 2021
Great place to stay, friendly and helpful staff. Lots of games to play and a wonderful pool to cool off in. Big pull through sites, with table and chairs where you can watch the deer play. Nice and quite place with lots of room to sit, roam or enjoy a fire. Really clean sites and bathhouse clean easy to get too. Enjoyed the movie night, horse shoes and table tennis. We will go back.
Jul 19, 2021
Beautiful campground. Friendly staff. Fun activities.
Jul 19, 2021
We love staying here. Marc and Star are fabulous as well as all of their crew!
Jul 19, 2021
Love the new sites!
Jul 19, 2021
Love this place!!!
Jul 19, 2021
Lots of stuff to do for the kids. Nice play ground, a little train ride around the campground, a fun activity/toy room for them to play in, put out golf was fun and the pool was nice and one night they played space jam by the pool. The only complaint I had was the sites were really close together. Staff was awesome and super nice
Jul 19, 2021
We stayed in a cabin for the first time. Loved it!!! The beds were comfortable and the cabin was really clean. We will be renting cabins again. Love Star and Mark! They also have the greatest people working for them.
Jul 19, 2021
Wonderful stay first stay at this campground and was very pleased with the atmosphere and the amount of activities for the kids to do at the camp! It was a wonderful stay and will definitely be booking agin and coming soon! The owner is a good down to earth guy and the staff is helpful and kind!
Jul 19, 2021
The owners are awesome! Cute little personal touches all over the place! Pool is the cleanest of all the KOAs we stayed at from Ca across the I-40.
Jul 18, 2021
Our family of 4 loved our stay at the camp site with the pavilion. We loved the ease of hanging our hammock and using the porch swing. The pool was wonderful and the bathrooms were nice and clean. Loved the cafe ice cream etc. Workers worked nonstop and always friendly and helpful. The gravel tent site was great for rainy weather to keep the tent floor dry.
Jul 18, 2021
Wonderful service, awesome owners. This campground has tons for kids to do, including swimming, arts and crafts, bingo, movie nights in the pool and more. The new RV spots are amazing and roomy! We love the deck space. Thank you KOA!
Jul 14, 2021
Okay campground. Owners went above and beyond in getting us a pallet and rug at our wet site!
Jul 14, 2021
Peaceful getaway. I love all the updates to the Paris Landing KOA. It is our favorite place to getaway. Lots of changes in the last 15 years. It just keeps getting better. We stayed in a deluxe cabin this time and it was very nice. We plan on coming back in September.
Jul 13, 2021
Great people and very friendly.clean campsites
Jul 13, 2021
this campground just keeps getting better and better
Jul 13, 2021
Amazing as always. Marc and Star are so friendly and helpful. Mike works hard to help keep the campground clean and beautiful.
Jul 13, 2021
Wonderful! The site was clean and lots of fun activities for the weekend.
Jul 12, 2021
Our stay was great. The pool was clean, the staff was very friendly, and all around this was a peaceful place. I would definitely recommend this place!
Jul 12, 2021
Great Staff and hospitality.
Jul 09, 2021
We had a great 4th of July weekend with you! I was in B6 and I would recommend taking the crown out of the pull through spots gravel. Also this particular spot needs gravel laid between b7 and b6, to allow the step out of a travel trailer to not be down hill. Bring the area in front of tree up level with the pull through for b6. Lots of skinned knees for my kids entering and leaving camper
Jul 09, 2021
Excellent location, activities and awesome staff.
Jul 08, 2021
It was our first time at Paris Landing and it was a wonderful experience. The staff was very kind and helpful. My family enjoyed all the activities especially the pool. The cabins was nice and clean. We are planning another trip back there very soon.
Jul 24, 2021
It was very good, pleasant experience, quiet, and peaceful and beautiful green lush grounds with a lot of trees. Everything was clean, pleasant and no issues. One has to watch out for ticks in this part of the country during warm season, so if one decides to tent-camp they'd likely need a repellent. Lots of nature and recreation around right within a short drive, woods and big Kentucky Lake.
- MountShasta011 on Trip Advisor
Jul 24, 2021
Wonderful stay. First time staying at KOA campground and if others are anything like this one we will surely stay again. Staff were extremely friendly and the grounds were very well kept. The restrooms were extremely clean along with the pool. Thank you for such a great time.
- Patricia Streck on Google
Jul 24, 2021
This place was great! The cabin was very clean and well kept and the site was quiet. Definitely recommend
- Dave Drozdz on Google