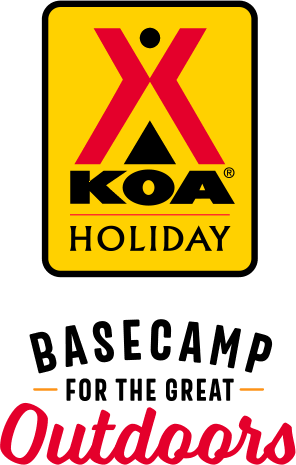 KOA Holiday Campgrounds
Whether you're exploring the local area or hanging out at the campground, KOA Holidays are an ideal place to relax and play. There's plenty to do, with amenities and services to make your stay memorable. Plus, you'll enjoy the outdoor experience with upgraded RV Sites with KOA Patio® and Deluxe Cabins with full baths for camping in comfort. Bring your family, bring your friends, or bring the whole group – there's plenty of ways to stay and explore.
KOA Holidays Feature:
RV Sites with a KOA Patio®
Deluxe Cabins with full baths
Premium Tent Sites
Group meeting facilities
Directions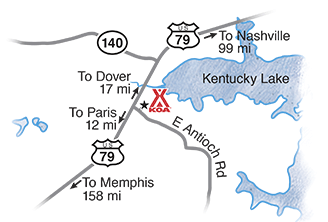 Traveling Northeast on US Route 79 from Paris, TN to 6290 E. Antioch Rd: turn right on E. Antioch Dr, drive 1/4 mile, turn left into KOA driveway. 
Traveling southwest from Clarksville, TN on highway US Route 79: drive 49 miles, cross over Tennessee River/Kentucky Lake bridge, drive 3 more miles, turn left before the Dollar General onto E. Antioch Road, drive 1/4 mile, turn left into KOA driveway.
Traveling East and West bound on I-40: Exit 126 to 641 north to Paris TN, take US Route 79 N 10 Miles, turn right at the Dollar General on E. Antioch Rd, drive 1/4 mile, turn left into KOA driveway.
Get Google Directions
Oct 13, 2021
The Cabins are very cozy and a great alternative to buying a camper. We had a great weekend
Oct 12, 2021
We had a fantastic time! I wish that we were able to come back for the Halloween festivities! We had amazing staff always asking how they could help and wanted to make our stay as best as it could be!
Oct 12, 2021
The people are super friendly there. They could use more gravel in at least row A as spaces get too muddy getting in and out of your RV in the rain. I ruined a pair of shoes with stains because of it.
Oct 11, 2021
Host(owner) and all staff members were very well versed in hospitality, making our 7 night stay extremely enjoyable. The pizza they made for us was outstanding. we plan to stay here again on our next trip to TN and KY.
Oct 11, 2021
Our 2nd time here, great place to camp, staff is friendly and and helpful
Oct 11, 2021
Had a great time. Took two of our granddaughters and there was all sorts thing, activities to keep them entertained. Mark and Star are really great hostesses. The cabin was great, worked out just fine while our camper is in the shop. We'll see you all next weekend.
Oct 11, 2021
Our Grandson was with us, the activities help keep him busy and happy
Oct 10, 2021
Loved it- Friendly staff (Brandy specifically), nice deck site, well maintained, improvements seen throughout and easy access to road. Very family friendly and would be great for kids because of all the activities. I wish we stayed during the summer to enjoy the pool. Only Cons-heard traffic at night from the highway, close together sites, and no bike trails onsite or close by.
Oct 09, 2021
Nice, fun campground
Oct 05, 2021
Perfect time. Y'all have the perfect little getaway. Everyone was so nice.
Oct 05, 2021
Was the best experience we've had at any KOA. They made our rainy weekend worth it with all the activities. My kids absolutely loved it and I never heard once this weekend were boarded as we usually do. The staff was amazing and very personable and extremely accommodating. We will be back for sure. Will recommend to every camping family we know in the Fort Campbell area or anyone passing through
Oct 04, 2021
Very nice! I had to change sites due to medical conditions of myself and my wife. Staff was very understanding and handled it in a very professional manner. All staff members that I had contact with were very polite and professional. Would stay there again when in the region.
Oct 03, 2021
Really liked the deck, chairs n fire pits? Good location
Oct 01, 2021
Very nice and be happy to recommend or stay there again.
Sep 28, 2021
So friendly & clean. Check in was quick & easy, sites were big!!
Sep 28, 2021
It was awesome and exceeded expectations in every way. From the accommodations, amenities and the eager to please always available staff. The grounds and cabins are aesthetically pleasing and activities a plenty. Lights out time is peaceful and quiet.
Sep 27, 2021
This was our second stay at this KOA and we just love it. We got an end spot with a deck and it was so nice. We love the mini golf and disc golf and we even tried out the horseshoes. The staff go above and beyond to make you feel welcome and are so friendly. My only suggestion would be adding a basketball court as I have teenage boys who like to do that when camping, overall though great place!!
Sep 27, 2021
Two day get a way for my wife and I. Had a great time. Mark and Star are great. See y'all in two weeks.
Sep 27, 2021
Loved it. So many things to do. And, super relaxing.
Sep 26, 2021
Great quiet secluded location with a very friendly staff. Sites are spacious and love the patios and fire pits. Can't wait to see the upgrades.
Sep 24, 2021
Friendly, all questions answered, clean, noise level low, nearby interesting parks and historic sites, nearby very good eateries.
Sep 24, 2021
Beautiful location, sites are a bit iffy when it comes to leveling. Overall a great experience.
Sep 24, 2021
Beautiful location, wonderful upgrades that makes a perfect outdoor sitting area with fire pit, super clean facilities. The owners definitely go over and beyond.
Sep 22, 2021
The day we went the campground was really crowded and the camp sites were basically too close for comfort!
Sep 21, 2021
Stayed in one of the deluxe cabins for our anniversary. It was a great little getaway. The campground is always clean with a relaxed atmosphere. The Paris KOA is our destination of choice when we want to get away and relax. Really enjoyed talking to the owner and finding out about plans they are making to make the campground even better. We will definitely be back!!
Sep 21, 2021
This is the best KOA we have stayed at. The staff is super nice and so helpful! They go above and beyond.
Sep 20, 2021
The check in was great and the staff friendly. We would stay again but not in A1 site. Reasons are 1) the site had a bench just across the road that needs to be removed. Tight fit for truck backing back in to hook up.
Sep 20, 2021
The cabin was a good alternative to a hotel room. Provided all of the same amenities as a hotel with the added benefit of not sharing a wall with another quest. The staff was very friendly and helpful. I would definitely stay here again.
Sep 20, 2021
Staff was wonderful and so helpful and friendly! They welcomed us and told us all about the amenities. The campground was awesome and so much to do for the kids. We had a great stay and will definitely be back.
Sep 19, 2021
My Family and I have been coming here for a while now. We have found that this KOA is the best place to come to if you have little ones. There is so many activities for the kids. From the time we set up till we leave the kids are on going constantly. They are having so much fun its hard to get them to stop to eat. The staff is wonderful, Making sure your stay is memorable. Great place to go.
Sep 18, 2021
Very nice place, definitely will be back!
Sep 18, 2021
Nice park, paved streets crushed gravel sites, premium sites with patio and fire pit are the way to go.
Sep 16, 2021
We loved the fact that the sites were pull through. We didn't like the size of the site. There really wasn't enough room for us to use our outside space without being right by the neighbor's sewer hose.
Sep 15, 2021
We always feel like part of the family when we stay here! They always go out of their way to make everyone's stay amazing. It feels like a big family!
Sep 15, 2021
the Campground was clean and there seemed to by a lot of activities being put on by the campground. Nice shade also.
Sep 14, 2021
This KOA was very nice. Clean, nice amenities, and the staff was extraordinarily friendly. We loved everything about it except how close the campsites were. We were right on top of our neighbors.
Sep 14, 2021
This is our favorite KOA in the state of Tennessee! Wonderful campsites, plenty of activities for kids and adults alike, and a super friendly staff! Mark, Star and their staff have really worked hard to make this a campground that we will visit again and again. Top notch!
Sep 14, 2021
Everything perfect EXCEPT the bales-of-cement "mattresses " in the cabin. Thank goodness we're local - enjoyed dinner and a campfire and went home to sleep in a real bed for night 2!
Sep 13, 2021
Fun place! Lots of activities and staff is awesome. It's nice they have a snack bar by the pool — hot dogs, pizza, nachos, etc — convenient to grab a bite. Loved this KOA!
Sep 13, 2021
Very family friendly!!!
Oct 10, 2021
We loved our 8 day stay. New owners have improved the grounds and are adding more sites. So many kid friendly activities like mini golf, pool, large connect four, rental pedal bikes. Staff is very friendly and attentive to any problems. Brandy was friendly even when we saw her off the clock. Dog friendly. Great fenced dog park. I'd go back in a heart beat. Only cons- sites are very close unless you get a deck site. We did and loved the set up. We also heard the traffic noise at night since the campground is close to the highway. Overall well worth a trip and stay.
- Brian Savage on Google
Sep 22, 2021
They deserve more than 5 stars! Beautiful campground, super clean, so many things for children and families to enjoy. Owners go over and beyond to make you feel welcomed.
- Stacy Burnell on Google
Sep 20, 2021
Great hospitality and friendly staff clean restroom and clean grounds
- James Dixon on Google