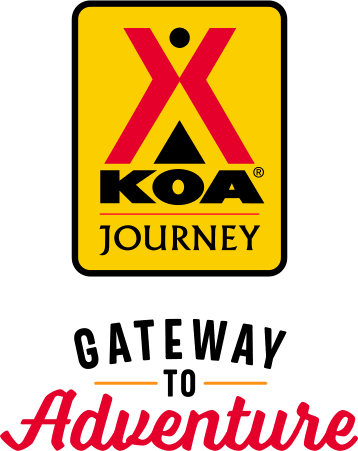 KOA Journey Campgrounds
KOA Journey campgrounds are the perfect oases after a day on the road. Whether it's along the way or a quick getaway, they've got you covered. Located near the highways and byways of North America with long Pull-thru RV Sites, they deliver convenience to the traveling camper. Pull in, ease back and take a load off.
KOA Journeys Feature:
Pull-through RV Sites with 50-amp service
Premium Tent Sites
Well lit after hours check-in service
Directions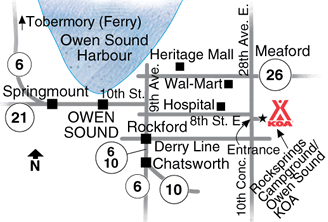 2 miles east of the city Owen Sound. 1/2 mile south of Hwy 26, follow signs.
GPS: input "H488+59F Meaford" in google map.
Get Google Directions
May 29, 2023
Expensive for what you get. Pay extra for kids. Pay extra for visitors and they have to pay to park. Pay extra if you want wifi. The picnic table was cheap wobbly junk.
May 28, 2023
We have enjoyed staying at this site in years past. The cost for sites seems to be increasing each year. The recent decision last year of this KOA closing at the end of September is disappointment. The washrooms are very well kept, suggest they get rid of the plastic flower gardens. Strongly suggest that they spend some money on new picnic benches. Several I have used I found old and very unsafe.
May 25, 2023
We have stayed in quite a few KOA's in the Provinces of Ontario and Quebec. I would say this is one of the best in all respects.. We nope to return again this autumn. The only negative is we wish the enclosed dog park was larger, but this campground is beyond doubt a 5 star KOA…looking forward to returning..
May 25, 2023
Tommy and his family(just a guess) were very nice. Entire place was clean and well kept. The store lacked stuff. Didn't have milk(even a small carton) or things like grocery staples that you might run out of. Nice quiet place.
May 24, 2023
Friendly and helpful staff. Very well maintained grounds. We accidentally damaged the grass during heavy rain and was charged an appropriate damage fee. We had no problem with this as we actually felt quite bad about it. Washrooms were bright and clean, lots of hot water and water pressure.
May 23, 2023
We had a wonderful weekend at the Owen Sound KOA. The weather didn't co-operate, but it was the first trip out, so everyone made the most of it. The kids camping in our group had a blast. We will be back.
May 23, 2023
We enjoyed our stay. Everything is well kept and very clean. We were on site 30 and our friends were site 29. Due to heavy rains, the sites were a little bit muddy. The only improvement I would suggest is some new gravel to alleviate the mud. Great place to stay. Thank you!
May 23, 2023
You can tell this is a family owned camp site with only the family of 4 working on it. They are very friendly, and the camp ground was very spacey. Though it felt like a regular camp ground and not what you would expect of a KOA. The pool was not open, and there were no activities put on for the kids. I paid the same amount that I would of paid for a KOA with all the amenities.
May 20, 2023
Good job KOAers
May 19, 2023
Clean, quiet, and the staff are friendly
May 19, 2023
WE LOVE THIS KOA PARK !!
May 17, 2023
Enjoyed our stay..staff very helpful and actually loaned us a longer extension cord..as ours wasn't long enough to plug in our trailer..very clean and quiet as well
May 15, 2023
Stay was good the only thing is there was a few low branchs that wood touch the roof.They should be trimmed before they damage a roof.
May 15, 2023
Or stay was very good
May 15, 2023
Would have been a no brainier to cut the grass on our site before arrival and wash all the bird droppings off the picnic table. We were staying a week. The open wood shed in front of the office needs to be cleaned out. It's piled with garbage and junk.
May 09, 2023
Very nice owners, clean, lovely camp ground! We can't wait to go camping again there this summer
Apr 27, 2023
The site was infested with flies. With staying at other KOA sites I was astounded that instead of free wi-fi you only get 1 hour per day of use and that is quite frankly not enough time if looking for information.
Oct 05, 2022
We are seasonal campers and feel we get okay value for what we pay. Pretty hefty increase to fees for next year. Not crazy that the pool was closed for a whole day for cleaning and it's kind of unreasonable to wait until 11:00 to open. The management team works hard maintaining the property and they have a difficult job looking after the road but it was much better this year than last.
Oct 02, 2022
My husband and I appreciate the dedication and respectful interactions with staff/owners. Also, the natural environment is left alone.
Oct 02, 2022
I am on a seasonal site. No activities for campers. There is a pool and a very small, outdated playground. No sand on volleyball court. Worst problem though is smell of sewage at several sites in upper area. Bathrooms are always clean. Grounds are well-kept although grass cutting around trees could be improved. Some communication difficulties as owners first language is not English.
Oct 02, 2022
Neat and clean- owners were excellent. Would differently go back.
Oct 02, 2022
We really loved it here, it's a great park, washrooms and shower always very clean and the staff work hard to keep the park beautiful and are always there to help, we will definitely come back again!
Oct 02, 2022
Met lots of really nice seasonal people as well as people from several provinces. The staf were friendly and helpful. Kind and in good humour. Look forward to returning next season
Oct 02, 2022
Well kept campground very helpful and nice people. The only thing we disagree with is the paying extra for wifi.
Oct 02, 2022
Rien de spécial à communiquer, il a plu presque tout le long du séjour.
Oct 02, 2022
We do like KOA owen Sound lot sizes good . We are disappointed that the only amenity they have the pool is closed every Wed why .Also they have the shortest season of any park around close Oct1 st most go till after Thanksgiving. The rates are getting very steep so 1 more year then will see.
CAMPGROUND RESPONSE / COMMENTS:
Due to unpredictable weather, Owen Sound KOA closed on OCT 1ST. The temperature just hit 1 Celsius on 2nd OCT, we can't risk the pipe underground. Also we needed time to get the park ready for next season. Thank you for your understanding.
Sep 29, 2022
The staff at the park is very helpful and friendly. The facilities are good and clean. The one issue I saw were that the size of some of the sites and the narrow roads makes it difficult to back a trailer in. This can be disruptive to other campers. Also we happened to experience some rude and loud campers nearby who clearly knew they were making too much noise.
Sep 27, 2022
We stayed on a premium site, was very nice very private. Beatiful view of field, comfortable patio furniture, and loved the concrete patio faux wood finish! However very tight to get into. The fire pit was too deep to see fire, and bag of wood was $17. I think management can work on price of wood.
Sep 27, 2022
Great site across from trout pond...quiet,clean grounds and washroom facility. Friendly person at office. Close to town and surrounding attractions and other towns,Georgian Bay. Fire wood....very expensive!!!!! Great for walking and kids.
Sep 27, 2022
Nice large sites. Pleasant hard working owners. Unusual to pay extra to camp on a w/e. We camp about a 100 nights a year in USA & Canada and 1st time paying extra. Would stay again. It was a great spot to stay while hiking the Bruce Trail.
Sep 24, 2022
We loved the peaceful and quiet setting across from the pond. Great campground and great staff
Sep 22, 2022
the park was clean and staff friendly. I will be coming back. The lot that i had was beautiful with the firepit and the chair with table set that made the holiday very special. thank you
Sep 20, 2022
The campground to me doesn't stack up to KOA standards. We had to have weeds trimmed on our site and my brothers site. For the price I feel it needs a lot of work
Sep 20, 2022
Pull thru sites very close together and no shade. Firewood way over priced. Facilities were clean
Sep 19, 2022
Only stayed one night but site was clean and spacious and staff was friendly
Sep 18, 2022
No security , poor washrooms, safety issues with look lighting around a retaining wall with no fence someone could fall
Jun 01, 2023
Great campground! First time camping with our trailer and we had a blast in spite of the weather!
- Donna Alcott on Google
May 22, 2023
Very nice staff, clean and well maintained park. Will definitely be returning customers.
- Karley Cook on Google
May 21, 2023
Beautiful day to go hiking there.
- Bonni Titgemeyer on Google