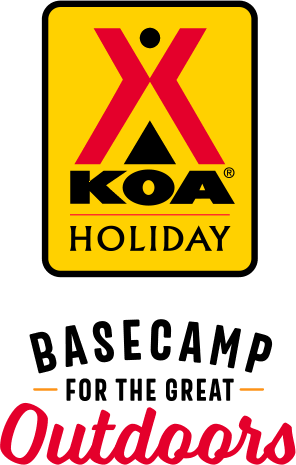 KOA Holiday Campgrounds
Whether you're exploring the local area or hanging out at the campground, KOA Holidays are an ideal place to relax and play. There's plenty to do, with amenities and services to make your stay memorable. Plus, you'll enjoy the outdoor experience with upgraded RV Sites with KOA Patio® and Deluxe Cabins with full baths for camping in comfort. Bring your family, bring your friends, or bring the whole group – there's plenty of ways to stay and explore.
KOA Holidays Feature:
RV Sites with a KOA Patio®
Deluxe Cabins with full baths
Premium Tent Sites
Group meeting facilities
Directions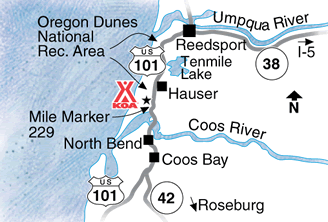 9 miles north of Coos Bay and 19 miles south of Reedsport on Hwy 101, Mile Marker 229. 
GPS: N43.501507, W124.219851
Get Google Directions
Mar 15, 2021
It was nice but we are not sand dune riders so someone else who is would love it
Mar 02, 2021
I booked my stay online. When I showed up the offices were already closed and my envelope with spot info was not there. Ended up not staying tried calling to cancel my stay but no one answered. Another thing that I did not like it was the only KOA of the four others that required tokens to use the showers. I am very pleased with other KOAs that I've stayed in but not this one.
Jan 10, 2021
Too many potholes on entry pathway. Car bottomed out on each of the three speed bumps even though crossed them at extremely slow speed.. Store closed 30 minutes early so not available for us. We were the only campers on January 5th. Too cold and rainy this time of year.
Dec 12, 2020
2nd time. Love it there Everyone was very nice. Look forward to my next visit Thanks �
Nov 28, 2020
The stay was nice. Spacious tent site with water and electricity onsite. 3 starts because : 1. The office closes early ( 5PM). Registration cards will be kept in a box outside with your name on it, but in a dark rainy evening it is difficult to find the campsite. Cant purchase firewood after 5PM too 2. One set of common restrooms for the entire site. They were clean though .
Nov 17, 2020
It was dark, quiet, and restful in my tent site, exactly what I needed. And I appreciate the manager coming to my site to check on me after my arrival. My concern is your map is confusing to read; I recommend make it less busy, and highlight the office for better orientation.
Sep 24, 2020
Everything was clean and taken care of. The store has everything you would need for the most part and the people are friendly and very kind.
Sep 23, 2020
Horrible experience! We arrived at 645pm for a one night stay and no one mentioned the shower scheduling policy and no one was in the office so we didn't get showers. Also the internet policy of having to sign up for a free trial through a third party is ridiculous. Lastly there is no quiet hours enforcement and we were kept up all night by people drinking, shouting and playing loud music.
Sep 13, 2020
Had to delay leaving in the morning because showers weren't open until 9am... very aggravating!
Sep 13, 2020
Under normal circumstances this KOA has a lot of amenities and access to activities for kids. However, the dunes were closed, and despite checking in at 7pm and only staying 1 night, we had to pay $47 for a small tent site with no privacy. No staff enforced quiet hours and we had children run through our camp at 1030pm, a drunk lady talking loudly and playing music until midnight. Not enjoyable.
Sep 12, 2020
We got there and they told us we could not use any propane to cook so we only stayed 2 days in stead of 4 .they charged us 218dollars for two nights. When I booked my stay on line it was 209 for 4 days.when I talked to the lady in charge she was very rude and said there was nothing she could do about it. Also they closed the dunes. Was not good at all
Sep 11, 2020
I stayed the night the fires started all over oregon and just a few miles away. I woke from a nap in my tent to ash falling through the air. There had been no smoke when we arrived. I told my husband we should go and find out what we could about the fire in the area. we were under level 1 evacuation and they wouldn't refund our money. Thumbs down.
Aug 29, 2020
Tent sites were completely sand or rocks, difficult to put in any stakes. The sites are also very close to each other with no barriers between. The bathrooms and laundry facilities were nice, but the bathrooms (both men's and women's) were out of toilet paper for over 12 hours and staff kept saying they'd "refill it later". Also many guests weren't wearing facemasks inside the store.
Aug 27, 2020
Showers are limited by Covid,9:30 am- 6pm, by appointment only. Earlier in the day would be helpful.
Aug 24, 2020
This was the smallest space I've ever camped in and it forces you to camp with strangers. I left two hours after I got there. I had already set up camp and tried to make the best of it, but I drove off and slept in my car instead of staying at this campground.
Aug 24, 2020
Reason for the 3 star is that the tent sites are the FARTHEST from the bathrooms. Also, we had to make an appointment to take a shower (there were 3 of us) they opened 1 shower. I thought maybe it was because there was lots of demand for them. NOPE, no one else had them reserved, so I stood outside till I could take a shower with the 1 they opened.
Aug 18, 2020
I ENJOYED THE STAY I STAYED AT TENT SITE 2 A FEW WEEKS PRIOR AND IT WAS 10 OUT OF 10 AND 5 STARS FOR ME JUST THIS TIME WHEN I WENT THERE MY LAST TIME I WAS IN TENT SITE 55 AND THE GROUND WAS JUST LIKE SUPER LOOSE DUSTY DIRT AND IT WASNT LIKE THAT IN THE TENT SITE 2 IT HAD MORE HARD PACKED GRAVEL AND SOME GRASS TENT SITE 55 WAS JUST REALLY DUSTY AND DIRTY IT WOULD BE MUCH BETTER IF THERE WAS GRAVEL
Aug 11, 2020
I was not impressed with the covid 19 health standards during this pandemic. It was posted everywhere to wear a mask to enter the store, restrooms, laundry room, bounce pad but no one was wearing one and it was not enforced to. Felt like they didn't care about the safety of others and that they didn't want to upset anyone and hurt their business. The campsite was fun for the kids.
Aug 07, 2020
This camp is very dusty due to all the Razor and quad activity going to the dunes. The camp brochure states quiet time at 10pm, yet the quad riders aren't coming back from the dunes until 10-11pm. The campers next to us were very loud until after midnight and no one asked them to quiet down. I had to ask them to shut off their very bright lights. We also heard gun shots 2X there. The staff are g
Jul 21, 2020
The men's washroom smelled awful. Quiet hour rules were ignored; people were congregating til past midnite and talking quite loudly, and some were even reving up their ATVs very late in the nite. And, in this age of COVID-19, there was very little mask wearing & social distancing in this crowded space. And this being in the dunes area (not in a wooded area), expect dust to get into everything.
Jul 20, 2020
Good campsites but a little dusty due to all the ATV activities and the covid changes confused some of the staff because we got different requirements from different staff members but everything worked out okay.
Jul 15, 2020
Very nice staff that were willing to accommodate us last minute. The only downside was that the noise from highway 101 was very loud, but that was only because we were in a tent. The restrooms were very clean and had very nice accommodations
Jul 13, 2020
Check in: The people before me were late checking out. The power box was broken at my site. I wasn't told about shower tokens that could only be given out when the store is open. When I woke, I couldn't shower.
Jul 11, 2020
The dunes were fun and we had a great time at the campground. The staff were very friendly and helpful. The only thing i think could be improved is the showers. Having to get a token everyday and having limited shower time is definitely an inconvenience. I have stayed at other KOAs and have not had to go through the same hassle with the showers.
Jul 10, 2020
Giving it 4 stars only because we were tent camping and it was right next to the dog park and right next to the road. So not the quietest place for tents. But the bathrooms were very clean and the shower was very clean and maintained for the tent campers, so we appreciated that. Also super easy access to the Oregon dunes.
Jul 08, 2020
Campground was clean and there were lots of things for young kids. However, the camping spaces were small and access to showers was limited.
Jul 06, 2020
Even with Covid 19 going on. We had a great stay, employees were kind & they kept the place clean. The camp host, is a hoot! Loved his stickers.
Jun 26, 2020
I booked thru the KOA main website that said NOTHING about excessive noise from constant ATVs and motocross. I am sad you are even listed on the KOA page at all. It cost me time and money to deal with you. Recommend? Are you kidding? I can only hope this will be displayed on the reviews but I suspect they will not allow it. KOAs are peaceful safe places. Not where you can get run over by a kid.
May 26, 2020
Awesome people at a great place, just don't like the long road ride to get to sand. Hard on paddle tires.
Mar 24, 2020
Can't wait to return! As always, great stay- clean camp, hot showers are awesome, and the folks running the place are friendly.
Sep 10, 2019
Rainey but the campsite was great..
Sep 03, 2019
Thought the camp site was very nice clean enjoyable enjoyed the food supplied restrooms and showers nice. Plenty of help when stuck. Only concern is people meaning other campers not watch for newbies or broken down or in process of being towed in the dunes
Aug 19, 2019
This is a great place to stay for RV camping! Not so good for tent camping. The staff was very friendly and work hard at keeping the park patrolled! My tent spot was on the edge of the park by the highway and the traffic sound is loud due to the speed of traffic. It had great accommodations for kids such as a bounce pad, kid only 4 wheeler area, and playground. I saw they had a pet area too.
Aug 18, 2019
It was a nice visit and we loved the Koa, we wished we stayed longer
Aug 18, 2019
I came, I stayed, I left
Aug 18, 2019
Great staff, great service. ATV scene is not for Us but if that's your thang, this is your place. Nonetheless, we liked our stay here. Close to beaches etc.
Aug 07, 2019
We had a terrible stay at this particular location. Kept awake by rowdy people until after midnight and when we asked for a refund for the 2nd night (as we had no interest in staying on), we were told that we absolutely could not have a refund as it was "company policy" to give 2 weeks' notice for cancellation. The manager, Angelina was incredibly rude. We'll be contacting head office about this.
Jul 28, 2019
great place to stay, already booked for next year. One suggestion, the common cook and clean area was never cleaned the entire week i stayed. The same cheerios and food was there monday and still there friday when i left.
Jul 22, 2019
Nice park. Nice kids area, very clean park. We didn't like the token for 8 minutes in the shower but overall a nice place
Jul 22, 2019
Very noisy during the first hour of quiet time.
Jul 16, 2019
Very clean and updated facility! Campgrounds are nice, and lots of things for kids to do. The rec hall is awesome
Jul 14, 2019
We stay here every year with no problems. This year was terrible. New "rules" that are not clearly posted, the cancellation policy is absolutely pathetic. We got in touch with Steve the owner and he made it stay totally better. The workers have attitudes and our stay was nothing like it has been in the past
Mar 27, 2021
Love it. Coming back this summer.
- Jennifer Allee on Google
Mar 26, 2021
We've enjoyed years past going here! Hopefully they can answer some questions that I have. Will showers be open summer 2021? Also how big is spot 29? Will a 35ft trailer fit. It appears on the website that the smallest spots are 35ft????
- Bettina Madsen on Google
Mar 26, 2021
This place is great for all ages they have dune access so you can take your ATV dirt bike or side by side out. There is travel trailer and RV sites tent sites cabins deluxe cabins a couple of train cars that you can rent. They also have Steve's rentals or you can rent a quad or side by side. the campground has a convenience store with everything you can think of that you need. Check it out and enjoy!
- Hayden M on Google