Oregon Dunes KOA Holiday Recreation
Unless noted, activities listed are scheduled from Memorial Day to Labor Day.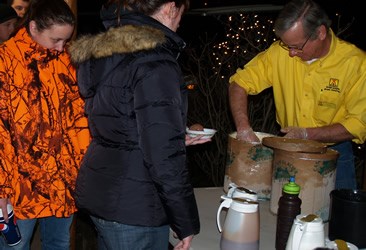 Ice Cream Social
Memorial Day Weekend and June 15th to Labor Day ice cream social is the event to enjoy at Oregon Dunes KOA.  
From 7:00 p.m. to 7:30 p.m. every night, you can enjoy ice cream social time.  
We feature more than 10 toppings to put on your chocolate and vanilla ice cream for $4.00 person.  
Bring your own bowl and spoon and join the line.  Rain or shine, this is a must not miss event at ODKOA.  
During the off season featured holidays and some weekend nights also have ice cream social.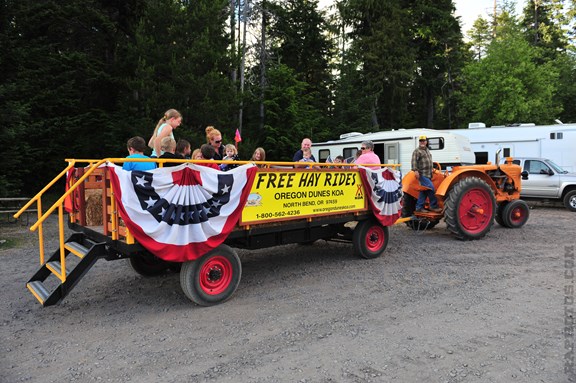 Hayrides
Fritz, our previous owner, was a huge antique tractor buff. When he retired, he left us a few of his old tractors and made us promise to keep doing the tractor rides. 
He loved doing the tractor rides. We have hayrides every night from Memorial Day and June 15 to Labor Day depending on weather. Paddle Boats & Fishing
While staying at our KOA you can take our paddle boats out on the pond and relax on the water or enjoy catch and release fishing from the dock.
Easter Egg Hunt
April 20, 2019
Join us for our annual Easter eggs hunt.  The Easter Bunny stops by every year and leaves Easter Eggs for our young campers.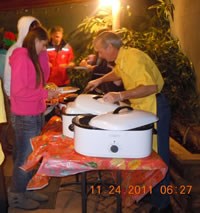 Thanksgiving at ODKOA
November 28, 2019
Thanksgiving is special at the ODKOA!  Treat your family on this special holiday and let us do the cooking.  We serve turkey, ham, mashed potatoes, stuffing, gravy, and a hot vegetable.  We ask our campers to bring a cold dishes to share with other guests.  Book early as we have limited availability. Labor Day Weekend Activities
August 31- September 1, 2019
As summer ends celebrate with friends and family by enjoying live music, great food and relaxing.
SATURDAY
Movie Night in the Wreck Hall, concessions available
SUNDAY
Spaghetti Feed
Live Music Memorial Day Weekend Activities
May 25 - 26, 2019
School is coming to an end and summer is just around the corner. Celebrate the official start of our summer season here at the Oregon Dunes KOA!
SATURDAY
Movie Night in the Wreck Hall, concessions will be available
SUNDAY
Pancake Breakfast 4th of July Activities
July 4 - 5, 2019
Come celebrate our independance with planned activites here at the Oregon Dunes KOA
THURSDAY
BBQ Lunch offering hot dogs, chips, and a soda float
FRIDAY
Bingo
Movie Night in the wreck hall, concessions available