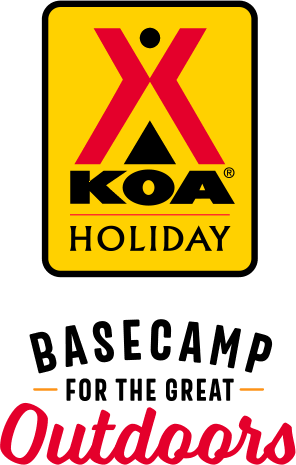 KOA Holiday Campgrounds
Whether you're exploring the local area or hanging out at the campground, KOA Holidays are an ideal place to relax and play. There's plenty to do, with amenities and services to make your stay memorable. Plus, you'll enjoy the outdoor experience with upgraded RV Sites with KOA Patio® and Deluxe Cabins with full baths for camping in comfort. Bring your family, bring your friends, or bring the whole group – there's plenty of ways to stay and explore.
KOA Holidays Feature:
RV Sites with a KOA Patio®
Deluxe Cabins with full baths
Premium Tent Sites
Group meeting facilities
Directions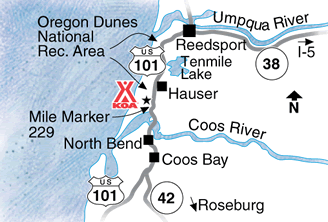 9 miles north of Coos Bay and 19 miles south of Reedsport on Hwy 101, Mile Marker 229. 
GPS: N43.501507, W124.219851
Get Google Directions
Sep 20, 2021
This KOA is dusty and noisy. If you're into riding your ATVs this a place for you. If you want quiet serenity it is not the place for you. We wanted to relax after traveling. The ATVs were revving until10PM or later at night and going again by 7AM in the morning. Another low point is having to use a token to get an 8 minute shower. Other than that the staff was nice and we had a good spot to park.
Sep 20, 2021
The first 3 nights where amazing I love being able to ride from the camp site to the dunes. The last night though was extremely frustrating two family's where to lazy to take there kids down to the play area instead they raced though the camp ground making laps after laps. More than once they slid out into people camp sites words where exchanged. The parents said kids where just being kids
Sep 20, 2021
Nice park. Not into sand dune buggies so was dusty. Noise was tolerable. No noise at night. This is a great place for dune riders.
Sep 20, 2021
All good thanks
Sep 19, 2021
First time here. Loved it! Our boys stayed in your cabins which were awesome! Fun family atmosphere and the front desk girl was great!
Sep 18, 2021
Previous owners kept the grounds store and restrooms much cleaner. Trash was picked up multiple times a day, how ever the recycle bin over flowed for 3 days before it was emptied.
Sep 17, 2021
This is the perfect place to see the Oregon Dunes National Recreation Area, especially if you have your own dune buggy or want to rent one!
Sep 14, 2021
The resort had all the amenities that we like. Our complaint is that the staff was not friendly. I don't think we saw a smile on anyone the whole time we were there. We found this highly unusual.
Sep 14, 2021
Nice stay. Especially friendly staff that went out of their way to help resolve internet access issues!
Sep 14, 2021
Very noisy with all the dune buggies but they make that clear on their website. However, it looks like a fun place for the kids.
Sep 13, 2021
Friendly/helpful staff. Grounds not as nice or clean as they used to be. Shrubbery and trees need to be trimmed back so they don't scrape trailer, rhododendron planters in dire need of care/water. Dog park in poor ground condition. Stayed in early September, so perhaps lack of watering.
Sep 13, 2021
Oregon state has two crisis going on #1Covid #2 Fires The entire state has a burn ban, which your camp ground doesn't follow and we're in a serious pandemic, one in which Oregon state has a Mask mandate another which you don't seem to follow! We will never return and a letter is being sent to your governor ! Hopefully you put my comments on display! I really want other to see how unsafe you
Sep 12, 2021
Staff was great but the grounds are not being maintained as well as in the past.
Sep 12, 2021
Great place to stay with direct access to the dunes. The deluxe cabin was very comfortable. We hope to come back for more riding the dunes.
Sep 12, 2021
Loved it here very convenient location to the dunes and the store was well stocked and bathrooms and showers were clean. Staff was great as well. Only wish the laundry was open 24/7 instead of just during store hours. We will be back next year!
Sep 09, 2021
Had a great time with 8 other couples riding the dunes.
Sep 09, 2021
GREAT.... ALL EMPLOYEES VERY FRIENDLY
Sep 08, 2021
All office staff and outside staff were great and friendly
Sep 08, 2021
The kids loved the train rides and the driver was so friendly and went out of his way to make sure the kids had fun. Friendly staff and they worked hard to keep the common areas clean which was very nice. We are looking forward to returning next time. Thank you for the great camping experience.
Sep 08, 2021
This was our first camping experience in a while. We had no idea that it was completely based around ATV's. With the ATVs coming in and out at all hours we got no sleep. I asked front desk if we could leave early and get a refund. The answer was no. We packed up and left anyways. This is a great campground if you are an ATVer.
Sep 07, 2021
So awesome, very great service and nice host �
Sep 07, 2021
Great service and facility.
Sep 07, 2021
Overall a great stay. Clean facility. Loved the events in the evenings as well! We did have some very noisy neighbors that were yelling at about 2am, but they left after a short while and we were able to go back to sleep.
Sep 07, 2021
Everything was great. My only complaint is quiet hours are not enforced. We were awake until 2:00 am. People coming and going on machines Etc.
Sep 07, 2021
We stayed in the new "under construction" dry area. Love being at the koa. Can't wait for it to be completed! Always well Kept and a security guard roams around!
Sep 06, 2021
We absolutely love KOA coos bay
Sep 05, 2021
Always love staying here
Sep 04, 2021
We stayed for an entire week at this KOA campground and we absolutely loved it. All the workers worked hard to keep the campgrounds very clean and emptied the trash every day. Keep up the good work!!
Sep 03, 2021
Only spent the night there. It's a great location to ride the dunes.
Sep 02, 2021
We have enjoyed the stay at the KOA Organ dunes,
Sep 01, 2021
It was a nice clean campground.
Sep 01, 2021
If you're into dune buggies and sand this is the park for you. If you're not crazy about listening to loud engines running for hours at a time. Not.
Sep 09, 2021
It was good, only complaint was one of the trailers ran his generator for 24 hours, other than that it was great.
- Vickie on Google
Sep 07, 2021
Lots of room and outstanding customer service.
- Mike Will on Google