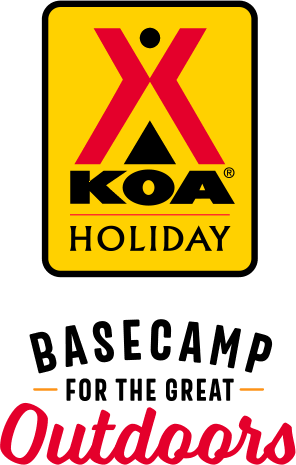 KOA Holiday Campgrounds
Whether you're exploring the local area or hanging out at the campground, KOA Holidays are an ideal place to relax and play. There's plenty to do, with amenities and services to make your stay memorable. Plus, you'll enjoy the outdoor experience with upgraded RV Sites with KOA Patio® and Deluxe Cabins with full baths for camping in comfort. Bring your family, bring your friends, or bring the whole group – there's plenty of ways to stay and explore.
KOA Holidays Feature:
RV Sites with a KOA Patio®
Deluxe Cabins with full baths
Premium Tent Sites
Group meeting facilities
Directions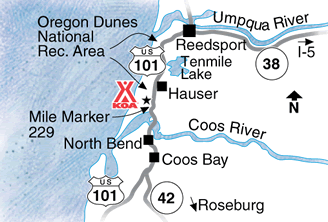 9 miles north of Coos Bay and 19 miles south of Reedsport on Hwy 101, Mile Marker 229. 
GPS: N43.501507, W124.219851
Get Google Directions
Jul 26, 2021
Oregon Dunes KOA is always a great place to stay, a lot of fun to have
Jul 26, 2021
Great stop over. Fun ATV rental for kids
Jul 26, 2021
Low water pressure at site.
Jul 25, 2021
Coming back for a third time next year and staying 12 days! Loved it! Great staff and clean facilities!
Jul 25, 2021
Very terrible stay in almost thirty years I've been coming down here I've never seen it so bad not only that the people working in the office said there was no spots for the night so they put me up in some $50 dry camp where I slept in my car and I get up the next day and you've got plenty of sites were open. Worst stay here for sure. Might not come back
Jul 23, 2021
Nice space very helpful staff
Jul 23, 2021
This is the place to be if you have your own ATV toys! You can ride in and out of the campground to get to the dunes area. We were just passing thru for a night.
Jul 22, 2021
For ATV activity it's a great place to stay. However, there should be a parking area for the atv's so they don't drive through park. Lastly, the 3 days we were there the mens restroom was never cleaned. With all the atv's a dust control plan would be nice.
Jul 22, 2021
No overnight management and people were partying till 3 am in the morning
Jul 22, 2021
I give 4 stars because this is the 2nd time we've stayed there and we didn't know until another guest told us as we were checking out that there was a game room with Ping pong and shuffleboard, TVs for the kids. It would be nice if at check in the representative would let people know. Other then that everything was great.
Jul 21, 2021
The staff were amazing, very organized, and willing to assist us in any way. The facility could use a little maintenance, but overall we had an amazing stay. We have renewed our reservation for next year.
Jul 21, 2021
Because of the proximity to the Oregon Dunes ,this KOA has a lot of OHV camping. I was amazed at how relatively quiet and clean the campgrounds were. Kudos to the employees and management there!
Jul 21, 2021
Been camping at koa campgrounds for a few years now always happy when we come to the Oregon Dunes koa clean and friendly staff
Jul 20, 2021
Excellent location. Loved staying there. Only problem is the campers who do not observe quiet times.
Jul 20, 2021
Noise with atv's and gravel. Not a nice place
Jul 19, 2021
The office staff were not friendly. They store was dirty and dusty. The Rev Hall was a mess. Axe Throwing was closed because some broken SxS were stored in there? This resort charges top dollar for low dollar accommodations. We have stayed here many time before and it is going downhill. There is too much focus on expanding and no focus on improving.
Jul 19, 2021
The coffee pot i didn't use it was Really dirty.
Jul 18, 2021
UTV's and side-by-sides we'll have a blast there sand dunes everywhere riding along the beach was great
Jul 16, 2021
Very helpful staff, moved us to a different site so we could fit better after buying a newer/bigger MH after making reservations
Jul 14, 2021
Offered electric and water only. Did not say this was in area OUTSIDE the KOA. Said they had bathrooms there but was a poorly cared for outdoor John. Gal at desk did not tell us to go back out entrance and had to finally ask at atv rental
Jul 13, 2021
Landscaping and condition of the property are exactly what I would expect for an "ORV-centric" campground. Bathrooms have not been "clean" in either of our last two visits (May and July 2021). Garbage can was overflowing ever time I went in the bathroom. Toilets and urinal were always very dirty. No ice cream social? Come on!! Also one staff member who seemed to leave his manners at home...
Jul 12, 2021
Didn't get our shower tokens like said. Had to go remind them about the wood I bought. Then you have a kid area for the kids to ride. And a man trying to argue with my son his bike was bigger then said. And the sign says 13 AND UNDER!!! my son is 13 and was learning to ride his new bike which was NOT no 400 or 450. Well be finding other camps to stay in.
Jul 12, 2021
GREAT place to stay if riding the Dunes. But it's noisy (most campers brought their own ATVs). So, if you're wanting an active, sporting stay, this is the place. If you just want to camp and enjoy nature... not so much! LOL! Staff was friendly.
Jul 12, 2021
Everything was great. Loved our space
Jul 12, 2021
Due to the mixture of small overpacked huts the guests you put in the huts do not obey any rules. They party all night. You may try to control them, but they do not listen to to the age you rent to. Not fair to the RV world guests !!
Jul 12, 2021
Loved the camp ground and cabin we stayed in, very friendly staff! Grounds were very well maintained.
Jul 11, 2021
customer service was substandard and we would not return to this KOA
Jul 11, 2021
Was amazing! Everyone was so friendly! Great time and stay!
Jul 11, 2021
This is a nice place if you like sand dunes. However if you like to wash up after activities bring a timer and limit you use to 1 shower. Yes, 1. We would have never book a KOA with any limitations to restrooms or showers. I can understand hours of pool or laundry use but not limit showers to 1 per day. I think you should update your policies and amenities description to reflect these limitations
Jul 08, 2021
Kid friends, really nice staff, nice store with good selections.
Jul 07, 2021
Not our thing. Too many 5 wheeler
Jul 06, 2021
4th of July weekend. Greta neighbors and hosts. Super clean and we had a great patio spot. Even got a ride back from the main store from Steve. :)
Jul 06, 2021
Bathrooms dirty. Staff was nice
Jul 05, 2021
The lady in the office was very rude she wasn't helping anyone every time I went in she was rude to others and the girls that was working there I have never stayed at a KOA that they were not friendly and help full
Jul 05, 2021
We got a phone call HOURS after check out asking when we were going to pick up our truck and trailer from our campsite. Thanks, but it wasn't our equipment parked in the spot. Usually love KOAs. This one is my least favorite.
Jul 04, 2021
This is a fabulous place for kids and grown-ups who love dune buggies! They even have "little dunes" for "little kids" on "little dune buggies"......so cute! (A company just outside the entrance to the KOA rents buggies.) We were just passing through so we only spent one night here. The dune buggy noise was quite loud for us but folks abided by the quite times which was nice.
Jul 03, 2021
We had a great time and there insomuch do atthe KOA
Jul 03, 2021
The activities available are great and the camp kitchen is a helpful addition but the cleanliness of the bathrooms and customer service was very poor. The bathrooms were largely unusable bc they were so dirty and they weren't cleaned at the time posted.
Jul 02, 2021
The Oregon Dunes KOA were clean and family friendly. The perfect place to stay while riding out in the dunes. We reserved a cabin, which included a mini fridge, microwave, and outdoor BBQ pit. There were communal free showers, a store, playground, and kitchen sinks. We were required to purchase wood on site but it wasn't expensive. Access to dunes was perfect, under a 3 min ride.
Jul 20, 2021
We had such a great stay here. Staff was very nice and helpful, offering dinner ideas and store guidance, shower coin help, brought us firewood, stopped to see if we needed anything. Bathrooms were clean, showers were secure and one person stalls with a coin that gave 8 minutes which was plenty of time. Lots of little activities. Loved the wagon tent spots. Had a variety of ways to stay. We stayed in a tent spot and paid extra for the water and power which was totally worth it. Little store had lots of stuff to purchase. Location was within a short distance to plenty of activities in the area. I would have preferred less noise from ATVs coming in and out way past the quiet hours but it wasn't too much trouble. Overall, very impressed. Wish we would have been able to stay longer.
- Angie Cronin on Google
Jul 19, 2021
Great place
- David Drake on Google
Jul 17, 2021
Right next to ATV rental places, Can get a little dusty... Pretty good as a Basecamp
- N J on Google