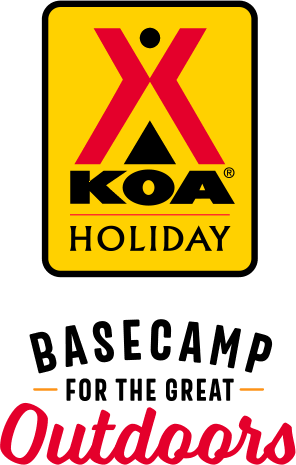 KOA Holiday Campgrounds
Whether you're exploring the local area or hanging out at the campground, KOA Holidays are an ideal place to relax and play. There's plenty to do, with amenities and services to make your stay memorable. Plus, you'll enjoy the outdoor experience with upgraded RV Sites with KOA Patio® and Deluxe Cabins with full baths for camping in comfort. Bring your family, bring your friends, or bring the whole group – there's plenty of ways to stay and explore.
KOA Holidays Feature:
RV Sites with a KOA Patio®
Deluxe Cabins with full baths
Premium Tent Sites
Group meeting facilities
Directions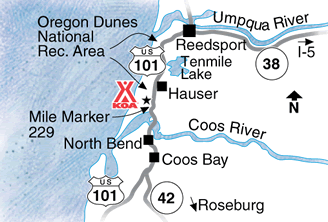 9 miles north of Coos Bay and 19 miles south of Reedsport on Hwy 101, Mile Marker 229. 
GPS: N43.501507, W124.219851
Get Google Directions
Apr 01, 2021
the KOA at Oregon Dunes is well run, very clean and the staff is very professional and try to accommodate the guest.
Mar 31, 2021
Spacious spots, and the workers are super nice, friendly and amazing! Thanks for a pleasant stay
Mar 30, 2021
We were overcharged for the number of campers in our site. The girl that checked us in did not ask how many in our site. I did not see the receipt because they email it. When I saw that I was over charged and did not receive the veteran discount the assistant manager promised I went to the office and explained what happened. They said they could not issue a credit.
Mar 29, 2021
Great place to stay, family friendly and clean.
Mar 28, 2021
Many very muddy sites. Hopefully next time we're back they will have layed down gravel.
Mar 28, 2021
Could use more larger spaces. Hours were a little difficult for accommodation. Store could use a.larger assortment of goods.
Mar 27, 2021
Staff had a very hard time booking everyone's spots and double booked.
Mar 25, 2021
We were put in a space that should never have been used in the rainy season without being graveled. The day we came in was great, but overnight it rained and when we awoke my outside items where in a swimming pool. Once water soaked in it became a very large mud pit. I asked if I could get some buckets of gravel to spread around but got nowhere. Staff was friendly.
Mar 24, 2021
Great location. Easy access. Grass appeared to be wearing out in many sites.
Mar 20, 2021
I stay here often. Over the past year with all the travel through the park, the gravel is virtually gone in most spots and if it rains it turns to mud and a pond. I have spoke with other guests about this issue. They agree, you guys need to dump more gravel in the park. I noticed during the stay you just made the upper area solid rock base.... I recommend you doing this in the park too.
Mar 19, 2021
The space was fine but the garbage cans were over flowing, even the one in the dog run. Showers were closed using the China flu as an excuse, stupid excuse to be lazy. The restrooms were clean. The road in needs to be graded badly, many large chuck holes. The dunes access was easy. As guest we are asked to keep our speed limit to 5mph while the employees rip around on their ATV'S at any speed.
Mar 10, 2021
I just wish they would have placed us somewhere else that wasn't a giant sandy mud puddle. There was many open spots. Needs more sand or small gravel. Other than that this KOA is nice and close to the dunes. Braaaap
Mar 01, 2021
the facility is clean and well kept. the access to the dunes is excellent.
Feb 25, 2021
A treeless parking lot of mud with noisy machines throttling around me till all hours. Not my favorite KOA.
Feb 23, 2021
Exceptional staff and facilities everything was as expected I have recommended this park to all my friends
Feb 20, 2021
Very peaceful. Great accommodations and the staff was very helpful and courteous.
Feb 19, 2021
They're charging full price and not allowing people to use all the amendments. The customer service has gone down hill. They want to charge a $10.00 fee to reserve a certain spot when the park isn't even 20% full. They won't give your money back if something unfortunate happens and you are unable to continue to ride. They will lock the door to the laundromat even if people have clothes still dr
Jan 25, 2021
Very friendly staff, park is super clean. We had a blast! We will return.
Jan 22, 2021
The place is a little run down. I remember it being cleaner overall. Multiple lights did not work on the driveway into the KOA including at the RV spot we stayed at. Someone else was in our spot when we arrived, there was no welcome packet as mentioned. The restrooms were not the cleanest. The overall appearance of the building was dirty. It would not take much to make it shine again.
Jan 20, 2021
Clean and Quiet Will Return Someday!
Jan 20, 2021
We arrived at 4 P.M. We needed to use the laundromat, but the store employee said that the store and the laundromat closed at 4:30 P.M. We asked if she could extend the time to let us do our laundry, but she said that she had to set an alarm for the laundromat (Are they afraid that someone might steal a washing machine?). Not a very user friendly KOA
Jan 04, 2021
Nice campground... great having full hookup when weather turned nasty!
Jan 04, 2021
Camp site was perfect ! Short trip down the road for dune access. With full hook ups can't be any better !
Dec 29, 2020
staff very helpful and friendly,we booked for Labor day already
Dec 15, 2020
We have always had a wonderful time and have stayed at this KOA for the last 20 years. When we arrived we discovered that our shower and hot water heater was not working in the trailer. When we told the office that our shower is broken and asked to use the showers we were told we couldn't use them because they were for the tent sites. We had to go 5 days without a shower.
Dec 13, 2020
We had a nice tree that we could light up for the couple of nights we were there. They had a super cute playground, bounce pad and very nice bathrooms and laundry room. The staff was very nice and complementary of our set up.
Dec 03, 2020
Very clean, peaceful, and comfortable.
Dec 01, 2020
Steve Jones is the best! My family has been going to your camp ground for years, and I have never had a host as welcoming, professional, friendly, and accommodating as Mr. Jones. We truly appreciate his professionalism and demeanor. It's my hope you can entice him back in the near future! Sincerely, Herb Culver
Dec 01, 2020
The people running the office are not all on the same page.
Nov 30, 2020
Great staff they take great care of everything and everyone
Nov 30, 2020
Too muddy when it rained, but great access to the Oregon Dunes. Great camp Host.
Nov 30, 2020
The camp host are simply the best!! You can tell they love what they do cleanest camp ground I have stayed at even during this COVID crap they make the best will return again and again FYI we had a full camp and they kept up on everything
Nov 30, 2020
We had a good time. The park host was amazing with all the kids. Store was well stocked. Hookups were offset weird in are sight but we made it work. TV reception wasn't to good at first. Other than that everything was great.
Nov 26, 2020
It's always an awesome experience everyone is very helpful the only place we go on vacation
Mar 27, 2021
Love it. Coming back this summer.
- Jennifer Allee on Google
Mar 26, 2021
We've enjoyed years past going here! Hopefully they can answer some questions that I have. Will showers be open summer 2021? Also how big is spot 29? Will a 35ft trailer fit. It appears on the website that the smallest spots are 35ft????
- Bettina Madsen on Google
Mar 26, 2021
This place is great for all ages they have dune access so you can take your ATV dirt bike or side by side out. There is travel trailer and RV sites tent sites cabins deluxe cabins a couple of train cars that you can rent. They also have Steve's rentals or you can rent a quad or side by side. the campground has a convenience store with everything you can think of that you need. Check it out and enjoy!
- Hayden M on Google