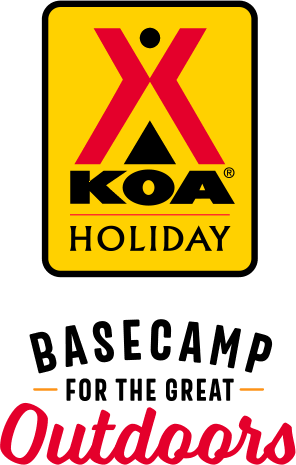 KOA Holiday Campgrounds
Whether you're exploring the local area or hanging out at the campground, KOA Holidays are an ideal place to relax and play. There's plenty to do, with amenities and services to make your stay memorable. Plus, you'll enjoy the outdoor experience with upgraded RV Sites with KOA Patio® and Deluxe Cabins with full baths for camping in comfort. Bring your family, bring your friends, or bring the whole group – there's plenty of ways to stay and explore.
KOA Holidays Feature:
RV Sites with a KOA Patio®
Deluxe Cabins with full baths
Premium Tent Sites
Group meeting facilities
Directions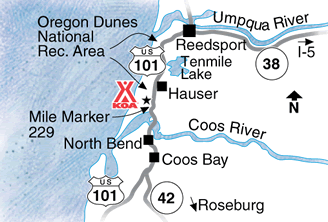 9 miles north of Coos Bay and 19 miles south of Reedsport on Hwy 101, Mile Marker 229. 
GPS: N43.501507, W124.219851
Get Google Directions
Jan 20, 2021
Clean and Quiet Will Return Someday!
Jan 20, 2021
We arrived at 4 P.M. We needed to use the laundromat, but the store employee said that the store and the laundromat closed at 4:30 P.M. We asked if she could extend the time to let us do our laundry, but she said that she had to set an alarm for the laundromat (Are they afraid that someone might steal a washing machine?). Not a very user friendly KOA
Jan 04, 2021
Nice campground... great having full hookup when weather turned nasty!
Jan 04, 2021
Camp site was perfect ! Short trip down the road for dune access. With full hook ups can't be any better !
Dec 29, 2020
staff very helpful and friendly,we booked for Labor day already
Dec 15, 2020
We have always had a wonderful time and have stayed at this KOA for the last 20 years. When we arrived we discovered that our shower and hot water heater was not working in the trailer. When we told the office that our shower is broken and asked to use the showers we were told we couldn't use them because they were for the tent sites. We had to go 5 days without a shower.
Dec 13, 2020
We had a nice tree that we could light up for the couple of nights we were there. They had a super cute playground, bounce pad and very nice bathrooms and laundry room. The staff was very nice and complementary of our set up.
Dec 03, 2020
Very clean, peaceful, and comfortable.
Dec 01, 2020
Steve Jones is the best! My family has been going to your camp ground for years, and I have never had a host as welcoming, professional, friendly, and accommodating as Mr. Jones. We truly appreciate his professionalism and demeanor. It's my hope you can entice him back in the near future! Sincerely, Herb Culver
Dec 01, 2020
The people running the office are not all on the same page.
Nov 30, 2020
Great staff they take great care of everything and everyone
Nov 30, 2020
Too muddy when it rained, but great access to the Oregon Dunes. Great camp Host.
Nov 30, 2020
The camp host are simply the best!! You can tell they love what they do cleanest camp ground I have stayed at even during this COVID crap they make the best will return again and again FYI we had a full camp and they kept up on everything
Nov 30, 2020
We had a good time. The park host was amazing with all the kids. Store was well stocked. Hookups were offset weird in are sight but we made it work. TV reception wasn't to good at first. Other than that everything was great.
Nov 26, 2020
It's always an awesome experience everyone is very helpful the only place we go on vacation
Nov 20, 2020
Had a great time and the staff was amazing, even in the ridiculous "covid" times we experience. thank you for making our stay enjoyable and for allowing our kids to experience the Oregon Dunes and some normalcy! You were awesome and we will be back in 2021!
Nov 16, 2020
Nice place. Clean. Not very many people which made us very happy. The ones who were there were very respectful for noise.
Nov 02, 2020
They went over and beyond to make it a great vacation!!
Nov 02, 2020
Once again great job
Oct 31, 2020
Excellent place. Great for families. Very clean facilities. Friendly staff. We love ATVs and have our own but some places stay loud all night long. Not here. Very quiet at night and freeway noise was low even with proximity to highway. All in all great place to take the family.
Oct 30, 2020
only bad part is them driveing around this kifdung train that great for the kids but they need to water down the road to kept some of dust down it bad enough with atv, utv ,wheeler. bladting in and out on thse dusty roads please check on wster down th the roads, when left last time my truck trailer were almost white with dust thanks, but you asked, Also iwel be back more!!!
Oct 26, 2020
Always a fun stay!�Thank You for Honoring Veterans
Oct 25, 2020
The only thing to improve on is to enforce the lease requirement. Tons of dogs running off lease and almost witnessed a dog fight. Also while in-hooking found dog feces that had not been picked up and was right in the middle of where I had to walk to unhook power and water. Camp host had witnessed several of these incidents of dogs running off lease and did nothing.
Oct 25, 2020
Very disappointed in the internet - there was no notice that it would be so limited....had a student who was trying to do school work and she couldn't get on. Also - bathrooms and showers not available....once again no notice that this would be the case.
Oct 24, 2020
It was great for this time of year.
Oct 20, 2020
Access to the dunes works but when it rains the campground turns into a mud pit. The roads are in need of crushed rock. The men's bathroom soap dispenser was out of soap. With Covid-19, I would think soap in the bathrooms is quite important in addition to its the bathroom? Thanks,and we will come back due to access to the Dunes.
Oct 20, 2020
It was good but didn't like not being able to take showers
Oct 19, 2020
Really enjoyed it. Would have considered joining if I could have joined before I left the premise for the first time. Thx, Mike
Oct 18, 2020
Very nice park and the workers, especially the camp host were great! COVID killed all our vacations this year and we finally got one in here and enjoyed every minute of it. Thanks
Oct 17, 2020
Was great but no access to showers
Oct 16, 2020
Staff was extremely helpful, friendly, and entertaining. Sites were clean and available on check-in
Oct 15, 2020
Had a nice stay, excited for the new expansion, thank you.
Oct 14, 2020
Although we didn't realize we were booking during UTV takeover our stay was perfect. The site and surrounding grounds were clean and staff was so friendly. With such a large mixed crowd I anticipated issues but things ran so smooth! Will stay again!!!
Oct 13, 2020
Nice clean place
Oct 12, 2020
We've stayed several times and always enjoy our time there! The man that operates the gator and kids barrel ride is so wonderfully accommodating, asking if we needed wood nightly and taking the daughter for train rides. Excellent campground. Thank you!
Oct 12, 2020
Love thtat this place is so clean
Oct 12, 2020
Facility was great. Staff in Bigfoot costume, on atv keeping campsites clean and the young lady who cleaned the cabins were very pleasant. Staff in the KOA store were not very pleasant and were very rude to a family who rented a group site and wanted to use the showers saying that they would only open the showers once. This day in age the rudeness seemed race based towards this family.
Oct 11, 2020
Expensive but it was a nice place to stay.
Dec 26, 2020
Is filling up for the weekend, the dunes have been great
- Julia Rasmussen on Google
Nov 20, 2020
Such a great place and great staff. There's a place for the pooches to run around and do their business and the short trip to the dunes, on your own machine is a short ride from the campsite. I was very pleased and the kids are already asking when we will come back. It was nice to be able to call someone and reserve a place on the weekend when the state parks do not give that option. They also worked with us in the time that we could arrive and depart. Thank you so much.
- Jeffrey Mertins on Google
Nov 17, 2020
Great place to pull in a trailer and has drive on dune access. Very clean.
- Chris Haas on Google