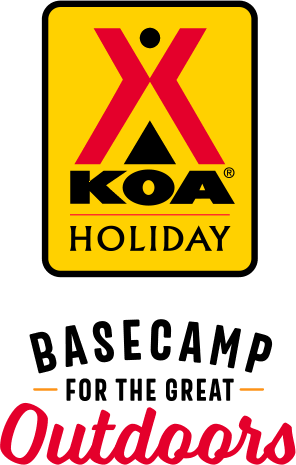 KOA Holiday Campgrounds
Whether you're exploring the local area or hanging out at the campground, KOA Holidays are an ideal place to relax and play. There's plenty to do, with amenities and services to make your stay memorable. Plus, you'll enjoy the outdoor experience with upgraded RV Sites with KOA Patio® and Deluxe Cabins with full baths for camping in comfort. Bring your family, bring your friends, or bring the whole group – there's plenty of ways to stay and explore.
KOA Holidays Feature:
RV Sites with a KOA Patio®
Deluxe Cabins with full baths
Premium Tent Sites
Group meeting facilities
Directions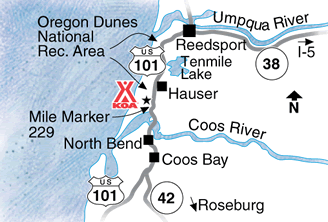 9 miles north of Coos Bay and 19 miles south of Reedsport on Hwy 101, Mile Marker 229. 
GPS: N43.501507, W124.219851
Get Google Directions
Mar 26, 2021
Cabin was fine. At check in, couldn't find the key and never gave tokens for showers. Had an 8 hour drive home with no shower. Office not open right at 9am, not convenient.
Mar 25, 2021
Disliked having shower coins! Specially when the water is cold and does not warm up. Loved having Steve's ATV rental near by for rentals! Would come back once zip line is complete!
Mar 22, 2021
It was very nice and peaceful
Mar 16, 2021
Arrived at KOA and reservation was wrong. Was charged $120 over and said that my cabin was accidently booked and that the more expensive options were all that was left.
Feb 23, 2021
2nd time staying in a cabin for a weekend on the dunes. Campground is clean and very OHV friendly. Will be back again.
Feb 23, 2021
Great service super friendly
Feb 23, 2021
Had a great stay. Site was clean and staff was friendly!
Dec 30, 2020
We rented a cabin for $85/night. We were allotted 8 minute showers per day with no way to buy more time. The camp ground was not busy and since we only showered once in the 3 days we were there it would have been nice to get a bit longer.Also, we were expected to clean the cabin ourselves at checkout or pay $75 for cleaning. Next time we will stay at a hotel and drive out to the dunes.Not worth it
Dec 03, 2020
The managers are amazing and very pleasant. We've been going, during Thanksgiving, for years and we've never been happier with our experience.
Dec 02, 2020
I did an early check out & asked for a refund & was told the system would not allow it. I had the deluxe cabin lovely, but unfortunately due to long drive back home had to check out early. The cabin is great, but campground should really consider being more considerate to long drive campers.
Dec 02, 2020
We had the best time at your campground. Bigfoot even visited our campsite !
Nov 30, 2020
great park and staff....could use better bed mattress in cabins
Nov 21, 2020
Great,clean, frendly, place to stay. Will definitely be back .100%satisfaction
Oct 26, 2020
Both koa and Steve's atv rental staff are all very nice respectful everyone treats us very well we really appreciate it.
Oct 19, 2020
Awesome place to stay! So much fun for the family!
Oct 12, 2020
Awesome as usual!
Oct 04, 2020
Great Place!
Oct 03, 2020
Stayed in a "Lodging" unit. Due to COVID this KOA had been closed for a bit but the unit should have been cleaned up prior to our arrival. Food had been left in the cupboards and refrigerator smelled like a sewer. Very thick dust on floors , table, counters etc. They were very quick to come clean the refrigerator when I asked but I had already wiped down everything else. Was still very fun.
Sep 26, 2020
Only positive was the Camp host named Steve. The other main guy was not nice or friendly, always uptight and on our group for everything, cabin was dirty and not stocked well.
Aug 31, 2020
Was told no fires upon arrival,yet campers around us were using the pits at night. After couple of nights,asked at the store," oh that was lifted 3 days ago",guess communication isn't part of the service. Otherwise good experience as usual,yearly vacation for us. Suggestion,while offering a BBQ is a nice touch,please make sure it is functional,ours had burner tube rusted out badly,2 yr in a row
Aug 29, 2020
As always a wonderful stay. Many new upgrades since we last visited! Staff is always kind and inviting, making it one of the reasons we have always loved the Oregon Dunes KOA!
Aug 24, 2020
Great place and friendly staff
Aug 24, 2020
Had a great time! Very clean and friendly.
Aug 22, 2020
Best location for Dune access and rental equipment. It is an off road vehicle park not recommended if you just want to RV or rent a cabin at the beach. Cabin we rented was clean and well equipped. Staff friendly and park remarkable quiet. Expect sand you are in the Dunes.
Aug 18, 2020
I've been coming to OR dunes for over 20 yrs, ODKOA is one of our annual trips. Nice access to the dunes. I like the camping cabins.
Aug 18, 2020
I like the convenience close to the dunes. The bummer is I booked a cabin online and when I arrived I was told I reserved the santa fe caboose. The online registration showed cabin pictures, print out said cabin, email confirmation said cabin. Plus it is really expensive, double, compared to cabin prices
Aug 17, 2020
We had such a fun stay. Steve is a great camp host and we enjoyed the different activities the KOA has to offer for the family. This was not our first stay and it won't be our last.
Aug 15, 2020
While we had a good time, the rate we paid for the Grand Lodge is much to high. The cabin was not real clean. There was still hair in the shower. WiFi is spotty, at best, and your cable service does give a clear picture on the TV. The fridge does not stay cold & the microwave does not cook well. We have been visiting for 16 years, and this may be the last time.
Aug 15, 2020
Dirty, grounds awful, there is so many issues to list. We know it is the Dunes area but no money or care is going back in to the up keep. Pandemic and masks, everyone had one hanging around their neck but not on their face. Service was awful, internet is a joke, didnt get shower tokens, and store was on banker hours so we left before it opened without a shower. NEVERgoing back REFUND?
Aug 03, 2020
I was dissapointed in the shower situation. While I understand the concerns due to Covid, I feel the showers should be open to schedule earlier than 9:30. By the time my family is done showering it would be almost an hour later, we go there to ride ATV's, you can fire your bike up at 8, but can't shower until 9:30...dissapointing.
Aug 03, 2020
Loved the koa and the ORV focus. The cabin (75) was fun for my daugher, her friend and I and they loved the bunk beds. Would have been nice to have another mirror in the cabin as with three girls it was tough to get ready.
Mar 27, 2021
Love it. Coming back this summer.
- Jennifer Allee on Google
Mar 26, 2021
We've enjoyed years past going here! Hopefully they can answer some questions that I have. Will showers be open summer 2021? Also how big is spot 29? Will a 35ft trailer fit. It appears on the website that the smallest spots are 35ft????
- Bettina Madsen on Google
Mar 26, 2021
This place is great for all ages they have dune access so you can take your ATV dirt bike or side by side out. There is travel trailer and RV sites tent sites cabins deluxe cabins a couple of train cars that you can rent. They also have Steve's rentals or you can rent a quad or side by side. the campground has a convenience store with everything you can think of that you need. Check it out and enjoy!
- Hayden M on Google