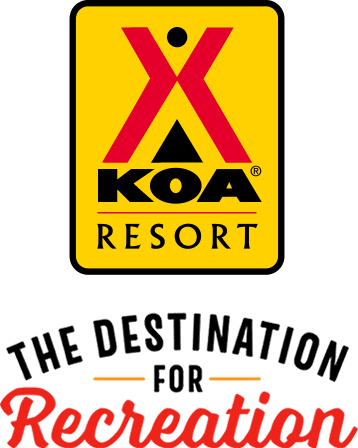 KOA Resort Campgrounds
KOA Resorts offer a carefree vacation in the great outdoors. Enjoy robust recreation and staff-led activities, kick back and relax by the resort-style pool, or grab a bite to eat, all while never leaving the campground. And with plenty of RV Sites with KOA Patios® and Deluxe Cabins with full baths to meet your needs, it's the ultimate camping getaway.
KOA Resorts Feature:
RV Sites with a KOA Patio®
Deluxe Cabins with full baths and linens
Premium Tent Sites
Resort-style pools
Indoor and outdoor group facilities
Directions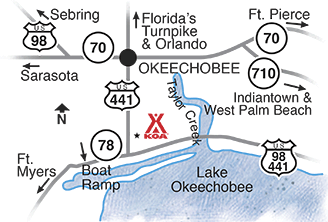 Exit FL Turnpike South at Yeehaw Jct and take US 441 south. Or Exit FL Turnpike North or I-95 N at PGA Blvd. Go west to 710, west to 70, west to US 441 and turn left. Continue south on 441 for 3 miles.
Get Google Directions
Feb 15, 2021
You must take action of the fire ants around the sites. Putting spray down on a regular basis rather than just when someone calls to report it
Feb 09, 2021
Very clean. Friendly environment. Good for families.
Jan 19, 2021
The KOA staff are very helpful and friendly. Even the residents of the campground are very welcoming. We had plenty to do. The entertainment at the adult pool was really great. It was nice having bathrooms and showers right there. And also the electric outlets were really handy. The campground is kept very well-kept and we really enjoyed ourselves. We will absolutely be going back there again.
Jan 12, 2021
We enjoyed our stay although we had to leave a dst early because one of our dogs got sick (no fault of KOA) Very nice campground. I can't wait to return
Jan 05, 2021
People are super friendly and so many activities for the kids and adults.
Nov 16, 2020
Mosquitoes were so bad and next time I prefer not to get placed directly next to a trash can, site 319 but other than that we love the Okeechobee KOA
Nov 02, 2020
Enjoyed my stay. Hope next time I can stay longer.
Oct 28, 2020
Wonderful! Visit every year and it is always tops.
Sep 12, 2020
It was ok just didnt like the way they ran the pool telling a 3 year old baby he cant swim cuase he didnt have the right color wrist band and have sit back at the camp site crying all day
Sep 08, 2020
Excelente! 100% recomendable, el personal muy amable todo muy limpio. Nos encanto y vamos a volver.
Jul 07, 2020
We love this campground. Its clean and so many fun things for everyone to do.
Jun 21, 2020
A beautiful campground! However, for two young adults we ran out of things to do and the rainy weather was not in our favor.
Jun 20, 2020
It was clean the staff was friendly and with everything going on they made sure that social distancing when avaliable was on point.
May 11, 2020
Great park. Friendly staff. Clean. Had actual kitchen with sinks. For a tent site that's pretty cool. Definitely will stay again. Ride the incumbent bikes! Loads of fun! And the store was great also. Kan't beat a KOA! Thx y'all!
Mar 16, 2020
We had a great time and plan to come again next year. Thank you!
Mar 15, 2020
Wonderful campground, excellent facility..
Feb 03, 2020
Nice place but it is so over packed! Everyone is just so close to each other. The staff are very nice even if I didn't get the fire wood that I paid for. Very easy to get to and if you are staying in the area its nice enough. There is way to much light at night as a tent/Jeep camper. The bathrooms are very clean! Everyone that I ran into was so nice. I am just use to more space around me.
Feb 18, 2021
Great atmosphere. Lots of activities.
- Rick Haufe on Google
Feb 15, 2021
great place!! 5/5... pet friendly
- David Gutiérrez on Google
Feb 15, 2021
Excelente , limpio , bello..todo cerca.
- Nelly Vargas on Google