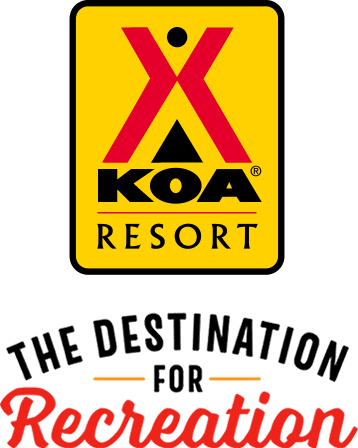 KOA Resort Campgrounds
KOA Resorts offer a carefree vacation in the great outdoors. Enjoy robust recreation and staff-led activities, kick back and relax by the resort-style pool, or grab a bite to eat, all while never leaving the campground. And with plenty of RV Sites with KOA Patios® and Deluxe Cabins with full baths to meet your needs, it's the ultimate camping getaway.
KOA Resorts Feature:
RV Sites with a KOA Patio®
Deluxe Cabins with full baths and linens
Premium Tent Sites
Resort-style pools
Indoor and outdoor group facilities
Directions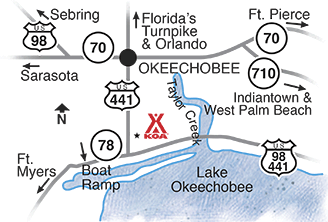 Exit FL Turnpike South at Yeehaw Jct and take US 441 south.
Exit FL Turnpike North or I-95 N at PGA Blvd. Go west to 710, west to 70, west to US 441 and turn left. Continue south on 441 for 3 miles.
Get Google Directions
Jun 19, 2021
Helpful staff. Sites needed a lot of grass cutting.
Jun 18, 2021
When we arrived for our store and stay we were sent to our site with a clipboard and paperwork. Set up our rigs completed paperwork and then was notified we could not keep our rigs plugged in during the summer. Arrived memorial day weekend property not mode shanty closed no activities. Requesting a refund
Jun 18, 2021
Somewhat disappointed that not more was happening - The Shanty, The Lunch Box.... We realize that everyone is still dealing with the Pandemic fallout and look forward to future visits to this KOA.
Jun 18, 2021
This was my 2nd time there and nice as always!
Jun 18, 2021
There was no WIFI access the entire time. in addition, cable TV did not work. According to ED, coaxial cable running from exterior of cabin to wall outlets inside were not receiving signal. There was a Wasp nest on exterior patio ceiling which presented a safety issue to include rotted wood planks leading to entrance. Grounds needs to be landscaped which attracts bugs. First KOA, never again..
Jun 16, 2021
I am a vacation camper. I personally don't enjoy having full time campers mixed with vacationing people. Many old campers and lots of stuff sitting outside. Sheds. Also the little canal by golf course has a lot of trash in it that needs cleaned out. The best part was the adult pool. Spots were nice with concrete pads.
Jun 15, 2021
Staff were friendly, shanty still not open, landscaping was horrible there was no trimming.
Jun 15, 2021
The place looked like it wasn't kept up. The grass was 2 ft tall around our elec post. Ants everywhere. I stepped in some red ants when walking. We asked our family campers to be put near us, were told the spot was booked. No one came.
Jun 14, 2021
Staff is super nice, and we really liked the attendants on the golf carts keeping up with the trash and keeping watch all thru the day. Love the geese and pond, and the large shade trees. Thank you for being great hosts����
Jun 11, 2021
Everything and everyone was great . the only thing is i wish the adult pool was open till atleast 10.
Jun 10, 2021
I am sorry it was not good this last time. Very dissappointed. shanty not open could not get drinks or food. Water kept being turned off. Grass not maintained etc etc etc.
Jun 10, 2021
Mostly positive. Didnt appreciate the power outage that we were not told about until it happened due to upgrading electrical equipment near our site. Enjoyed live music by the pool.
Jun 10, 2021
The staff was amazing and very friendly. The pool area was dirty and hasn't been cleaned all weekend. The pool itself was clean and the perfect temperature. The playground had so much rust and wasn't safe for the kids to play on.None of the amenities were available besides the pool area.The putt putt golf shouldn't be considered an amenity & shouldn't even cost $1.The campground needs a lo
Jun 10, 2021
It was our first time staying at a Koa. Cabin was very cute however the cable wasn't working. We went ahead and paid the $15 for the all weekend internet as the free offer also wasn't working. After paying the $15 we were still unable to get into wifi. Two hrs after checking in the water was turned off. We called the front desk again to be told it would hopefully be back on in about 2 hours.
Jun 08, 2021
had a great time, very nice place
Jun 08, 2021
We were extremely disappointed being a return customer. We cancelled our month's stay. The golf course looks abandoned. The five workers (used to have 50) said it was not a KOA. The grass when we arrived looked like it had not been mowed for month. The shanty was closed (even though all advertisements say it's open). There was no live music at the pool (even though advert says it is). No refund!
Jun 08, 2021
First, no mention was made that THE SHANTY would be closed for what appears to be an indefinite period. We have always enjoyed that spot and the weekend live music. That was a shock especially sine your brochure says THE SHANTY is OPEN. Also ground insect control (fire ants) and airborne (gnats and mosquitoes) is nil. Only saving grace is the adult pool. BTW prices in the shop are outrageous!
Jun 07, 2021
Cabin Not fully clean. Refrigerator dirty. Dust in room. Dirt and dust in AC unit. Gross!
Jun 06, 2021
Very friendly staff
Jun 05, 2021
Lawn needed mowing,no internet or Wi-Fi and no one could help us to try to get it.the bar was closed and no restaurant open. It was Memorial Day weekend. Had someone singing by the pool Friday and Saturday from 12:00 to 3:00. Nothing else. No one to take you to your site yet you could see koa employees riding around in golf carts that could have done that.golf course was pretty sad,needs fixing.
Jun 04, 2021
This was our second stay here, the first time was tent camping and this time was a little cabin. Both stats were great! We love this KOA, it's always been clean, the staff always friendly. We will come back again!
Jun 03, 2021
Shanty wasn't open! Grass wasn't mowed! No music on Sunday at the pool!
Jun 03, 2021
Boards on the patio deck unsafe, not nailed down, cabin VERY DIRTY, light without light bulb, broken blinds (no privacy) MOLD ON WALLS , AND SO MUCH MORE
Jun 03, 2021
Overcrowded with folks roaming around in golf carts with no common sense (driven by children/teens with no supervision, drunk and loud riders and drivers at all hours, including late at night). Cabins, tent areas with no space between each other-practically one on top of the other. Our first and last. Thanks, but no thanks!
Jun 03, 2021
We love staying there with the many amenities that are normally open, such as the shanty but I am heartbroken that your golf course should not be even called A golf course That it has deteriorated to.I believe that is one of the Best perks of staying there so please try to turn it around.
Jun 03, 2021
Beautiful shady site close to pool and very friendly staff.
Jun 03, 2021
High grass, lots of ants, broken concrete
Jun 02, 2021
One of the main reasons we came here is for The Shanty. We did not find out that the Shanty was closed due to new owners until we arrived. Complained to the manager but all we got was an oh well.
Jun 02, 2021
Pool was the best it has ever been! Scale 1 to 10, 10 being best was a 10, Grass upkeep a 1, roads 1, wi fi was none 0, escort in none 0, tv 8
Jun 02, 2021
Construction next to my site all day, generators running loud, could not enjoy outside.
Jun 02, 2021
Grass not cut, cable not working, Golf course a mess, the sites were over capacity and Shanty not open. The only thing that seems to be in order are the pools. Office staff always friendly and helpful is the only positive I can give from this stay. I've stayed at this location many times and it seems to be getting tired and unmaintained.
Jun 02, 2021
The women's showers did not have much water flow. At night the bar by the pool was not open. We asked for a tent site and got a camper spot that had no tent pad. Very disappointed
Jun 02, 2021
I haven't camped here for a couple of years, and and it doesn't seem to be as well maintained as then. Grass was high around our sites. Was disappointed that the Shanty wasn't open and the lack of activities on the Memorial Day weekend. Was told several times that the park was under new owners, so hopefully the park is just working through transition issues.
Jun 02, 2021
The only complaint I had was that it took an entire day to get someone to cut our grass, which was over knee high deep. We always enjoy staying at Okeechobee KOA!
Jun 02, 2021
One of our favorite campgrounds! One thing that I will mention is that the grass at our site was really in need of a cut. It was pretty long when we arrived and it was uncomfortable to sit with our feet in the grass because it was so long. Everything else was great and we will be back soon!
Jun 01, 2021
We have been going here for several year, very disappointed this time. Workers are all new, not friendly in the least. Lawns needed mowed and sat evening about 7 pm they decide to mow lot next to ours (on a 3 day weekend). 3 day weekend, without any entertainment except Saturday for a couple hours! Golf course looks Dead, as many lots do also
Jun 01, 2021
We were very disappointed in the condition of the park. Grass was not cut, no wifi, roads had huge pot holes. The shanty was not open. But the pool was clean and the entertainment was great!
Jun 01, 2021
Only stayed there for one night on a trip from SC to the Keys. Staff was very nice. The area we stayed in wasn't something I was a fan of. Hardly any space and the grass incredibly high. Especially around hook ups.
Jun 01, 2021
Great time with friends wish you had more planned activities miss the kids tie dying shirts. Miss the golf cart parade would love to see many activities and more live music at pools would love live music at the family pool get the kids involved
Jun 01, 2021
Thanks to Miss Wendy it was made a bit better. Our camp site had electrical problems. I had reserve 3 months in advance. the power pole was defective. i had reserved 3 sites all together. When we started to have the electrical problem Miss Wendy found me a spot almost across from my daughter. She told me i could use the concrete of my old site to park the 2 trucks & the golf carts total of 4.
Jun 01, 2021
problems with the power and the golf course looked like a forest
Jun 01, 2021
We were very disappointed on the maintenance of the grounds. Our site pad was muddy from the electrical workers,' no lawn mowing', tree branches all over the site. Litter on the banks of the waterway behind our site. The events for Memorial Day didn't even meet the standards of last year when we were in a pandemic, not to mention the bar being closed. Hope it gets better.
Jun 01, 2021
We had a great stay, everyone was very courteous and helpful we can't wait to go back on our next vacation.hope to see you soon, Oh and by the way very relaxing. The place was very taken care off
Jun 01, 2021
We had several issues with our stay. 1st we were in a group of 4 & 1 of our people were several sites away. 2nd was there was construction going on in 1 of our groups sites that they had roped off with shovels and cones. 3rd the electric didn't work for another's site and they had to piggy back off of anther site. 4th the grass had not been cut in most of our sites.
Jun 01, 2021
On the good side the volunteers and staff were courteous and helpful. On the bad side for a holiday weekend the condition of the park was terrible. The grass and weeds around many of the sites (including ours) was out of control due to lack of maintenance. Complaints made to staff fell on deaf ears. The golf course was in terrible condition and unplayable.