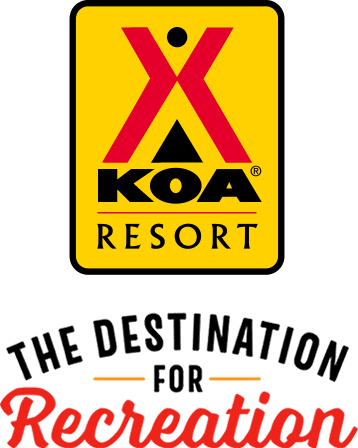 KOA Resort Campgrounds
KOA Resorts offer a carefree vacation in the great outdoors. Enjoy robust recreation and staff-led activities, kick back and relax by the resort-style pool, or grab a bite to eat, all while never leaving the campground. And with plenty of RV Sites with KOA Patios® and Deluxe Cabins with full baths to meet your needs, it's the ultimate camping getaway.
KOA Resorts Feature:
RV Sites with a KOA Patio®
Deluxe Cabins with full baths and linens
Premium Tent Sites
Resort-style pools
Indoor and outdoor group facilities
Directions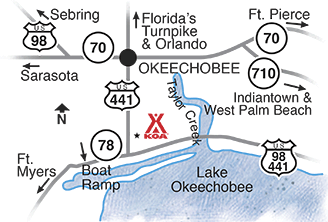 Exit FL Turnpike South at Yeehaw Jct and take US 441 south.
Exit FL Turnpike North or I-95 N at PGA Blvd. Go west to 710, west to 70, west to US 441 and turn left. Continue south on 441 for 3 miles.
Get Google Directions
Sep 15, 2021
It was a pleasant park. The adult pool was fun with music and relaxation. It was fairly dry when we first arrived on Friday. However, there must be a drainage issue as the roads were flooded just after two afternoons of Florida summer rains. It did not rain at all Sunday, but the water never went away. It was impossible to take a walk around the park as all roads were flooded.
Sep 15, 2021
Great time except for afternoon storms! Enjoyed the music by the pool.
Sep 15, 2021
We know that this campground is going through some changes with management and with that being said, they really need to get some umbrellas on the pool deck, we love this campground! we love the live music and the staff is amazing, the girls in the office are eager to help you and the staff at the lunch box and little store are friendly and helpful as well, we hope the shanty opens soon
Sep 14, 2021
Great music poolside on weekends. Delicious food poolside as well. Staff very friendly and location is beautiful. We are looking forward to camping in the cooler temps when available as this location is only 1 hour fifteen minutes from home. Looking forward to when the golf is open so we can play. See Ya Soon, Trish B
Sep 13, 2021
We had an awesome time at our camp site with family and friends
Sep 13, 2021
Had to clean our site of branches.and palm fronds. Roads in bad shape. Electric poor luckily we had a 50 amp plug to upgrade and then it worked consistently.Excessive flooding. Good burger from food stand at pool. Pool area was nice. Staff is friendly.
Sep 13, 2021
I think the KOA has gone down hill, people were still smoking in the pool area. Lawn not mowed by sites, a lot of cement pads were cracked, people hadn't picked up after their dog.
Sep 13, 2021
Everything is always great there except for the heavy rain and everywhere gets flooded!
Sep 13, 2021
The answers would of been higher but we had NO WiFi all weekend. I was on the phone with the company for 3 days!
Sep 12, 2021
The facility is very clean and thoughtfully appointed. Our campsite had a gas grill, table and seating, and a fire pit. The pools were convenient. All of the staff were friendly and accommodating. The tennis and pickleball courts were very nice. We were slightly disappointed the golf course was under construction but that will give us a reason to come back.
Sep 10, 2021
Very helpful and friendly workers. Super clean pool and grounds. The Lunchbox serves awesome food!!
Sep 10, 2021
I was very disappointed they did not honor their word. When I made my reservation, my membership dscount was applied. I was assured my $25 off coupon would be deduucted when I checked in. The management would not honor their employees word. It was either or. Also, Shanty lounge was closed, and Lunch Box restaurant. Thankfully, the pool was open. The office did not answer calls or emails. BAD EXPE
Sep 09, 2021
Our 3rd KOA and so far our favorite one! My family and I had a great overall experience. The staff was great! Chris the GM was great help with our golf cart trailer issue! Pool, drinks, friendly staff, amazing and friendly guest, and my daughter's favorite, the nightly golf cart parade. Looking forward to returning.
Sep 09, 2021
LOVEEEEEE all the staff here, Thank you Andrea for all your help. My moms party was a huge success. Thanks to all the staff for an incredible stay. Also for that little cabin it was sooooo cozy. AC was super cold and the cabin was so homey.
Sep 09, 2021
We used to love this KOA until ELS took over. The Shanty shack closed down and no one can tell us when it will open again. We used to be greeted by friendly faces when we arrived and that does not happen any more. We arrived after 5 PM on Thursday 9/2/21 and did not realize our camping stay information was in a Box on the office wall (no heads up?). The staff is very friendly though and are great!
Sep 08, 2021
I will never stay there again!!! I was not informed of all the amenity closures. No golf cart rentals, no golf, no cable, no A/C in the restrooms and the tiki bar was closed. It was just awful. We have stayed there so many times and enjoyed our self's but not this time!! Never again. :(
Sep 08, 2021
Overall a very nice stay. But having said that, the free 256 meg/day Wi-Fi access feature did not work the entire time we were here. The web access page would always pop-up a red connection issue warning and go no further. I truly believe the isp just wanted you to pay for the access with some steep fees (those options appeared to be working). Campground itself was good!
Sep 08, 2021
Golf course, and shanty were closed on a weekend. and prices are up from last stay. but we did have a good time with our family.
Sep 08, 2021
No golf and we weren't told about that, our site was not very nice due to being crowned, there were several flat sites open. The bar was not open which was something we enjoyed on our previous visit.
Sep 08, 2021
Wish we had known the golf course and the driving range was closed. We thought the mini golf course would be larger.It is pretty much for toddlers. Our camp site was very small for the price. Everything else was great.
Sep 08, 2021
We were disappointed that the golf course was closed. Very happy about being pet friendly
Sep 08, 2021
The kids pool area needs urgently Shade there are no umbrellas nothing, traveling with my elderly father and kids it is always necessary to have at least a table with shaded umbrella for comfort
Sep 04, 2021
This used to be one of favorite places to camp but the conditions seem to be changing. It was not as upkept as it used to be. Grass not mowed and potholes all the streets. I will have to try again in the future to see if it was just poor timing when I got there. ??
Aug 31, 2021
The staff was very friendly and accommodating. The grounds were much more maintained than our previous visit. We were disappointed that the golf course was not open. Hopefully on our next stay!
Aug 25, 2021
It was great. Quiet. Not hardly anyone there at this time of year. Friendly check in lady and greeted our dog as well!!! We did have ants at our site.
Aug 24, 2021
Good to see the property shaping up. We met the new general manager and seems like a good fit. Just need to work on the electrical box issues please.
Aug 24, 2021
I have a wonderful time
Aug 24, 2021
Paid for a deluxe site which was to have the patio furniture. After setting up, leveled, slides out, unhooked…realized I was assigned a site without. When I brought it up to the office, they acknowledged that I had reserved, and PAID, for the deluxe site and that they would have maintenance bring the additional furniture to our site. It never happened. They didn't offer to refund the differenc
Aug 24, 2021
All amenities were out of order, the lot was COMPLETELY unlevel, no shade, overall a HORRIBLE experience.
Aug 23, 2021
We enjoyed the pool and live entertainment. Was a bit disappointed to find out the course was under repair and the Shanty bar wasn't open.
Aug 23, 2021
Big fun especially weekend live music and menu items at adult pool.
Aug 19, 2021
Beautiful cabin, accommodating staff. We had a magical weekend. Great fishing!!
Aug 19, 2021
We stayed in Cabin KL7,it was lovely. We cleaned it up ourselves a bit by just disinfecting with wipes, spray and such, just for our own well being. Overall clean, few dead bugs on the bed covers but nothing to worry about brushed them. Lots of Kitchen items for use. Over all it was pleasant not crowded due to Covid, we used all the amenities. Fish cleaning station needs major upgrade but useable.
Aug 18, 2021
no wifi was supposed to talk to Marc the asst. gen manager about it but instead he left for the day without a word to us Corporate sent an email to Lynn Walker the general manager and she was supposed to call me but never did Don't care about you if you're only staying a couple of days you're just not that important! Want a refund for the second night since it was them that broke the contract
Aug 16, 2021
Ants everywhere on the patio The ac unit was so loud it sounded like a generator inside the room There was still garbage all around our patio area from the previous campers. We are frequent visitors of this koa but we will be looking for a another site to visit. Let people know the shanty is still closed at the adult pool.
Aug 12, 2021
The cabin was small but very cute. The campgrounds were nice and the pool was great. Not a lot to do outside the campgrounds, no movie theater or bowling. I wish the lawn mower would have waited until 9 am on Sunday instead of 7:30. The staff were friendly and helpful.
Aug 11, 2021
This place is awesome! If you're staying in a cabin just pack your clothes and your done. It has everything you'll need for your stay from shampoo and conditioner to kitchen and bed accessories . It was a great vacation and I will definitely will be coming back!
Aug 10, 2021
When we booked this "resort", we were looking forward to the many amenities available. Once we arrived, we were sadly disappointed. No golf, not even putt putt golf. No golf cart rentals. Unkempt, roads in disrepair, grass overgrown. Staff not helpful. I loved the town of okeechobee, but will find another RV park if we make the decision to go back.
Aug 10, 2021
Always a pleasure!
Aug 09, 2021
The landscape was not well taken care of. I know we received a lot of rain this summer , but I had to cut my own grass around my site. Also, the last 4 days of my stay, I didn't have any cable. I asked 3 different staff about the cable outtage and received 3 different answers. I've camped at this KOA for years and had never had a problem.
Aug 09, 2021
Disappointed the ping pong tables have been removed. Also, was completely overwhelmed by ants on the patio.
Aug 09, 2021
Amazing time. We will be back
Aug 09, 2021
Had an awesome 3 days of camping at this KOA. Enjoyed the time at the pool relaxing and unwinding.