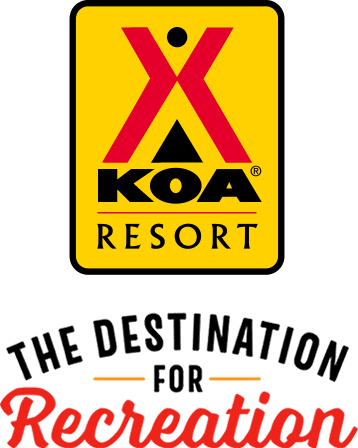 KOA Resort Campgrounds
KOA Resorts offer a carefree vacation in the great outdoors. Enjoy robust recreation and staff-led activities, kick back and relax by the resort-style pool, or grab a bite to eat, all while never leaving the campground. And with plenty of RV Sites with KOA Patios® and Deluxe Cabins with full baths to meet your needs, it's the ultimate camping getaway.
KOA Resorts Feature:
RV Sites with a KOA Patio®
Deluxe Cabins with full baths and linens
Premium Tent Sites
Resort-style pools
Indoor and outdoor group facilities
Directions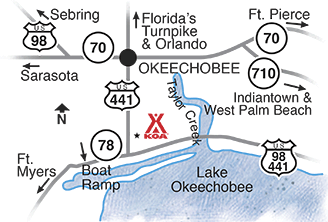 Exit FL Turnpike South at Yeehaw Jct and take US 441 south.
Exit FL Turnpike North or I-95 N at PGA Blvd. Go west to 710, west to 70, west to US 441 and turn left. Continue south on 441 for 3 miles.
Get Google Directions
Jan 30, 2023
We come to KOA Okeechobee often. It's our favorite campground. Highly recommend it.
Jan 29, 2023
Front office was very nice and helpful. The campground was very clean and the bathrooms were the cleanest. Wish there was more to do in the area, because the campground is very nice. We are bird watchers and like places to walk and see them. The one area we went to there was nothing there, but a dirt road to a campground. I liked the nice roads in the campground for walking.
Jan 29, 2023
We are Floridians and prefer to come when season is over. It was crowded, but still a great place to stay!
Jan 28, 2023
Magnifique magnifique magnifique
Jan 28, 2023
I was disappointed in the number of KOA park rules that were not obeyed. To many dogs that had 15 to 20ft. leashes, to many children running around on the roadways unsupervised and to many guests making the roadways into their personable spaces.
Jan 28, 2023
Clean facilities, nice sites and grounds, many amenities. Lots of shopping nearby and close to Lake Okeechobee park/walking path.
Jan 28, 2023
Excellent stay. Very clean
Jan 27, 2023
The place was pretty chaotic, with no safe place to walk dogs around campground. Also there was no place to recycle.
Jan 27, 2023
Shared electric boxes are very antiquated and need much work. Roads are incredibly tight for big rigs. Hot tub not working was a disappointment. Loved pool area and pickleball. Also appreciated Peggy helping find a spot for our rig that needed 50 amps, she was a star.
Jan 27, 2023
We were told this is second largest KOA in US. Believe it. Has many nice amenities but is jam packed crowded. You cannot see the lake unless you drive to a nearby park. The town has little to offer. The whole area is packed with crummy RV parks. A lot of full time residents who aren't very friendly. Nice golf course and pool
Jan 26, 2023
We stayed 45 days and we were sad to leave. Lots of activities in the campground and made many new friends. Will definitely be back again.
Jan 26, 2023
Pool was super nice and warm. Cable was too fuzzy to watch!! To charge for wifi at site is not right considering the cost of the site!
Jan 26, 2023
stayed in cabin. easy walk to restrooms /showers. very clean and well placed. will come again if in area.
Jan 26, 2023
Nous sommes déçu car nous avons demandé une prolongation de séjour et ils non pu nous accommoder. Pourtant, il y avait beaucoup d'emplacements libres. Et ce, tout au long de notre séjour. Vraiment déçu!
Jan 25, 2023
It was very crowded, lots were close together, cement pads in bad condition, have to pay extra for WiFi which didn't work for us, and not much to do there. The General Store was decent. Large variety of products. Speed bump at entrance is unnecessary and scrapes bottom of some rigs.
Jan 25, 2023
30 amp electrical was all that was available. Apparently KOA expects campers to battle one another for the better service if you're not first, forget it. Parking lot at activity center blocked by wedding party. Almost impossible maneuver RVs.
Jan 25, 2023
Sheets felt like sandpaper. No fitted sheets for the bunk beds so they came off in the middle of the night
Jan 25, 2023
AMAZING! A+ facility. Great Camping site for my motorcycle trip weekend. We will come back and I am glad to have made the membership for future savings and fun!
Jan 25, 2023
Nice campground, beautiful golf course, lots of activities....but sites are jammed in like sardines. We went out one day in motorhome and when we got back the way the site across from us had parked his truck, almost on road, we couldn't back in. Other than that it's not s bad park.
Jan 24, 2023
The adult pool was great. Bathrooms and laundry convenient and very clean. Concrete pad was uneven, water spigot was broken. Only there for 2 nites so didnt need water.
Jan 24, 2023
We stayed 2 wks, left for another campsite which turned out to be a terrible site and Okeechobee was able to get us back in for another week…we can't thank them enough. We had plenty of rm at our site, well cares for, laundry facilities were perfect, dog wash areas were very nice and much appreciated, plus both pool locations were clean and well maintained. Next yr we r thinking of staying lon
Jan 24, 2023
Excellent service amazing facilities and incredible people.
Jan 23, 2023
The sites were very cramped. It was hard to maneuver in and out of our pull thru site with a big rig. The buildings and grounds were old and not kept up well. The hot tub and many washer/ dryers were broken. Dogs were barking constantly. We left early because we hated being there.
Jan 23, 2023
Any arriving camper should be aware of the issue with electricity. Most sites have a shared pedestal for power with only one outlet for either 50amp or 30amp service. Most sites, unless you are lucky, will only have the 30amp outlet available. I would also caution that this is a very cramped campground, parking can be very tricky.
Jan 23, 2023
We truly enjoyed our stay at this KOA. So much so that we are wanting to come back next year for 2 months instead of 1. Super friendly staff and lots of activities to participate in. The only downside to our stay was that the pool was really cold during the last week that we were there. We missed swimming in the sun.
Jan 23, 2023
No overnight security. Noise from nearby sites was unchecked by the campground staff. Very well maintained campground, but way too many RVs. Golf carts were the entitled mode of transportation around the campground. The drivers of these carts often had no regard for the posted speed restrictions. My desire in " camping" is to commune with nature. No trails or quiet areas! More like the "Villages"
Jan 23, 2023
Nice and clean KOA. Very busy! It was a nice weekend getaway but it's more geared toward those without kids. The park was just okay. The kid pool was nice but very warm. Overall it was a good stop but if you have kids and want a more kid friendly KOA this isn't it.
Jan 22, 2023
Stayed in their dog friendly park model. It was clean and comfortable. Would highly recommend. Thanks for a great time!
Jan 21, 2023
Love the location, the facilities, and the great times had!! Thank you for the opportunity to spend an awesome time with friends and family!
Jan 20, 2023
Loved the pool bar and bingo
Jan 20, 2023
Very nice campground but the spaces are a little tight. The upgraded WiFi was mediocre at best but we really enjoyed the stay. We will definitely come again
Jan 20, 2023
Wow! Lowest rating I have ever given a KOA. Park is lovely, staff great and golf course was great BUT all the "little" things wrong means we won't be back: pay for internet - expensive and didn't work, damaged my car going over that hump you have, no hot tub, rec room looked, propane impossible to get to - expensive KOA needs to rectify these!
Jan 18, 2023
Need more fire pits for camp sites that do not have them
Jan 18, 2023
This KOA is the best! We ran into problems at another KOA and we called Okeechobee. They understood and helped us w a very nice lot at the last minute. I can't say enough nice things about the staff!
Jan 18, 2023
I think your resort is very nice and it is clean and everyone was super nice. It is a good place to stay if you are looking for ammenities and such. My issue is MY issue, not that of your campground. I prefer more NATURE. So, depending on what people are looking for, would be the determining factor of recommendations. For my personal taste, the spaces were too close together!
Jan 18, 2023
Very clean and well maintained was there for 10 days and tried to extend our stay but the office was not very cooperative because we had heard there were numerous lots that were going to be open. Would have loved to stay longer.
Jan 18, 2023
Very nice and clean KOA. Our concrete pad was all broken up and the hot tub was not open. Hence the 4 stars.
Jan 17, 2023
Clean and friendly.
Jan 16, 2023
Campground is very crowded and people just park everywhere they want. The Campground is old and has a lot of sites that are too short for longer vehicles so people just use every space they can use. I have seen guests with 4 vehicles and a 5th wheel on one site (Truck, 2 SUV and a boat). We paid for the upgraded WiFi connection and most of the time, the speed was very slow. We still liked to stay.
Jan 16, 2023
Hot tub not working the entire time we were there. Not open the posted hours. Posted hours for office on the tv channel are wrong. Employees speeding in golf carts. All things are easy to fix. Please do it.
Feb 02, 2023
Eine riesige und schöne Anlage mit Golfplatz und zwei Schwimmbecken, eines für Kinder und eines für Erwachsene. Der Grund hierfür ist sicher das überdurchschnittliche Alter der Besucher des Resorts, aber so kommt es sicher weniger zu Konflikten zwischen den Generationen... Einige Dinge wie die Spielsplätze oder die Räume der Waschmaschine könnten etwas überholt werden für den Preis den man bezahlt. Für eine Nacht und einen kleinen Full-Hook-Up Platz am hinteren Ende der Anlage, zahlten wir 112$! Das ist schon ein stolzer Preis.
- Torben Stärk on Google
Jan 18, 2023
Last year we were told the electric box and water spigot would be fixed. It was not.
- Debbra Miller on Google