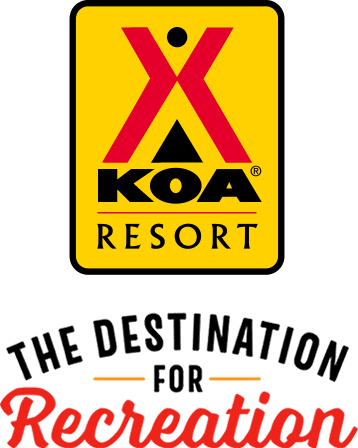 KOA Resort Campgrounds
KOA Resorts offer a carefree vacation in the great outdoors. Enjoy robust recreation and staff-led activities, kick back and relax by the resort-style pool, or grab a bite to eat, all while never leaving the campground. And with plenty of RV Sites with KOA Patios® and Deluxe Cabins with full baths to meet your needs, it's the ultimate camping getaway.
KOA Resorts Feature:
RV Sites with a KOA Patio®
Deluxe Cabins with full baths and linens
Premium Tent Sites
Resort-style pools
Indoor and outdoor group facilities
Directions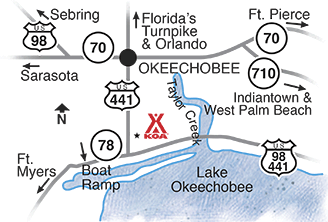 Exit FL Turnpike South at Yeehaw Jct and take US 441 south. Or Exit FL Turnpike North or I-95 N at PGA Blvd. Go west to 710, west to 70, west to US 441 and turn left. Continue south on 441 for 3 miles.
Get Google Directions
Apr 06, 2021
Very small site for our 36 ft fifth wheel and truck. Loud neighbors with 4 dogs running free. Golf course is a joke! Terrible conditions. We paid $46 for two for 9 holes for a bad course. It's worth about $10 per person not $23. The advertised bar is closed. I'll never be back.
Apr 06, 2021
Had a wonderful stay - liked our site and all the amenities. Only wished Shanty's could have been open but COVID is still here.
Apr 05, 2021
Get a staff that knows what there doing.first week we were there no food at lunch box. Entertainment posted but never showed up. Everybody given a different story about rates and lots for next year. No shanny even thought it is still listed on your web sight. No one escorting campers to their lots. Office not open because they didn't want to deal with the complaints from the guest. Very bad year.
Apr 05, 2021
Great time, very clean, will stay again!
Apr 05, 2021
We enjoyed our stay very much. There were a lot of activities to do with the kids. The pool was very clean and warm. When we arrived the fire pit was dirty but we asked to have it clean and it was cleaned right away. We had a great relaxing experience.
Apr 05, 2021
Okeechobee KOA, difinitivamente volveremos a venir muy limpio, organizado y con muchas actividades para hacer con los niños, excelente. We definitely coming back, Love it . Lots activities to do with kids, all the residents very friendly. Excellent.
Apr 04, 2021
I sure hope that the group who is now running this KOA improves on their communication and customer service skills. The office is locked and will only allow entrance if you have an appointment to see someone. There was no communication as to the new hours either. Nobody knew if or when the grass would be mowed. I hope things improve with this transition. I like this KOA and have made many friends
Apr 03, 2021
Well since the border was closed we were NOT there but paid for our lot for 3 months. Now no lot as ELS took over and have not returned my email from Mar 4. So disgusted after 30 years of loving KOA as our winter home and it has come to this. Blatant disregard for the concern of customers by the new owners is absolutely disgraceful.
Apr 03, 2021
Things were different this year due to the Encore purchase, COVID and lack of Canadians. The Shanty never reopened. The golf course was in mediocre condition. We have reservations for next year and hope things return to a better resort.
Apr 03, 2021
Glad to see some long time workers still here. Hope next year Shanty will be open and Convention Center will be active again. Canadians back. Coming here many years. Looking to return.
Apr 03, 2021
Worst part: Cable TV very sporadic, most of the time very poor reception. Shanty bar never opened although rumored to have liquor licence. Seems to be a lot of confusion in transition to new management. Hopefull things will improve not deteriorate. Best part: Pool temperature 90 degrees, thoroughly enjoyed, would come back just for the warm pool
Apr 03, 2021
It was peaceful
Apr 02, 2021
I was somewhat disappointed by KOA this year. I realize that you are going through a change. However it did not have the same warm feeling as in years past. The lack of social activities, recognizing COVID, was a great disappointment. Almost no other activities, then also no propane, not even window take out at the Shanty. It was not operating at the same level. Sorry!
Apr 02, 2021
We have enjoyed staying at KOA OKEECHOBEE KOACAMPING LAND for the past four years and are looking forward to next year and enjoyed the improvements and upgrading of the great facilities provided. It is a great place to stay and enjoy a relaxing winter and enjoy golfing, walking, the pool and live entertainment along with the beautiful sunny weather. A great place to be!
Apr 02, 2021
Great stay. STAFF Appeared in transition....Disappointed that WIFI was not working
Apr 02, 2021
Our electrical issue our first day was fixed very promptly, staff was always polite and helpful. Look forward to a stay in the future.
Apr 01, 2021
The campgrounds is clean and set up nicely...sites are good sized and some are shaded.
Apr 01, 2021
I was showering getting ready for a wedding full of soap when the water was turned off without warning, this occurred at 1:37PM on Sat Mar 27, 2021. Called was told water would be turned back on ASAP but didn't know when, I was angry. Nightly price was too expensive. Fridge doors can easily be changed to hinge on wall side. Suggest darkening shade in BedRm to keep street light form bleeding in
Apr 01, 2021
Very relaxing, grounds were clean and the staff extremely helpfully
Mar 31, 2021
great personnel and great neighbors !!!
Mar 31, 2021
We are 3 month snowbirds. At the end of January the camp was sold to Oncore group. The camp has not been the same.
Mar 31, 2021
The people that work there have always been awesome. With what we heard as a change in ownership we have seen a decline in the upkeep ect. Not having the Shanty available was disappointing
Mar 31, 2021
Loved our stay. Reservations already made for next year. Negative comments are for the roads that need repaving. Large pot holes. Poor drainage when it rains. Also poor Wi-Fi. We were not able to connect the entire time we were there.
Mar 31, 2021
The campsite was clean, a table provided and backed up to a canal. The bathrooms were very clean. The store was really lacking content and wasn't very l organized. We realize that COVID has played a part in activities being limited, however there were signs everywhere talking about The Shanty and to come by for happy hour. We looked forward to having a drink but it was closed our entire visit.
Mar 31, 2021
Nice campground very well-kept great location just the fact that the campsites are so overcrowded and close together was a game changer
Mar 31, 2021
We had a very relaxing time.
Mar 31, 2021
It was very pleasant! Relaxing which was what we were looking for!!!
Mar 31, 2021
Tent sites all had shade except ours # 320 wouldn't recommend that site to anybody . But all in all nice place good people . Pools were great . !! Grand kids love them .
Mar 31, 2021
Nice spot right up front. The weekend music was great. Pools and spa were crystal clear. Putt putt could use some updating as could the children's playground.
Mar 31, 2021
It was so peaceful and overall a great environment bathrooms were very close and very clean also
Mar 28, 2021
No maintenance getting done. No mowing. Buildings going downhill. Water line breaks and electric issues. Pool wasn't getting cleaned. Hope next year is better under new management.
Mar 28, 2021
Very Clean everywhere... Really nice and friendly staff. Hope to visit again soon
Mar 27, 2021
We was wanting a full cabin however they said there was none available so we settled with a rustic cabin. The two full cabins next to us sat empty all weekend. We enjoy sitting by the adult pool and getting drinks from the shanty however we found out the campground was sold and the shanty is not scheduled to re-open.
Mar 25, 2021
We love it there. We know it is changing ownership and things are going to be different. The only thing that I didn't like was the smoking at the pool. I don't care who smokes, but I think there should be a special place for them to smoke. I am an ex smoker, so maybe I don't care for it more, but I always considered others when I smoked.
Mar 25, 2021
Only used pool it's ok (children's pool)
Mar 24, 2021
This was our forth year wintering at the KOA, understand covid has put restrictions on some of the entertainment but the quality of the entertainment that was there this year did not meet the standard of previous years. The park has been neglected the last two years, no internet, tremendous pot holes... Understand there are new owners and hoping they bring it back to the resort it's supposed to be
Mar 24, 2021
Great place.
Mar 23, 2021
everything was great . having the golf course right there is awesome , separate family and adult pools good idea . just the shanty not open looking forward to revisit hopefully the shanty will be open . very nice stay
Mar 23, 2021
Very clean, nice people, we will be back again. Thank you.
Mar 23, 2021
Website photos were misleading. I ask if we departed a day early if it would be reimbursed and was told no, forcing us to stay the full 2 days because I was not going to gift you nearly $96 a day for a uncomfortable, misleading advertised campground. 1st and last time I will ever stay at a KOA site.
Mar 23, 2021
We were disappointed that the bar area was closed , also the entertainment was cancelled. Staff was friendly but the store was poorly stocked.
Mar 23, 2021
Love this place! Peaceful and everyone is always kind and helpful. Love the amenities and the golf course view!
Mar 23, 2021
Took almost an hour to check in and occupy site Initially assigned to campsite with no sewer Had to boil water No internet (complained with no results) Campsite was in remote corner of campground
Apr 07, 2021
Fun! Great Camp site, easy to get into and out of, close to everything you need. Lots of friendly campers.
- Larry Wood on Google
Mar 28, 2021
Was clean and well maintained. Staff was very courteous and professional. Will visit again. Only disappointment was we had reserved a golf cart but when we got there they said they didn't have any due to maintenance issues. Sites were typical size and easy to get into.
- John Cortez on Google