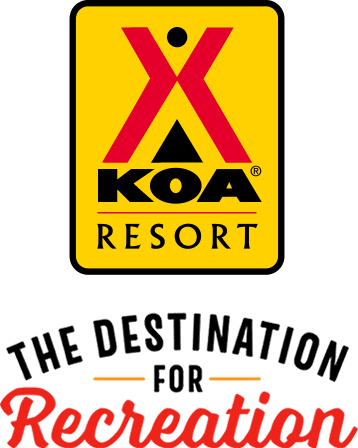 KOA Resort Campgrounds
KOA Resorts offer a carefree vacation in the great outdoors. Enjoy robust recreation and staff-led activities, kick back and relax by the resort-style pool, or grab a bite to eat, all while never leaving the campground. And with plenty of RV Sites with KOA Patios® and Deluxe Cabins with full baths to meet your needs, it's the ultimate camping getaway.
KOA Resorts Feature:
RV Sites with a KOA Patio®
Deluxe Cabins with full baths and linens
Premium Tent Sites
Resort-style pools
Indoor and outdoor group facilities
Directions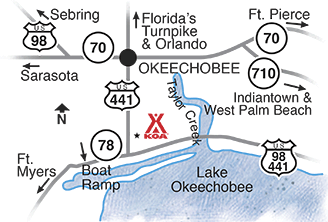 Exit FL Turnpike South at Yeehaw Jct and take US 441 south. Or Exit FL Turnpike North or I-95 N at PGA Blvd. Go west to 710, west to 70, west to US 441 and turn left. Continue south on 441 for 3 miles.
Get Google Directions
Feb 21, 2021
It was like a small city. We were in a tent site and enjoyed our stay. It was like being at a RV show Nice people
Feb 21, 2021
We were put in the middle of a bunch of rec vehicles and we were suppose to have water and electric. It turns out the rv on the opposite site was hooked up to the water and was taking 50% of the plug ins. The grass was beautiful. The picnic bench had a piece of wood sticking up and had tape on the ends. The site was dirty and had cigarette bits everywhere. The showers were great. Only the staff wa
Feb 20, 2021
It was a single overnight for our trip home from Key West. We have traveled in motorhomes for over 10 years and more than 20,000 miles. The ladies at the registration desk were, in our experience, the most kirt, unfriendly and least interested in good customer service we have ever experienced. Fortunately, the maintenance guy (Ed L.?) was extremely helpful and made up for it.
Feb 20, 2021
I was very disappointed in our check in. It took a very long time to get an escort to our site. I called the office twice to remind them we were waiting. Once we got to the site the employee was very helpful. I was later told that because of new owners the employee/staff had been cut by more than half. We were never told the passcode to get back in the park the amenities and activities.
Feb 20, 2021
Nice campground although our site was small and underwater most of the weekend because of rain. Drainage was bad right in the area we were located. Also inquired about a special being advertised for the summer and were told they weren't sure if they would be running the special. Why put up ads all over if not sure about doing it?
Feb 20, 2021
Very tight space. Roadways are 2-way with hardly room for 1 vehicle. When being taken to our lot we met 2 very large 5th wheels and big trucks. I am not sure how we cleared each other. But we did.
Feb 19, 2021
Peggy and Dan were outstanding. Peggy got us checked in with a smile and positivity which was appreciated because of the stress we had in getting to you. Dan facilitated our site and helped us with our electric concerns. The female attendant in the office was a negative person who does not seemingly care about providing a positive experience for her customers whom are providing her her job.
Feb 19, 2021
The bump at the entrance is the worst we have encountered in 10 years of camping. Seriously dangerous is you are towing.
Feb 18, 2021
All in all this is a very nice campground. Just a few things were bothersome. 1) The Shanty was closed (no explanation). 2) It rained hard early Sunday morning but the Golf Course was closed all day even though it was quite dry by early afternoon. 3) There is no free WIFI as advertised. 4) My husband was literally kicked out of the bathroom by the cleaning crew at 9:45 am (Cleaning at 11:00).
Feb 18, 2021
Nice campsite, however priced high. Housekeeping and maintenance is badly needed: washers were broken and insufficient for high number of guests; site guide travels much too fast around campers and guests; ovens not working in kitchen; NO masks being worn by guests in adult pool area; adult bar area was closed for business; campground needs more doggie poop bags and trash bins.
Feb 17, 2021
Here are the disappointments of this KOA. 1. Hook up station leaking and in a state of disrepair 2. Road ways poor with holes and poor drainage 3. Bath house near our site - #400, was not cleaned for three days. The bag of trash left beside the can stayed for three days, floor dirty, no cleaning and no supplies.... 4. Attendees uncertain of their duties Not worth the cost per night.
Feb 17, 2021
It was a very nice stay. Great people, easy check in and LOTS to do. We will be back. The one issue we had is a bit major. We could hear generator very near us up til mid it's then ANOTHER one at 3am and no one came to check on tule violaters.
Feb 17, 2021
Was our second time to visit this KOA. Once again it proved to be a great place to camp. We had a blast.!
Feb 17, 2021
When we arrived we were unable to connect to wifi or cable. We called the office and were repeated put on hold by Brian. After our third time on hold for over 12 minutes we gave up. I sent a text message, which was what they suggested in their brochure asking for help. I even tried to upgrade and buy wifi but it was on an unsecure network and I would not risk my credit card information.
Feb 17, 2021
Everything was excellent, one little annoyance is the security lights in the apartment building in the back of lot #276 they're not working properly and it was like having a strobe light for all nights there and apparently they've been like that for nearly 2 years which is truly unimaginable.
Feb 17, 2021
great experience Thanks
Feb 17, 2021
enjoyed your park.... and golf course
Feb 17, 2021
The amenities were as described. Our site was clean. Our neighbors were friendly and kind. The office staff were not very friendly but we didn't need to spend a lot of time there. The bathhouse was clean when we arrived on Saturday but went downhill as the weekend went on. The water pressure was terrible and by Sunday evening some stalls didn't have toilet paper and there were no paper towels.
Feb 17, 2021
Very nice well kept KOA. Nice lots, 2 pools so not crowded. Also multiple laundromats and shower rooms. We plan to be back next year.
Feb 17, 2021
We were a walk-in RV. The staff was most accommodating and able to provide us an overnight site. It's a wonderful resort facility.
Feb 17, 2021
Making the reservation online and getting the check-in info was very easy. Arrival and setup had some issues - too many to finish in this comment block. All in all the staff, though undermanned, were helpful and pleasant. Some focus needs to be placed on slot 52 as it has no dedicated or marked power source - was told to use 51's pole; which could have created issues.
Feb 17, 2021
We had a wonderful time camping there!!! The bath houses were very clean and the staff was super friendly!!!
Feb 17, 2021
Waited at Check in for 20 minutes before anyone spoke to us. We were the only ones there. Had previously registered online. Wandered around campground for half hour prior to finding site. Not marked on map. Given it rained but roads were filled with potholes and poor drainage. No free WiFi. We have spent many days, weeks with friends and family at KOA,s. Always great experiences. What is happening
Feb 16, 2021
Nice just wish they had the restaurant open
Feb 15, 2021
Great campgrounds, a bit crowded but still nice nonetheless.
Feb 14, 2021
Stayed one night and it was very nice. Well maintained, friendly staff & guests. Loved the Friday night music entertainment. We'll definitely be back!
Feb 13, 2021
Clean site and plenty of activities.
Feb 13, 2021
This is an awesome place to stay...we wished we had more time to stay there.
Feb 12, 2021
We enjoyed our short stay in the campground. Hope it it will stay a KOA location.
Feb 11, 2021
Laundry rooms were disgusting, roads were horrible. The staff were extremely friendly and helpful and there was some entertainment. The dog waste bags were always empty, and sites were extremely tight and poorly laid out, picnic tables on top of neighbors sewer hose
Feb 11, 2021
Very crowded but overall nice stay
Feb 10, 2021
Lots going on even during Covid. Staff at Shanty and grill were extremely nice and provided great service and food. Front staff not so good. They were understaffed and abrupt which appeared rude to this Southerner. Water went out twice in January requiring boiling water for 48 hours after each incident. Bathrooms regularly ran out or low on TP. New management so we will see.
Feb 10, 2021
It was Ok for a short stay for us. They had a nice golf course, pools and tennis courts. The main thing we did not like is that they said free wi-fi but it never did work, they kept giving us different excuses (no fault of the friendly staff, I am sure that is what they were told). I would have been fine with the truth that it didn't work and not waste my time.
Feb 10, 2021
Everything was great. Loved the amenities and golf course. The pool and deck and snack shop were awesome. We made reservations for next year only longer.
Feb 09, 2021
Great place to stay, friendly and helpful staff, clean and safe campground.
Feb 08, 2021
Accommodations were not as requested. Many staff members were rude/grumpy, nothing was open and no notice was provided prior to our stay that things were closed. No activities for any ages. Was like pulling teeth to get answers to simple questions. Extremely dissatisfied with our stay this time. Summer of 2020 was wonderful, but sadly after this visit we do not plan on returning.
Feb 07, 2021
The cable tv did not work. The picture was so fuzzy you couldn't hardly see it and I only got very limited channels. The service guy came and said it was a problem they are having and couldn't fix it. I really think they should have taken some pricing off the bill.
Feb 07, 2021
The people checking us in and on the phone were so nice and friendly. The sites were concrete so we didn't have mud. The pool was warm and clean and the bath house and showers were clean and well kept. They were informative on direction to things we needed. I would love to go back.
Feb 05, 2021
Wish the golf course was in better condition
Feb 05, 2021
Check-in was extremely slow. Once checked in I returned to my coach to wait for the guide. After what seemed like a long ten minutes I went back in and expressed my dis-satisfaction about waiting for the guide to take me to my site and was told to proceed through the gate and he would meet me there. Dumb. The woman checking me in should have told me to go through the gate and meet the guide.
Feb 18, 2021
Great atmosphere. Lots of activities.
- Rick Haufe on Google
Feb 15, 2021
great place!! 5/5... pet friendly
- David Gutiérrez on Google
Feb 15, 2021
Excelente , limpio , bello..todo cerca.
- Nelly Vargas on Google