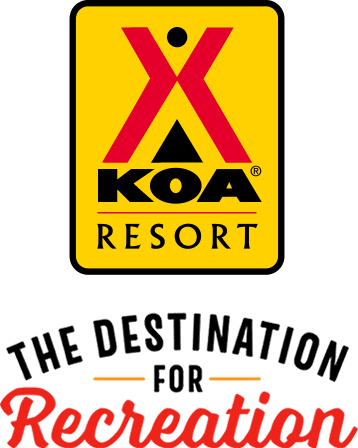 KOA Resort Campgrounds
KOA Resorts offer a carefree vacation in the great outdoors. Enjoy robust recreation and staff-led activities, kick back and relax by the resort-style pool, or grab a bite to eat, all while never leaving the campground. And with plenty of RV Sites with KOA Patios® and Deluxe Cabins with full baths to meet your needs, it's the ultimate camping getaway.
KOA Resorts Feature:
RV Sites with a KOA Patio®
Deluxe Cabins with full baths and linens
Premium Tent Sites
Resort-style pools
Indoor and outdoor group facilities
Directions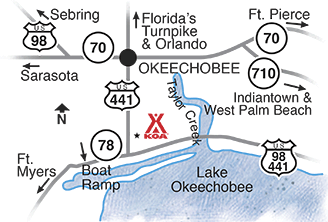 Exit FL Turnpike South at Yeehaw Jct and take US 441 south. Or Exit FL Turnpike North or I-95 N at PGA Blvd. Go west to 710, west to 70, west to US 441 and turn left. Continue south on 441 for 3 miles.
Get Google Directions
Feb 17, 2021
Staff was very unprofessional and rude. Nothing was coordinated. The cabin was falling apart. The bathrooms were no where near the cabins.
Feb 14, 2021
Wrong key to the cabin...said the locks had been changed...I have been a loyal customer of the 'Eagle cabin ' for several years now. Hope you have the Shanty open soon.
Feb 07, 2021
Interested to see the improvements the new ownership will roll out!
Feb 05, 2021
Our cabin backed up to a fence. On the other side of the fence is an apartment complex. During the first night we tried to have a campfire but there were kids from the apartments outside being loud and yelling and we had no privacy. We had to go in. I would not stay in KK2 again because of that reason. Thankfully it was a school night and noise stopped at 9. They could be heard inside the cabin.
Jan 25, 2021
Everything was as advertised. Cabin was clean and stocked with everything needed, even dog bowls and bed! Gas for grill was changed on rotation even though not empty to ensure availability. Trash was picked up within 1/2 hour of being placed by curb - anytime of the day. All staff were extremely friendly and helpful! Only issue they ran out of firewood (everywhere!) but Home Depot had some logs.
Jan 19, 2021
We love the Okeechobee KOA!!! It's clean, fun, and they have lots of stuff to do!!! Their places where they have food served are great!!! The ONLY think we don't like is that we have to pay for internet. I think with the price of the cabins it should be included.
Jan 19, 2021
This was my first time staying at a KOA and it was absolutely an incredible experience that I've already recommended to many of my friends and family. As a matter of fact I can't wait to go back there soon and we'll be scheduling my next camping trip in the next week or two. The cabin accommodations and cleanliness of the grounds were amazing. The staff was super friendly and professional.
Jan 11, 2021
Very relaxing comfortable stay!
Jan 03, 2021
We had a fabulous time. Deb was real helpful in getting me into the cabin that I wanted. She was pleasant and accommodating and more than willing to help!
Dec 11, 2020
My stay was nice, enjoyed campground itself, HOWEVER, some of the women are so disrespectful in the office. If you need to speak to anyone speak with Russ or Gunny. They are great!!
Dec 11, 2020
Loved our stay. Can't wait to plan another stay.
Dec 05, 2020
This is our third year in a row we stayed for Thanksgiving and we had a great time again
Dec 03, 2020
Had a great time!
Nov 19, 2020
Excellent time as always!
Nov 19, 2020
It was a great stay! The bathroom and the refrigerator were so clean. The Queen bed was very comfortable, I had forgotten I wasn't at home in the morning. The bunk mattresses were not as comfortable, however. The pool was wonderful, we had fun with the recreational amenities, and the breakfast buffet on Sunday morning was a great value and good quality food! All in all, we'd stay again!
Nov 14, 2020
Thank you to the staff for a very enjoyable stay. We look forward to our next visit!
Nov 14, 2020
The staff was very nice. But it was more like staying at an extremely large RV Dealership. The Shanty, their bar, had a sign than said "masks mandatory" inside. I walked in and the place was packed. People shoulder to shoulder and wearing no masks. Not a place that is taking Covid seriously.
Nov 05, 2020
I enjoyed that weekend, and already booked my stay for next Halloween 2021.
Oct 25, 2020
Water pressure in the shower was like standing under a sprinkler. There was bug feces inside all the base cabinets. Only one of the two burners worked on the cooktop. The toaster was broken. The Coffee maker was so dusty it was scary to use. The mini blinds in the whole cabin look like they haven't been dusted in over six months. Very bad experience for the money I paid it was a joke. Don't be
Oct 25, 2020
We had a great time! Our cabin was lovely! (bunk beds were hard, tho). The campground has a lot of amenities. We rented a golf cart and I fell off of the back. 1 of the other campers called the office and reported it. A staff member came immediately to check on us and made sure I was ok. I thought that was very thoughtful and caring of them. We will definitely go back!
Oct 24, 2020
we had a wonderful time and will be back again!!
Oct 24, 2020
A wonderful KOA to stay at. The staff is wonderful and the campground was exceptionally clean. We have stayed here several times and this KOA never disappoints.
Oct 24, 2020
Everyone was very friendly and helpful!! The cabin was immaculate and perfect for our stay. Any request was met promptly with professionalism and kindness. You can clearly see that everyone working there is vested in providing a positive experience! WELL DONE!!!
Oct 15, 2020
Everything was Clean, Clean, Clean. I felt safe in that respect. Property was nice. Everyone was friendly and helpful. Easy check-in/Out. Did not go in the pool or buy food so I can not rate that. The road needs work, standing water (did have a lot of rain) and potholes. My husband and I stayed in a cabin, cute and comfortable. Air conditioner is small, not very cool. I give 4.5 Stars overall.
Oct 12, 2020
stayed in a cabin very nice .Been to this KOA many times always great ! Staff is very friendly and facilties are top notch . it had rained very hard and many roads and sites were flooded mabey in need of updated drainage system? either way very nice place and plan on returning soon !
Oct 11, 2020
We just love to stay here! Once again with You guys at Koa it is increíble the time we spend. Thank You for everything!
Oct 10, 2020
We always have a great time. It rained and most of the campground roads were flooded but the kids certainly didnt mind with their bike riding.
Oct 09, 2020
Wonderful as always.
Sep 28, 2020
I had to a maintenance worker to not use a blower at 8 am ..agh
Sep 23, 2020
Always a great time at KOA OKEECHOBEE!!!
Sep 15, 2020
I was in the deluxe cabin. It was perfect in every way. Highly recommend it. The staff at the resort are all professional, polite, and knowledgeable.
Sep 11, 2020
First time staying in one of the cabins which was adorable. We had a wonderful time although it was unfortunate that the pools were limited as well as the Shanty. Under the circumstances, it is completely understandable. Jello shots were amazing lol. Cindy Mareno
Sep 11, 2020
We had a great stay despite COVID restrictions. Campground was crowded because of the holiday
Sep 02, 2020
It was great!!!
Aug 27, 2020
It was great. Staff is helpful and very friendly
Aug 26, 2020
Always enjoy the Okee KoA. I just wished the Shanty was open. I wasn't told it was closed.
Aug 24, 2020
Unfortunately, we couldn't rent a golf cart because previous days storms had flooded the campground roads. That's we understand. We were credited any monies for this issue. But there was also an issue with the cable being struck by lightning and we could barely make out the TV screen. I asked for a credit but was told couldn't do that since it affected the entire park. We will be back though!
Aug 21, 2020
it was great.. your new office staff is a BREATH of fresh air.. BETSY WONDERFUL... adult pool.. couple that was doing the music off the chart.. wish could remember name... Jenifer with kids AWESOME!!!
Aug 19, 2020
We stay August 14, 15 and 16th. After the first night we had no television so I mentioned it to the office they said they had a lightening strike that took out the cable which is unstandable but we had no TV the entire stay and never once did anyone offer any kind of discount on our cabin stay.
Feb 18, 2021
Great atmosphere. Lots of activities.
- Rick Haufe on Google
Feb 15, 2021
great place!! 5/5... pet friendly
- David Gutiérrez on Google
Feb 15, 2021
Excelente , limpio , bello..todo cerca.
- Nelly Vargas on Google